Photo Licensing Agreement
Deciphered
Unique and attractive photography requires a lot of effort and creativity. No photographer is thrilled to find out that other people use their creations without consent. If a person needs a specific image for personal or commercial use, a photo licensing agreement is the proper way to obtain photo usage rights from the author/owner.
Writing such a contract may be simple for attorneys who do it for a living, but most people don't know a thing about legal documents. Our guide will show you the ins and outs of photo licensing agreements and some epic hacks for composing one before you can say "cheese!"
What Is a
Photography License Agreement
, and Why Do You Need It?
A photo licensing agreement is a legally binding document signed by:
Licensor

—The rightful owner of a photo or its author

Licensee

—The person, company, or any other entity that wants to obtain the right to use a particular photo
With this contract, the owner allows the licensee to use their photo (or photos) without relinquishing the copyright for their creations. 
The agreement must state all collaboration details and terms that both parties agreed upon. If all rules are clear and the signers understand what their responsibilities are, there will be less room for disagreements down the line.
Photography license agreements are the best way to obtain the right to use the images for:
Articles within magazines or newspapers 

Online venues

Merchandise (coffee mugs, clothes, etc.)

Book covers or pages
What Are the Benefits of Signing a Photo Licensing Agreement?
Creating an image licensing contract is highly recommendable, as it provides protection and benefits for both parties. Some advantages are listed below:
Revenue from granting the usage rights to the licensee

—The licensor sets the specific price that can increase in case multiple parties get the right to use the same content. Even if the owner offers the rights to a single person or company, they can set a higher price since they won't be able to use the photo or monetize it in other ways

Better control of the way the creation will be used

—The parties can agree upon a specific licensure type, and the licensor can limit the usage if they prefer to do so

More original content for the licensee

—If the licensee gets exclusive rights to the image, they don't need to use stock photos that anyone else has access to. They get more unique images and content
Sections You Shouldn't Miss When Drafting Your Photo Licensing Agreement
Below is the table showing some disclosures you should cover in any photo licensing agreement:
Elements

Details

Signers' information

State the full names of the parties, their addresses, and phone numbers

Type of usage rights

Define whether the rights the licensor grants to the licensee are exclusive or non-exclusive. 

Exclusive agreements impose the licensee as the only party who has the right to use the image(s)

Non-exclusive agreements allow multiple parties to use the same content

License details

Include the license duration and the specific permissions the licensor gives to the licensee. Explain for what purpose the images will be used

Payment details

Mention the agreed total price of the usage license, interest details, and late fee penalties

Limitations

List all the limitations set

Conclusion

Include the effective date and signatures of both parties
The simplicity of your contract will depend on the specific details you agreed upon with the other party. At times, it's necessary to explain some terms and disclosures further, which takes more space and requires more legal expertise. 
Waste No More Time on Manual Contract Drafts—Use DoNotPay
If you aren't sure you have enough knowledge of the law to compose a contract yourself, our app comes to the rescue. DoNotPay has high-quality, customizable templates you can turn into a top-notch legal document in a few taps in our app. Give us more info about the agreement you need, and we will draw it up quickly and without a hitch!
To receive your personalized contract, follow the instructions below:
Log in to DoNotPay

from any web browser

Find the desired document by using the search field

Complete our chatbot's short questionnaire about the contents of your document
You can choose among 15 document templates at the moment:
Intent To Purchase Real Estate

General Business Contract

Child Care Authorization Form

General Affidavit

Promissory Note

Quitclaim Deed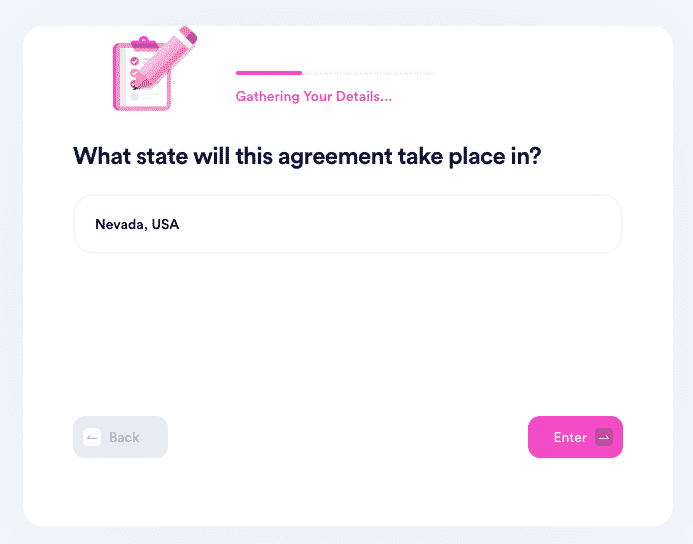 What Legal Documents Can DoNotPay Help You With?
Don't worry if you can't find the contract you need among our templates—our services don't stop there! Visit DoNotPay now, explore our knowledge base from top to bottom, and get instructions for creating:
Discovering DoNotPay Will Make Your Day
If you feel overwhelmed by tons of paperwork flooding every area of your life, you can finally breathe out and let go of that stress. DoNotPay is the world's first robot lawyer that handles your bureaucratic chores for you. 
Some of the benefits that come with our service include:
Why Get a Lawyer When You Have DoNotPay?
Our agenda has one major goal—provide easy legal access to anyone who needs it. Every new feature we come up with relies on AI technology that simplifies bureaucratic procedures and saves you time and money. 
If you're wondering how to navigate tasks like contacting imprisoned friends and family members or reducing your property taxes, DoNotPay has the answers. Our service cuts through the red tape even if you need to deal with stalking and harassment, claim forgotten assets the proper way, or secure compensation for crime victims.