Philippines Tourist Visa—All Your Questions Answered
The Philippines are one of the most attractive Asian destinations thanks to the breathtaking nature, cultural fusion, and various pageants. To enter this country and stay there for a while, you must obtain specific authorization issued by the immigration authorities.
Do you need a Philippines tourist visa or any other documents? If yes, what do you need to apply, and what does the procedure look like? How much do you need to pay? This guide brings solutions to all dilemmas you may have!
Do I Need a Tourist Visa for the Philippines?
If you are planning to stay in the Philippines for a month or less, you won't need a tourist visa. A valid passport will be enough.
The situation is different if you want to explore the beauties of the country for more than 30 days. In such cases, applying for a visa is mandatory. This type of authorization will last for 59 days. If you are already in the Philippines and want to extend your 30-day stay, you can get a visa waiver at the Bureau of Immigration in Manila. It will allow you to stay for 29 more days—59 days in total.
Philippines Tourist Visa Types
You can apply for one of the three available types of tourist visa for the Philippines:
Pleasure visa—serves for recreational purposes only
Health visa—lets you take a trip to recover from an injury or a non-contagious illness
Business visa—helps you stay in the country while searching for job or investment opportunities
Philippines Tourist Visa Requirements Made Simple
To submit a Philippines tourist visa application, you need to prepare:
U.S. passport that has at least:

One blank page for an entry visa stamp
Six months of remaining validity beyond your period of stay in the Philippines

Money to pay for your visa fees
Completed visa application form
Two passport-size photos signed at the back
Copy of your return plane ticket or confirmed itinerary
Waiver of Exclusion Ground (WEG)—for minors under the age of 15
Letter of sponsorship provided by your employer—for business visas only
What Does a Tourist Visa Application for the Philippines Look Like?
A visa application must be submitted in person unless you are a minor. In such a case, a parent or guardian must be in charge of the process. Here are the steps you should follow:
Collect all the required documents and forms
Arrange an interview at the Philippine Embassy or Consulate responsible for the applications in your area
Show up at the meeting and have an interview with the officials
Wait for your visa to get approved
Are There Any Active COVID-19 Restrictions for Entry in the Philippines?
According to the latest information, there may be current entry restrictions for some U.S. citizens. The officials of the Bureau of Immigration decide whether they will let you enter the Philippines upon arrival due to an increased risk of COVID-19.
You don't need a negative COVID-19 test to enter the country but must undergo a quick health screening in the form of a temperature check after deplaning. There's also a mandatory RT-PCR test you must take seven days after arriving.
All travelers from the USA must:
Adhere to the ongoing curfew laws
Quarantine for two weeks after coming to the Philippines
Have a verified booking for the first ten days of quarantine in accommodation approved by the Philippine Tourism and Health Agencies
Wait to receive a Philippine Bureau of Quarantine medical certificate before they leave the booked accommodation
Can You Get a Tourist Visa More Easily With DoNotPay?
Getting accurate info about tourist visa applications may be tricky due to numerous sources with different instructions and requirements. DoNotPay offers you a perfect solution—the ultimate walkthrough for the entire visa application process!
Here's what we can do for you:
Examine the applicable laws to determine if you need a tourist visa for the desired country
Guide you through collecting the required documents and forms for your tourist visa application
Get in touch with an appropriate embassy and inquire about the email application option
Generate a PDF version of a suitable application form or send you a direct link to the online application form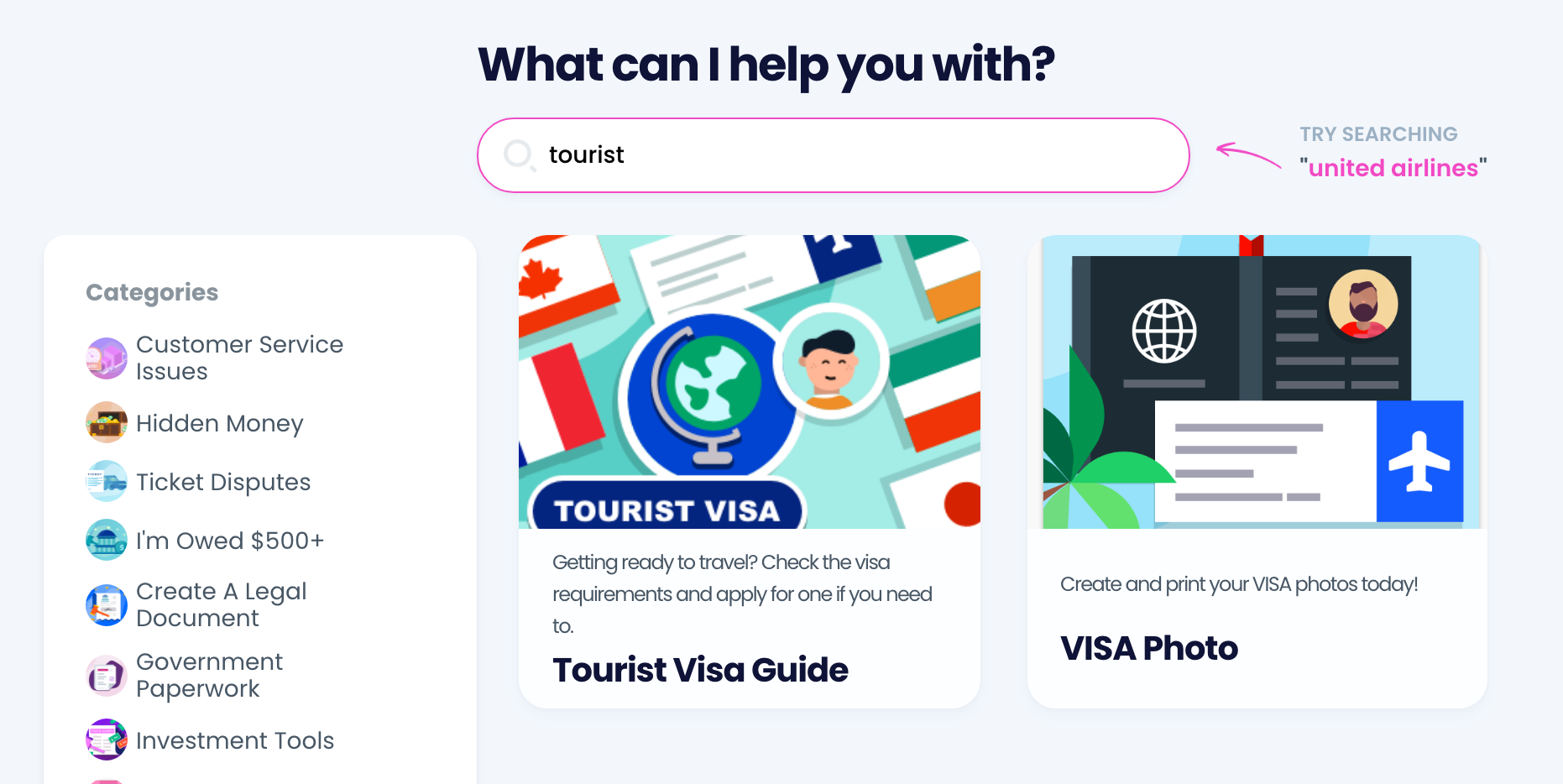 All you should do is follow these simple steps:
Create an account with DoNotPay and log in
Find the Tourist Visa Guide feature
Confirm that you are a U.S. citizen or passport holder
Select the country you want to visit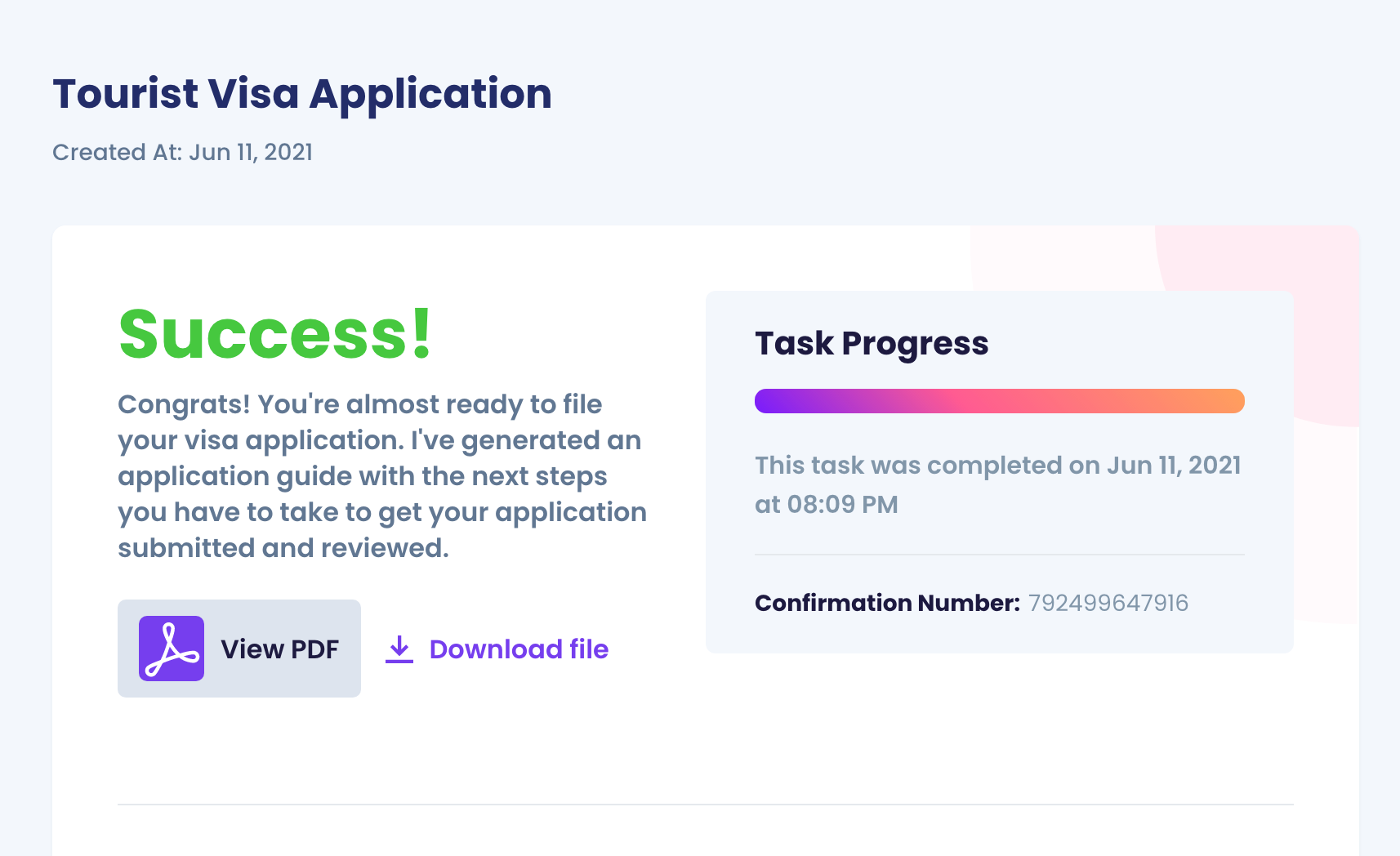 Discover More Asian Natural Beauties With DoNotPay by Your Side!
Asian countries boast amazing sights, delicious food, and many more reasons for falling in love with them. If we helped you with your Philippines tourist visa, you might also be interested in getting authorization for entering other surrounding countries! Use DoNotPay to access all-in-one guides on requesting tourist visas for:
DoNotPay Is the Best Solution for Your Bureaucratic Problems!
A wide range of handy features DoNotPay offers can assist you in resolving administrative issues without breaking a sweat! Our app provides the easiest way to:
Get What You're Owed in a Few Taps!
Shopping is fun, but retailing companies can sometimes be difficult to negotiate with, especially when things go wrong. With DoNotPay, you can reach their customer service without spending hours on hold and get a refund fuss-free! Should the merchant refuse to collaborate, we can help you get justice by suing them in small claims court.
Our app can also file an insurance or warranty claim in your name, request gift card cash back, or initiate returns for dissatisfying products.
If you want to check whether you have any unclaimed money in old bank accounts, using DoNotPay is the easiest way to do it!