How to Get a PGA Tour Live Free Trial Without a Credit Card

Live sports have a special entertainment value beyond watching things that have been recorded and replayed. You can cheer along with your favorite athletes and get into the game in a way that might be tough if you already know the game's outcome. If you're into golf, you may be personally interested in PGA Tour Live, the Professional Golf Association's live broadcasts of golfing in action.
Whether you just want a peek at live golfing or an affordable way to watch, you may be looking for a . If so, you're in for a bit of an adventure to find it. DoNotPay is here to help you every step of the way, including getting you a free trial with no strings attached.
How to Find a PGA Tour Live Free Trial
Know these points first:
As of January 2022, PGA Tour Live has moved to the ESPN + channel and viewing service.
ESPN + includes a vast selection of sport events, sport-related television, and live coverage of games happening right now - whenever you happen to open your streaming app.
To find a free trial for PGA Tour Live, you'll need to look for a free trial for ESPN +.
Is There a Free Trial for ESPN +?
There is not currently an available free trial for ESPN +, which also means there is no free trial for PGA Tour Live. There is not currently a streaming platform that contains  Live that is also offering a free trial. You can expect to pay the full price for a month or year whether you planned to dip your toe in the great world of live golfing or dive into a live golf marathon.
However, you can get a bundle for free if you are a current Verizon unlimited plan customer. More on that later.
Available Deals for ESPN + and PGA Tour Live
You have two big subscription offers to consider:
ESPN + Subscription
Disney Bundle
Without a free trial, how are you supposed to watch your live golf at a reasonable price? The next practical step is to seek a subscription deal for ESPN +. The good news is that streaming channels and platforms are often forging partnership deals for discounted content packages. 
Right now, for example, ESPN + is in a great bundle with Disney + and Hulu. This bundle is offered by multiple brands and provides a discount on what the three channels would cost individually.
Subscription Option to Get the PGA Tour Live
Where to Get It and What It Includes
Price
ESPN + Subscription
You can purchase this subscription directly through the ESPN + website. It's just the ESPN + subscription.
$6.99 /mo for the baseline subscription
Disney Bundle Subscription
Get it through Disney's website.

It comes with:

Disney +
ESPN +
Hulu

The Disney bundle costs only $13.99/month which saves about $8 per month from subscribing to each service separately.
PGA Tour Live Free Trial from Verizon: Free Subscription to the Disney Bundle
The one way to get a  is to sign up through an existing Verizon account. Verizon is currently hosting one of those partnered marketing campaigns.
If you already have a Verizon "Get More Unlimited" or "Play More Unlimited" plan, then you are eligible to claim a free subscription to the Disney package; that's ESPN +, Disney+, and Hulu for as long as your Verizon plan is active. This is a savings of $14 a month, and also happens to include a free subscription to PGA Tour Live.
Sign up for Verizon Unlimited Plan.
Request a Disney streaming package.
Receive a complimentary streaming package.
Open your new ESPN + account
Start watching PGA Tour Live for free.
Avoid Automatic Renewal With DoNotPay Virtual Credit Card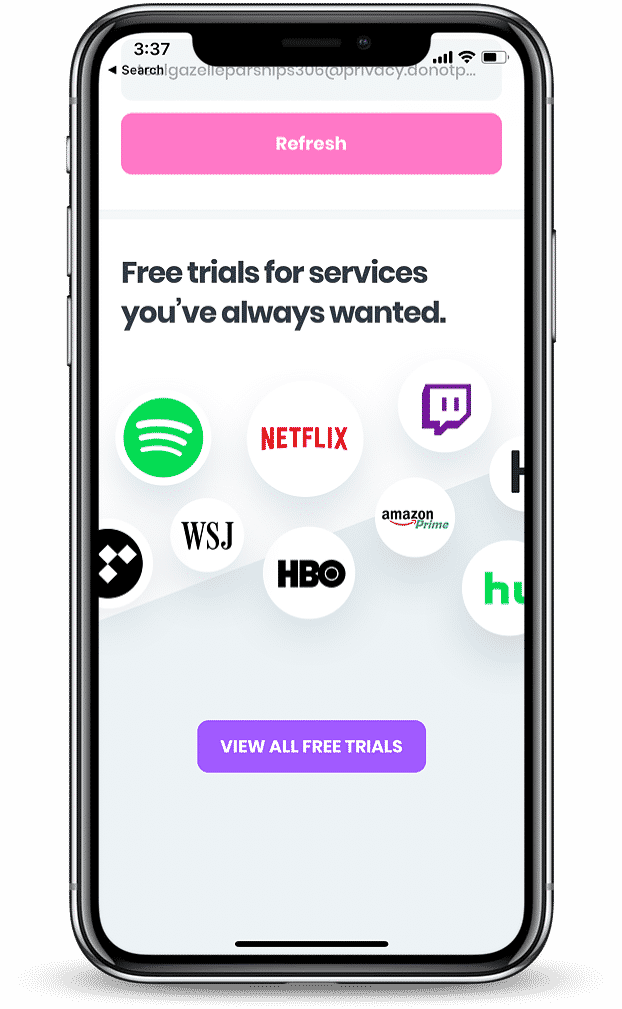 PGA Tour Live may not have a free trial available, but many channels do. If you are considering further streaming content or another service with a typical free trial, DoNotPay can help protect you from unwanted charges when that free trial expires. We have two quick and easy options to significantly control the risk of signing up for any free trial.
Quick Cancellation
Canceling an account can be crucial to keeping a free trial free. After all, you need to cancel before a certain time if you don't want to be charged for the next subscription. Your cancellation can be delayed, or the cancel day can just slip your mind. 
DoNotPay can ensure that your cancellation is dealt with quickly by someone in authority, so you are always canceled on time. You can cancel ESPN + at any time, for example.
Virtual Credit Cards
Your other option is simple and yet also genius: a virtual credit card. Don't want your card to be charged when the free trial expires? You don't have to. Instead of entering your own payment information, contact DoNotPay for a free virtual credit card number.
We randomly generate these numbers, so they're not attached to any account at all. When your free trial provider tries to charge you, the virtual credit card will refuse payment and your free trial will close gracefully, without an automated hard-sell on buying a subscription.
Get More Hassle-Free Solutions From DoNotPay

What else can DoNotPay do to help you? With products designed to save you time, money, and headaches, you're sure to find more than a few services that could simplify your most complex or tedious tasks. Believe it or not, those products listed here are just the tip of the iceberg.
For more money-saving solutions,  for DoNotPay today.