Petitioner vs. Respondent in Divorce—What You Need To Know
Deciding to get a divorce from your spouse can be difficult, especially if you don't know how the legal system works. Don't get overwhelmed if you don't understand the legal jargon—we're here to help you learn everything you need to know about filing for divorce.
DoNotPay can teach you everything about the petitioner vs. respondent in divorce difference and help you understand the divorce process better.
In case you want an easy way out, we have got your back! Sign up for our app and get a divorce settlement agreement without breaking a sweat! We can also provide helpful information on:
Who Is the Petitioner in a Divorce Case?
The petitioner is the party responsible for starting the divorce process. They complete and file the Petition for Divorce—also known as the divorce application—with the court. The petitioner has to:
Fill out the divorce forms and relevant paperwork
File all the required paperwork with the local court
Serve their spouse
Prove that their marriage is broken because of the other party's actions in fault-based divorces
Who Is the Respondent in a Divorce?
The respondent is the person who receives the request for the divorce. It is their responsibility to respond to the Petition for Divorce.
The respondent can accept or defend the petition by taking one of the following steps:
If they agree with the reasons for divorce, they can send an Acknowledgement of Service form within eight days of receiving the petition
If they don't, they need to prepare and send an Answer to the Petition of Divorce and have 21 days to respond
Should You File for Divorce First?
Whether you file for a contested or an uncontested (friendly) divorce, one spouse needs to start the process and become the petitioner. According to divorce law, it doesn't matter if you're the petitioner or the respondent—the court will treat you fairly and will not provide any special privileges to either party. Whoever has the stronger case (and a better lawyer) will end up winning.
There are various pros and cons of being a petitioner and a respondent, as mentioned below:
Pros
Cons
Petitioner

If you and the spouse live in different counties or states, you can file the petition at your local county court, making the process convenient for you
You can set court dates for whatever date you like
You can present your case first

You will have to pay the filing fees and other divorce-related fees if required
The divorce process is permanent, so if you and your spouse are still contemplating reconciliation, you won't be able to go back

Respondent

You can present your case after your spouse has shown all their cards
You don't have to pay the divorce filing fees at the beginning of the process

You don't have the time to prepare properly for the divorce
Your transportation cost will increase if you're not in the same county where the divorce process is taking place
In no-fault states, you don't need to provide a reason for your divorce other than an irretrievable breakdown of your marriage. For others, you always have the option to file for an uncontested divorce. Either way, if you file for divorce first, it does not mean that you will automatically be in more favor with the court.
The Easiest Way To Get a Divorce
If you and your spouse are planning to get a divorce, the best solution is to go for an uncontested one. In this type of divorce, you and your spouse can mutually decide on important divorce-related issues, such as:
Visitation matters
Alimony
Income and asset division
An uncontested divorce ensures that spouses end their marriage amicably. Since you and your spouse agree on essential matters, you do not need to hire a lawyer or go to court—you can handle everything yourselves. In case there are some disagreements, you can always hire a mediator to sort it out.
How To File for an Uncontested Divorce
Here are the steps you should take if you want to file for an uncontested divorce:
Gather and prepare all the divorce-related paperwork
File the documents with the court
Pay the divorce filing fee or check if you are eligible for a waiver
Serve your spouse with the divorce papers
Create the divorce settlement agreement with your spouse
Visit the court for a final hearing
DoNotPay Can Draft a Divorce Settlement Agreement Within Minutes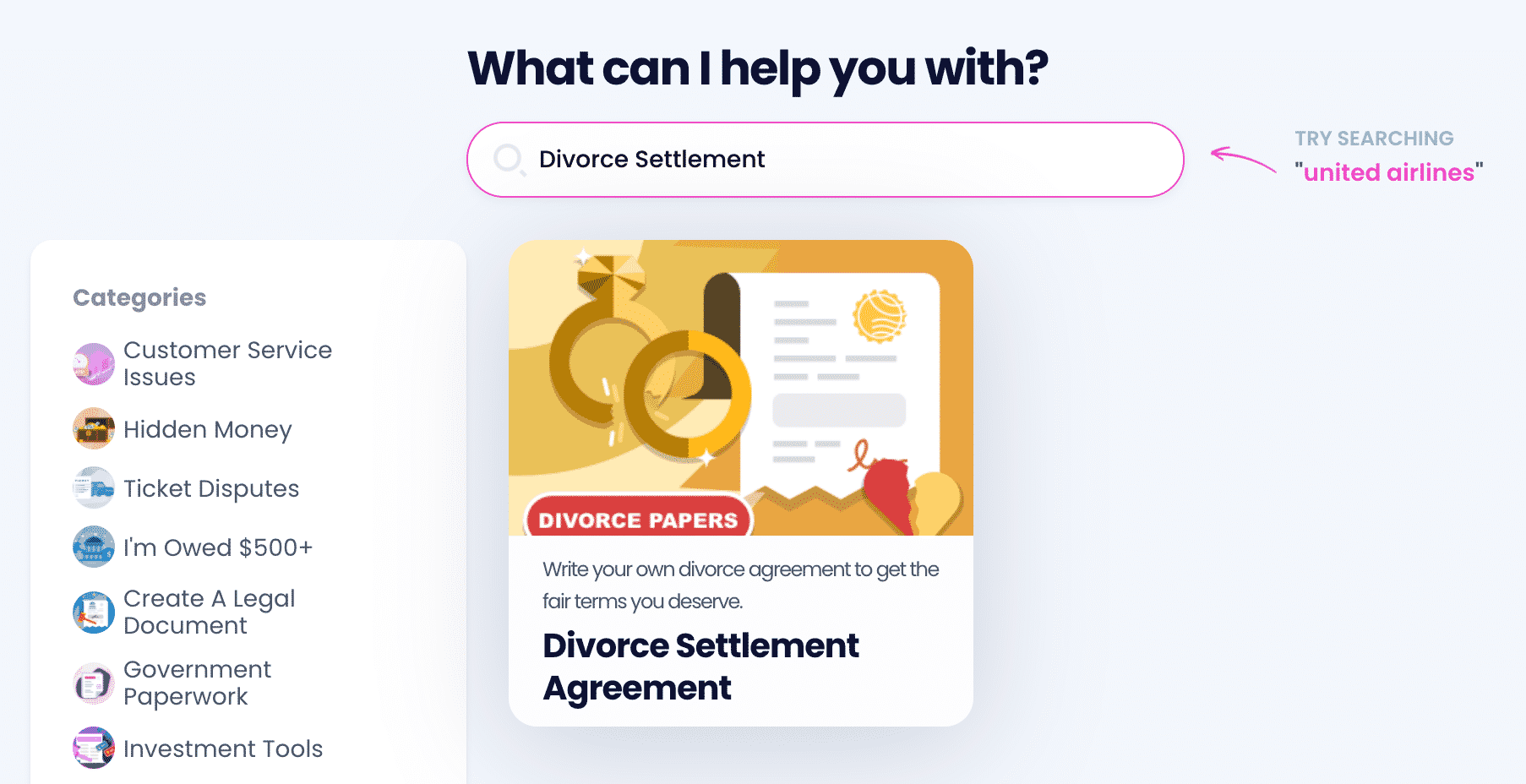 Do you want to make the divorce process as uncomplicated as possible? Let go of that expensive lawyer you hired and use DoNotPay to create a low-cost divorce settlement agreement that will hold up in court! Here's what you need to do:
Access DoNotPay from your web browser
Choose the Divorce Settlement Agreement tool
Enter information about your spouse and kids
Provide additional details about your income and financial assets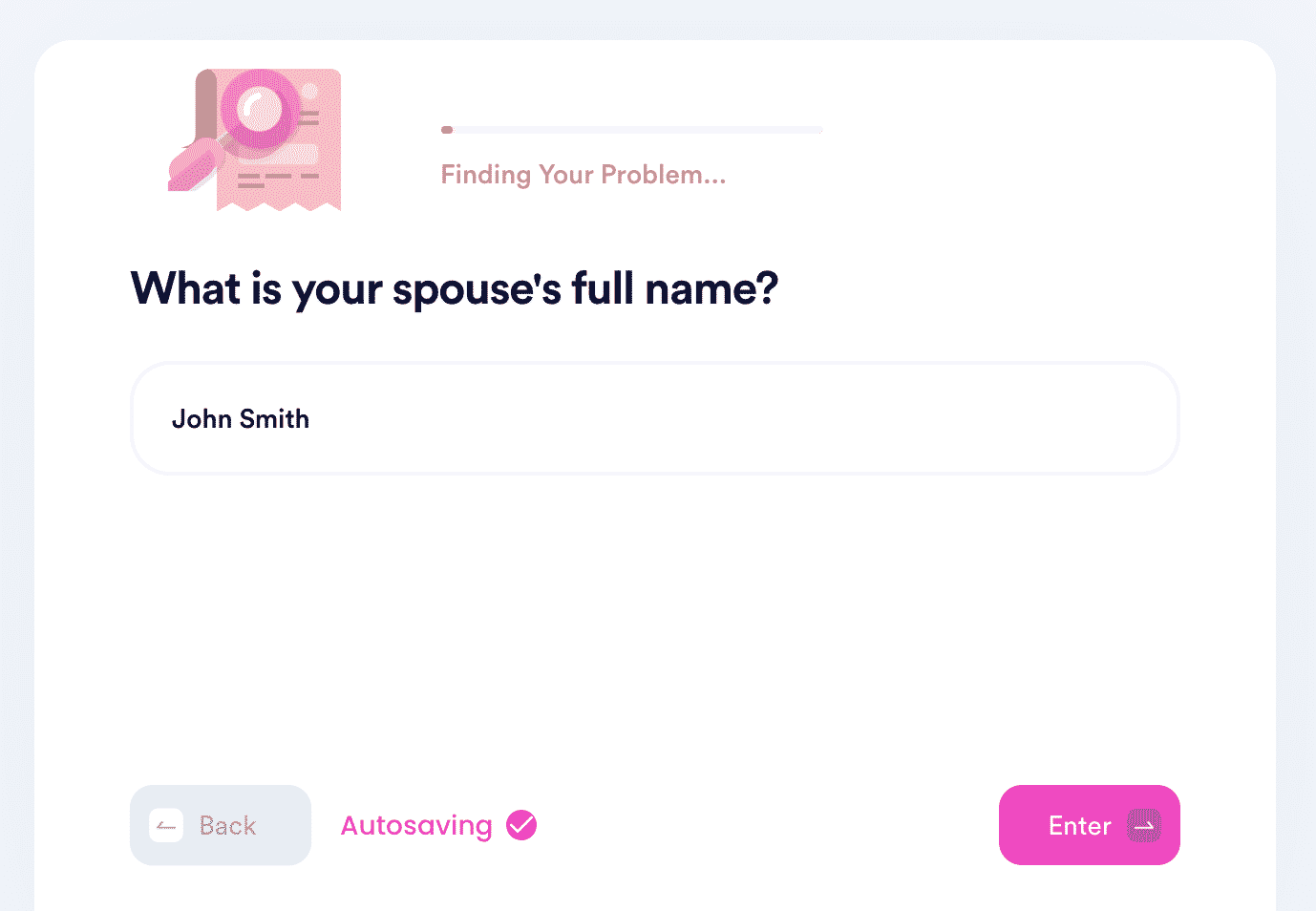 That's all from your side! We will draw up the document and send it your way within minutes. You should also consider getting your agreement notarized. If you think finding a notary is too much of a hassle, choose the right option in our questionnaire, and we will connect you with an online notary. You can schedule a video appointment and get your document notarized from the comfort of your home!
Creating divorce settlement agreements isn't all we can do. We have a bunch of handy guides that will help you learn more about the divorce process. We can help you figure out how to get:
In case you need state-specific info, we can provide helpful guides to divorce procedures in Utah, Texas, Nevada, Oregon, Arizona, Wisconsin, Pennsylvania, New Jersey, Rhode Island, North Carolina, and any other U.S. state.
DoNotPay Is the Robot Lawyer You Need!
Dealing with the law and understanding legal protocols is difficult if you're not used to doing it on a daily basis. That's why DoNotPay comes to the rescue!
Assisting you in drafting legal documents, creating a neighbor complaint letter, and suing companies in small claims court is what we do best.
That's not all! With us, you can tackle any legal task head-on, no matter how big or small, including:
Deal With Companies Hassle-Free
If you love to shop and you want to make the experience as easy and enjoyable as possible, you're in the right place! DoNotPay provides you with various features that allow you to accomplish just that.
You don't have to struggle trying to reach customer support or figuring out how to claim a warranty or file an insurance claim by yourself. You can cancel any subscription, sign up for free trials, and discover how to use every last penny from your gift cards in minutes!
In case you made a purchase, but your package is missing, don't fret! Finding your missing parcel is only a few clicks away.