Start the Process With a Petition for Divorce in Texas
Getting a divorce can cause anxiety and stress, especially if you're not informed about the options, filing procedures, necessary paperwork, and waiting periods. You should collect the court forms—starting with a petition for divorce in Texas.
Once you gather the right information, you can choose the type of divorce and go through the process fast and without spending lots of money. DoNotPay provides the relevant data and also offers help with part of your paperwork—divorce settlement agreements are our specialty.
When To Use an Original Petition for Divorce in Texas
To start divorce proceedings in Texas, you need to complete and file an original petition for divorce with the court. You must also have the petition served to your spouse.
Besides the Texas original petition for divorce, you'll need the following divorce forms for an uncontested divorce, i.e., when you and your spouse agree on all divorce matters:
​Information on Suit Affecting the Family Relationship
Final Decree of Divorce
You might also need:
Civil Case Information Sheet—Check with your county court clerk's office if you need this form as some don't require it
Out-of-State Party Declaration—You'll need to file this form if your spouse resides outside Texas
Statement of Inability to Afford Payment of Court Costs—Complete and submit it if you cannot afford the court filing fee
Keep in mind that there are different forms of the Texas original petition for divorce for a divorce with children and with no minor children.
How To File for an Uncontested Divorce in Texas
The least expensive, complicated, and time-consuming type of divorce in Texas is an uncontested divorce.
To check whether you can file for a friendly divorce, take a look at the following table:
Meet the Requirements
Additional Information
Fulfill the residential criteria
You or your spouse must:

Be a Texas resident
Have lived in the county for a minimum of 90 days before filing for divorce

Reach an out-of-court settlement
You need to agree with your spouse on all divorce aspects, such as:

Once you negotiate the terms, you should state all the agreed matters in a divorce settlement agreement

State the grounds for divorce
You can use the following no-fault grounds for divorce:

Insupportability—Your marriage has been broken because of conflict of personalities and cannot be reconciled
Separation—You've lived separate and apart for at least three years

File and serve the papers
Once you fill out the court forms and prepare additional documentation, you need to file them with your county court and have your spouse served using one of the following allowed methods:

Process server
Service:

Of the sheriff's office
By publication

Keep in mind that your spouse could also waive their right to be served with the divorce papers by signing a waiver of service in front of a notary
One of the many advantages is that you can file for an uncontested divorce alone, i.e., you don't have to appoint a lawyer.
How To Prepare Texas Divorce Petition and Other Paperwork
You don't need to hire a costly attorney to fill out the original petition for divorce and other court forms for you. You can complete and file the required paperwork on your own by:
Downloading the available forms from the Texas Courts website
Using instructions and toolkits provided on the website
Create a Divorce Settlement Agreement
You need to create a divorce settlement agreement since you should have all the agreed-upon terms in the written form. This document must be thorough and properly drafted to meet legal requirements.
To prepare a divorce settlement agreement, you could consider the following options:
Appoint a lawyer—While any divorce attorney can prepare all documentation and handle the whole process for you, keep in mind that this legal service will increase the cost of your divorce significantly
Use online divorce services—If you choose to use online templates, you should inspect them carefully since some are too general and might not comply with your state and county laws
Register for DoNotPay—We ensure your divorce settlement agreement meets all legal requirements and covers the specifics of your case. On top of it all, our app can deliver the required document super fast
Take DoNotPay's Practical Way to a Reliable Divorce Settlement Agreement
DoNotPay gathers data about current state laws across the USA. We use this information to generate rock-solid divorce settlement agreements you can get in a flash!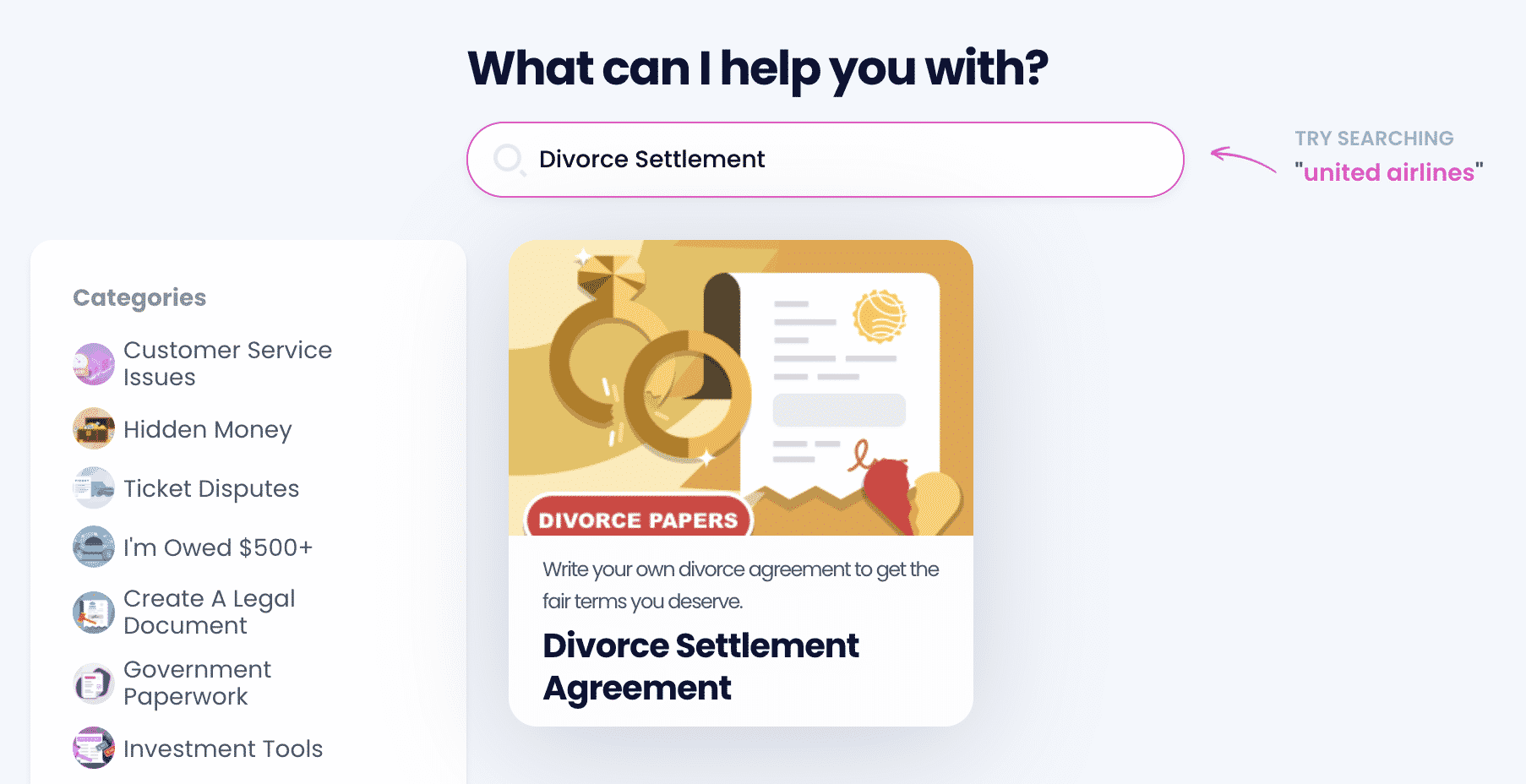 Judge for yourself how simple it is. Here's what you should do—sign up for DoNotPay and take the following steps:
Locate the Divorce Settlement Agreement feature
Provide information about your situation and the agreement you've reached with your spouse
Let us know if you'd like to have the document notarized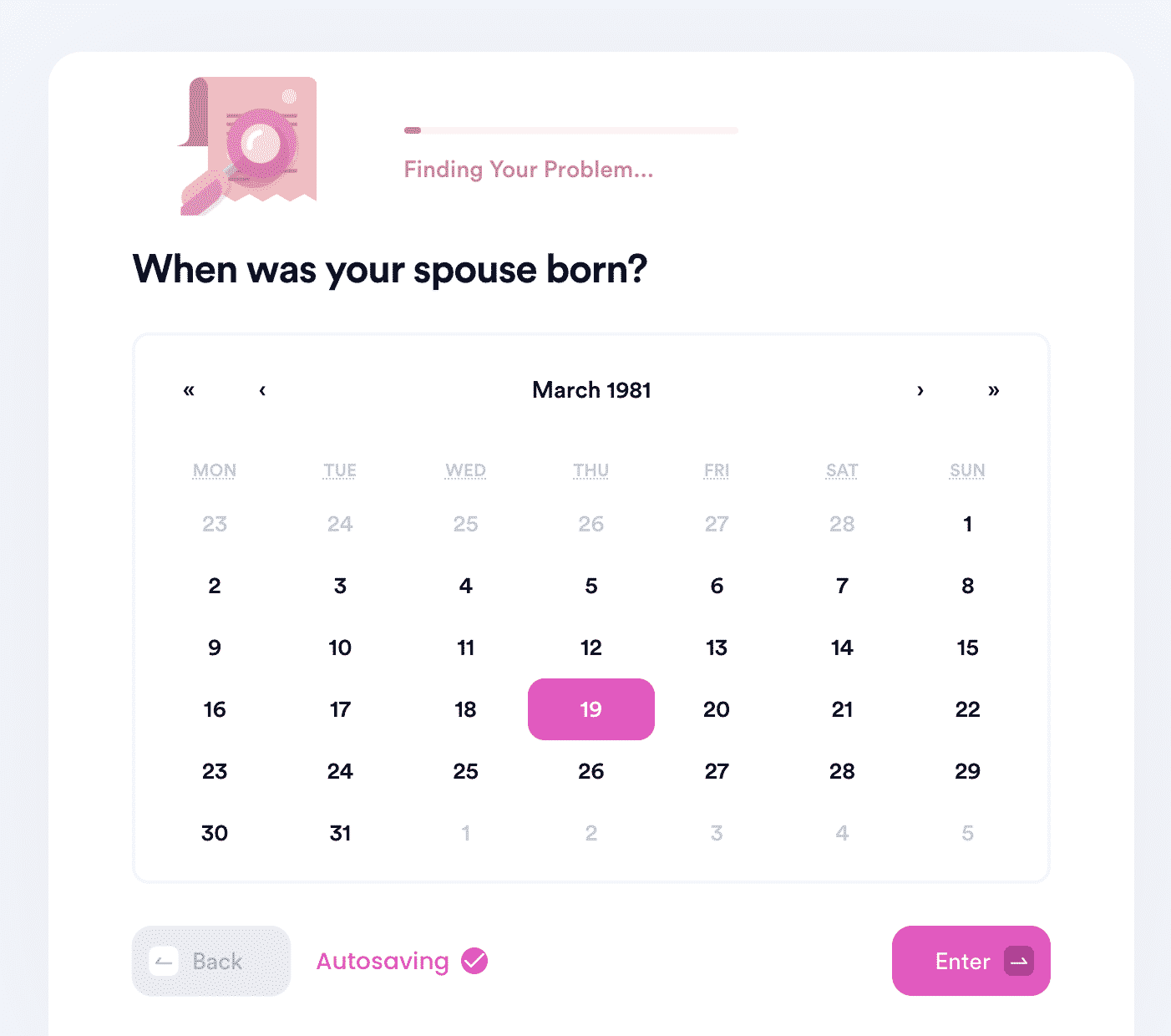 What's next? File the agreement with the court and wait for the judge to approve it.
Collect the Right Information for a Seamless Divorce
DoNotPay provides lots of helpful guides. Check out the following table to see some of the questions we've already answered:
General Divorce Questions
Texas-Specific Questions
Divorce Procedures in Texas Counties and Cities
What are the specifics of divorce procedures in the following counties:

What about these two cities:
DoNotPay Goes the Extra Mile for You
We are dedicated to providing solutions to difficult and time-consuming tasks you may have on your to-do list. If you are struggling to reduce your monthly bills, contest parking tickets, or set DMV appointments, DoNotPay will help you do it in no time!
We have also created numerous easy-to-use features that can make the following procedures run smoothly:
Get Justice From Companies That Wronged You
Do you feel like you have been played by a company? Instead of wasting your time writing requests, demand a chargeback or refund or claim a warranty via DoNotPay! If the company doesn't seem too cooperative and keeps refusing to return your money, our app can assist you in suing it in small claims court.
To help you save some coins or regain what's yours, DoNotPay will also help you locate unclaimed funds, submit insurance claims, lower your property taxes, and cash out gift cards.