How to Get Your Pet License Easily in PA with the Help of DoNotPay
Pet ownership comes with many responsibilities. Not only must you provide them with a safe and healthy living environment, an appropriate diet, and adequate exercise, but you must also make sure they are trained and mentally stimulated to avoid boredom and destructive behaviors, as well as properly vetted and licensed.
A pet license signals that you are following state and local vaccination ordinances, and can help get your pet returned to you more quickly if it goes missing. If you need assistance getting a pet license in Pennsylvania, DoNotpay can help. 
Pet Licensing in Pennsylvania 
There are a few things you should know about getting your pet license in Pennsylvania.
Licensing is through the PA Department of Agriculture, Bureau of Dog Law Enforcement.
Dogs three (3) months and older must be licensed by January 1st each year.
Owners can be cited up to $300 per dog, plus court costs, for non-licensed dogs.
Dog wardens may randomly canvas neighborhoods looking for unlicensed dogs.
You can purchase a license by submitting an application to your local county treasurer (or issuing agent)
There are a few cities or municipalities that will license directly
You should check with individual counties or cities regarding cats, pot-bellied pigs, ferrets, or other pets that commonly require licensing across the United States.
Dog License Fees in Pennsylvania 
There are a few different factors that will affect the price of your license.
Annual License
If the license is issued by an agent rather than the county treasurer, there will be an additional $0.50 charge.

$8.50 per pet

$6.50 for spayed or neutered pets

Seniors or Individuals with Disabilities
Individuals who are seniors (age 65 or older) or have disabilities can provide proof of age or disability to the county treasurer or agent to receive a discount.

$6.50 for seniors or individuals with disabilities

$4.50 for spayed/neutered pets for seniors or individuals with disabilities

Lifetime License
An annual license requires that the dog be microchipped or tattooed.

$51.50 for regular license

$31.50 for spayed or neutered animals
How Do You Register a Pet in Pennsylvania on Your Own?
There are three ways you can register your dog in PA. Anyone can register their dog by mail, though it can be a little tedious. Some people will have the option to apply online. Or, read on to find out how to quickly register your dog with DoNotPay right now.
Register by Mail
You can register your pet by mail no matter what county you live in. 
Go to the Pennsylvania Department of Agriculture's webpage titled "License Your Dog in PA"
Scroll down and click the link to the application
Print and complete the application
or, fill out the PDF online and then print
Remember to mail your application and fee to your county treasurer's office
Register Online
Some counties give you the option to register your dog online.
Go to the County Treasurer page
Scroll down to your county
If online registration is offered for your county, you will see a website link.
Click the link and complete the online application as instructed.
If your county does not offer online registration, DoNotPay can do it for you!
DoNotPay is a Hassle-Free Way to Get Your Pet License in Pennsylvania 
You no longer have to worry about printing applications or hunting down your county treasurer's office address, hoping they have an online registration office. DoNotPay can start your application for your dog license right here, right now!
How to Save Time Registering Your Dog in Pennsylvania using DoNotPay:
1. Go to the Pet Licenses product on DoNotPay.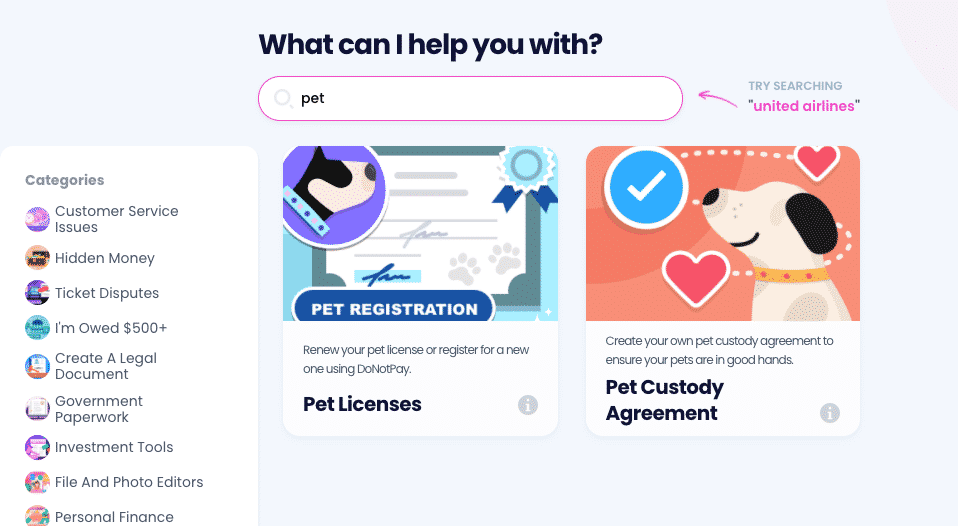 2. Enter the county or city you are looking to register your pet in.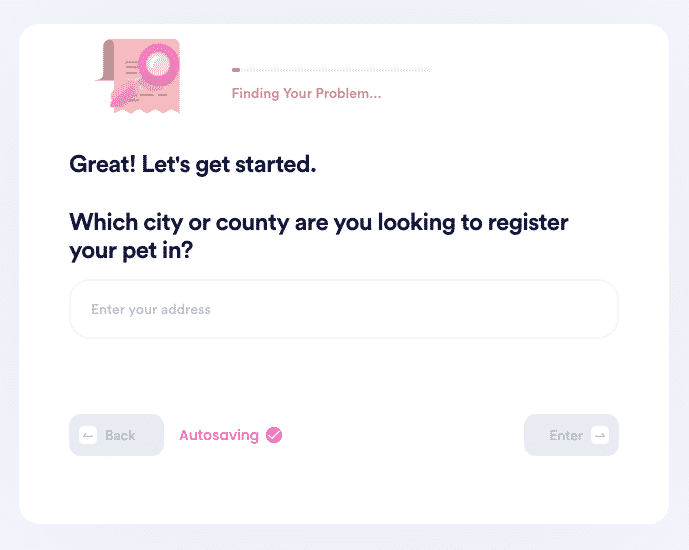 3. Tell us more about your pet, including the breed, gender, whether they are spayed/neutered, approximate age, and more.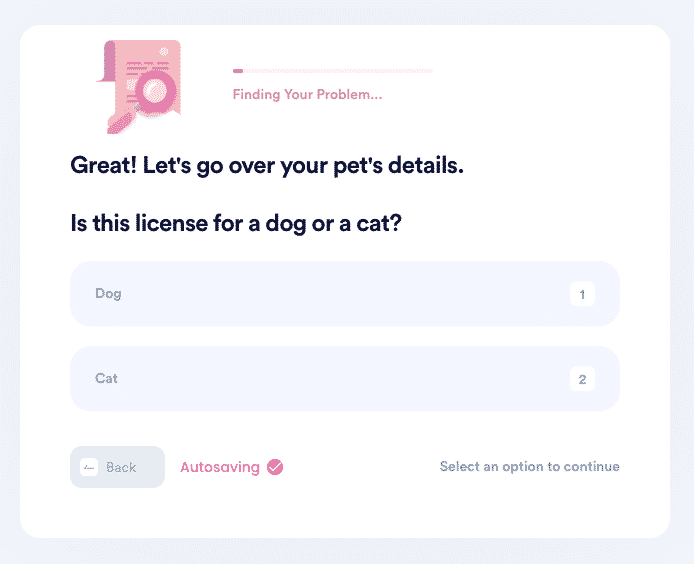 4. Upload evidence documents that prove that your pet has been spayed/neutered (if applicable) and a copy of the rabies vaccination certificate.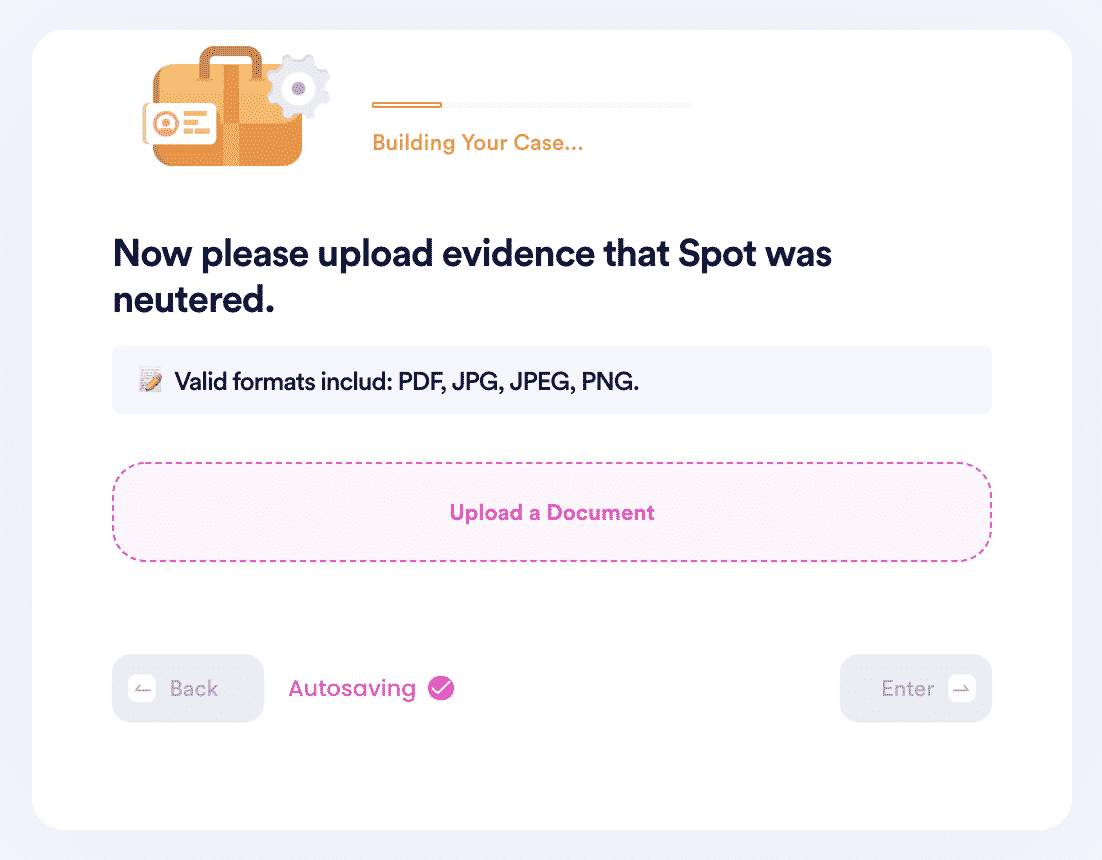 5. Enter your contact information, including email, address, and phone number.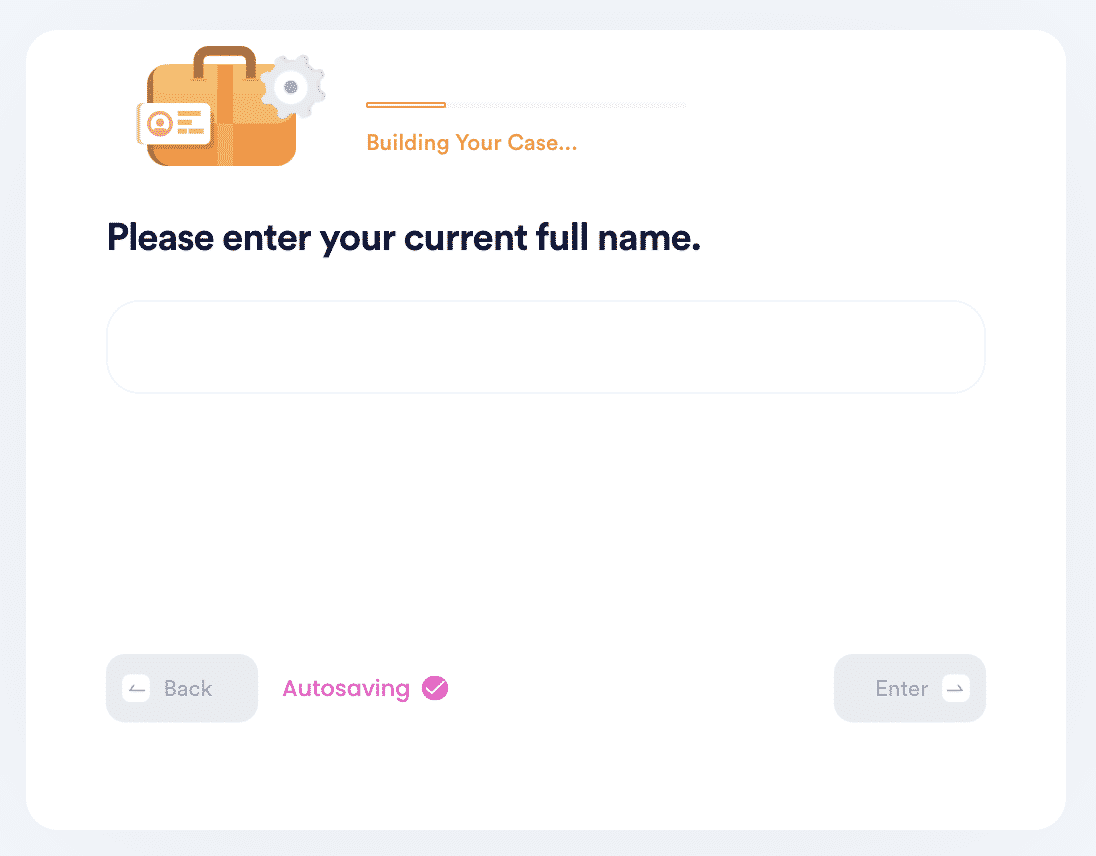 6. Complete your application by paying the license processing fee, so we can file the application on your behalf.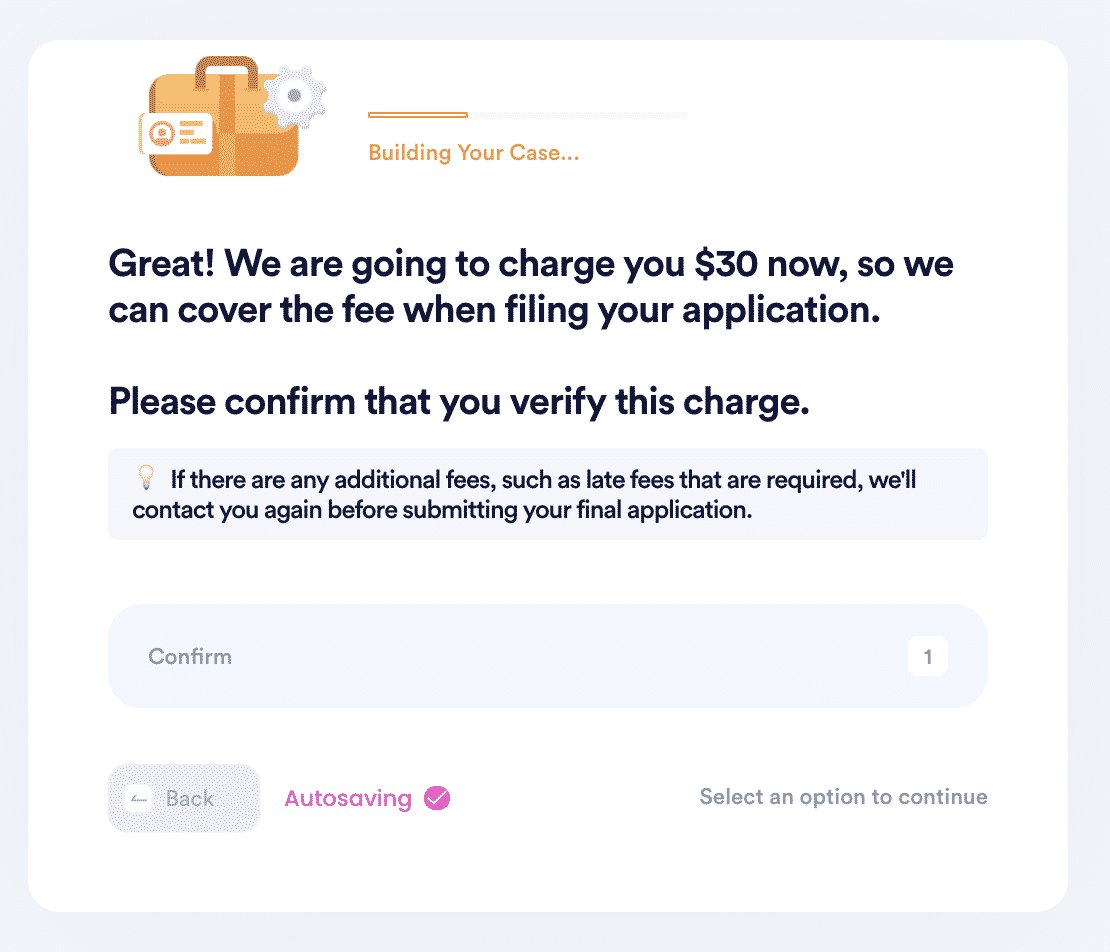 Why Should You Use DoNotPay to Apply for a PA Pet License?
DoNotPay offers a quick and hassle-free solution to register your dog, no matter what county you are in. The process is fast, easy, and successful! You can start right now by quickly giving us the pertinent information and we will take care of the rest. You can skip printing an application or hoping you remember to mail it in.  We file the application on your behalf, and you get back to cuddling your pet.
DoNotPay Gets Pet Licenses Anywhere 
DoNotPay's Pet Licensing service works everywhere, not just in Pennsylvania. No matter what city, county, or state you are in, here are just a few of the places where we can help you get your pet licensed:
How Else Can DoNotPay Help You Today?
DoNotPay offers a variety of services in addition to pet licensing. We solve problems and offer solutions for everything that concerns you, including, but not limited to:
DoNotPay is here to help!