Are Peru Tourist Visa Rules Getting You Dizzy? Fall Back on DoNotPay
Peru is a fascinating land for explorers all over the world. You can admire the ruins of the Incan Empire, experience colorful Peruvian festivals, and hike across diverse landscapes—all in a single trip!
Despite being a budget-friendly travel destination, Peru is yet to be explored by many tourists. That's because many travelers panic and hesitate to visit this beautiful country due to the hassle of getting a Peru tourist visa.
If you want your next trip to be to Peru, the frustrating documentation and application process can drag you down! That's where DoNotPay steps in—our AI-enabled Tourist Visa Guide can sort out any country's visa guidelines to:
Check if you need a tourist visa for the country
Support you with a reliable guide for the application process
Sign up today and kick-start your Peru traveling plans swiftly!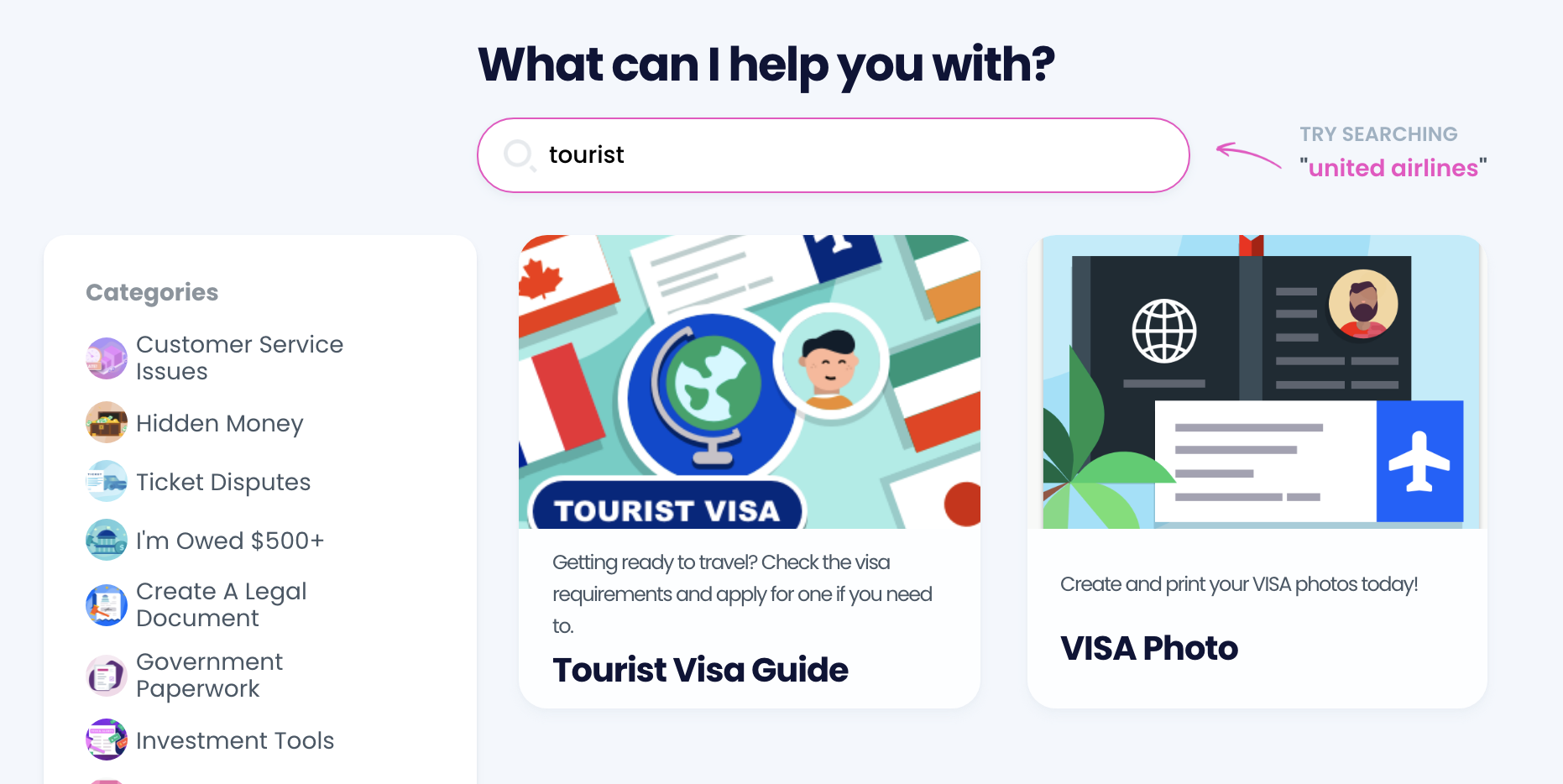 Do U.S. Citizens Need Tourist Visas for Peru?
Peru's visa policy excuses U.S. citizens from acquiring a tourist visa under certain conditions. You can enter Peru visa-free if you:
Have a U.S. passport that is valid for at least six months from the date of travel
Are visiting purely for recreational purposes
Plan to leave the country within 183 days
You can also opt for a visa waiver if your country of origin is India or China, as long as you have either of the following:
A valid, permanent U.S. residence permit or green card
A U.S. visa that won't expire for at least six months
Are You Traveling Without a Tourist Visa to Peru? Learn the Entry-Exit Rules
Did you know that you cannot carry more than $30,000 when entering or exiting Peru? Whether you are traveling with or without a visa, you must understand Peru's strict entry-exit rules for a worry-free travel experience.
Entry Rules for Peru
U.S. authorities require you to be vaccinated for yellow fever before your trip to Peru. The Center for Disease Control and Prevention (CDC) also recommends vaccines against the following illnesses:
Hepatitis A
Typhoid
Rabies
COVID-19
The moment you enter Peru, you must show your U.S. passport and proof of return or onward travel to the country's immigration authorities. After the verification process, the authorities will:
Document your date and place of entry
Give you a pass for your approved duration of stay (between 30 and 183 days)
If Peru officers deny you entry for any reason, the local U.S. Embassy will be unable to help you, and you will have to return.
Exit Rules for Peru
As per the current guidelines, you must test negative for COVID-19 within 72 hours before boarding your return flight to the U.S.
When you leave, the authorities will verify your travel details according to the entry record. You will be allowed to exit the country only after successful verification.
This table summarizes the potential issues that can arise during your exit from Peru:
Issue
Consequences
Overstay

If your stay exceeds the duration stamped on your pass, you will be detained in Peru unless you pay the overstay penalties in cash

Missing or mismatched entry record

You cannot leave Peru until immigration officers confirm your time and place of entry. If your record is missing or mismatched, you need to backtrack to your entry point to get your data. Verifying your records is a complicated process that may cost you time and money

Lost or stolen passport or pass
To exit Peru, you will need to:

Report the matter to the police
Use the report to obtain an entry record replacement
Get a new U.S. passport issued from the Embassy
Tourist Visa Requirements for Peru—Here's What You Need To Know
Peru has a strict no-extension policy for visa-free tourists. If you wish to stay in Peru for more than 183 days (or if your purpose of travel also includes business), you need to apply for a visa.
Follow these steps to get a Peru visa:
Contact your nearest Peruvian Embassy
Get a detailed list of the documents you need to submit
Fill out the form and attach the documents as per the embassy guidelines
Submit the form and pay the visa fee
Attend the visa interview
If your application is approved, your visa will be processed within five to 30 days.
Peru Tourist Visa Fee
Depending on the length of your trip, your Peru visa may cost you anything between $30–$80.
Peru Tourist Visa Application Form Attachments
Here is a general list of the paperwork that goes with your visa application form for Peru:
A copy of your valid passport
Recent passport photo that's 4.3 x 3.5 cm in size, taken against a white background
Documents to act as proof of:

Round trip
Accommodation in Peru
Financial solvency

Detailed travel itinerary
A cover letter describing your intent of travel
A minor travel consent form, if applicable
The above list is not final. You may be asked to submit additional documents specific to your purpose of travel during the verification process.
DoNotPay Can Work Out Your Tourist Visa Queries
Navigating through changing rules and time-consuming procedures that follow visa applications is an overwhelming chore. Even a minor documentation mistake can be the kiss of death for your travel plans. Luckily, stressing over tourist visas is a thing of the past!
DoNotPay's Tourist Visa Guide product gives you full-fledged solutions for all your nagging visa troubles!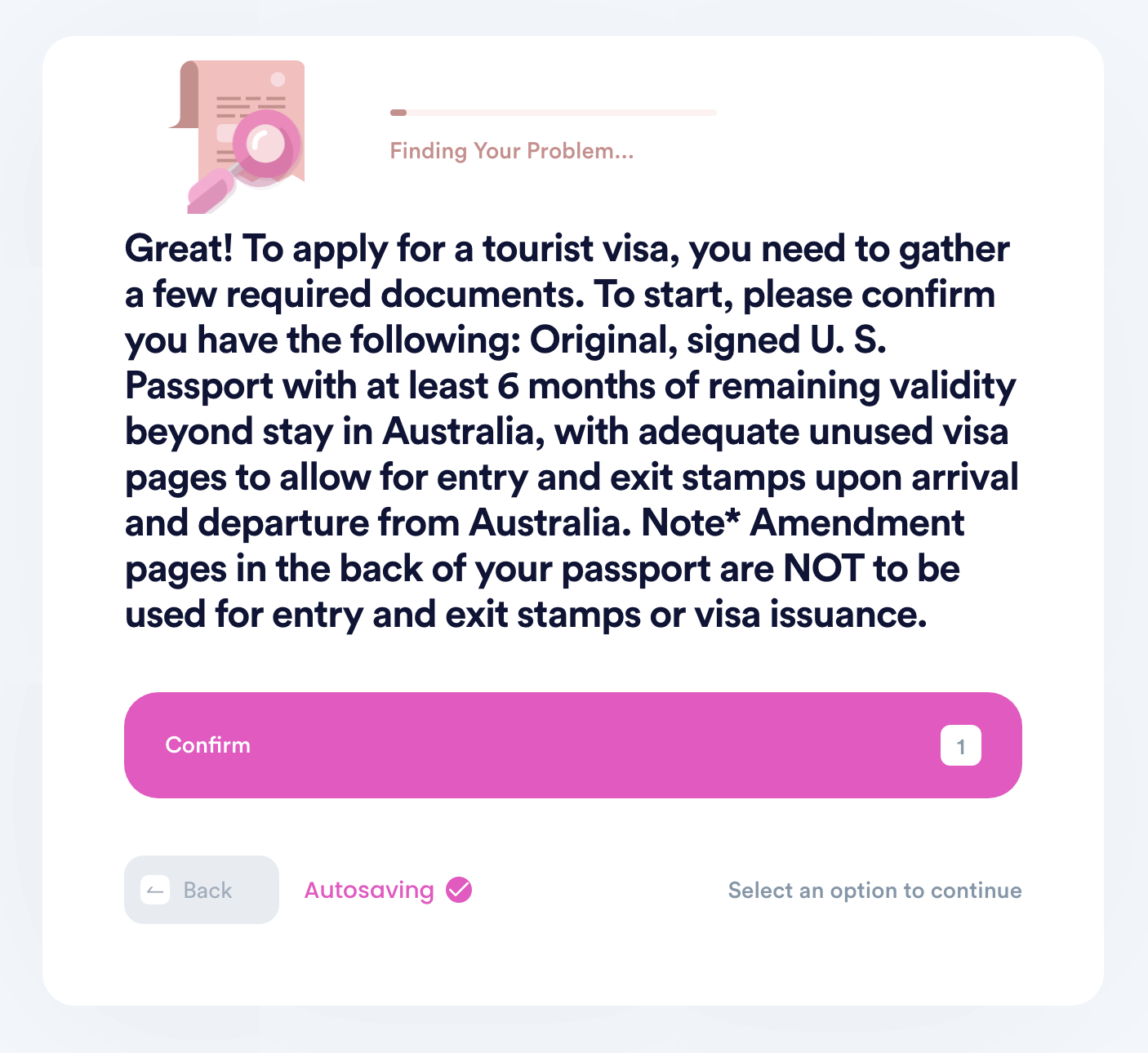 Our app will tell you whether you're eligible for visa-free travel to any country. For countries that don't allow you entry without a tourist visa, we offer multi-level support to help you sail through the application process smoothly.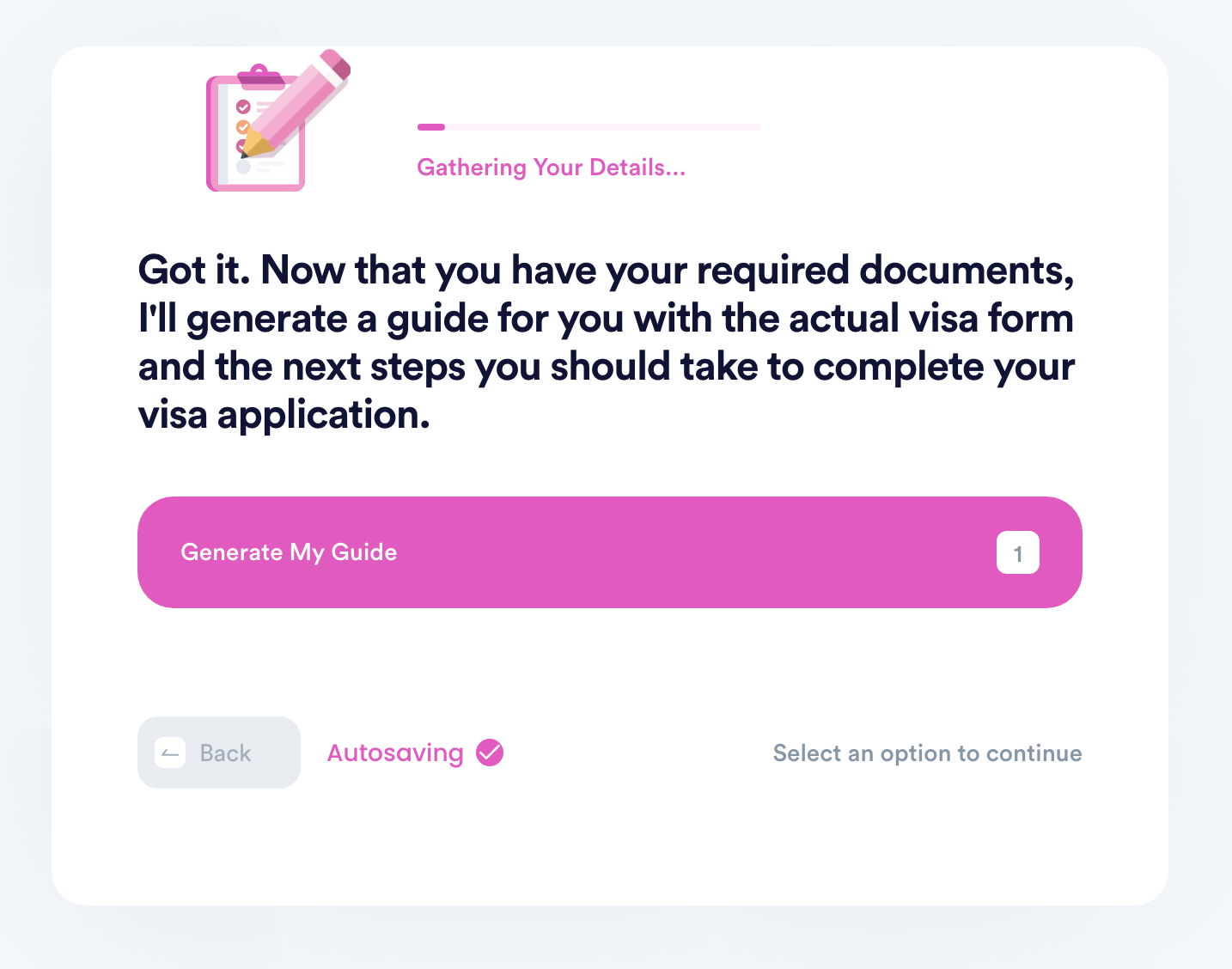 You can interact with our chatbot to get a comprehensive list of the documents you need for the application. We can also generate a special application guide to help you fill the form precisely.
There's more—DoNotPay can also help you:
Download the latest PDF version of the application form
Contact any embassy for mailing guidelines
Find the authentic government portal for submitting online forms
Our Create Passport Photos tool will also help you print visa-ready photos as per the specifications!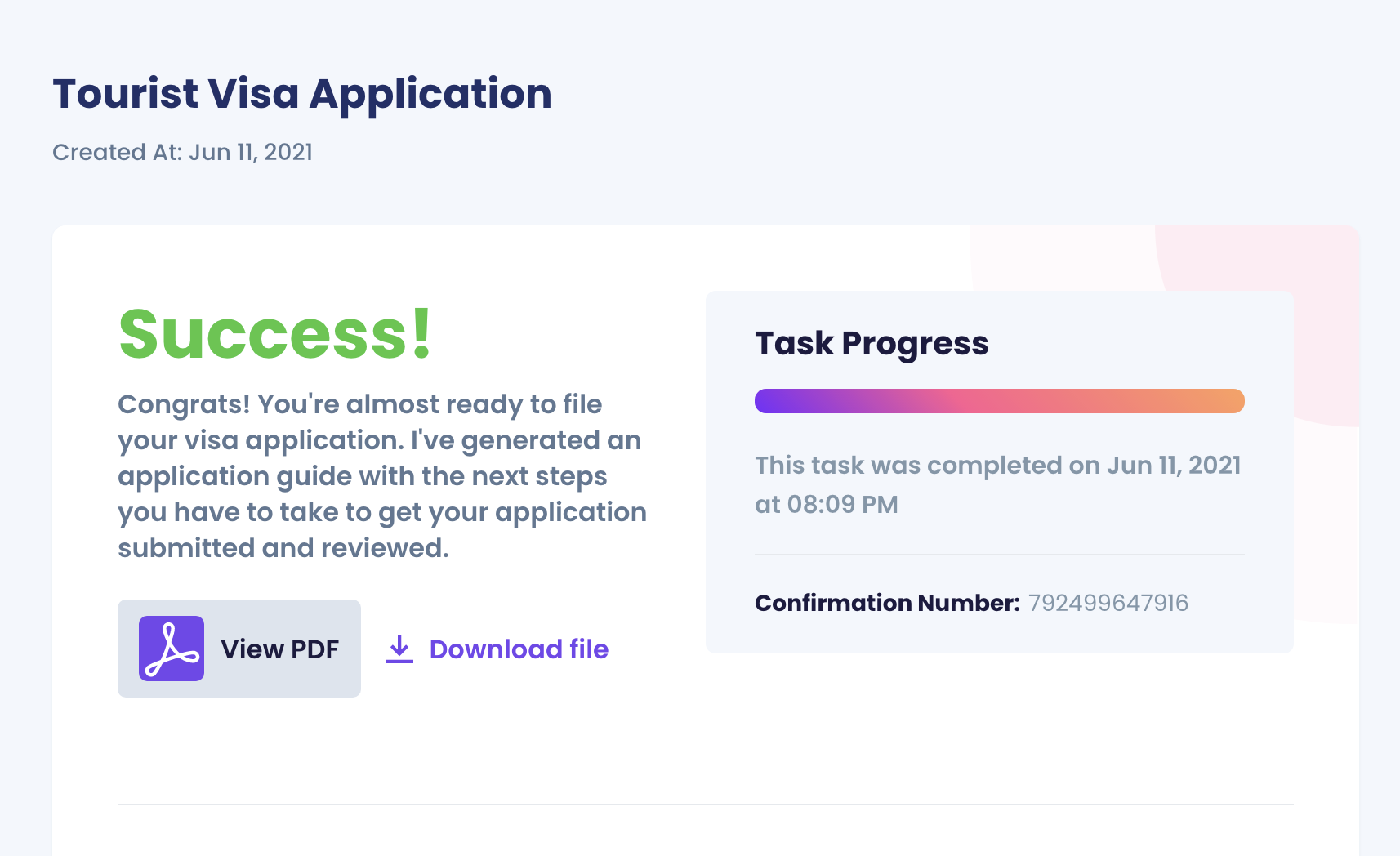 Follow these easy-peasy steps to use our tourist visa services:
Log in to DoNotPay and hit the Tourist Visa Guide button
Confirm that you have a valid U.S. passport
Set your destination country and follow our chatbot's instructions
Rest assured that using DoNotPay will minimize the risk of rejection due to a faulty application and speed up the processing time!
Wonderstruck by Latin America? DoNotPay Will Help You Explore
We don't blame you for falling head over heels for Latin America's dreamy locales!
As visa guidelines keep changing all the time, make sure to check out DoNotPay's tourist visa guides before planning your trip to these countries:
Have Your Documents Created and Notarized in Less Than Five Minutes!
Why spend hundreds or even thousands of dollars on lawyers when the ideal solution is only a few clicks away?
DoNotPay saves the day by enabling you to generate numerous legal documents. Creating proper child travel consent forms, divorce settlement agreements, and powers of attorney has never been easier!
Our perks don't stop here—you can also have your documents notarized electronically from any location. Once you obtain a notary stamp and signature, your paperwork can be faxed online without outdated machines.
Explore Everything DoNotPay Has To Offer
Day-to-day tasks you must deal with don't have to be a burden or rocket science. Signing up for DoNotPay is your ticket to performing them the easy way! We offer a wide selection of products that don't cost an arm and a leg but do excellent work when it comes to solving your administrative issues!
Our services will help you: