The Significance of Creating a
Performance Agreement
One of the ways to improve employee's performance in a company is by introducing a performance agreement. Employers often use this legal document as a tool for creating a more productive team.
If you want to know when the performance agreement is necessary and what the terms should include, look no further. DoNotPay will provide answers and help you create many other contracts and agreements!
What Is the Performance Agreement?
The performance agreement is a legal document that sets performance expectations and obligations within a company, as well as the consequences of not meeting them. An effective performance agreement should:
Outline business needs

Be achievable and relevant

Hold employees and employers to account

Be fair to all participants
Major companies often use performance agreements to motivate employees but also to prevent newly hired workers from developing bad habits. Once the employer sets job expectations, the employee has the opportunity to object before promising to fulfill them.
Terms and Conditions of the Performance Agreement
While some terms may vary depending on the business, every performance agreement should include the following sections:
Performance Agreement Sections

Description

Employer and employee information

Employee's name, title, and position

Manager's name

Date of the agreement

Goals statement

The employee states their goals and expectations for the following period

Work performance expectations

The manager lists his or her expectations based on the employee's responsibilities

Individual behavior expectations

The manager and the employee present their expected code of behavior

Employee statement

The employee makes a statement confirming they understand the terms and conditions of the contract and agree to them
Details of Enforcing the Performance Agreement
Making an employee sign a performance agreement is only the first step towards improvement. Managers have to collaborate with their employees and be continuously involved in their progress to get faster results.
To ensure the best possible outcome of creating a performance agreement, the employers should do the following:
Be clear about their expectations 

Note the employee's expectations

Track the progress of the employee 

Determine a follow-up date to check the progress

Establish outcome results and consequences
Explain the Expectations in Detail
An employer needs to do more than specifying the behavior they want to see in an employee via the agreement. They also have to explain in person why that behavior is necessary.
Get the Employee's Feedback on the Deliverables
Employers should avoid "dictating" their expectations to the employee. The progress will be achieved faster if both parties determine the goals together before defining them in the performance agreement. 
Monitor the Employee's Progress
Employers should follow the employee's progress gradually. This approach is less likely to cause surprises during the performance evaluation. It also helps keep employees on track with the performance agreement stipulations. 
Set Up Accountability Meetings
When employees know that the employer will follow up on their progress, they are more likely to work on meeting the company's expectations. Employers should schedule meetings regularly to:
Review goals defined by the performance agreement

Check if there are any issues

Make adjustments, if necessary
Determine Results and Consequences
Employers should state the consequences of meeting or not meeting the goals in the performance agreement. Employees that achieve the company's expectations can be rewarded with a bonus or continuing employment. 
Why Are Performance Agreements Important?
Performance agreements are beneficial for both the company and employees. Some of its greatest advantages include:
Encouraging open communication

Aligning company and individual goals

Providing a realistic objective and a fair method of measuring performance

Strengthening trust and understanding between the management and employees

Establishing a system to follow performance and make development plans

Making performance a shared responsibility between managers and employees
If you need to create a performance agreement, you should consult a lawyer rather than rely on contract templates. 
You Don't Have To Hire a Lawyer Every Time—Use DoNotPay To Create Legal Documents
Some documents, such as the performance agreement, are tricky to create without a lawyer's assistance. However, if you need a residential lease agreement, a prenup, or a bill of sale—you can rely on DoNotPay for help!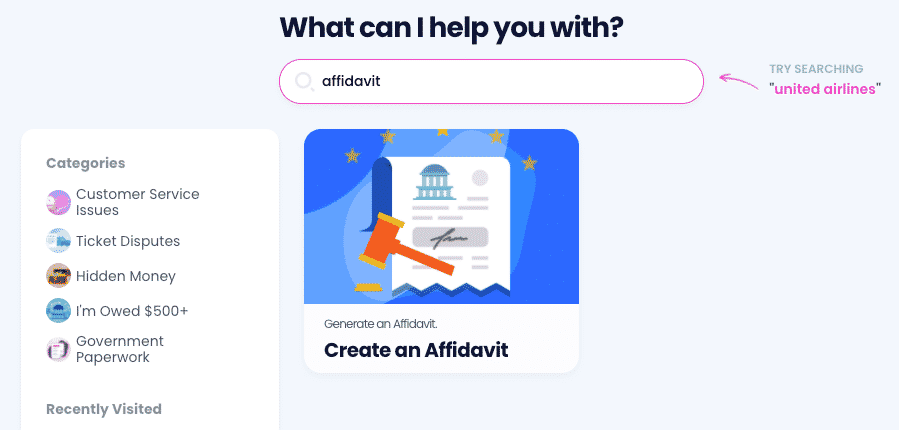 We can create many business, real estate, and other documents on your behalf. Our contracts are tailored to meet your specific needs and comply with particular laws in your state. Take a look at the vast selection of agreements we can generate for you:
General Business Contract

Bill of Sale

Residential Lease Agreement

Intent To Purchase Real Estate

Quitclaim Deed

Promissory Note

General Affidavit

Prenuptial Agreement

Child Care Authorization Form
How To Get a Personalized Contract With DoNotPay
Getting a personalized contract requires you to:
Type in the name of the document you want to create 

Answer a few questions from our chatbot

Download or print your personalized contract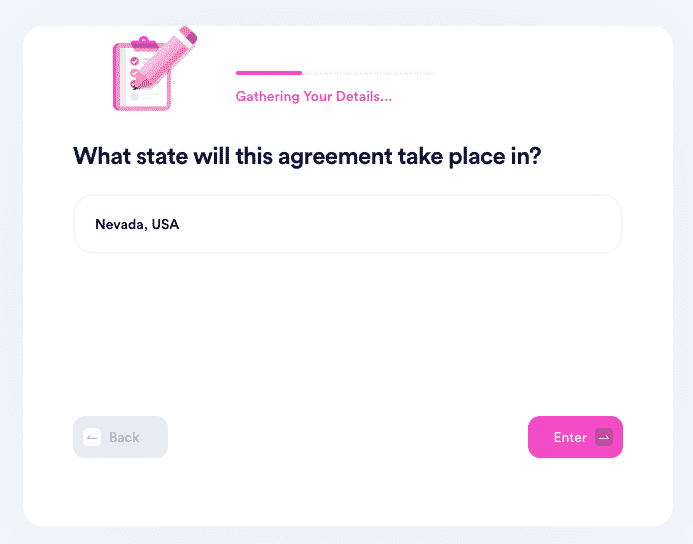 If you want to get a document notarized, DoNotPay can help you find a notary. Our app can connect you with an online notary who will notarize any contract you create in a jiffy!
If you need to send the document further, use our Online Fax product and fax it to any recipient in minutes.
Learn About DoNotPay's Awesome Products!
DoNotPay is a multifunctional app that can solve numerous everyday challenges swiftly. 
You can use our app to protect your work from copyright violations, schedule your driving exam or any other appointment with the DMV, reduce your property taxes in a few steps, and similar.
We have created many useful products to help our users take care of their issues through the same app. With us, you can:
DoNotPay Connects You With Your Loved Ones
Sending letters to inmates can be difficult since you have to follow certain rules to a T to avoid having your letter rejected. The situation is even more complicated if you don't know where your incarcerated loved one serves time. DoNotPay's app can help you locate prisoners and correspond with them without worrying whether you're breaking any rules. 
Do you want to send a letter, but you don't feel like heading over to a post office? By using our mailing service, you can mail as many letters as you want from the comfort of your home. With DoNotPay, you can also send online faxes in under five minutes!
Email and text spam is something that everyone experiences at least once in their lives. DoNotPay has a solution for that too. Access your DoNotPay account and count on us to help you block spam and get compensation by reporting pesky robocalls.