The Ultimate Guide to Getting a Pennsylvania Scholarship
If you're planning on pursuing higher education in one of the 166 colleges and universities in Pennsylvania, then you know that it will cost you a pretty penny. Local students have to pay a hefty price, and the number is even higher for out-of-state students.
There is a way to work around those sticker prices without breaking the bank, though, because you can find many scholarships and grants in PA that can help you pursue higher education.
This guide will walk you through the process of finding and applying for a Pennsylvania scholarship that caters to your financial needs in a matter of minutes!
How To Find a Pennsylvania Scholarship You Qualify For
Pennsylvania scholarships are waiting for your application. All you need to know is where to look for them. Some of the ways you can find scholarships in Pennsylvania include:
| Scholarship Search Method | Description |
| --- | --- |
| Using online search tools | These services list available scholarships based on the criteria you enter. Their disadvantage is that you still have to submit individual applications by yourself and try several search criteria that can easily overlap |
| Asking your school's financial aid consultant | Every school has its own awards and resources for students to find additional scholarship opportunities. Talk to a financial aid consultant in your school to learn about available options |
| Contacting federal agencies | Federal grants and scholarships mainly focus on low-income students. If you fall under that category, federal awards are a great starting point |
| Checking with local non-profit organizations | Women, veterans, international students, and many other special student groups can explore financial aid options awarded by dedicated non-profit organizations |
| Contacting the Pennsylvania Higher Education Assistance Agency | Special awards are available for Pennsylvania residents and are distributed by the Agency |
DoNotPay uses your location and other personal information and preferences to find the best scholarships for you. Subscribe to DoNotPay to get a list of scholarships in Pennsylvania you're eligible for and apply for some of them directly through our app!
How To Apply for Scholarships in Pennsylvania
When applying for scholarships in Pennsylvania, you'll notice they have different application requirements. To apply for college scholarships in Pennsylvania, you usually need to submit:
The Free Application for Federal Student Aid (FAFSA)
The College Scholarship Service (CSS) Profile
For some college awards, this might not be enough, and for middle and high school awards, it's not applicable at all.
In those cases, you may need to:
The application process for no-essay scholarships usually consists of entering some basic information, such as your full name, state of residence, and the school you're attending. Even though their awards are usually significantly smaller, they are worth considering because of the easy application process.
To complete the online form for Pennsylvania state scholarships, you need to provide:
The month and year you received your diploma
Your spouse's Social Security number, if you're married
A recent account statement if you have a savings account through PA 529
What Grants and Scholarships in Pennsylvania Are Worth Considering?
Check out the table below to learn more about some of the more prominent grants and scholarships in Pennsylvania:
Recipient Category
Awards
Description
Pennsylvania scholarships for high school seniors
Postsecondary Education Gratuity Program
Awards students of all majors who are residents of Pennsylvania. The award pays for the student's tuition, fees, books, room, and board
The CORE Philly Scholarship Program
All Pennsylvania residents, with one parent who is also a PA resident, can apply for this award. Applicants must have graduated from a secondary school in Philly
Pennsylvania House of Representatives Scholarship Program
Students accepted into a higher education institution in Pennsylvania can receive aid for up to four years based on their academic merit
Pennsylvania college scholarships
Federal Pell Grant and all of its supplements such as the:

Federal Supplemental Educational Opportunity Grant
Academic Competitiveness Grant
National SMART Grant

FAFSA applicants demonstrating immense financial need can receive a combination of these federal grants
Pennsylvania Society of Professional Engineers
First-year engineering students can receive up to $1,000 if they:

Are enrolled in a participating school in Pennsylvania
Have a minimum 3.6 GPA
Have a minimum SAT score of 700 in Math and 600 in Verbal
Find the Perfect Pennsylvania Scholarship for Yourself With DoNotPay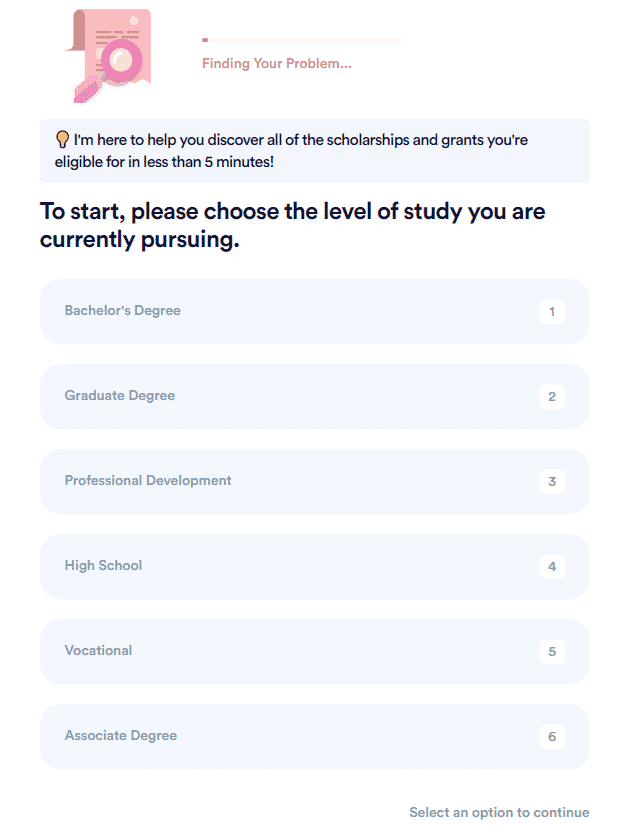 DoNotPay offers a tool to help you secure financial aid for any level of study, from freshman year of high school to graduate studies. Our app curates and updates a list of scholarships you're eligible for using the information you provide.
To learn about what scholarships in Pennsylvania you can apply for:
Enter Apply for Scholarships in the search bar
Answer a few short questions
If you've ever applied for no-essay scholarships, then you know the struggles of entering the same information in the application forms every time, but there is an easier way! Our app can apply for no-essay scholarships on your behalf automatically!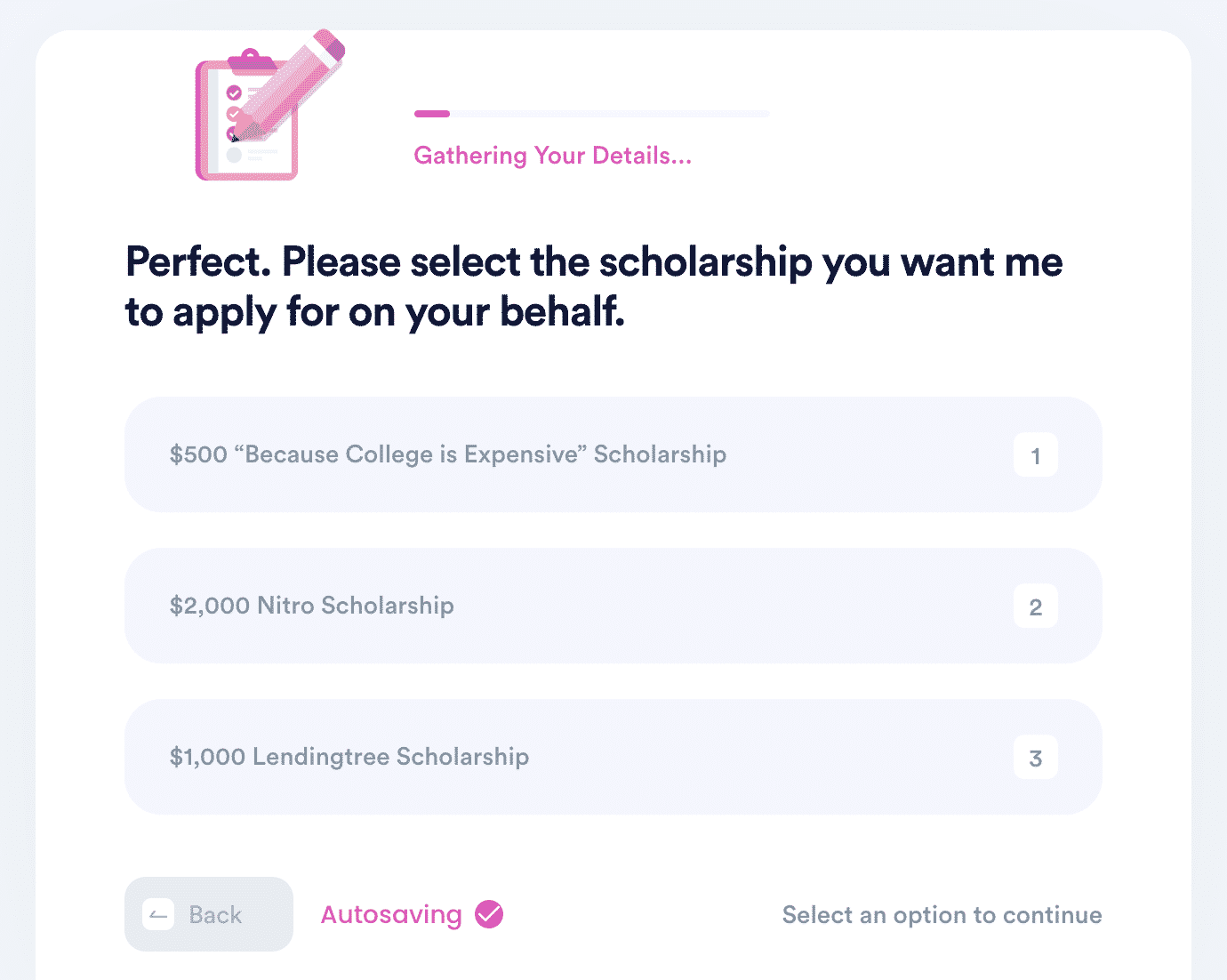 DoNotPay Helps You Run Errands Without Leaving the Comfort of Your Home!
If you're on a tight schedule and you can't afford to spend hours running errands, DoNotPay steps in with a perfect solution! You can skip going to the post office to request an item return or visiting a notary public to get your documents notarized—Our app will help you get it all done without going anywhere!
Visiting your local Walmart to have your passport photo taken is unnecessary since DoNotPay can help you get it at home!
Consult the list below to see what other tasks you can complete using our app:
Unsubscribe From Unwanted Services at Any Time
Companies tend to keep charging their clients monthly subscription fees automatically if they don't end their subscriptions. Stop wasting money on forgotten memberships—DoNotPay will show you how to terminate your subscription in a few clicks!
You can also learn how to sign up for a free trial without getting charged, create a burner phone number or a virtual credit card hassle-free!