Find Out if You Are Eligible for a Pennsylvania Property Tax Exemption 
If you are looking for help to pay property taxes, you should learn about property tax exemptions available. Use DoNotPay to see whether you qualify for a Pennsylvania property tax exemption easily!
What Is Property Tax and Why Is It Necessary?
Homeowners are familiar with house-related costs that they need to pay each year. The amount differs in accordance with the assessed value of the property. Some of the factors that influence this assessment are the size, location, and neighborhood.
These taxes fund schools, hospitals, libraries, road construction, and similar entities. The problem with property tax is that it can sometimes be too expensive. The good news is that there are possible ways to lower it—the most popular being property tax exemptions and appeals.
How To Calculate Property Tax?
To get a tax bill, you will need to find out your property tax rate and the assessed value. Once you have that info, you'll need to multiply the rate and the value—that's your tax bill. Another important factor that can affect the result is property tax exemptions.
What You Should Know About the PA Property Tax Exemption for Disabled Veterans
If you live in Pennsylvania, you can count on property tax exemptions for veterans as a way to lower your property taxes. To qualify, you must:
Be a Commonwealth resident

Live in the property as your principal household

Own the property

Be an honorably discharged service member

Have served during established war service dates (DOC)

Own a Navy Expeditionary Medal or Armed Forces Expeditionary Medal

Have a 100% permanent service-connected disability

Be blind—visual acuity of three-sixteenths or ten two-hundredths

Be a paraplegic—have bilateral paralysis of the upper or lower extremities of the body
As proof of financial need, you should have an annual income of less than $92,594. To apply, you'll need to contact the County Veterans Affairs Director in the county you reside. In case the veteran who meets the qualifications for this tax exemption dies, their spouse has the right to continue using it if they have proof of financial need.
What Other PA Property Tax Relief Is Available?
In addition to the property tax exemption for veterans, Pennsylvania has a Property Tax/Rebate program that is used to help senior citizens and disabled persons. This tax relief program uses the casino gambling revenue from the state. It grants partial refunds every year.
To qualify for this tax relief, you need to meet certain requirements. You need to be:
65 and older

A

widow or widower

of age 50 and older

A person with a disability of age 18 and over
The maximum standard rebate is $650, but sometimes supplemental rebates can boost this number to $975.
PA Property Tax Exemption—Use DoNotPay To Find Out if You Qualify
You don't have to bother yourself with finding out whether you meet all the criteria for the property tax exemption in Pennsylvania—DoNotPay can do it for you! We've made the entire procedure straightforward. You will see the results in under five minutes if you follow these instructions:
Access DoNotPay from any

web browser

Locate and open the

Property Tax

feature

Provide us with some answers about your property

Answer a few questions about yourself

Wait for DoNotPay to generate your personalized guide to property tax reductions
We will make sure you collect the forms you need and send the application without any issues.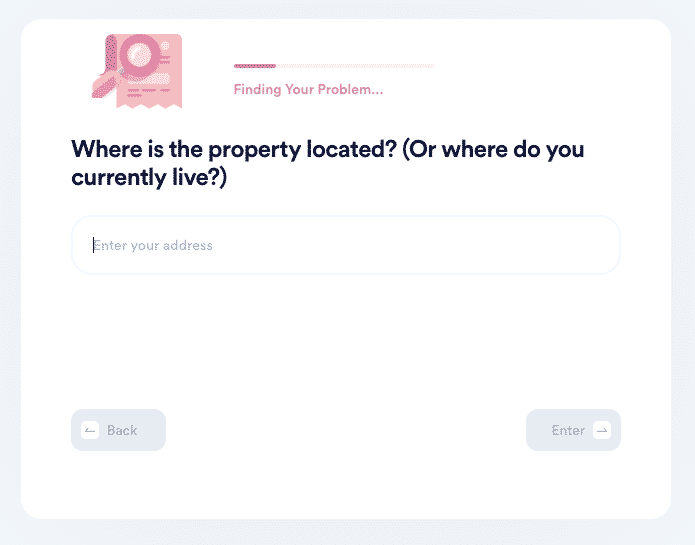 You can use DoNotPay to learn more about the states with lower property taxes. See more details in the table below:
| | | |
| --- | --- | --- |
| Rate (From Lowest) | State | Property Tax Rate |
| 1 | Hawaii | 0.36% |
| 2 | Alabama | 0.48% |
| 3 | Colorado | 0.52% |
| 4 | Utah | 0.56% |
| 5 | Nevada | 0.58% |
We also have all the info about the property tax exemptions in:
Use DoNotPay To Appeal Previous Property Assessments
You may turn to DoNotPay for help with appealing property tax assessments in case you notice that your taxes increased a lot compared to last year. Sometimes it can also happen that the evaluation includes some property you don't own anymore.
If any of this is the case, you should access our app from your web browser and open the Property Tax feature. We can offer tips and tricks for negotiating with the assessor without issues and gather evidence that can help you with your case.
What Else Can You Do To Lower Your Property Taxes in PA?
If you wish to increase your chances of lowering property taxes in Pennsylvania, you can try something other than exemptions and appeals. Here are some suggestions that could aid you:
Read through your tax bill and search for inaccuracies

Don't renovate your dwelling before the assessor evaluates it

Shadow the assessor while they walk around your house and make the assessment
These options can aid you to a point, but property tax exemptions and appeals are a certain way of lowering your property taxes.
Don't Let Companies Take Your Hard-Earned Money!
People love to subscribe to all sorts of services—especially if there are free trials involved. The problem is that most of them forget that they signed up for anything in the first place. Companies are aware of this, which is why they auto-renew memberships as soon as the free trials expire.
Don't let them get away with it—use DoNotPay to sign up for free trials and cancel subscriptions right before they renew. If you want to save even more money, use our platform to learn how to handle high bills, parking tickets, college application fees, canceled or delayed flights, or faulty services you should get refunded for.
Use DoNotPay To Stop Illegal Activities and Earn off Scammers!
Our AI-powered platform can assist you in dealing with all sorts of scammers. If you got any of the following, the world's first robot lawyer will help you seek justice:
Do you want to protect yourself and your loved ones from stalking and harassment as well? Use DoNotPay to learn how! If the situation with a stalker escalates, our app is going to help you take them to small claims court by preparing all the paperwork and your court statement.
Don't stop there—check out how you can bypass phone number verification, claim any type of warranty, or pass any government test with flying colors!