A Guide to Pennsylvania Power of Attorney Laws
A power of attorney (POA) can mean the difference between a secure financial future and serious legal wrangles for a principal, their family, and those closely associated with them.
The State of Pennsylvania understands this and recently introduced revised legislation to make sure that powers of attorney are regulated clearly and fairly.
DoNotPay helps you understand the finer points of Pennsylvania power of attorney law so you can ensure compliance and peace of mind.
How Does Pennsylvania Power of Attorney Law Work?
Pennsylvania's power of attorney legislation was overhauled in 2014 and 2015 to improve the clarity and robustness of existing legislation governing financial powers of attorney. Medical or healthcare powers of attorney are regulated by different laws, and these were left unchanged.
Under PA power of attorney law, a principal can grant the following types of POA:
General POA
A general POA confers control of all of the principal's financial affairs to an agent but terminates as soon as the principal is declared incapacitated. The powers that the agent receives can include control of:
Bank accounts
Investment portfolios
Real property
Business interests
Durable POA
Similar to a general POA, a durable power of attorney does not terminate when the principal is declared incapacitated. It only terminates when:
The principal passes away
The agent declares themselves unwilling or unable to continue in the role
The principal revokes the POA in writing
Springing POA
Under a springing POA, the agent only receives control of the principal's finances when certain defined criteria are met—such as the principal being declared incapacitated. It is also possible to create a durable POA with clauses that define certain powers as springing.
Limited POA
A limited POA gives the agent control over the principal's finances that is restricted to:
Certain defined areas of responsibility
A limited time
A principal can use a limited POA if they expect to be unable to manage their own affairs for a set time, after which they will be able to reassert control.
What Makes the Pennsylvania Power of Attorney Statute Different?
Pennsylvania is different from many other states in that it prescribes how a power of attorney should be set up but does not provide statutory forms for doing so.
You can draft your own POA document in Pennsylvania, but you need to include the following:
| | |
| --- | --- |
| POA Required Inclusions | Explanation |
| Notice to POA Parties | This clarifying document must be included with all POA letters in Pennsylvania. It serves as a warning notice that designated agents should exercise probity in fulfilling their duties under the POA |
| Acknowledgment | A standard acknowledgment form must be attached to any financial POA in Pennsylvania. This acknowledges that the agent agrees to abide by the POA, including acting according to the principal's wishes and keeping within the scope of the POA |
Pennsylvania Power of Attorney Requirements
The changes to Pennsylvania POA legislation were enacted in response to concerns that the process was at risk of fraud and abuse. The new requirements for signing a power of attorney in Pennsylvania aim to address these issues and are as follows:
Witnesses
Notarization
A Pennsylvania power of attorney has to be signed in front of a notary public. The notary's job is to:
Confirm the principal's identity
Verify that the principal is of sound mind at the time of signing
Confirm that the principal is not signing under duress
Witnesses
The principal must have the POA witnessed by two people who are:
Aged 18 or over
Not the agent
Not the notary
These rules are designed to eliminate fraud among agents and ensure that any POAs granted in Pennsylvania represent the wishes of the principal signing them.
How To Set Up a Power of Attorney in Pennsylvania
Since Pennsylvania does not provide statutory forms, a principal is free to draft their own POA using a template or a lawyer. As long as the legal requirements for attachments, notarization, and witnessing are adhered to, the POA will be valid.
The steps to creating a POA are:
| | |
| --- | --- |
| Steps to Creating a POA | Explanation |
| Choosing an agent | An agent should be someone the principal trusts to act in their best interests for the full duration of the POA |
| Drafting the POA | The more detail the principal includes in the scope of their POA, the more likely they will be able to avoid contests and confusion |
| Signing the document | Pennsylvania POAs come into effect by default as soon as they are signed, witnessed, and notarized |
A power of attorney confers significant power on an agent, so you may feel you need the services of a lawyer to draft your document.
DoNotPay can save you the hassle and expense of a lawyer—you can use DoNotPay to create your customized power of attorney as effortlessly as possible!
Get Your Pennsylvania POA From DoNotPay

Setting up a power of attorney with DoNotPay is doable in a few clicks—here's what you need to do:
Click on our Create a Power of Attorney product
Follow the on-screen prompts and give the details you want to be included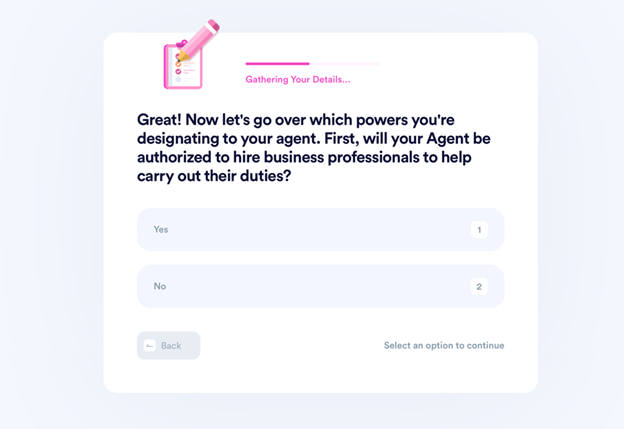 DoNotPay will handle the rest—in a few moments, your POA will be ready for signing, witnessing, and notarization! If you want to make your life even easier, use DoNotPay's online notarization service and handle POA notarization from the comfort of your home!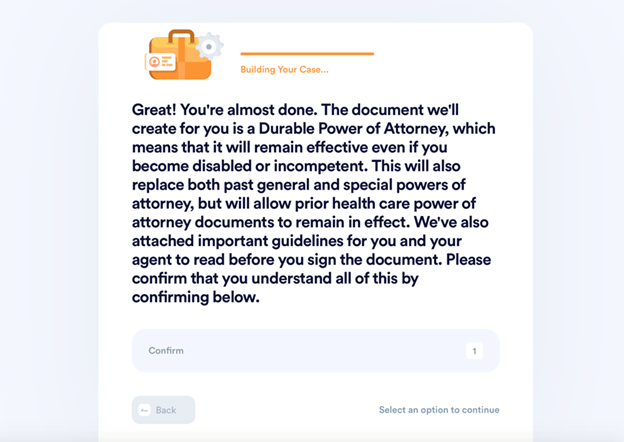 You Can Count on DoNotPay To Resolve Any Issue
Are you stuck in the never-ending subscription cancellation procedures? Do you want to demand a refund once you finally reach a customer support rep? Is the company refusing to cooperate? No need for stress—your personal assistant can lend a helping hand.
Is there anything else we can help you with? You bet! Once you sign up, we can resolve a number of issues in your stead. Count on our app if you're struggling with:
You Don't Have To Suffer in Silence
Have you been experiencing workplace discrimination lately? Do you have a real-life stalker or harasser that you're too scared to confront? Do you want to get rid of robocalls and text and email spammers once and for all? You're not alone—DoNotPay is by your side and will help you deal with all of these issues.
As soon as you subscribe to our app, you'll be able to use our products to your advantage and fight for your right worry-free!