Pennsylvania Divorce Laws and Alimony Explained by DoNotPay
Knowing the Pennsylvania divorce laws—alimony ones especially—is crucial for getting a successful divorce. To get all the information you want, there's no need to hire a lawyer or waste time trying to learn the technicalities on your own.
We have prepared a guide that will save you time and energy by explaining PA alimony in no time.
and get a marital settlement agreement to decrease your divorce costs without breaking a sweat!
What Types of Alimony Are Available in Pennsylvania?
Alimony is a payment that the higher-earning spouse makes to the lower-earning one to help them get back on their feet. In Pennsylvania, you can be awarded two types of alimony. Check the table below for details:
| | |
| --- | --- |
| Alimony Type | Explanation |
| Spousal support | This alimony type is temporary financial support. One spouse pays the amount from the moment they separate until they file for divorce |
| Alimony pendente lite (APL) | Alimony pendente lite is awarded after the divorce papers have been filed. The agreement lasts until the divorce gets finalized by the judge. The APL helps the spouse in day-to-day life during the divorce process and helps them pay the costs |
Are You Qualified for Alimony in Pennsylvania?
If you're getting a contested divorce, the court will decide which party is eligible for alimony. The judge will decide based on the Pennsylvania Guidelines for Spousal Support.
In case you're having a friendly divorce, you can agree on the alimony terms with your spouse outside of court. Couples who can't reach a middle ground should try divorce mediation. Mediation can help them get to a compromise regarding the alimony.
DoNotPay can help you with divorces in various PA counties, including:
What Are the Pennsylvania Guidelines for Spousal Support?
The Pennsylvania Guidelines for Spousal Support consist of 18 factors. Getting an uncontested divorce means that you get to decide on the type, duration, and amount of alimony granted. The factors that you need to evaluate are:
Relative earnings of both spouses—Take into account how much money each spouse has earned during the marriage
Duration of the marriage—The longer the duration of the marriage is, the more time may be needed for the supported spouse to adapt to living on their own
Age of the spouses
Physical, mental, and emotional states
Sources of income of both spouses—Medical, retirement, insurance, and other benefits are included as well
Inheritance and expected future earnings of each spouse
Degree to which one spouse has contributed to the other spouse's education, training, or increased earning potential
Degree to which a spouse will be monetarily affected by their position as the custodian of a minor child
Standard of living that the spouses established throughout their marriage—The judge will consider the lifestyle each spouse has become accustomed to
The relative education of the parties—The amount of time it would take for the supported spouse to acquire the necessary education or training to get employed is also considered
Relative assets and liabilities of the two spouses—Bank and brokerage accounts, loans, and card debt is also included
Property each spouse brought into the marriage—Property that's evaluated includes:

Home
Rental property
Business property

Degree to which a spouse contributed as a homemaker—The amount of time each spouse has contributed to child care and household maintenance will be included in the evaluation
Relative needs of two spouses
Marital misconduct of either of the spouses during the marriage
Federal, state, and local tax consequences of the alimony
Sufficient property lacks
Ability to provide for the alimony-requesting spouse's reasonable needs
Getting Divorced? Create a Settlement Agreement With DoNotPay That Will Suit Your Needs Perfectly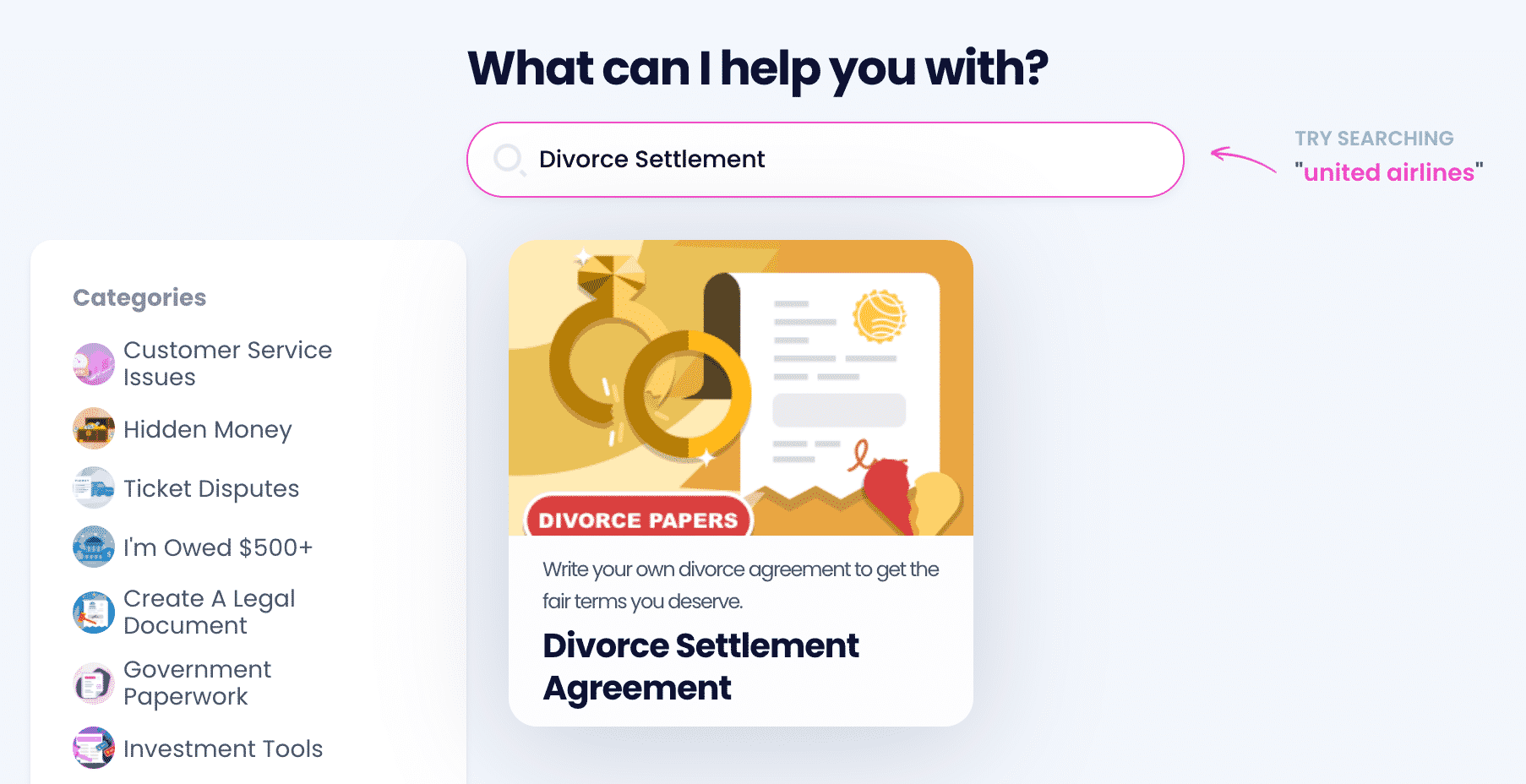 If you're planning to get a low-cost and quick divorce in Pennsylvania, you will need a marital settlement agreement. This document is crucial to the process as it will outline all the details of alimony and the terms of your divorce. To get one, you can spend a hefty amount of money on a lawyer to draw one up for you.
If you don't want your divorce costs to pile up, use DoNotPay! With our Divorce Settlement Agreement feature, you will get a fair agreement in a few clicks. Here's what you need to do:
Select the Divorce Settlement Agreement feature
Answer our chatbot's simple questions
Choose whether you want to have your document notarized online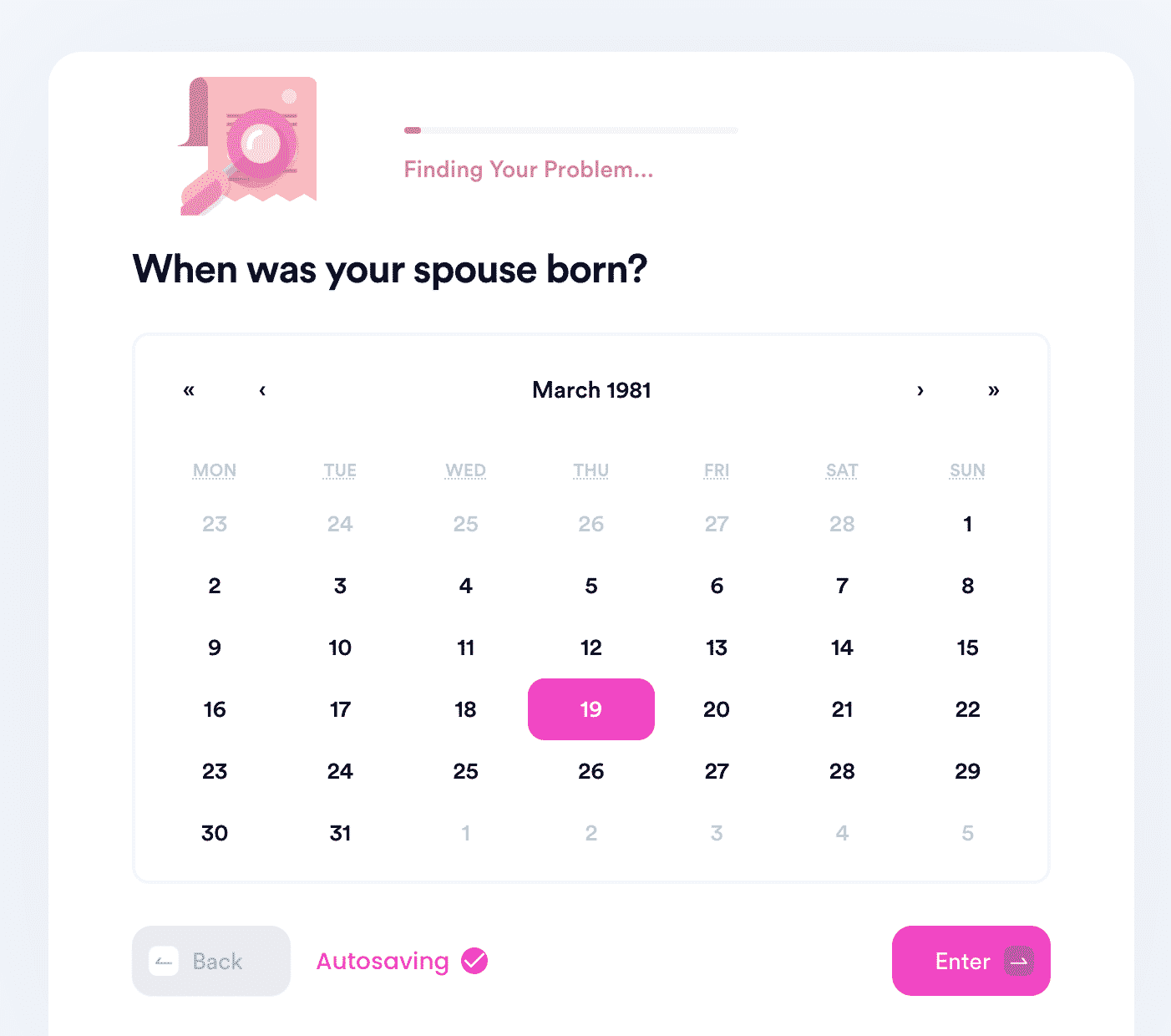 Once you submit your request, we'll create the document, which you can then sign and have notarized via an audio-video call.
Want to learn about divorces or get help regarding your divorce in Pennsylvania? Check out the guides DoNotPay has prepared for you:
| | |
| --- | --- |
| General Divorce Articles | Pennsylvania-Related Divorce Articles |
| | |
To Sue or Not To Sue?
Hiring a lawyer to help you sue a company can be helpful, but it can also cost you an arm and a leg. Luckily, you can avoid wasting hundreds of dollars and use our robot lawyer to sue any company in small claims court instead!
DoNotPay offers you a variety of other features you will find quite useful when dealing with bureaucratic issues. Check out the list below to see what else our app can help you with:
Shopping Without Dropping
Whoever said you should shop until you drop didn't have access to DoNotPay's various features. With our app, you can make your shopping experience smooth sailing and stress-free!
Here's a fragment of what you can accomplish by using our neat features: