What Is the Penalty For Missing Jury Duty in Georgia?
Although ignoring jury duty summons seems tempting, you risk facing legal repercussions if you do so. Each state imposes different jury duty penalties and laws. This article will focus on the penalty for missing jury duty in Georgia.
You can rely on DoNotPay if you wish to learn all about jury duty or need help to request jury duty leave from work.
How Does Jury Duty Work?
Eligible citizens are required to perform jury service on various civil and criminal cases by both state and federal courts. Trial by jury guarantees fairness and impartiality.
Potential jurors are selected from a list of registered voters, state identification database, and registry of driver's licenses. The computer randomly draws the names of prospective jurors.
You are considered eligible for jury duty in Georgia if you are:
18 years old or older
A United States citizen who lives in the State of Georgia
Living in the county where you were summoned
Able to speak and understand English
In Georgia, both federal and state jurors receive $50 per day of service.
What To Do When You Receive a Summons
Jury duty is a civic obligation of every American citizen, which is why you need to:
Read the summons and the accompanying documents carefully
Respond to the summons in a timely manner (the instructions on how to respond should be included in your summons)
Will You Need To Go Through a Jury Selection?
Getting a summons is only the first stage of the jury selection process. You will need to appear in court at the pre-set date to participate in the examination. A panel of attorneys will interview you on your background, prejudice, beliefs, and relations to the case.
Attorneys will exclude candidates who display conflicts of interest or personal biases that could cloud their judgment.
If you pass the selection, you will have to serve on a jury for the entire trial duration. Trials last one day in most cases but can stretch up to five days or more, which is why jurors are required to clear off their schedules accordingly.
What Happens if You Miss Jury Duty in Georgia?
If you don't show up when summoned, you will be held in contempt of court, and you will have to attend a hearing, where you'll explain your reasons for absence. Depending on how the proceeding goes, you will face any of the following consequences:
A $1000 fine
A three-day jail time
Community service
All of the above
Can You Skip Jury Duty With a Valid Reason?
In Georgia, you can request an exemption from jury duty for the following reasons:
| Situation | Statutory Exemption (Yes/No) |
| --- | --- |
| Elected official | No |
| Student | Yes |
| Breastfeeding mother | No |
| Military officer | Yes |
| Healthcare worker | Yes |
| Police officer | Yes |
| Firefighter | Yes |
| Disabled person | No |
| Elderly person (over 70 years of age) | Yes |
You can also choose to reschedule your service. In most cases, a judge only grants one postponement a year.
What To Do if You Are Not Eligible for an Exemption
In Georgia, employers are prohibited from firing workers who are serving on a jury.
You can get unpaid leave, but you need to notify your employer in advance and submit your summons so they can verify your absence.
Writing a formal letter is the best way to request time off. If you don't know how to write a jury duty leave request letter, you can rely on DoNotPay!
DoNotPay Offers a Hassle-Free Solution to Writing a Jury Duty Leave Request Letter
Unsure of how to format a jury duty leave request letter? DoNotHelp can help! Our app will handle everything in your stead once you complete the following steps:
Locate the Request Jury Duty Leave feature
Tell us the details about your jury service and your employer
Upload your summons and place your electronic signature
Once you submit the request, our app will generate a personalized letter in no time. You can print and send it to the employer on your own or have us forward it to their email.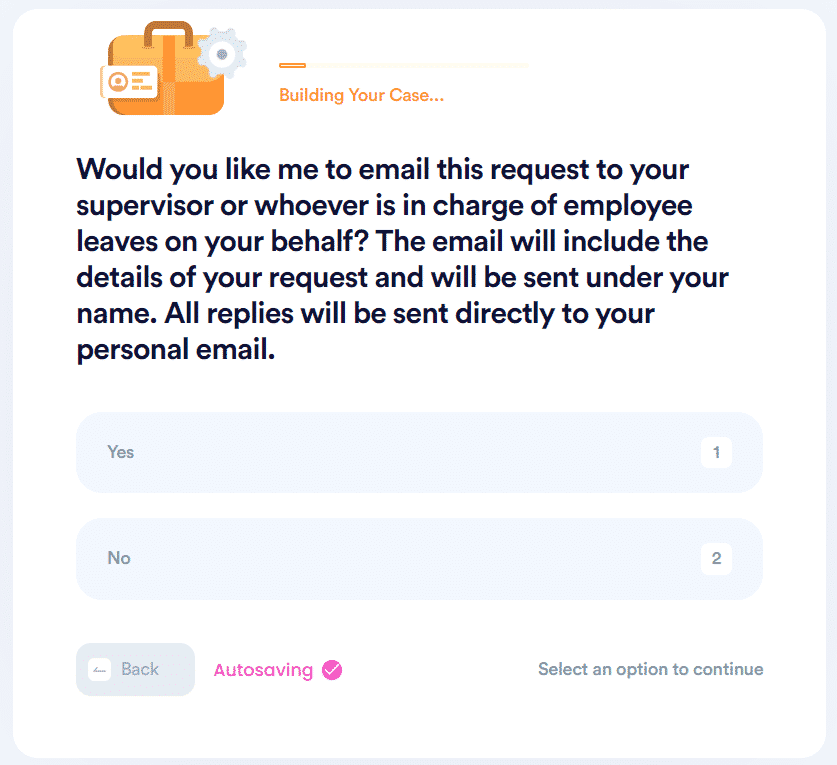 Make Your Money Troubles Go Away
If you want to join free trials and not worry about automatic renewals, our app is what you need. With DoNotPay's virtual credit card, you'll be able to avoid charges and keep your personal details to yourself.
We can also help you get a refund or request a cancellation.
Getting your money back is our field of expertise—Use DoNotPay to:
No Task Is Too Difficult for DoNotPay
Signing up for our app brings you an AI-powered assistant. Check out the benefits of having a DoNotPay account in the table below: