How to File a PCN Appeal Without a Lawyer

Parking tickets offer a profitable revenue stream for local authorities. In 2020, more than $65 million was collected from Penalty Charge Notices (PCN) from the top 10 UK councils.
DoNotPay makes it easy to file a PCN appeal without needing a lawyer. Our automated system can process your request in about two minutes, giving you peace of mind the matter is being handled.
Whether you need to file a PCN appeal in Islington, Birmingham, or with the TFL, DoNotPay can help. We can handle most council PCN disputes in the UK and can even process parking ticket appeals in U.S. cities such as Seattle, Chicago, San Jose, Los Angeles and New York.
Filing a Penalty Charge Notice appeal with the help of DoNotPay is quick and easy and does not involve phone calls, tedious forms, or complicated websites. The entire process is streamlined to make appealing penalty charge notices a simple task, as it should be.
Why Did I Get a Penalty Charge Notice?
A Penalty Charge Notice (PCN) is issued by local councils in the UK when parking contraventions occur in restricted areas. If you were found parking in an unauthorised spot, chances are you will receive a PCN.
If a camera takes a picture of your vehicle parked illegally, you will receive a PCN by post within 28 days of the offence. If a Civil Enforcement Officer witnesses the contravention, you will receive the PCN on your vehicle windshield where the car is parked.
While a PCN is not a criminal offence, you should not ignore the notice. Doing so can result in:
Additional fees
A negative credit rating
Possible further legal action
How to Appeal a Penalty Charge Notice
If you do not think you are responsible for the PCN complaints, you can file an appeal within 28 days of the issue. You have to file PCN appeals with the council that sent you the PCN. The back of the notice contains specific instructions on how to proceed.
In most cases, you will need to provide:
The eight-digit PCN number
Your vehicle registration name
First and last name of the vehicle owner and person filing the appeal
Address of the person submitting the appeal
Informal Challenge
If you appeal a PCN within 14 days of issue, and it gets declined, you can take 50% off the amount of the fine. If it is longer than 14 days, you must pay the entire amount.

If the council decides to accept the appeal, the PCN gets deleted, and you do not have to make payment.

Formal Representation
If the appeal is unsuccessful and you fail to pay the PCN for more than 28 days, you will receive a Notice to Owner (NTO) from the issuing authority. At that time, you must pay the entire amount to avoid further charges. If you still disagree with the findings, you can file a Formal Representation.

You should not take this next step unless:

The contravention was in error, and you are not responsible
The PCN states an irrelevant amount
The Traffic Order is invalid
You were not the owner of the vehicle
Your vehicle was taken without your consent

Traffic Penalty Tribunal
If the Formal Representation fails to bring successful results, your last chance for appealing a PCN is with the Traffic Penalty Tribunal. The group of independent lawyers can help with appealing a Penalty Charge Notice once you receive a Notice of Rejection of Representation.
How to Appeal PCN With the Help of DoNotPay

Using the DoNotPay automated system is the perfect solution for submitting a PCN appeal. With extensive experience dealing with UK councils, we have successfully submitted parking ticket appeals for over 250,000 people.
As reported by The Daily Mail, DoNotPay founder Joshua Browder created the technology after seeing how time-consuming the parking ticket appeals process is. Since DoNotPay's launch, "it's saved drivers more than $3 million."
Here's how to get started:
Log-in to DoNotPay and go to the Ticket Disputes category. Select the Parking Ticket product.

 

Upload a photo of your citation.

 

Provide us with some details on why you believe the citation issued is a mistake.

 

That's it! You'll receive an appeal letter that contains the best argument to win your case.

 
It's really that simple! You can use the carefully crafted appeal letter to serve as your argument when you challenge your ticket.
What Else Can DoNotPay Help You With?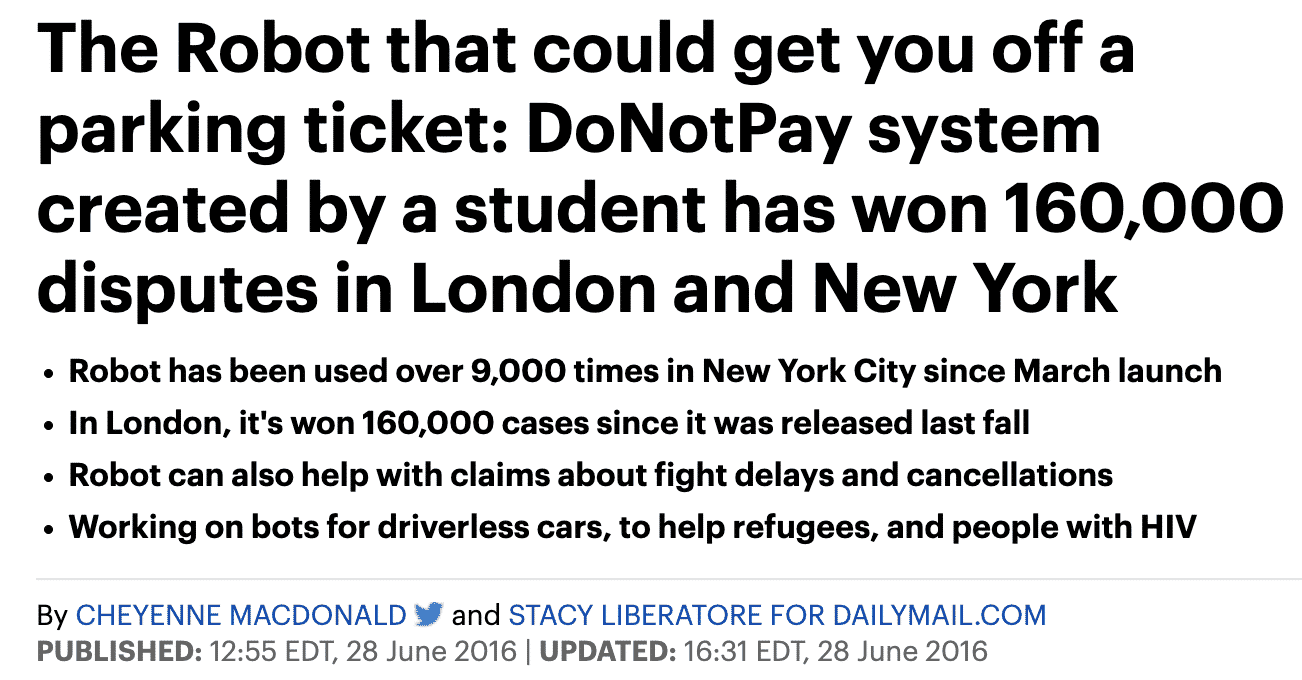 In addition to helping you submit a PCN appeal, DoNotPay can show you how to:
There are many ways to use the DoNotPay automated system to your advantage. We can help you resolve issues with just the click of a button from your home computer. Getting quick results is what we are all about.