The Ins and Outs of the PayPal Small Business Loan
Thinking of getting a PayPal small business loan but not sure how it works or whether it is the right option for you? This article breaks down this and other loan types at your disposal. You will also learn how to get a small business loan so you can cover your expenses more easily.
PayPal Small Business Loans—The Basics
PayPal offers several business loan plans, through which you can borrow anywhere from $5,000 to $500,000. The amount of money you can get to increase your budget depends on your credit score and the financial strength of the business you are running.
If you decide to get a PayPal loan, you will have to repay it over 13–52 weeks, depending on the amount you receive.
PayPal Small Business Loans—The Requirements
To get a PayPal small business loan approved, you have to meet certain criteria, such as having:
A PayPal business account
Solid personal credit score (at least 550)
A business that has been running for at least nine months
Annual revenue of a minimum of $42,000
No personal bankruptcies
If you want to check whether you qualify for a PayPal small business loan, you can complete a ten-minute online questionnaire on the official website. Once you complete it, you can customize the estimated loan terms by adjusting the amount and duration so you can compare the interest rates and other charges involved.
You will also be required to sign a personal guarantee, which will serve as a substitute for collateral in case you fail to repay the loan.
PayPal Small Business Loans—The Ups and Downs
To decide whether you should get a loan from PayPal, check out the pros and cons in the table below:
Pros
Cons

Fast funding—You will only need to wait a few days after submitting the application to receive the money
Strong credit not required—Some banks and online lenders require an excellent credit score, whereas PayPal only requires 550
No need for collateral—To get a PayPal loan, you do not need to pledge any assets, such as real estate or equipment

Limited availability—You can get a small business loan from PayPal only if you have a PayPal business account
No early repayment benefits—PayPal charges a fixed loan fee (determined upon applying). This means that you will not save on fees if you make additional or early repayments
No credit boosts—As PayPal only reports payments to the business credit bureaus, this means that your personal credit score will not improve if you repay the loan on time
Alternative Loan Options Worth Checking Out
You do not have to settle for PayPal—there are many other loan options you can take into consideration. Some of the best loans that you can get are:
The United States Small Business Administration (SBA) loans—This option is among the best for startups. The SBA offers various loan programs with interest rates between two and five percent. The organization requires a good credit score standing, and you will have to repay the loan in the period of ten to 25 years
Merchant cash advance (MCA)—The biggest advantage of MCA loans is that you do not need a superb credit score, but you do need to have proof of daily sales. The maximum amount you can borrow is $250,000
Online business loans—Interest rates for online business loans vary from 8% to 99%, and terms range from 12 weeks to ten years
How To Get a Small Business Loan
Whether it is from PayPal or any other lender, getting a small business loan can be difficult as you have to submit the correct paperwork and file a detailed application. You will have to:
Opt for a loan type
Determine whether you qualify for the specific loan
Gather the following documents:

Business and personal tax returns
Financial statements
Business plan
Bank statements

Draw up a business loan request letter
Lots of small business owners do not get their applications approved because of poorly written business loan request letters. They need to be flawless and can not contain any mistakes. If you want to get this crucial document tailored to your needs, use DoNotPay! Our app will generate the letter for you and guide you through the process to ensure you do not forget to submit any documents.
Go Through the Small Business Loan Application Procedure Effortlessly With DoNotPay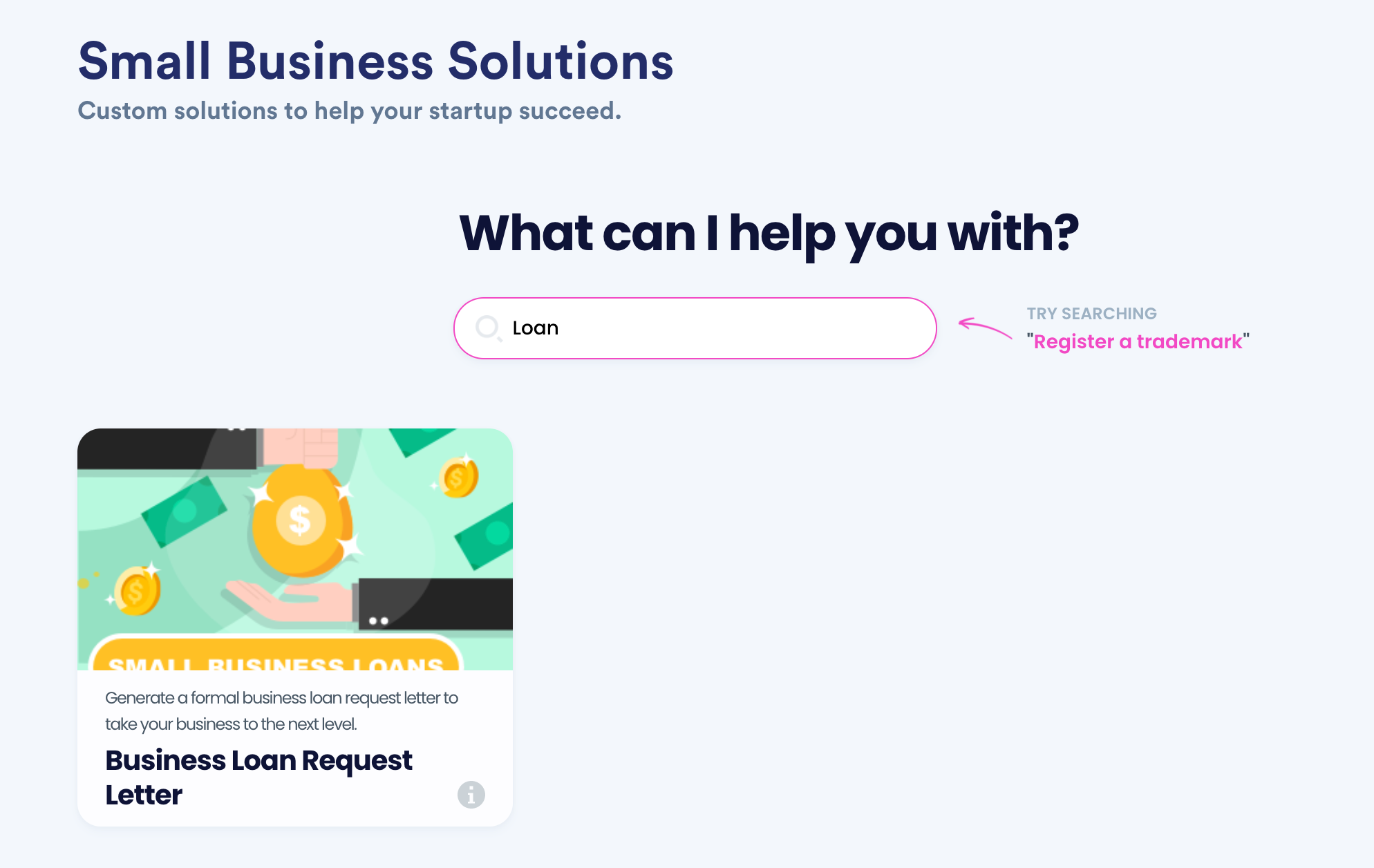 Why go through the loan application process on your own and waste your time and energy when you can have DoNotPay assist you. For an error-free application, all you need to do is follow these steps:
Locate our Business Loan Request Letter tool
Give us the details about the loan you want to receive
Upload the needed documents
If you want to take out a loan elsewhere to cover your small business or startup costs, we can help you find the best lenders in no time with our built-in Find Online Business Loan Lender tool.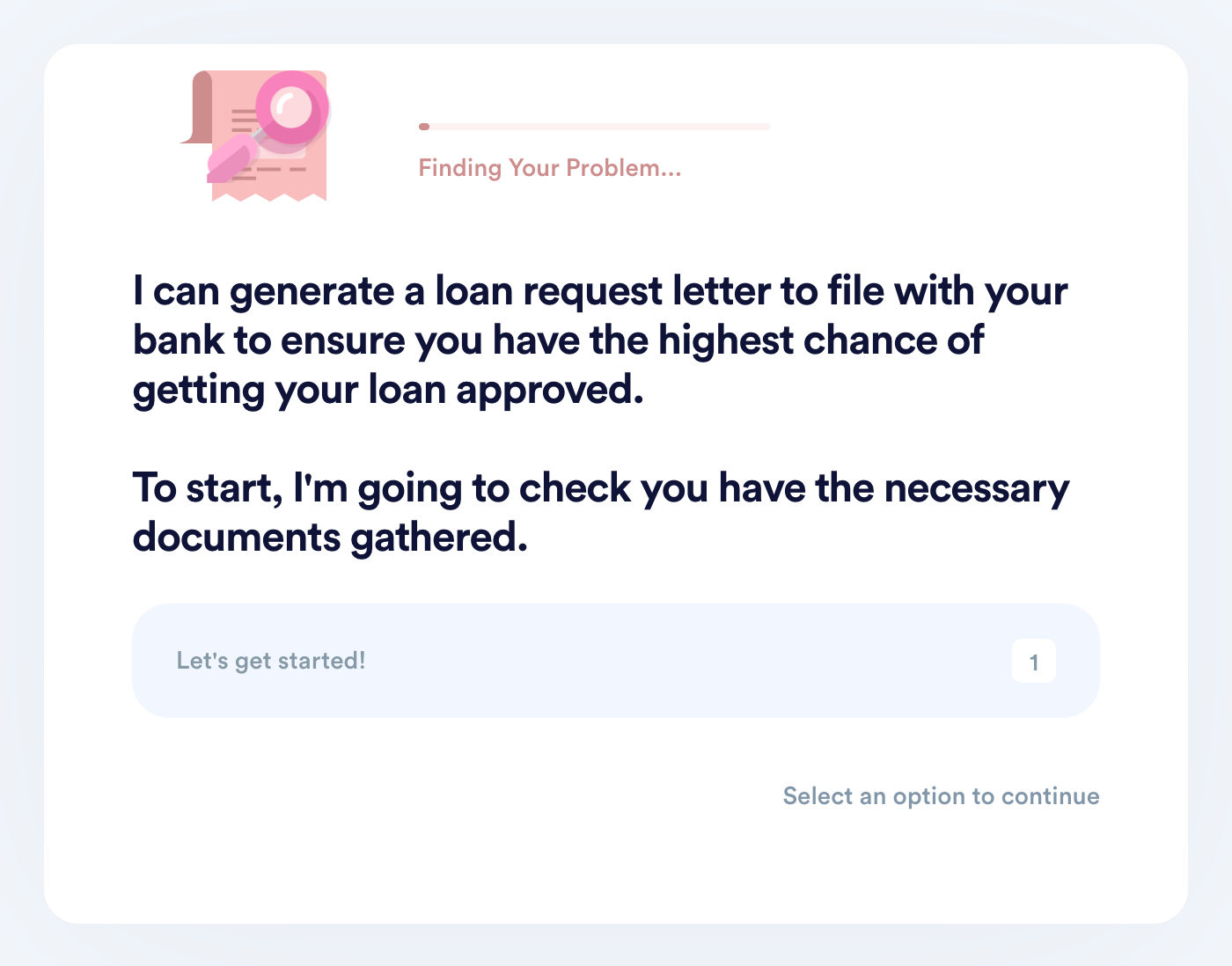 Run Your Business Worry-Free!
Every beginning is challenging, which is why DoNotPay has everything you need to start running your business stress-free! We have created numerous easy-to-use products that will make boring administrative tasks easier to manage.
To help you get started, DoNotPay will assist you in taking care of trademark, Employer Identification Number (EIN), and DMCA agent registration, Privacy Shield self-certification, and business loan requests.
We can even help you maintain a good business reputation by:
Monitoring your trademark and filing a cease and desist letter in case someone tries to use it
Reporting fake negative reviews that could harm your business
Disputing illegitimate chargeback requests in a matter of minutes
DoNotPay Helps You Create and File a Number of Legal Documents
Why waste time worrying about how to draw up and file various legal documents when you can have the world's first robot lawyer do that in your stead? You do not have to waste thousands of dollars on lawyer's fees—our extensive database has a myriad of documents on offer.
DoNotPay will help you automate the procedure of completing and filing 83(b) election forms, write a formal demand letter requesting payment from clients who try to avoid it, and deal with other important paperwork.
Don't want to waste time going to the post office to mail a contract? Now you do not have to! With DoNotPay, you can fax and mail any document in a matter of clicks!