How to Fight and Waive PayPal Seller Fees Easily
You love everything about PayPal and how it works; that is, everything but those PayPal seller fees. Receiving funds is quick and easy until wham! You get hit with a few of those pesky seller fees. Next thing you know, what you once thought was a profit has now turned into a break-even situation, or worse, a loss.
So, what is it about PayPal business account fees, and what do you need to know about the current PayPal fees schedules? More importantly, is there a way to avoid those dreaded fees?
The good news is that you have an absolute right to appeal PayPal seller fees, provided you know how to go about requesting an appeal. There are some tedious steps to follow if you want to make an appeal yourself. However, you can decide to take the DoNotPay route, and let us handle everything involved in fighting and waiving PayPal seller fees.
How Basic PayPal Seller Fees Work
PayPal offers a host of free transactions, which is what attracted you to the platform in the first place. However, there is a basic fee structure for some of those transactions. Whether you're selling items on eBay or collecting payment for your services, here's what you need to know about PayPal fees for goods and services.
PayPal's basic fee is 2.9%
PayPal adds $.30 USD per sale
This calculated rate applies to nearly all PayPal seller fees on transactions within the U.S.
Sending and Receiving Money with PayPal Between Countries
If any of your buyers or PayPal transactions occur with parties outside the U.S., there will be an additional PayPal seller fee. These fees are calculated according to the country in question's current currency value.
Sending Fees Using a Debit or Credit Card
Sending payments made with a credit or debit card might also be eligible for current PayPal fees. Usually, these PayPal seller fees fall into the basic fee structure. And any card transactions made with PayPal Cash or the PayPal Cash Plus account will have the fees waived.
Transferring Money Using a Debit or Credit Card
PayPal account holders who want to transfer money to and from PayPal using a credit or debit card will need to contend with transaction limits. And these transfers, while usually instant, can still take up to 30 minutes to appear.
Special PayPal Seller Fees You Need to Know
PayPal business account fees also apply to certain transactions. You can expect these PayPal seller fees to come off of your bottom line. Here is how PayPal's current fees are structured.
| | |
| --- | --- |
| PayPal Transaction Type | Percentage Applied |
| Sales within the US | 2.9% plus $0.30 USD per transaction |
| Discounted rate for eligible charities | 2.2% plus $0.30 USD per transaction |
| International Sales | 4.4% plus a fixed feed based on currency |
| PayPal Here© cardholders | 2.7% when the card is swiped or 3.5% for manual transactions |
Other PayPal Business Account Fees You Should Consider
Don't forget, in addition to contending with PayPal seller fees, there is an entirely separate transaction limit and fee structure to consider. Moving money out of your PayPal account and into your bank account has limits. And opting for the immediate deposit instead of waiting for the one to three days to process will also cost 1% for the instant transfer. Additionally, these are the bank transaction limits you should know:
Up to $5000 USD per transaction
Up to $5000 USD per day
Up to $5000 USD per week
Up to $15000 per month
Your bank may impose other limits on transactions, as well.
How to Avoid and Appeal PayPal Seller Fees
Avoiding those PayPal seller fees might be hard and practically impossible. Especially if you conduct business online with frequent transactions, these PayPal fees can add up fast.
You can explore other payment platform options, including these:
Google Pay
WePay
2CheckOut
Authorize.Net
Skrill
Intuit
ProPay
Dwolla
But if you still appreciate all the seller protections and account services PayPal has to offer, you'll want to find a way to contend with these fees and not abandon the platform altogether.
How to Escalate a PayPal Seller Fee or Dispute Claim on Your Own
When you encounter a PayPal seller fee, you do have a chance to appeal. PayPal has a dispute form online you can complete. You'll need to do so within 180 days of the payment transaction date.
Here are the steps PayPal suggests you take to initiate your claim:
Log in to your primary PayPal account
Select and click on "Dispute a Transaction" under "Report a Problem"
Select the transaction and click "Continue"
Select "Item Dispute"
And if your initial attempt to resolve the problem with the seller is unsuccessful, you can then escalate your dispute to a claim. To escalate your claim and attempt to recoup those PayPal seller fees, you'll need to:
Log in to your primary PayPal account.
Find and click on your existing dispute in the "Resolution Center".
Select "File a Claim".
Now, if all that filing and waiting has you wondering if those fees are worth appealing, there is another option. Instead of those tedious and frustrating steps, let DoNotPay handle the appeal process for you.
How DoNotPay Can Help You Recover Those PayPal Seller Fees
Most people don't even realize they have an opportunity to appeal those PayPal seller fees. And you may not know that DoNotPay can help make the whole process easy.
Here's how you can use DoNotPay to appeal fees:
1. Search "appeal fees" on DoNotPay, choose the Fight and Waive Fees product, and select the type of fee you want to appeal.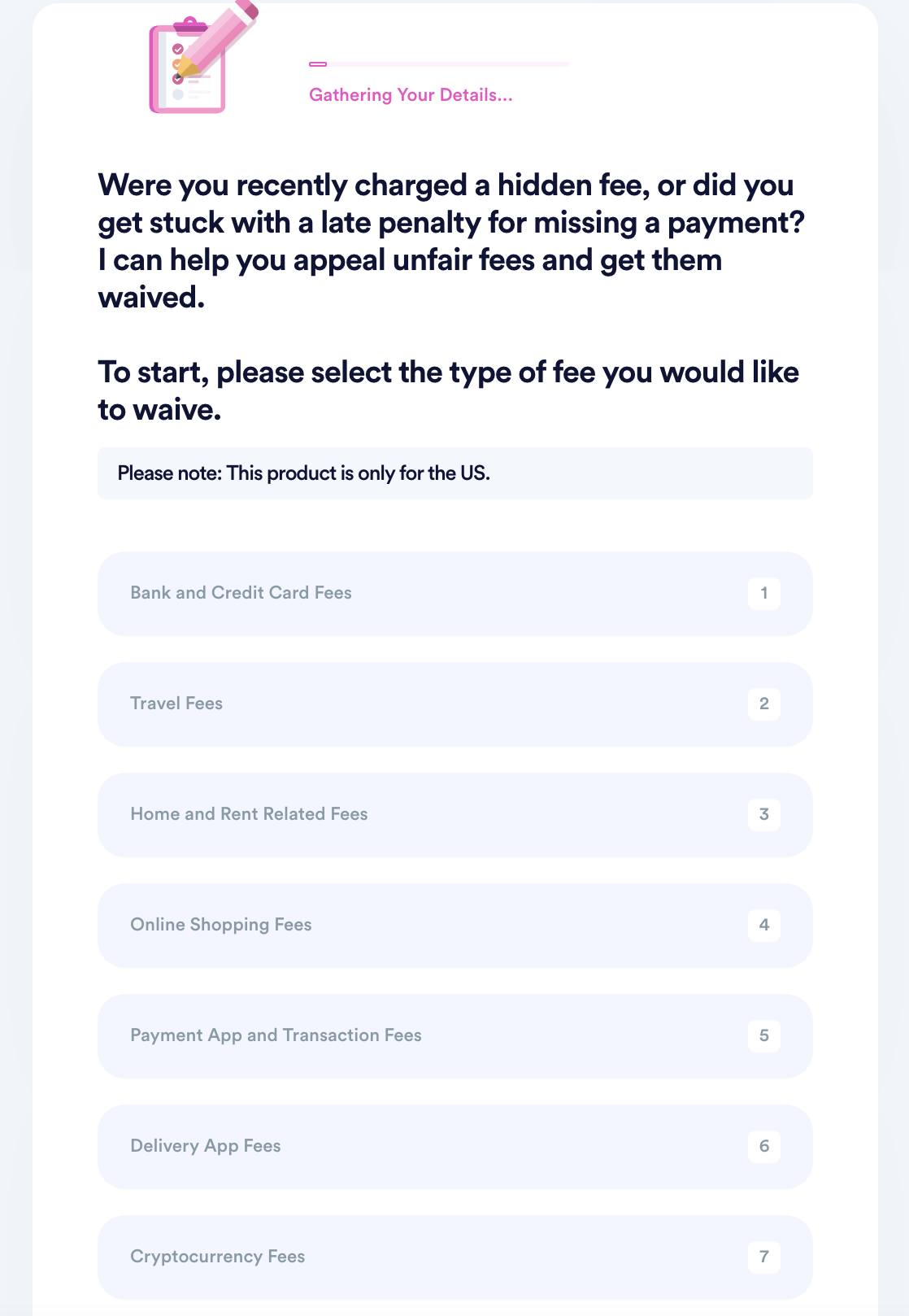 2. Select the merchant you want to appeal fees for and enter the details of your transaction, including an associated account if you have one.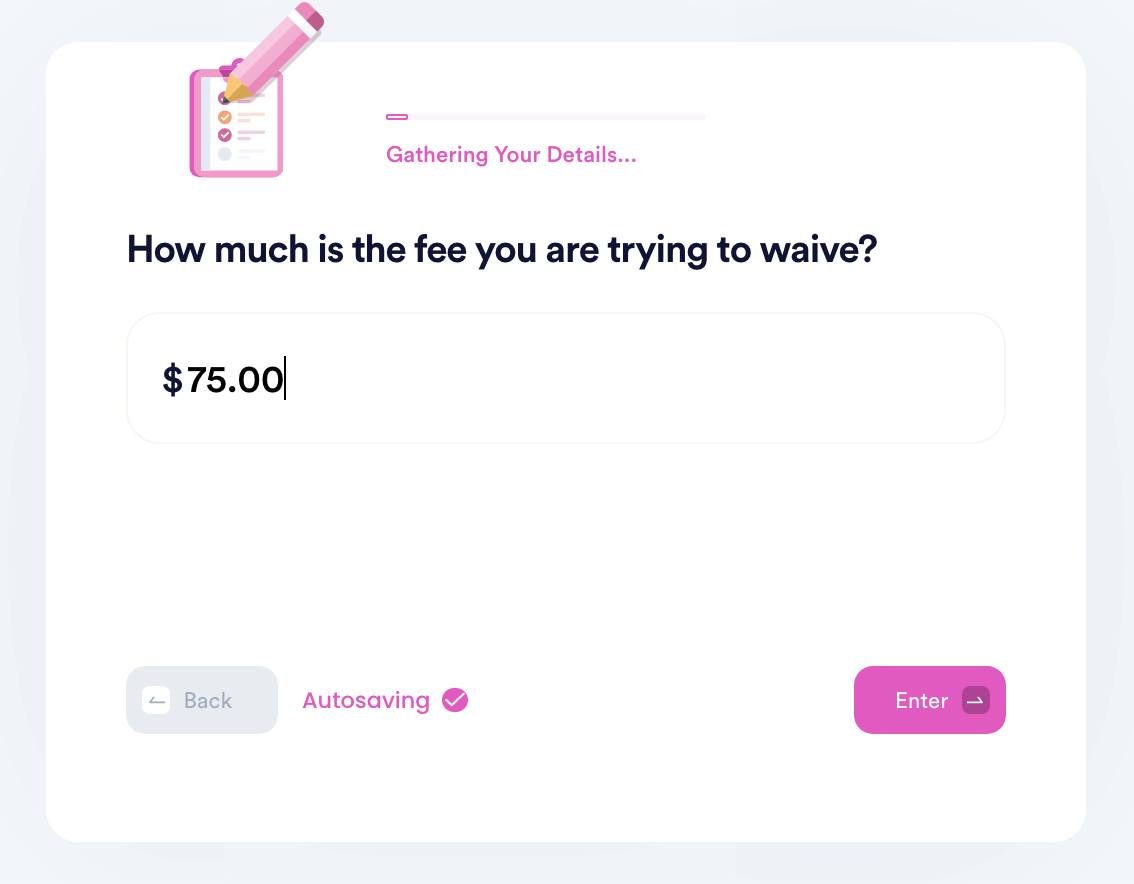 3. Submit your case! DoNotPay will generate the best argument for your case and make sure your fee waiver request gets sent to the merchant for processing.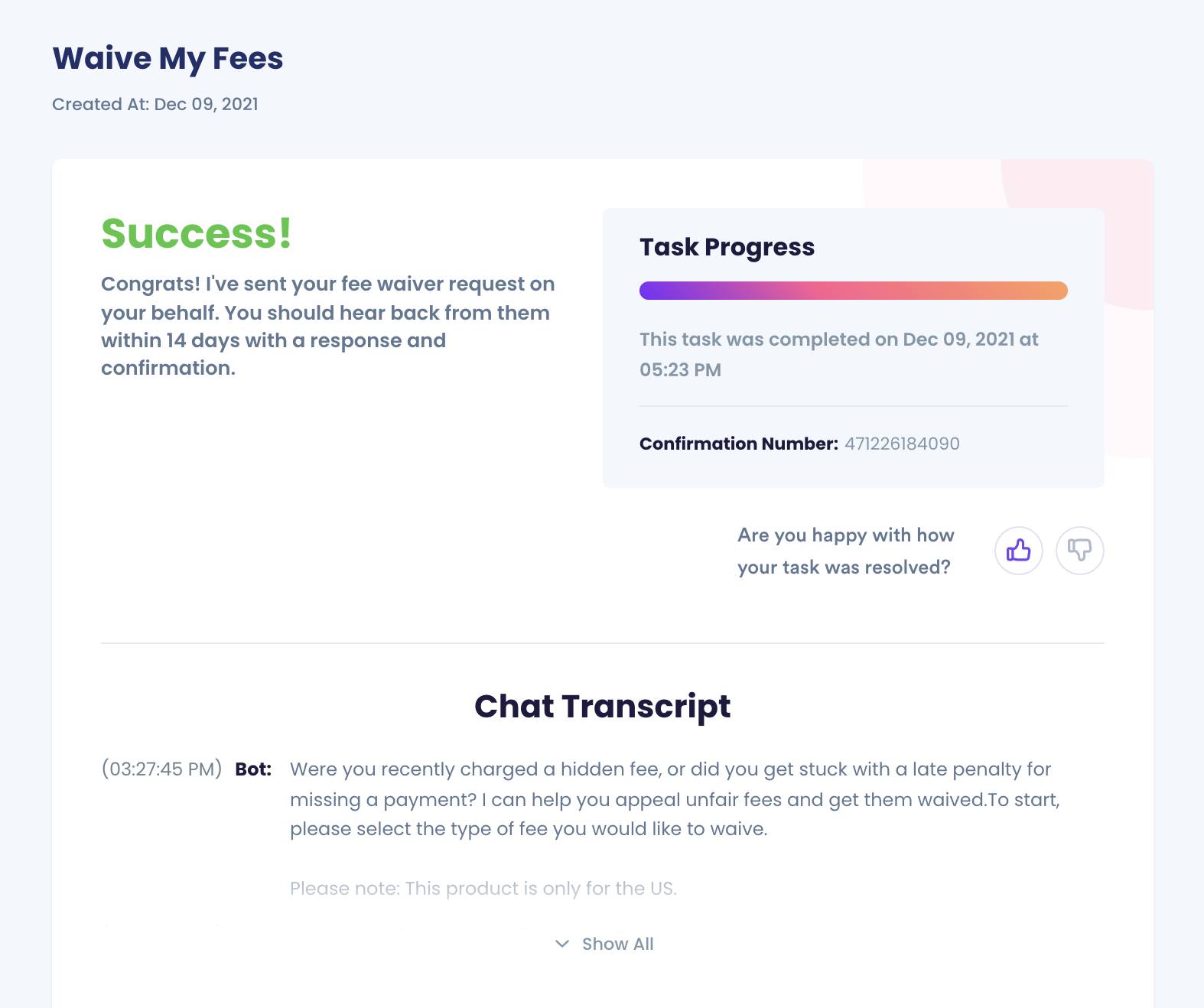 Why Use DoNotPay to Appeal Those PayPal Seller Fees
Imagine just a few clicks and getting all those PayPal seller fees back in your account. DoNotPay  is the best way to appeal because it's
Fast — You don't have to spend hours trying to complete a claim.
Easy — You don't have to struggle to fill out tedious forms or keep track of all the steps involved in getting those PayPal seller fees back.
Successful — You can rest assured knowing we'll make the best case for you throughout the appeal process.
DoNotPay Works Across All Companies with the Click of a Button
DoNotPay can help not only with PayPal seller fees, but also with all kinds of transaction fee management steps, including returning purchases, item return requests, and instant chargebacks, too.
DoNotPay can help you appeal, fight, and recover fees across a variety of platforms. You can file for refunds for American Airlines and Spirit Airlines baggage fees, as well as fight and waive fees for the following:
What Else Can DoNotPay Help You Handle?
DoNotPay can help you with much more than just fee recovery. In today's digital world, you need a digital partner to act on your behalf with easy, hassle-free solutions for:
Don't let those PayPal seller fees take away your hard-earned cash. With DoNotPay, you don't have to handle those fee appeals processes alone, either.