Use a Payment Agreement Template To Create a Contract With Zero Hassle

Writing legal documents without legal expertise can be a drag. You can end up including incorrect information or excluding important terms and clauses.
DoNotPay can help you create an enforceable contract with a simple payment agreement template!
Payment Agreement—From A to Z
A payment agreement is a contract between two parties discussing a loan. The contract determines the terms and conditions of the loan and is used to protect both the lender and the borrower. To be considered valid, a payment plan agreement must be in written form.
The agreement can consist of many sections, depending on the case. Sections that are usually covered are:
Interest rates

Payment periods

Payment amount
When To Use a Payment Plan Agreement
Whether you are lending or borrowing money, many details should be discussed. It is best to have all the information in written form and in one place. Here are the situations which call for a payment agreement contract:
If you plan to lend someone money

If you plan to borrow money from someone

When you are making an amortization schedule

In case you want to record or calculate the number of interests and payments
Payment Agreement Contract Types
Depending on the loan type and relationship between parties, there are several types of payment agreement contracts. Take a look at this brief overview in the following table:
| | |
| --- | --- |
| Type of a Payment Agreement Contract | Used For |
| Personal Payment Contract | Loans that require smaller transactions, direct payments, and fewer terms and specifications |
| Business Payment Contract | Small and large business transactions between a bank or a company and a client |
| Installment Payment Contract | Payment agreements based on payment installments; the contract should determine the interest, payment amount, and schedule of each payment |
What Should a Simple Payment Agreement Template Include?
Each payment agreement contract is different due to different circumstances, but they all share the same idea—creating a loan payment plan. What is included in a contract can also vary from one case to another, but some sections are the same for every payment agreement contract, including:
Date

—every payment agreement must have a specified date of when the contract goes into effect

Contract description

—there must be an identification of what the contract is being drafted for

Consenting parties

—detailed information about the parties signing the payment contract

Agreement

—description of the agreement, including payment dates, interest rates, payment amount, and other important or case-specific information

Signatures

—both parties have to sign the contract and confirm the terms and obligations for an agreement to be valid and enforceable
How To Write a Payment Agreement Letter on Your Own
It is possible to write your own payment agreement letter, but you have to be familiar with some legal terms. There are also many payment agreement contract templates online, but it is best not to rely on them, as they can be too general.
If you don't have time or money for dealing with lawyers, you can try to write a payment agreement letter on your own—you can start by following these instructions:
Stick to the standard writing guidelines—the right font, spacing, and margins make all the difference

Write or type in the title of your contract

Insert the date stating the beginning of the agreement

Add the names of the lender and the borrower

Write a detailed section covering the terms and conditions of your payment agreement plan

Specify the dates of each payment

Describe the penalties for late payments, such as penalty rates

Determine the date of the last payment and termination of the contract
Create Various Contracts in a Flash With DoNotPay
Whatever it is you are creating a contract for, hiring attorneys to do it for you usually costs an arm and a leg. You can't always rely on free templates you find online, especially if you aren't able to confirm their validity. If you think there is no solution, we are happy to tell you that you are wrong!
DoNotPay has a feature dedicated to creating various types of legal documents. Our customers can rely on our service to create valid and professional contracts because we use a comprehensive database of laws, rules, and regulations from every state in America.
To draw up any contract with DoNotPay, you should follow this straightforward process:
Open DoNotPay in any

web browser

Enter the name of the desired legal document

Answer several questions from our chatbot
Using the information you provided, we will generate the most suitable contract for your situation.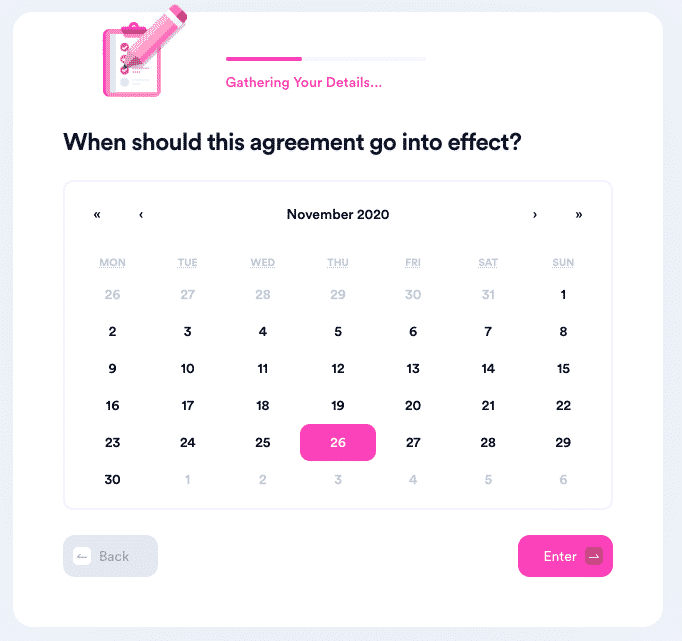 What Legal Documents Can DoNotPay Help Me Write?
For anyone who doesn't know how to write a contract, DoNotPay offers a variety of legal documents, including:
Quitclaim Deed

General Business Contract

General Affidavit

Estoppel Certificate

Intent to Purchase Real Estate
Once you create a document with our service, you can fax it to the other party using our online Fax feature to avoid any hassle.
Your Online Safety Is Our Priority
The benefits of the internet are numerous, but so are the opportunities for scams of all kinds. DoNotPay can help you fight scammers left and right with easy-to-use features, highly customizable to match your needs. 
Our app can provide invaluable resources for fighting:
If you're an avid online shopper, we have your back. In case something goes wrong, we will help you contact customer service without holding, request a refund, or even sue the company in small claims court.
Diversity Is Our Middle Name
DoNotPay doesn't stop at online safety. Do you need to set up an appointment at the local DMV, but keep procrastinating because you know how awful the lines are? Are you a prospective college student trying to save on application fees? Have you lost track of all unnecessary subscriptions and memberships that keep draining your bank account?
If the answer is yes, DoNotPay is the right platform for you. Whether you're preparing for government-issued tests or looking for ways to lower your bills, our app will be of assistance.