How to Find Payday Loan Relief in Florida
The cost of living in Florida continues to rise. Getting in a situation where you need fast relief for unexpected bills may lead you to an option that you'll likely regret later: a payday loan. High interest rates and extra fees can make your payday loan debt unmanageable, and that 's when you need to get .
Lenders of payday loans like to take advantage of those in desperate financial need, so the best way to negotiate with them is to have experts guide you through it. Websites like DoNotPay are the easiest and cheapest method of getting what you need to settle a payday debt.
What if I Stop Paying My Payday Loan?
The interest and fees associated with a payday loan can be as high as 400% of the loan itself. The ridiculous fees have led to payday loans being banned in a few states, but this, unfortunately, does not include Florida.
Unless you want to damage your credit score and increase the debt you owe to lenders, it's not a great idea to stop paying your loan if you don't have another plan first:
Interest will continue to accrue, and you're on the hook for that growing interest
Some lenders may take you to small claims court
You'll damage your financial security when it comes to securing safer loans in the future
The state of Florida does prohibit criminal action from being taken on those who cannot afford to pay back their debt, but that doesn't mean a lender won't threaten it if they want to scare you.
If you 've given the lender access to your bank account as part of your agreement, the consequences may be worse. They may overdraft your bank account, and this could pose a big problem to your credit. Not only that, but each failed attempt to withdraw the funds can inflict a considerable chunk of even more debt due to bank overdraft fees. It won't just be the payday lender you owe money to anymore.
Can a Payday Loan Affect My Credit?
If you pay it off on time, the lender usually won't report it to your credit. A payday loan will, in no way, positively affect your credit in most cases. It doesn't matter if you pay in installments or pay it off all at once.
However, if you don't pay on time or stop paying altogether, then chances are the lender will report this to your credit almost immediately, or one of the following could happen:
Your information might be sold to debt collectors
The lender may pursue legal action against you to receive the money they're owed
You may default on other payments by taking on the extra loan, and other creditors may be more likely to make a report to your credit
How Do I Find Payday Loans Relief in Florida On My Own?
If you can't pay back the payday loan on time, you have a few options to help with that. Some states require payday lenders to put you on a payment plan if requested with no additional fees, but residents of other states may not be so lucky.
Another option may be an extended payment plan, which can also be requested with no additional fees or interest, or you can simply try and negotiate your terms with the lender. It might not work, but it 's always worth asking.
There are a few additional options to find payday loan relief in Florida by yourself:
Request a Payment Plan: Call up the lender, or show up to the business in person, and try to negotiate a payment plan that'll make it easier on your wallet. Be careful, though because this will make you more likely to accrue interest on the loan.
Lower-Interest Loans: Another option you have is applying for a lower-interest debt, such as a loan from a Credit Union or a Credit Consolidation Loan. However, there is a stricter application process to these, and there's usually a hard inquiry noted on your credit. You can typically apply for these such loans online or go to the establishment in person, but the process may be hard to get approved for.
Bankruptcy: Of course, the easiest way to erase the debt is to pay it off entirely and commit to not borrowing any more money from a payday lender. This is usually not something people are able to do, though, and the next step may need to be filing for bankruptcy. Bankruptcy can be a painful process, and sometimes you can lose everything in doing so. It 's something most people are afraid of and never want to have to consider, but it might be the only option you have if you're set on settling your debt alone.
Next Steps if You Can 't Find Payday Loans Relief in Florida by Yourself
There are several problems that may arise in trying to solve your payday loan issue alone. Some lenders may deny your request if it's not required by state law, and then you could be subject to a ding in your credit score if you're unable to pay it back on time. You could also incur additional charges and fees, or your information may be sent to a debt collection agency.
If you can't find relief on your own, many companies are willing to help. There is nothing wrong with asking for help when you find yourself in a sticky situation like this. A few of the best options for outside help include:
Contact a Payday Loan Consolidator: A payday loan consolidation company can help you get a more manageable payment plan, as well as a lower APR. The problem with this method is the approval process. You need fair, or better, credit to get a lower APR, and the approval process may take longer than you're willing to wait.
Contact a Credit Counselor: If you don't qualify for a payday loan consolidation, a credit counselor may still be able to help by giving you advice and tools to manage your debt and repay your loan.
Contact a Lawyer: A lawyer can write to lenders and request lower payments, extensions, or even erasure of the loan completely. They do, however, come with fees, and if you can't afford the lawyer fees, then they likely won't help you at all.
Payday Loans Relief in Florida with the Help of DoNotPay
While the methods listed above may not seem worth it to you, DoNotPay is different. The fees associated with DoNotPay are low, and they're willing to help you with whatever you need. It's like you have a personal online lawyer! DoNotPay can help you get out of a payday loan , settle your debt , get you an extended payment plan , and give you the overall payday loan relief you need as a Florida resident.
The process of using DoNotPay is extremely easy, unlike filing for bankruptcy or applying for a consolidation loan. You don't have to wait forever to hear if you're approved for the process; you simply won't get denied. DoNotPay is the absolute easiest way to pay or settle your payday loan debt.
How to Lower Your Payday Loan Using DoNotPay:
If you want to lower your payday loan but don't know where to start, DoNotPay has you covered. Lower your payday loan in 5 easy steps:
1. Search "Negotiate Payday Loans" on DoNotPay.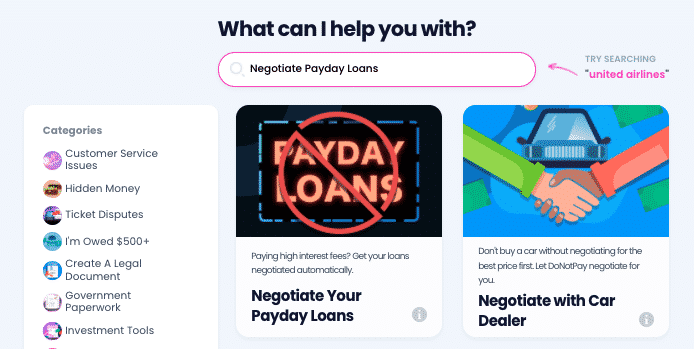 2. Enter the state you took out the payday loan in.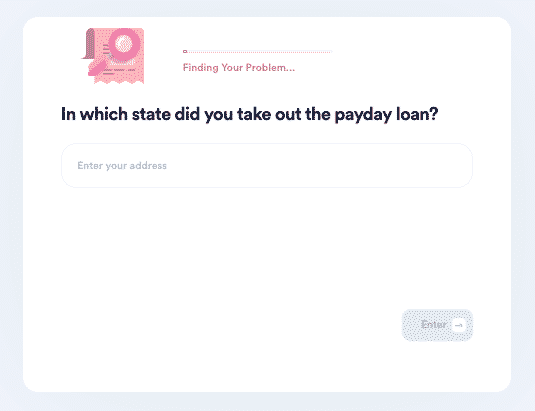 3. Tell us the amount you borrowed, the date you took out the loan, and when the payment is due.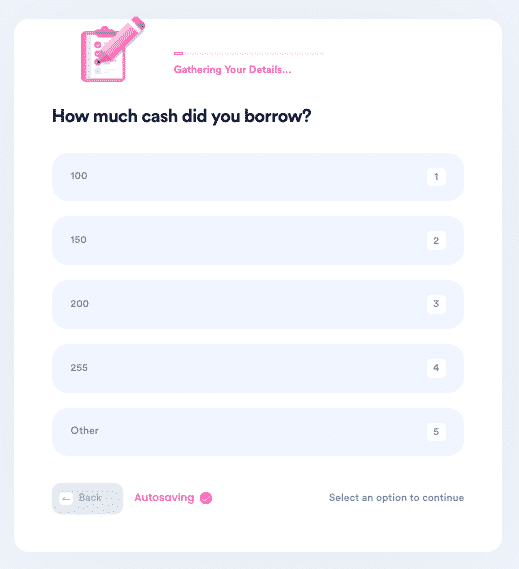 4. DoNotPay will automatically calculate the APR on your behalf, and determine the best way to negotiate your case based on the amount.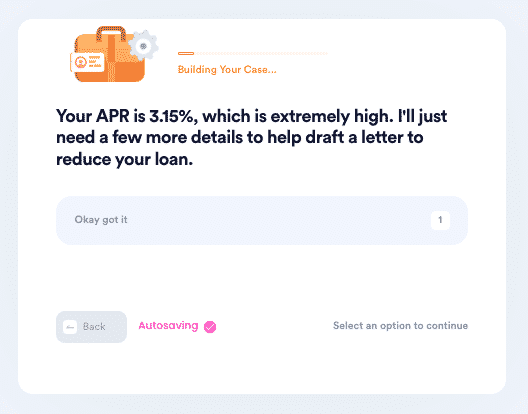 5. You're all set! You can generate your personal negotiation letter with one click, and use it to contact your lender to get better terms for your loan.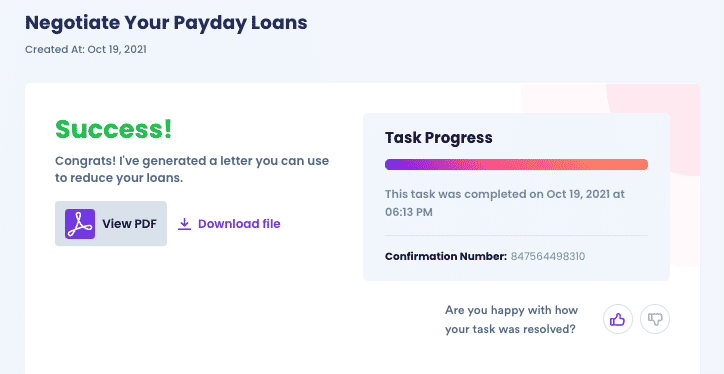 Why Should You Use DoNotPay For Your Payday Loans Relief in Florida
When you choose DoNotPay to assist you with your , you are choosing a leader that takes you into consideration.
| | |
| --- | --- |
| It's Fast. | There is no need to spend days waiting for this process to be done or waiting for approval. This can all be done in a single day. |
| It's Easy. | All you need to do is give DoNotPay the information they need, and the rest is up to them. |
| It's Successful. | They will find you payday loans relief right away. |
What Else Can DoNotPay Do?
DoNotPay can help you solve a wide array of problems! This can range from robocall compensation to college fee waivers, or help you find free raffles or trials to participate in. Search on our website for your specific problem, and chances are we can help you with it!