How to Get Payday Loan Relief with DoNotPay
Payday loans may offer temporary assistance in the form of immediate cash, but the long-term effects of taking out these types of loans can be devastating. The intent of a payday loan, which can sometimes be referred to as a cash advance, is to alleviate cash flow problems in the short term. You are then expected to repay the amount, plus all fees, on your next payday.
However, these loans typically come with high interest rates and terms that are unfavorable to the borrower. This often leads to extending the loan and accruing more interest and fees, creating a continuous cycle of debt that is difficult to break. If you are looking for payday loan relief , DoNotPay has answers.
What Happens If I Stop Paying My Payday Loan?
According to the credit bureau Experian, there are many potential negative consequences if you stop paying your payday loans.
You may accrue additional fees and interest, adding to your debt owed.
There will be continuous debt collection attempts through calls and letters.
Your debt may be turned over to a third-party debt collection agency.
Potential negative impact on your credit report, which can lower your credit score and make it difficult to receive financing in the future
You may receive a court summons, liens against your property or wage garnishment
How to Find Payday Loan Relief On Your Own
Finding payday loan relief on your own is not impossible. While none of the following methods are guaranteed, they are all possible ways to find debt relief.
1. Ask about extended repayment plans
If you cannot afford to pay the full installment when it is due, ask about an extended repayment period. In some states, you may be able to repay the loan in smaller increments. The ability to do this and any fees associated with it can vary by state.
2. Negotiate Your Payday Loan Terms
If you have the time and understanding of how to approach a negotiation , you may be able to negotiate better loan terms relating to your APR and fees. While it is not a guarantee that a payday loan company will work with you, it is something you could consider trying on your own.
3. Take Out a Personal Loan/Debt-Consolidation Loan
If you have several payday loans, it may be possible to combine them if you qualify for a debt consolidation loan or personal loan. These types of installment loans allow you to combine multiple high-interest loans (such as your payday loans) into one loan with a lower interest rate. This means you will likely reduce monthly interest charges and pay your debt more quickly. However, securing a loan will depend on your credit and other factors, so it may not be possible.
What Can You Do if You Cannot Find Payday Loan Relief On Your Own?
If you are unable to work out a solution with your payday loan lender or on your own, there may be other avenues of receiving help:
Credit Counseling - If you can find a trained credit counselor, you may be able to receive help with assessing your financial situation and creating a customized debt repayment plan. It is imperative that you do thorough research and choose a reputable organization.
Legal Aid - If you are considered low-income, your local legal aid office may provide free legal advice. They may be able to work with you to help you understand your debt settlement options.
If You Still Can 't Find Payday Relief On Your Own, DoNotPay Can Help
While it is possible to find some payday loan relief on your own, it is likely to be a tedious process that requires a lot of technical knowledge for negotiations, paperwork, and other time-consuming tasks. Then your efforts may not even work. This is where DoNotPay comes in to help you.
How to lower your payday loan using DoNotPay:
If you want to lower your payday loan but don't know where to start, DoNotPay has you covered. Lower your payday loan in 5 easy steps:
1. Search "Negotiate Payday Loans" on DoNotPay.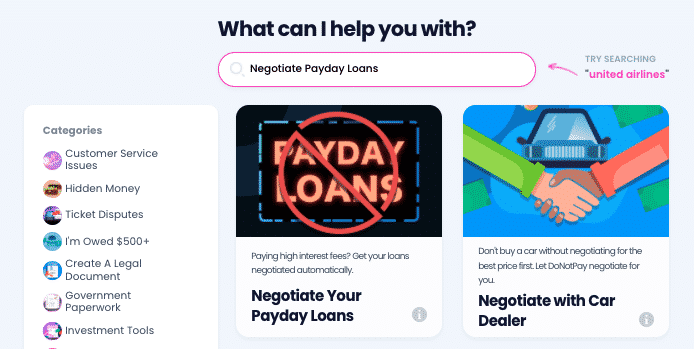 2. Enter the state you took out the payday loan in.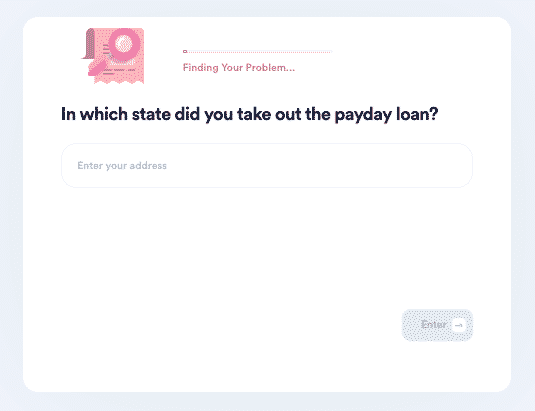 3. Tell us the amount you borrowed, the date you took out the loan, and when the payment is due.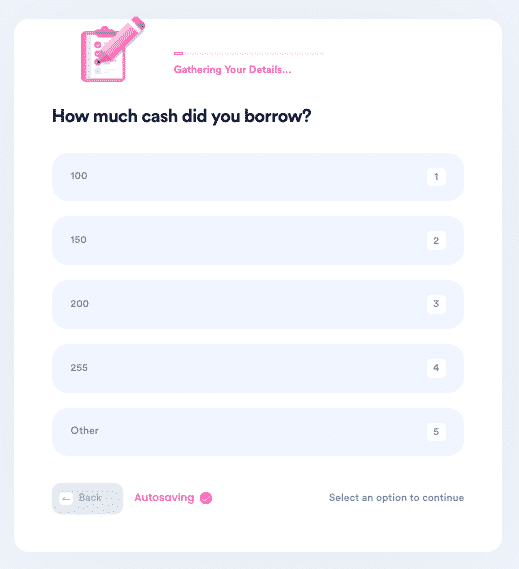 4. DoNotPay will automatically calculate the APR on your behalf, and determine the best way to negotiate your case based on the amount.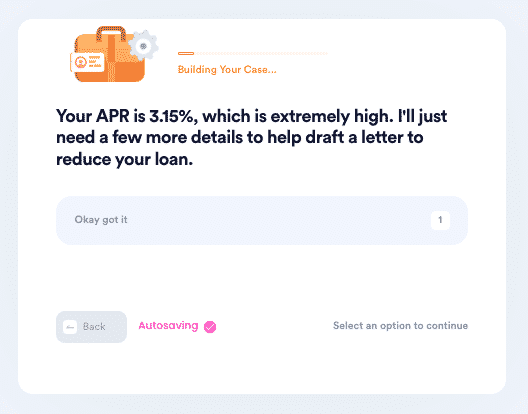 5. You're all set! You can generate your personal negotiation letter with one click, and use it to contact your lender to get better terms for your loan.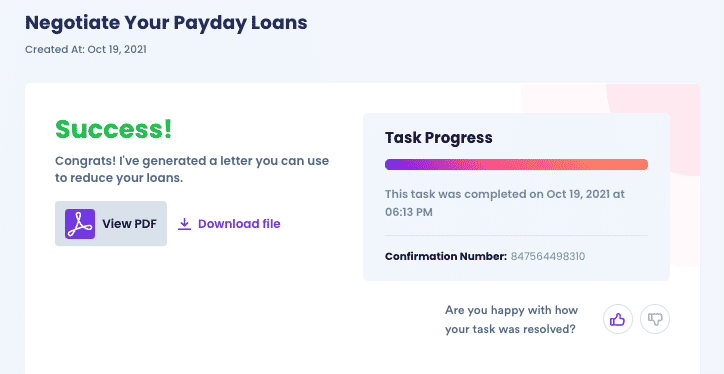 Why Should You Use DoNotPay to Help Find Payday Loan Relief?
DoNotPay has a proven track record. We work quickly to bring you financial relief. We will make the best case for you so that you can be relieved of the frustration that comes along with trying to do everything on your own.
| | |
| --- | --- |
| It's Fast. | You don't have to spend hours contacting loan companies, trying to balance your budget, or figuring out how to find payday loan relief on your own. |
| It's Easy. | You don't have to struggle to fill out tedious forms or playing a game of telephone tag. |
| It's Successful. | You can rest assured knowing that we'll make the best case for you and get you the payday loan relief you need. |
DoNotPay Can Do Even More For You
We pride ourselves on being able to help people find legitimate payday loan relief, but we can do so much more to help you. We can help you resolve issues with other businesses or find financial relief in other areas of your life, such as:
If you have problems or issues, let DoNotPay help eliminate the stress - we can handle it for you!