Payday Loan Help: Wisconsin Resident's Guide
The cost of living in Wisconsin continues to rise. And when residents of the Badger State need a financial bridge between paychecks, they often turn to payday loans. Unfortunately, with sky-high interest rates, it 's not hard to find yourself in more debt than you expected and in desperate need of .
While it's possible to pay back a payday loan yourself, the process can be complicated, expensive, and frustrating if you don't know what to do. Thankfully, with the legal help from DoNotPay, you can get the help you need to get out of the payday loan trap.
How To Get Wisconsin Payday Loan Help On Your Own
Getting into payday loan debt is easy, but getting out of it is another matter. Because of the typically high interest rates and fast repayment times associated with payday loans, paying them back can be a nightmare scenario. Also, payday loans need to be repaid all at once rather than in parts over a certain period, unlike an installment loan.
While you can settle payday loans, the process is lengthy and filled with pitfalls that can put you into even deeper debt than you are already in if you aren't careful.
If you feel that you don 't have the time or resources to get help with your loan, you can take measures to lower or pay off your payday loan yourself. These measures include:
Requesting a payment plan from your lender
Taking out a debt consolidation loan
Filing for bankruptcy
Paying extra towards the balance of your loan
To understand the process of lowering your payday loans better, let's take a look at each of these options in detail.
1. Request A Payment Plan From Your Lender
Some payday loan lenders are willing to work with you if they think that the alternative is not being paid at all when you can't afford your debt. And some states mandate that payday lenders allow extended payment plans that give you more time to pay back the loan without incurring additional fees or penalties. Your lender may have the right to charge you a fee for entering into a repayment plan, and the laws vary significantly by state.
Requesting a payment plan is far better than taking out more quick loans to pay off the initial debt. It's better to let your lender know that you can't pay off your payday loan and that they need to work something out with you than to pursue desperate measures for paying down the principal through high interest rates.
2. Take Out A Lower-Interest Loan
Most credit unions offer alternative payday loans to their members. These are small-value loans that come in amounts of $200 to $1,000 with a maximum interest rate of 28% and repayment terms of between one month and six months. This longer repayment term means you 'll be less likely to have to borrow again to pay them off.
Debt consolidation loans are new loans that you can use to pay off your existing debt. While some lenders specifically offer consolidation, you can consolidate your debt with a personal loan from a bank, credit union, or online lender. Lenders typically group all of your loans into one single debt to be repaid, but you can choose which debts to include in the consolidation.
3. File For Bankruptcy
Filing for bankruptcy allows you to discharge an eligible debt, including payday loans. There are two types of individual bankruptcy, and the process by which your debt is discharged depends on which type you file. Chapter 7 bankruptcy requires you to liquidate some of your assets to a bankruptcy estate to repay your loan partially, while chapter 13 bankruptcy requires you to commit to a payment plan with a term of three to five years before the remaining balance can be forgiven.
To file for bankruptcy, you must complete four steps:
Compile records of your debts, assets, income, and expenses.
Go through credit counseling 180 days before filing to show the court that you've exhausted every other option.
Complete the necessary forms to file a petition for chapter 7 or chapter 13 bankruptcy.
Meet with a bankruptcy trustee and your lenders.
Though filing for bankruptcy can help you relieve a large debt that you may not have been able to pay off on your own, be aware that your credit score will be negatively affected by filing for bankruptcy. Once the debt is discharged, you can make efforts toward rebuilding your credit over time.
4. Make Extra Payments Towards Your Wisconsin Payday Loans
Paying extra towards your loan balance can help lower the interest in the long term, as the interest is calculated against the principal balance. However, while this is the simplest option, it can put a drain on your finances. You'll need to come up with a solid budget to be sure that you can maintain the extra payments on your loan, and possibly cut back heavily on some non-essential expenses.
If budgeting isn't an option for you, you can find extra income to put towards your loan if you have the time to do so. You can find extra money by:
Taking on a part-time job or gig
Selling items you no longer need
Working overtime
What Happens If You Don 't Pay Back Your Loan?
Some lenders will continue to charge interest on a payday loan if you do not or cannot pay it back within the agreed-upon term. These charges continue for a specified period or until the principal amount is repaid. With interest rates of up to 400%, however, the debt can quickly spiral out of control once it is extended past the initial term. There may even be fees associated with late payments in addition to the increased interest.
Most lenders will turn your debt over to a collection agency if you default on your loan. This action can make it highly difficult to borrow money again for something important, such as purchasing a house. It's even difficult to obtain another payday loan in the future if you default on one.
While several consequences result from defaulting on a loan, jail time is not one of them. However, your lender can take you to court in some circumstances. If you fail to attend the court proceedings, the court can procure a warrant for your arrest.
Payday Loan Help: Wisconsin Guidance from DoNotPay
Now that you understand what can happen if you don't repay your payday loan and how difficult doing so can be, it's easy to see why getting help for eliminating your debt is vital to your financial health.
And if you don 't know where to turn for help, DoNotPay has you covered. You can lower your payday loans in just five simple steps:
If you want to lower your payday loan but don't know where to start, DoNotPay has you covered. Lower your payday loan in 5 easy steps:
1. Search "Negotiate Payday Loans" on DoNotPay.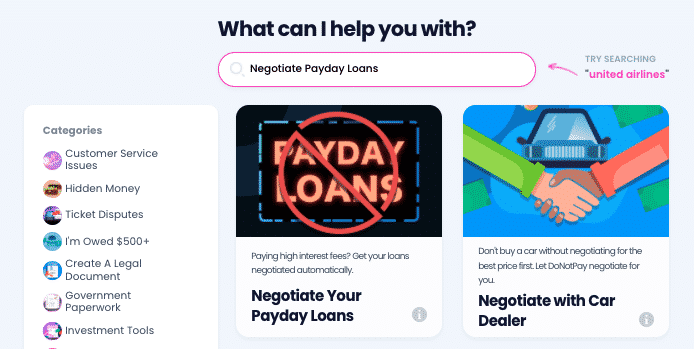 2. Enter the state you took out the payday loan in.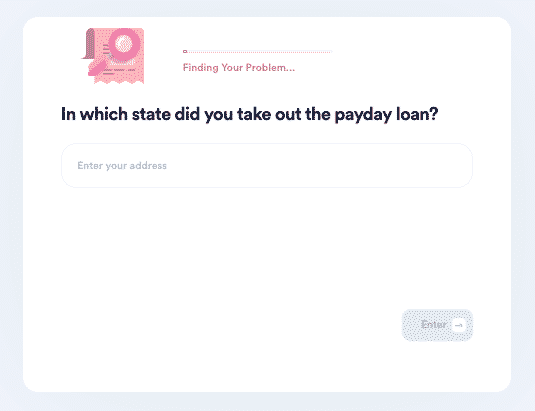 3. Tell us the amount you borrowed, the date you took out the loan, and when the payment is due.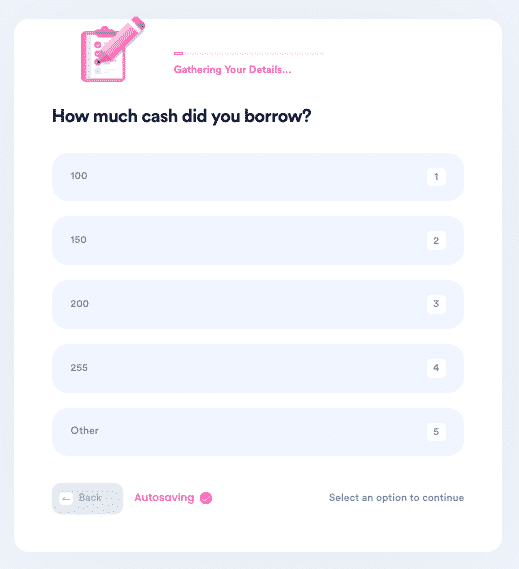 4. DoNotPay will automatically calculate the APR on your behalf, and determine the best way to negotiate your case based on the amount.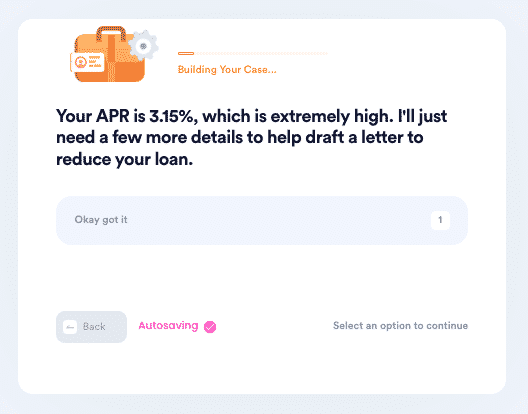 5. You're all set! You can generate your personal negotiation letter with one click, and use it to contact your lender to get better terms for your loan.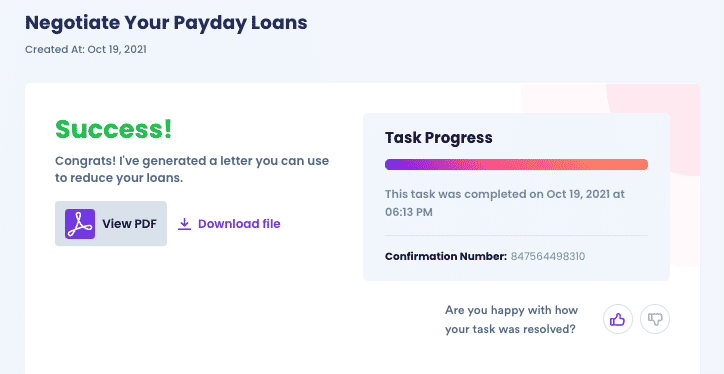 Why Should You Turn To DoNotPay For Payday Loan Help?
Sometimes, settling your debt requires the help of a qualified professional. Unfortunately, many confusing terms, hidden fees, and other pitfalls can make debt relief much harder to find. DoNotPay aims to level the playing field by providing legal information and facilitating self-help for everyone. And it 's fast, easy, and successful.
| | |
| --- | --- |
| It's Fast. | You don't have to worry about spending hours, days, or weeks waiting for a solution with DoNotPay's fast service. |
| It's Easy. | There are no tedious and confusing forms to worry about or a multitude of steps to keep track of in resolving your issue. |
| It's Successful. | DoNotPay is there for you every step of the way, taking your debt very seriously. |
Payday loans have high-interest rates and short terms for repayment, meaning that it's all too easy to end up in a terrible debt cycle. But you can with the help of DoNotPay. Payday loan debt relief is just a click away, so as soon as you can.