How to Get a Payday Loan Extended Payment Plan
A payday loan is a short-term cash advance that you get from a lender to help cover your expenses until your next paycheck. Payday loans may be easy to get, but getting out of them legally is a different matter altogether thanks to extremely high interest rates and large fees for missed payments.
Ideally, payday loans should be paid when your paycheck arrives. However, sometimes you are unable to offset the payday loan debt at that time. Luckily, DoNotPay can help you to get a payday loan extended payment plan to make your payments more manageable and avoid being penalized too much.
What If I Stop Paying My Payday Loan?
The lenders will work with you in case of missed payments. However, they might make you pay high-interest rates or fees for late payments. You also have the option to negotiate a repayment plan where you can spread the loan balance over an extended period rather than paying off your payday loan balance all at once. These are often known as payday installment loans, with some slight differences between payday loans and installment loans.
Does an Unpaid Payday Loan Affect Your Credit Score?
Payday lenders do not report missed payments to the credit bureau unless you fail to repay your loan after several requests from the lender. Once you fail to repay the payday loan, the lenders will send your personal information to a debt collection firm . The collection firm will contact you and request a repayment of the debt.
Undoubtedly, your credit score can be significantly affected if you fail to repay your payday loan since debt collection agencies send negative information about late payments on your account. Your payday loan could show up on your credit report from the three major credit bureaus:
Equifax
TransUnion
Experian
Therefore, it is always advisable to meet all of your financial commitments when they are due to maintain a good credit score. Better yet, strive to get out of a payday loan instead of simply leaving it unpaid.
How to Get a Payday Loan Extended Payment Plan On Your Own
You will need to contact the payday lending company and ask them for their specific process for switching to a payday loan extended payment plan . Most creditors offer extended payment options to their customers, including additional options like payday loan consolidation, but the process can be complicated and long depending on the lender.
Extending your payment term will help you get more time for repayment and can generally be done through four steps:
Check if your lender is a member of the Consumer Financial Protection Bureau.
Log onto the payday lender website to request an extension. Contact your payday lender right away after you realize that you will not be able to repay your loan when it's due. It is essential to ask for an extension before the loan becomes due.
You can also go to the physical store where you signed the payday loan agreement. You need to contact your lender about an extension.
Ensure that you read and understand the extension on payday loan terms.
Get a Payday Loan Extended Payment Plan with DoNotPay's Help
Trying to extend the payday loan repayment period can add additional stress to an already stressful time. If you 're worried about your debt, it can feel overwhelming to face all of the paperwork and unnecessary documentation involved. With DoNotPay, you enjoy four major benefits when trying to obtain an extended payment plan for your payday loan.
| | |
| --- | --- |
| Fast Service | DoNotPay is one of the best and most rapid services you can apply to use. |
| Convenience | You don't need to go anywhere or fill out any forms. It's completely online and paperless. |
| Easy Access | Get access to all this information from absolutely anywhere as long as you have an Internet connection. |
| Secure | All your payday loan information is kept safe with the latest security technology. |
How to Lower Your Payday Loan Using DoNotPay
If you want to lower your payday loan but don't know where to start, DoNotPay has you covered. Lower your payday loan in 5 easy steps:
1. Search "Negotiate Payday Loans" on DoNotPay.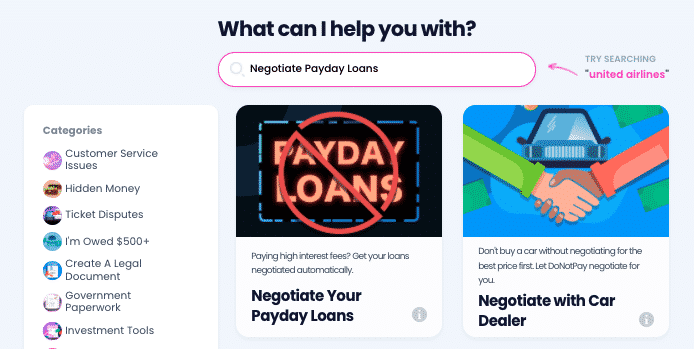 2. Enter the state you took out the payday loan in.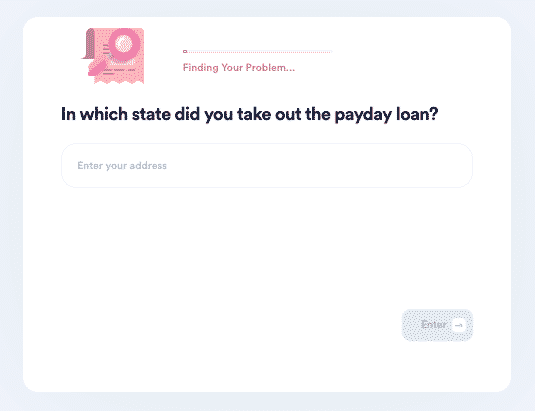 3. Tell us the amount you borrowed, the date you took out the loan, and when the payment is due.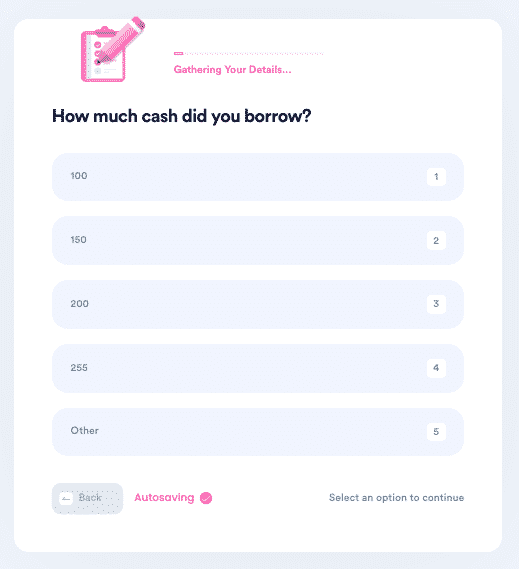 4. DoNotPay will automatically calculate the APR on your behalf, and determine the best way to negotiate your case based on the amount.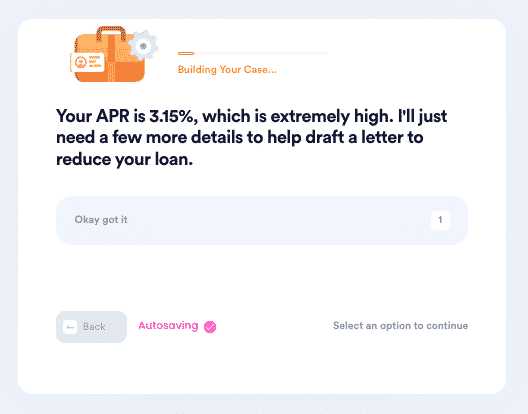 5. You're all set! You can generate your personal negotiation letter with one click, and use it to contact your lender to get better terms for your loan.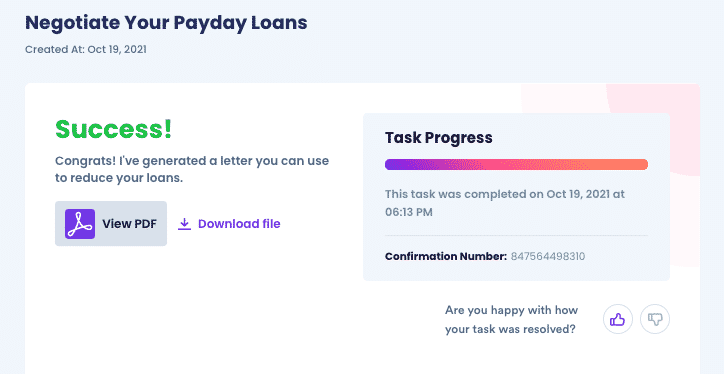 What Else Can DoNotPay Do?
While DoNotPay can help extend your loan payment plan terms and find payday loan relief , that isn 't the only thing it does. DoNotPay can also help with other complex challenges and life situations and solve your problems quickly and effortlessly:
Don't let your payday loans get you down. DoNotPay can help get your payment extension.