How to Get Payday Loan Debt Relief (TN)
The cost of living in Tennessee continues to rise. If you have taken out a payday loan to make ends meet, then the chances are that you are paying an excessive amount of money on loan fees and interest. Tennessee's financial regulations put a maximum APR cap of 176.61% on payday loans, with the lender only allowed to charge up to 15% of the loan as a loan fee. Despite the cap, that means you 're still paying an exorbitant amount in fees and interest and need .
Don't get trapped in the vicious cycle of high interest rates that keep you locked in payday loan debt. If you have taken payday loans in the past and are looking to postpone, consolidate, or even eliminate your payments on these loans, then DoNotPay is here to help make the situation right. We can even help you to stop paying payday loans legally.
If I Stop Paying My Payday Loan, Will It Affect My Credit Score?
While you certainly won't end up hauled off in handcuffs or getting arrested for nonpayment of a payday loan, there are other repercussions that you may face if you choose not to pay back your payday loan. It's far better to get out of a payday loan, or switch to an installment payment plan, instead of skipping a payment.
Many payday loan companies will quickly grow sick of chasing you for payment and will probably eventually submit your nonpayment to a debt collector. At this point, the debt collector will come after you for the money, which can begin the process of bringing your credit score down.
Other repercussions from nonpayment include the fact that you can end up in small claims court if the lender wishes to sue you for nonpayment. They can 't take you to civil court, and you can't get anything recorded on your permanent criminal record, since failure to repay a loan is not a misdemeanor or felony. However, the cost of going to court and paying legal fees can also add to your expenses of not paying your payday loan.
How Do I Get Payday Loan Debt Relief in TN By Myself?
If you are looking to stop automatic payments from your bank account to a payday loan company, you will need to call your bank to prevent the payments from happening. You will need to ensure that you call at least three (3) business days ahead to give them time to stop the payment before it goes through.
Requesting a stoppage in payment will stop that payment, but you will need to ensure that you cancel future payments or they will go through as scheduled.
To stop automatic payments on a long-term payday loan, you will need to submit a request to your bank in writing to stop the charges made to the lender permanently. It will take several business days to a couple of weeks for your written request to go through and be processed by your bank.
Once the request is processed, automatic payments are canceled. However, this does not change the fact that you still owe the entire amount of the loan and any fees and interest to the lender.
Next Steps to Get Payday Loan Debt Relief in TN If You Can't Do It Yourself
After you contact your bank and stop the automatic payments to the lender, you will also need to contact the lender directly.
Many different lenders have debt consolidation programs that you can take part in to reduce your monthly payments. However, you usually have to owe a certain amount in loans before you qualify for these programs.
Other options that DoNotPay can help with include:
Lowering your monthly payments.
Reducing the amount you owe on your past loans.
Temporarily pausing payments until your circumstances and ability to pay improve.
Helping you to get loan forgiveness.
Asking the lender to switch your loan to a

payday installment loan

.
Using DoNotPay 's services will help you lower the amount that you owe on your payday loans. Saving that money, and helping keep your interest rates lower, will help you pay off your debts so that you can move on with your other financial obligations.
Using DoNotPay is much easier than trying to talk to the company to see if they can lower or consolidate your payments. Offering to pay the principal of the loan off in one payment (i.e., you owed $400 on a $1000 loan) and offering to pay just that may work in some rare situations. However, haggling with payday loan companies is not an easy or fun process for any individual to go through.
Companies are often unwilling to compromise, and many of them will take you through a lengthy, time-consuming process to consolidate your debt or make a more reasonable repayment plan that you can afford to pay for each month.
Get Payday Loan Debt Relief in TN with DoNotPay
DoNotPay is an easy, one-stop-shop solution for all of your payday loan needs. It just takes a few clicks of a button to get the process started, and DoNotPay will do the rest. We will fight to get you back every possible cent so that you can go on and spend your money on other things that you need the most. Some of the areas where we can help you include:
Lowering interest rates
Stopping monthly fees
Postponing payments until you can afford to pay
Settling loans for smaller lump sums with credit companies
Helping you pay back off utilities
Helping you avoid banking loans
These services will help you save money and help you meet all of your financial obligations in other areas of your life. The less money you pay on your payday loans, the more money you have in your pocket.
How to Lower Your Payday Loan Using DoNotPay
If you want to lower your payday loan but don't know where to start, DoNotPay has you covered. Lower your payday loan in 5 easy steps:
1. Search "Negotiate Payday Loans" on DoNotPay.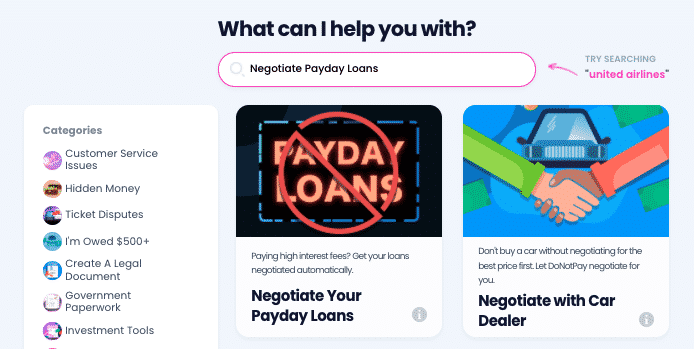 2. Enter the state you took out the payday loan in.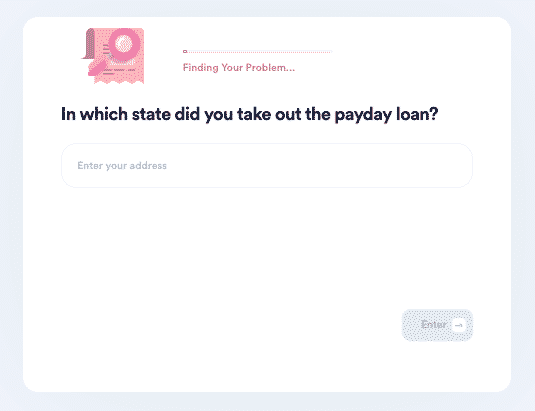 3. Tell us the amount you borrowed, the date you took out the loan, and when the payment is due.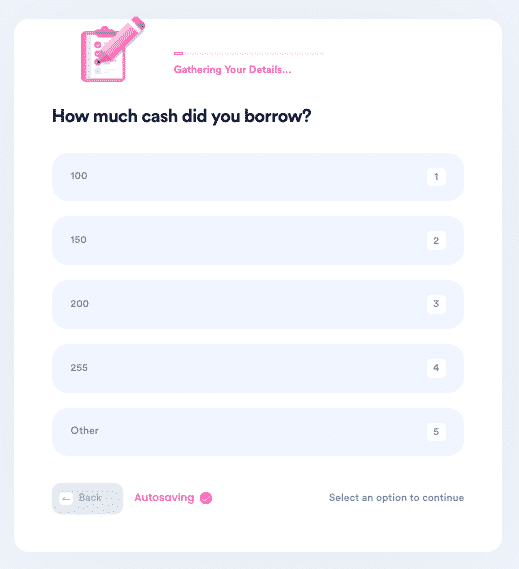 4. DoNotPay will automatically calculate the APR on your behalf, and determine the best way to negotiate your case based on the amount.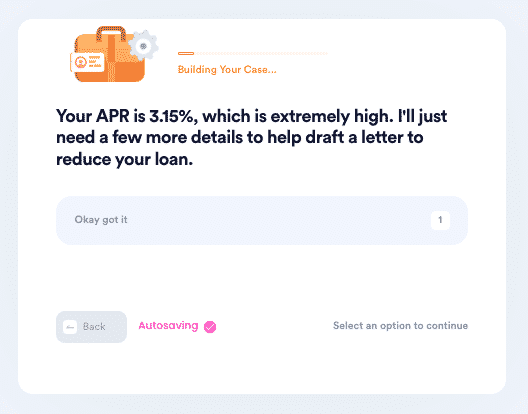 5. You're all set! You can generate your personal negotiation letter with one click, and use it to contact your lender to get better terms for your loan.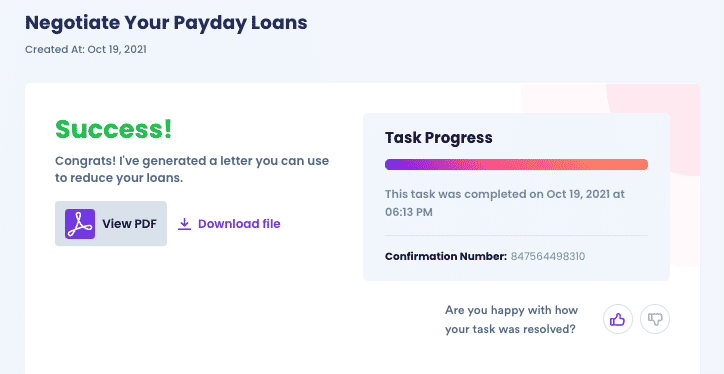 DoNotPay will work hard to put more money in your pocket and help you come up with a postponement, payment, or cancellation plan that works for your budget. We recognize that everyone's budget is different, and we strive to help you come up with a satisfactory option for your situation without causing you to go further in debt or have your credit score impacted negatively.
Why Use DoNotPay to Get Payday Loan Debt Relief in TN?
DoNotPay makes solving your payday loan issues quick, easy, and efficient. All you have to do is provide us with information on:
your current loans
the outstanding balances for each loan
the lenders you worked with
Once you enter this information, DoNotPay will take care of the rest. We are happy to save you the hassle of haggling with lenders to either help cut down on your payments, postpone them, or cancel payments you can't afford to make.
| | |
| --- | --- |
| It's Fast. | You don't have to spend hours contacting loan companies, trying to balance your budget, or figuring out how to find payday loan debt relief in Tennessee. |
| It's Easy. | You don't have to struggle to fill out tedious forms. |
| It's Successful. | You'll see fast results and get immediate payday loan debt relief in TN. |
What Else Can DoNotPay Do For Me?
We are glad that you asked! DoNotPay offers users a whole array of services, including helping you with:
We are here to help with any financial reimbursements that you are seeking. Our goal is to put as much money in your pocket as possible, so let us do all of the hagglings on your behalf.