How to Do Payday Loan Consolidation in Las Vegas
The cost of living in Las Vegas is high. Unfortunately, there are times when you may find yourself needing a little extra help between now and your next pay period. Depending on your credit or the urgency of the need, you could find yourself with multiple payday installment loans.
Juggling numerous payday loans can be stressful, and also makes it harder to stay on top of your payments and get out of debt. The best way to get ahead is to consolidate this debt into one loan so that you have one easy payment to keep track of on a weekly or monthly basis. This is when you need to seek out , and the easiest way to do that is with DoNotPay. You can avoid stressful issues of contacting and getting the right loan information and then trying to consolidate them together for one payment.
What If I Stop Paying My Payday Loan?
It's always better to learn how to get out of a payday loan instead of simply not paying it. Interest is already building up on your payday loan and payment installment loan, but if you stop paying, that amount can increase substantially. Instead of making installment plans, your total amount will be due immediately. If you do not pay within so many days, your loan balance could even be sold to a collections agency .
Does an Unpaid Payday Loan Affect Your Credit Score?
If you don't get payday loan relief and simply decide not to pay your payday loan, or if you miss a payment, your credit score could be negatively impacted.
While the payments you do make are not reflected on your credit report, these loans will be sold to collections agencies pretty quickly once you default. At that time, the collections agency will start reporting your missed payments and outstanding balance to the three major credit bureaus.
These credit bureaus are:
TransUnion
Equifax
Experian
How To Do Payday Loan Consolidation in Las Vegas on Your Own
This process is really difficult because if you have multiple payday loans, they are with different agencies. While some may be sister companies, others are completely unrelated, so trying to consolidate all of them together can be a complex process.
Gather the final balance for each payday loan and know the total amount that you need to borrow.
Gather your statements from these loan companies, and other required documentation. You will need your birth certificate, SS card, paycheck statements, and perhaps bank statements to determine your eligibility.
Complete the necessary application and request an amount that will cover the balances and their growing interest rates.
Visit multiple banks or financial institutions and see who will give you a consolidation loan. This step is difficult because they may want to run credit reports, causing multiple hard inquiries on your already deteriorating credit score.
Wait for these institutions to let you know if you were approved, how much you were approved for, and when you can expect to come in and get the funds you need. It is important to note that while you wait for multiple days, you are building more daily interest on the outstanding payday loans that you have currently.
Decide on which loan and interest amount are worth the consolidation. You will take this and go to each company, paying off the balance of your loans. You can allow your new loan company to send the checks and pay the balances, but that is not always an option.
Next Steps for Payday Loan Consolidation in Las Vegas When You Are Out of Options
Trying to do this on your own and navigating the process is tiresome, stressful, and just designed to discourage you. Many folks decide to just give up and pay the loans individually because consolidating on their own is not a simple process.
However, there is another option you can take when you want to consolidate your payday loans. You can access the features of DoNotPay to go through and get the loan consolidation for you, pay off your current payday loans and give you one easy payment to make each month.
Solve The Payday Loan Consolidation (Las Vegas) Process with DoNotPay
If you want to lower your payday loan but don't know where to start, DoNotPay has you covered. Lower your payday loan in 5 easy steps:
If you want to lower your payday loan but don't know where to start, DoNotPay has you covered. Lower your payday loan in 5 easy steps:
1. Search "Negotiate Payday Loans" on DoNotPay.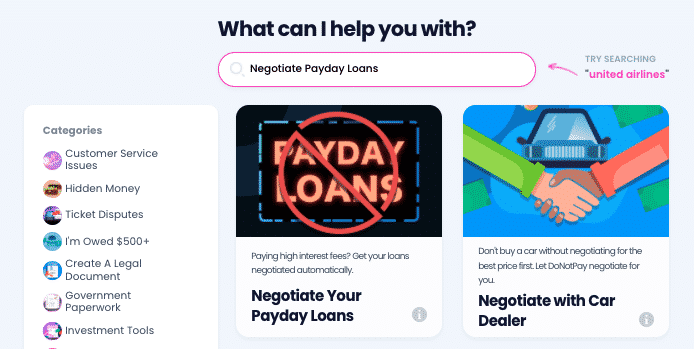 2. Enter the state you took out the payday loan in.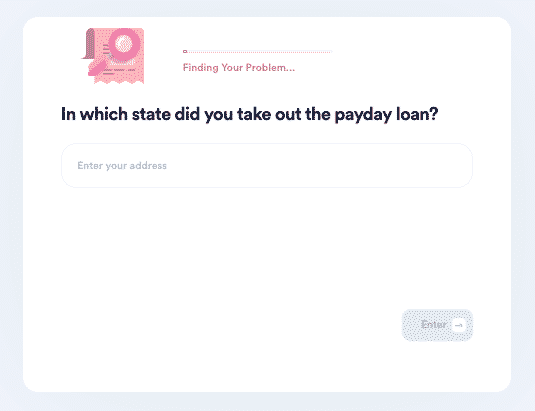 3. Tell us the amount you borrowed, the date you took out the loan, and when the payment is due.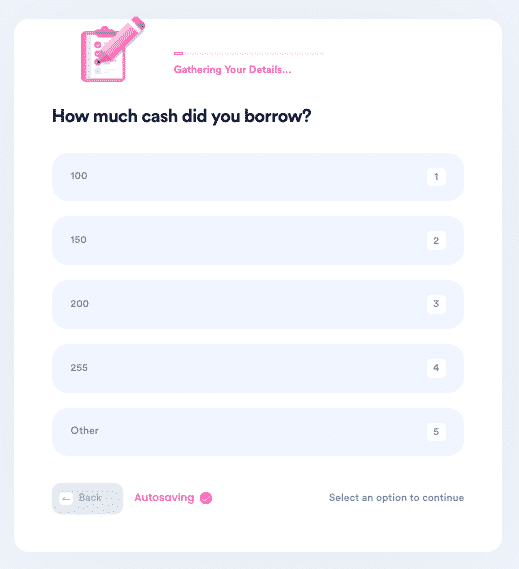 4. DoNotPay will automatically calculate the APR on your behalf, and determine the best way to negotiate your case based on the amount.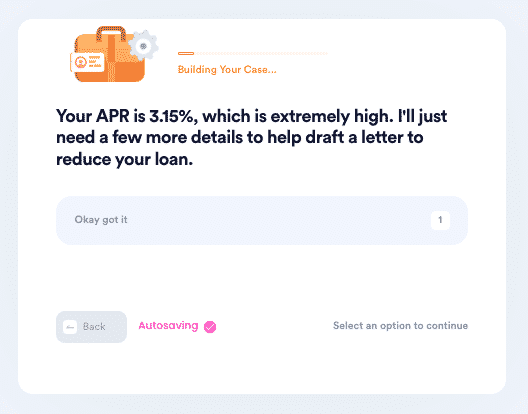 5. You're all set! You can generate your personal negotiation letter with one click, and use it to contact your lender to get better terms for your loan.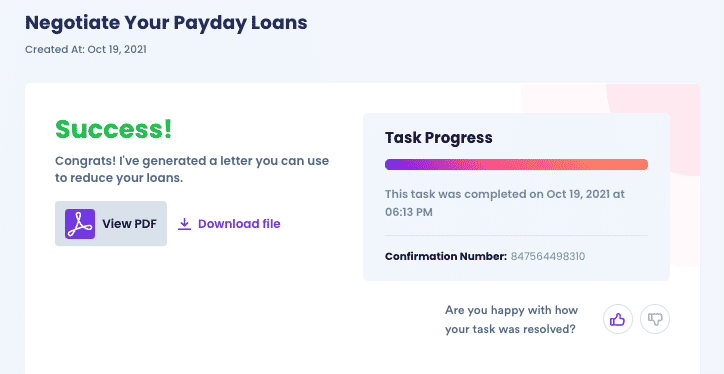 Why Should You Use DoNotPay For Your Payday Loan Consolidation in Las Vegas
When you choose DoNotPay to assist you with your , you are choosing a leader that takes you into consideration.
| | |
| --- | --- |
| It's Fast. | There is no need to spend days waiting for this process to be done or waiting for approval. This can all be done in a single day. |
| It's Easy. | All you need to do is give DoNotPay the information they need, and the rest is up to them. You do not have to interact with the consolidating loan company, as DoNotPay will take care of that process. |
| It's Successful. | They will find you a loan where you can consolidate all of these payday loans into one so that you have a lower payment each month and only have one payment to be concerned with. |
DoNotPay is Accessible Across Various Companies and Organizations
If you have more than one payday loan with different companies, DoNotPay can navigate all of these different organizations that offer these services. We are able to go in and consolidate these loans by contacting each of these companies and getting the true balance so that you do not have to.
What Else Can DoNotPay Do?
Outside of consolidating your payday loans, DoNotPay continues to assist you with costs and debt by offering services for the following:
DoNotPay wants you to live your best life and take all the hassle out of these tedious tasks that you are dealing with. Get back your time and reduce your stress when you choose DoNotPay today.