Patent vs. Copyright vs. Trademark vs. Trade Secret—What You Need To Know
When running a small business, it is essential to protect your brand to prevent other businesses from infringing on your intellectual property. This is why different kinds of brand protection exist to legally prevent your creativity and work from being stolen.
If you want to understand the patent vs. copyright vs. trademark vs. trade secrets differences, you have come to the right place. This article provides a comprehensive guide to the key differences among the specific brand protection types and will help you choose the best one for your business.
What Is the Difference Between a Patent, Copyright, Trademark, and Trade Secret?
Although they might seem the same for protecting your intellectual property, there are many differences among a patent, copyright, trademark, and trade secret.
Patent
A patent is intellectual property protection that grants exclusive rights from a governmental authority to the owner for a new invention. It is provided for a certain period, usually 20 years. The invention could be a design, product, process, technique, or insight disclosed to the public in a patent application.
There are three types of patents:
Utility patents—used for inventions that are new and useful
Design patents—provided to protect the design of a product
Plant patents—granted to applicants who discovered or invented new plants
Copyright
Copyright provides exclusive rights to creators of original works. It grants them rights to prevent third parties from making copies of their creative work, including translation, adaptation, reproduction, distribution, and public broadcast and performance.
Here are some examples of works you can copyright:
Songs
Movies
Choreography
Sculptures
Computer programs
Architectural work
Copyright usually does not have an expiration date and can exist indefinitely.
Although copyrights and trademarks might seem to be the same thing, copyrights protect original work while trademarks protect items that identify a brand or product through common use.
Trademark
A trademark is a logo, word, phrase, slogan, or combination that defines a business and differentiates it from its competitors. It can be both registered and unregistered and has to be renewed every ten years.
Various items can be trademarked, such as:
If you want more information on how trademarks work, we provide valuable insights on:
You can always file a trademark the easy way—by . Do not stress over the complicated process of registering your trademark with the USPTO—take the right steps to protect your ideas from being stolen with our help!
Trade Secret
A trade secret is valuable information that has actual or potential independent economic value because it is not publicly known. These pieces of information are usually processes that give leverage to a company over its competitors.
The table below provides a summary of the differences between the different brand protection types:
Type of Brand Protection
Provides the Protection Of
Expiry Date
Example
Patent
Inventions, including products, technology, manufacturing process, and updates
20 years

A new technology
A life-saving invention

Copyright
Original works, including literary, musical, audiovisual, or other forms of artistic work
No expiration date

Songs and audiovisual works
Movies, such as The Matrix
Literary works like Harry Potter and Lord of the Rings

Trademark
The brand and its goods
Ten years

Coca-Cola
Finger Lickin' Good
McDonald's

Trade secret
Information that puts the business at a competitive advantage
No expiration date

Coca-Cola's recipe
KFC's blend of 11 herbs and spices
How To Decide Which Brand Protection You Need
All types of brand protection are meant to protect different areas of your business, so it is essential to understand what protection you need. There are certain factors you can consider before making a decision, such as:
What is the type of intellectual property you wish to protect?
How long do you want to protect your intellectual property?
Is it possible for competitors to copy your invention?
What is the cost of the different types of brand protection?
Use DoNotPay To File a Trademark Registration in a Few Clicks
If you are a small business owner looking to apply for trademark registration to protect your brand, business, and goods, turn to DoNotPay! We can help you fulfill the following trademark requirements:
Conduct a search in the USPTO database to check which names or slogans have already been taken and to ensure that your trademark is original
Assist you in filling out the Trade Electronic Application System (TEAS) form, which includes categorizing your goods under specific trademark classes
Forward your application to the USPTO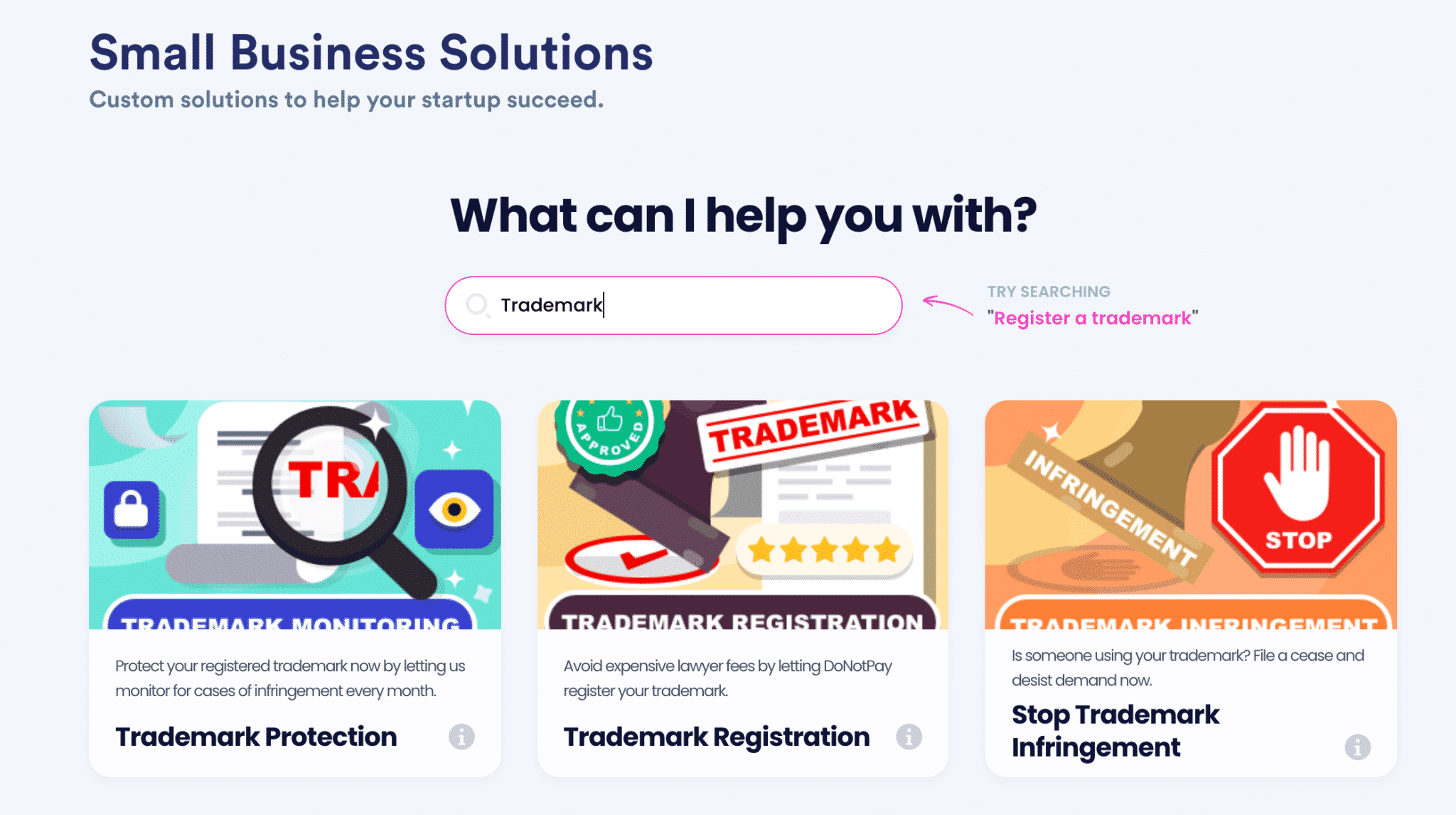 Our AI-powered app will help you file a trademark within minutes. Here is what you need to do:
in your web browser
Navigate to the Trademark Registration product
Answer a few questions about your brand and trademark
Pay the processing fee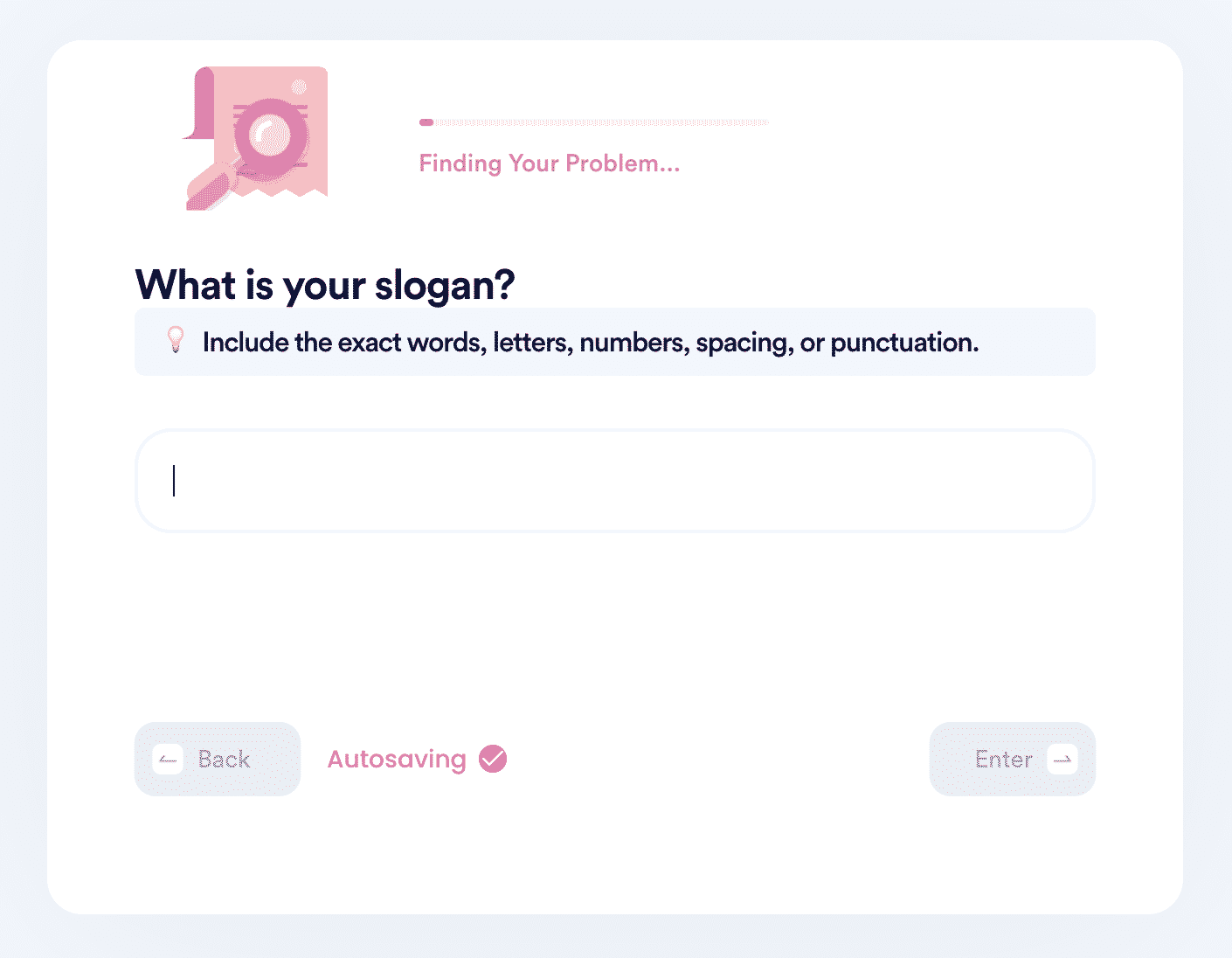 Once you digitally sign the form, we will forward your request to USPTO to expedite the application process! We will also provide you with a tracking number so that you can check the progress of your application.
Protect Your Brand Name and Build Trust With Your Users!
One of the most challenging aspects of every business is building a trusting relationship with the customers and maintaining a good reputation. That is why it is crucial to protect your business name, logo, and slogan legally by registering it as a trademark. DoNotPay is here to help you do that hassle-free with our Trademark Registration tool. Need help checking for trademark violations once you register? There is no need to fret as we have a tool that can help you with that as well!
Now that your trademark is taken care of, you should consider complying with data protection requirements to take care of your users' privacy. You can do so by using our Privacy Shield Self-Certification product.
Are you dealing with fake negative online reviews that are harming your business? DoNotPay can help you by analyzing the reviews and reporting them until they are taken down!
Time Is Money, and DoNotPay Can Help You Save Both!
DoNotPay offers an array of time-saving features that you can use when you do not feel like dealing with business-related challenges on your own. We can help you:
Apply for your Employer Identification Number (EIN) Registration in a few clicks
Help your employees lower their taxes by filing 83(b) election forms from the comfort of their offices
Enjoy free faxing and mailing services and save time by not having to go to the post office
Complete a DMCA agent registration process to avoid dealing with copyright violations
Write a convincing letter when filing for a small business loan
Do you need help dealing with clients who do not want to pay for your services? Use DoNotPay's Breach of Contract product to send a letter of demand in a matter of minutes! Not sure what to do with unfair chargeback requests? We can help you by creating a chargeback rebuttal document for you to send to your payment processor.