Partnership Operating Agreement—Who Needs It, and How To Create It?

Drafting a partnership operating agreement can be expensive and time-consuming, as is the case with writing any contract. DoNotPay is here to help you fully understand legal documents—such as an operating agreement—without hiring a lawyer or downloading useless contract templates.
With our assistance, you can draft documents in a matter of minutes!
The Types of Partnerships
There are three types of partnerships, although most people associate this term with limited liability partnerships (LLC). Here's a table that better explains the types of partnerships:
| | |
| --- | --- |
| Partnership Type | Description |
| General partnership | A general partnership is a for-profit commercial entity that has two or more general partners. Each of the partners has the same amount of liability for the actions of all partners, potential debts, and obligations of the partnership |
| Limited partnership | A limited partnership is a for-profit business that has one or more general partners with unlimited liability and one or more limited partners who are only liable for their share of the ownership |
| Limited liability partnership | A limited liability partnership is a business that only involves limited partners, meaning everyone is liable only for their actions |
Partnership Operating Agreement Explained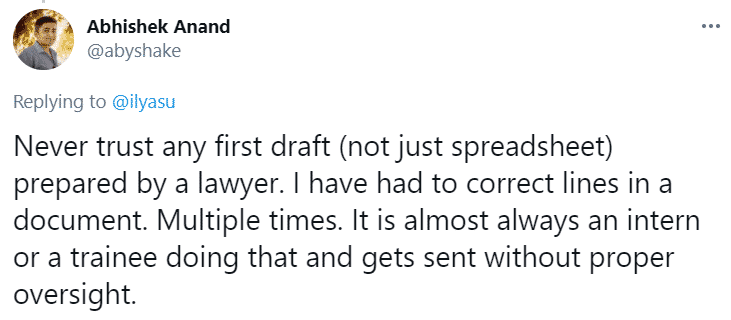 A partnership operating agreement is a contract between two or more business associates that outlines the rules, responsibilities, profit and loss distribution, reporting, and financing of a partnership. This document can prevent disagreements and help resolve future issues in a partnership. A partnership agreement is also referred to as:
Articles of partnership
Business partnership agreement
General partnership agreement
Partnership contract
Everyone in a partnership for profit should sign this document, even if the parties are friends, family members, or husbands and wives. Even single-member LLCs should have an operating agreement like this in place.
Elements of a Partnership Operating Agreement You Should Include

There are many templates available online for all legal documents, but they are generic and lacking in many aspects. Partnership operating agreements need to include special provisions unique to each partnership and adhere to specific state laws.
When drawing up this agreement, you shouldn't exclude some crucial elements:
The name of the partnership
Partnership's place of business
Proof of forming the partnership in the form of a certificate
The name and address of the partnership's registered agent
The purpose of your business
Term of the partnership
The capital contribution amounts of each member
Rules for adding new partners
Voting rules
Record-keeping provisions
Profit and loss management
Management costs and strategies
The rights of partners
Buy and sell agreement in case of partnership dissolution or the death of a member
Main Partnership Operating Agreement Aspects

Many aspects constitute a partnership operating agreement, and as such, they shouldn't be neglected:
Ownership—Fairly distributed percentages in correlation to the capital investments
Profit and loss distribution—Distributed either in equal shares, fixed percentages summing up to 100% between the partners, or based on capital contributions
Tax elections—The IRS considers partnerships as taxable entities, and they normally audit them at this level instead of the individual level for each partner, unless a partnership prefers individual auditing. Partnerships should name one partner as a representative for taxation matters
Voting and management—Management can be unanimous, favor the vote of the majority, or there can be a managing partner. Voting power can be capital-based, equal for all members, or based on profit distribution
Exiting a partnership—A partner can fill out a timely Notice of Withdrawal form to leave the partnership at any time if they adhere to all the terms of the agreement
Dissolution of the partnership— The partners should know in advance what happens in the case of dissolution as a result of bankruptcy, withdrawal or death of a partner, or the situation when a partnership fulfilled its goal or reached the end date
Create a Partnership Operating Agreement Using DoNotPay

If you wish to create airtight agreements while saving time and money, sign up for DoNotPay. Lawyers are expensive, and they aren't always necessary. DoNotPay can draft a partnership operating agreement for you. Here's how it works:
Enter Partnership Operating Agreement in the search bar
Answer the questions from our bot
Sign the document and print it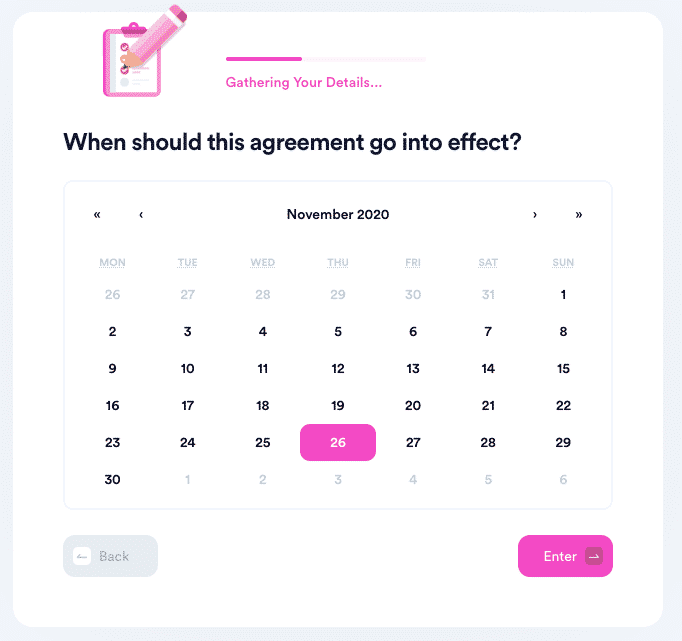 All members of your partnership must sign the document for it to be valid, but this agreement doesn't need to be notarized. If you still choose to do so, you can get it done with DoNotPay. We can help you book a meeting with an online notary that operates 24/7!
Draft Numerous Contracts With DoNotPay's Help!
If you sign up for DoNotPay, we can help you create many contracts quickly. Here are some of the most requested ones:
General business contract
General affidavit
Intent to purchase real estate
Promissory note
Quitclaim deed
Child care authorization form
We can also help you create state-specific LLC operating agreements in:
Save Some Coins With DoNotPay
Are various subscriptions and memberships burning a hole in your pocket? DoNotPay can help you cancel all of your memberships in a matter of minutes without having to contact customer service reps.
Next time you want to register for a free trial, prevent unexpected costs with our virtual credit card. Once the trial is over, you'll be unsubscribed right away because our virtual credit card doesn't contain any money. We will also generate a random email address you can use if you want to protect your privacy and avoid spam marketing emails.
Do you need help claiming warranties and insurance policies? DoNotPay can help with that too.
Should you need assistance returning an item or requesting refunds for purchased products, canceled flights, or late deliveries, we've got your back!
Avoid wasting money on lawyers—DoNotPay is here to help you sue anyone in small claims court and create numerous legal documents in the blink of an eye!
DoNotPay Can Help You Earn Money Too
DoNotPay users can save hundreds of dollars thanks to our app, but did you know that we can help you earn a few bucks as well? Our app enables you to claim missing money under your name or file your application for paid clinical trials in less than five minutes.
You can even get compensation for reporting robocalls or apply for a crime victims compensation program in your state by signing up for our app and following a few simple steps.