How to Draw Up a Partnership Dissolution Agreement without a Lawyer
Starting a new business relationship can go both ways—you can either have a great experience or wish for a partnership dissolution agreement sooner than you anticipated!
Because of that, it's important to enter into a business relationship by signing a general partnership agreement, even if the partnership is limited.
When your collaboration with your business partner is already legally established, it's easier to end it once you need to.
Here, you'll learn everything you need to know about partnership dissolution agreements, such as what:
They are

Steps the action of dissolving a partnership includes

Different types of a partnership dissolution agreement exist
Find out how you can write contracts with the help of DoNotPay's Legal Documents product, and you'll never again need to hire overpriced lawyers for your business!
Understanding a Partnership Dissolution Agreement
If you decide to open a joint business or a limited liability firm with a partner and believe the relationship or the business will not work out, you will need a steady partnership dissolution agreement.
A partnership dissolution agreement is a legal document that sets out how a business partnership between two or more parties will be ended.
Your original partnership agreement should include a clause that details the terms under which the partnership will be dissolved if it comes to that. Your first course of action when ending a business relationship is to study the original partnership contract and brush up on:
The general partnership info

The managerial roles you and your partner have

The agreement's governing laws

The terms that dictate how the partnership will be dissolved
When Do You Need a Partnership Dissolution Agreement?
When you decide you no longer can or want to run a business with your partner(s), you need to draft and sign a partnership dissolution agreement. Ending a business relationship involves many matters to be settled, such as dividing the assets and closing the business legally.
If you want a clean break—in terms of your personal relationship with your partner as well as in the eyes of the law—you need a property dissolution agreement. Signing this legal document also protects you against your partner filing a lawsuit and serves to establish your rights once the business relationship is over.
How To End a Business Partnership
Severing a business partnership takes several straightforward steps:
Reviewing the original agreement

—You should honor the terms of a partnership dissolution you and your partner(s) agreed on when founding a joint business. Your original partnership contract, whether general or limited, lists these terms

Negotiating the terms of closing the business with everyone involved

—If there is a majority vote that needs to be taken to end the partnership, you should consult all decision-makers. You should also start negotiating the terms of the dissolution with them and how you will handle all the matters involved in it

Informing everyone of the decision

—Notify everyone employed in your business about your decision as soon as it's made

Filing a partnership dissolution form

—Filing a dissolution of partnership form is a must. You will officially announce the closing of the business and free yourself of any liabilities

Closing all the bank accounts

—The final step in dissolving a business partnership is closing all the bank accounts associated with it. You want to distribute all the assets you have according to the agreed-upon terms
Different Types of a Partnership Dissolution Agreement
Depending on your individual business or limited liability company, you may need a specific partnership dissolution agreement. Check out the table below to see what some of the most common types of this agreement are and what they entail:
| | |
| --- | --- |
| Partnership Dissolution Agreement Type | What It Means |
| Statement of dissolution | Filing a dissolution statement is a simple way to close your business. You can do it after the decision has been made and the terms agreed on |
| Agree-to-dissolve | When one party wants to leave the partnership and the other wants to buy out the shares, you need an agree-to-dissolve agreement |
| Buy-sell agreement | The agreement clarifies who can buy out the business once you and your partner(s) close it |
| New dissolutions | New dissolutions is a detailed agreement that states all the terms under which the business will be closed, the roles you and your partner(s) will take, and the details regarding the division of assets |
DoNotPay Creates All Kinds of Legal Documents for You!
Business partnership agreements usually involve many other agreements that you need to draw up, negotiate, and attach to them. When dealing with so many legal documents, you cannot rely on contract templates to do the trick.
DoNotPay helps you create business contracts, as well as all kinds of other legal documents you need, at the speed of light.
today to use our Legal Documents product and generate a tailor-made:
Promissory note

Quitclaim deed

Child care authorization form

General affidavit

Intent to purchase real estate

General business contract

Estoppel certificate
How To Get Your Personalized Legal Document From DoNotPay
Instead of downloading free printable partnership agreements from the web that don't contain the clauses you need, get DoNotPay to create a 100% customized contract for you.
You only need to take these three steps:
Specify what document you want DoNotPay to generate

Provide details you need the document to contain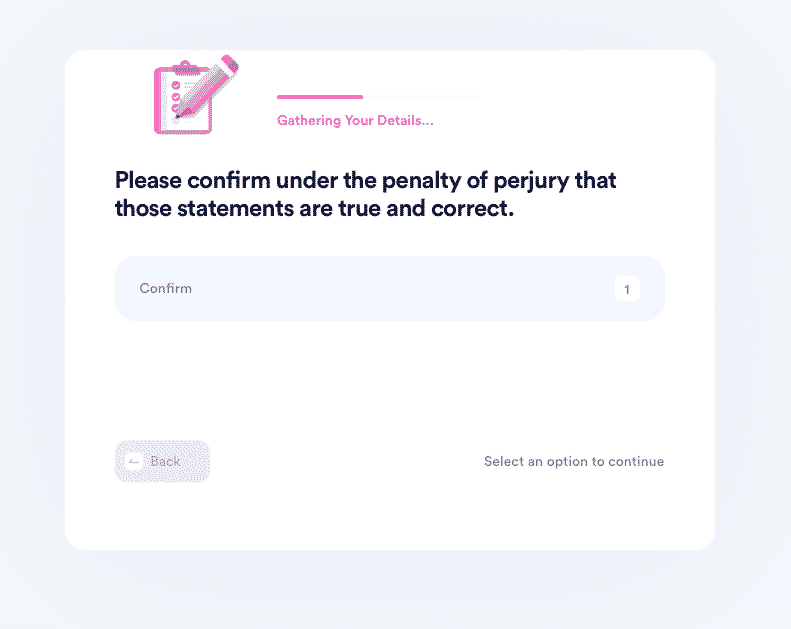 Do Not Let Companies Burn Your Pocket—Fight Back With DoNotPay
In the golden age of consumerism, it's easy to fall for greedy corporations' tricks and waste your money, sometimes without even knowing it. We are here to nip the money-grabbing techniques in the bud!
With your DoNotPay account, you'll be able to sign up for free trials without worrying about losing money once the trial expires. Are you also concerned about your privacy since most free trials require credit card info? With DoNotPay's virtual credit card, your privacy will remain intact.
Say goodbye to drawn-out refund and cancellation processes with the virtual assistant extraordinaire by your side.
If you need help returning an item or claiming its insurance or warranty, we'll help you throughout the entire procedure.
Need Some Extra Money? Find Unclaimed Funds or Get Compensations
Whether you need help with bills, you're strapped for cash, or you just want to get your money back but you can't bear dealing with customer service, we know what to do!
DoNotPay can help you overturn your parking tickets, apply for a college fee waiver, lower your property taxes, and get free raffle tickets. We can also show you the best way to discover your unclaimed money and obtain different types of refunds and compensation involving airlines, gift cards, and late deliveries.