Everything You Should Know About a
Partnership Agreement
A Partnership Agreement is one of many legal documents you may need to create to protect your interests. If you don't have any legal knowledge, you probably know nothing about how to write a contract. That's why you might reach out to an expensive lawyer.
With DoNotPay, there is no need for any of that! We can tell you everything you should know about the Partnership Agreement and create other legal documents in your stead.
What Is a
Partnership Agreement
?
A Partnership Agreement is an agreement made among individuals who plan on running a business together. This contract sets clear obligations of each party so that everyone's interests are protected.
Take a look at the table below to check what every Partnership Agreement should include:
Sections
Details

Business details

The legal name under which the partnership will work

Purpose of partnership

Business description

Salaries

Number of employees

Duties of each party

Distribution of profits and losses

Voting rights

Number of votes required to make a decision

Ownership interest

Percentage of the Partnership owned by the parties

Partner addition and withdrawal

Scenarios for adding new partners to the business

Solutions for parties leaving the Partnership

Taxes

Party responsible for handling taxes and the IRS

Details about your fiscal year

Partnership dissolution

Conditions that allow the Partnership to be dissolved

Explanation of how the assets of the Partnership will be divided between the parties

Scenarios in which one of the parties dies
Why Is a
Business Partnership Agreement
Important?
Running a business together with someone comes with numerous potential risks. This is why it is important to set the rules and obligations in the written form.
It doesn't matter whether you are starting a business with a friend or a family member—if the contract is not written, it does not exist. A Partnership Agreement could save you from a lot of trouble in the future, including expensive lawsuits.
Is a Partnership Agreement Affected by Federal Law?
Federal law does not cover the requirements of a Partnership Agreement. Each state is in charge of the business made in that area, so Partnership Agreements are regulated on a state-by-state basis.
What Happens if You Break a Partnership Agreement?
You and your business partner might get along perfectly at the moment, but numerous factors can affect your relationship as well as the business itself. What if someone decides to leave before the contract expires?
If the contract you have is a solid one and a party decides to break it before the expiration date, they will have to suffer some consequences. They also need to be aware of these repercussions before entering into the agreement.
Partners may take each other to court and deal with lawsuits if someone breaks a contract.
DoNotPay Can Help You Make a Legal Contract in No Time
Drawing legal contracts is not easy nor safe for people without proper legal knowledge. This does not mean that you have to turn to lawyers for help. There is a way to get a proper legal contract without one—using DoNotPay! If you opt for our robot lawyer app, you won't have to deal with faulty contract templates!
Our AI-powered app can be of assistance with various legal documents. If you want to create an agreement in a snap, follow these three steps:
Access DoNotPay from a

web browser

Type in the name of the document you want to create

Provide us with information about yourself
DoNotPay will generate the document with all the required info. In case you want to make it official, you'll need to get it signed and notarized.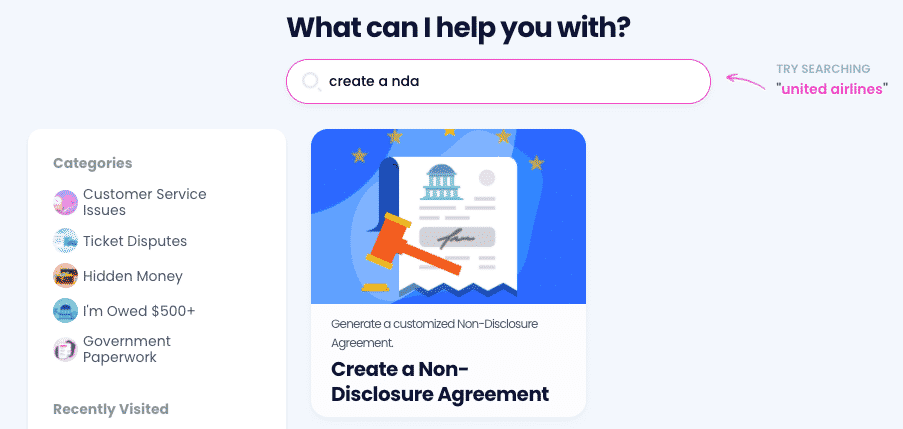 DoNotPay also has the info you need about various other legal contracts that might interest you, such as:
Create a Legal Document of Your Choice With DoNotPay
DoNotPay can help you avoid expensive lawyers when creating various legal documents. Perhaps you are planning on getting married and wish to ensure financial safety in case everything goes south? We can generate a Prenuptial Agreement with all the relevant info.
If you wish to settle with the best option for every party and make sure your child avoids unnecessary trouble, your virtual assistant can also make a Custody Agreement for you.
DoNotPay knows what other contracts of high importance should include. We can generate:
Promissory Note

General Affidavit

Intent To Purchase Real Estate

Quitclaim Deed

Estoppel Certificate

General Business Contract 
DoNotPay Is the Champion of Customer Advocacy
If you've never experienced an issue with a purchased item, you should consider yourself extremely lucky. When shopping goes wrong, you usually have to brace yourself for unpleasant and annoying exchanges with customer support centers. 
DoNotPay is here to make exercising your consumer rights easy. Long holds when calling customer service reps and incessant marketing spam emails can stay in the past. We will help you avoid irritating text messages from online retailers by teaching you how to bypass phone verification when signing up. 
Ask for refunds, claim warranties, fix credit card issues, or sue retailers in small claims court—these are just some of the services our platform provides. 
With DoNotPay, you can start free trials for new services risk-free. If you want to get out existing subscriptions, canceling them has never been easier!
Wait, There's More!
Our full portfolio includes features as diverse as contacting inmates and requesting college application fee waivers for students from low-income families. 
If you have a problem with bureaucracy, the chances are DoNotPay knows how to fix it with your minimal involvement. 
Leave the grunt work and unnecessary expenses behind. We will help you pass various government tests with flying colors, find unclaimed money in all states, or get out of parking tickets before you know it!