Get the Hang of Your Partnership Agreement in California With DoNotPay!
Thinking about starting a business with a partner but don't know anything about partnership agreements in California? DoNotPay has your back!
If the intricacies of legal documents are giving you a giant headache, you'll be happy to hear that you don't need a lawyer to write contracts or understand them.
DoNoPay will help you learn:
How partnership agreements work in California

What information to include in your agreement

How to get personalized

legal documents

in a breeze and without emptying your pockets
What You Should Know About California Partnership Agreements
The term partnership refers to a business that was launched together by two or more partners. If you want to start a company and run it with someone else, you'll need a partnership agreement. This document:
Defines how the business will be run and operated

Predicts what issues may arise with the partnership and how they'll be dealt with

Protects the rights of both partners or parties to the agreement

Dictates how the

dissolution of the partnership

will be handled
Since partnership agreements aren't governed by federal law but by individual states' laws, your agreement needs to abide by the California rules and regulations on partnerships. This means that your business needs to honor the registration and tax requirements California sets.
Different Types of Partnerships
Before you sit down to draft your partnership agreement, you should be clear with what kind of partnership you want to form. There are three main partnership types:
General partnership

—General partnerships are characterized by the fact that all partners share the same responsibility and power when it comes to making decisions. This means that if one party makes an error that costs the business a certain amount of money, each partner will feel the loss. Benefits of this type of business are low costs to form the company and a small amount of paperwork

Limited partnership

—When there is a limited partner involved, they don't do as much work for the business as the general partners do. Limited partners also don't bear full liability, so they aren't accountable for the general partner's actions. Certain tax benefits apply to the limited partnerships, which is the main appeal of this type of joint business

Limited liability partnership

—This type of partnership is unique. All members decide how much they want to contribute to the running of the business, and each partner is responsible for their actions. If you are founding an LLP, you'll be happy to hear that your business will be free from the double taxation that the other two types have to bear
Do You Need a Partnership Agreement in California To Launch a Joint Business?
Even though you are not obliged to create a written partnership agreement under California law, you will be making a huge mistake if you don't use the agreement.
Since so much can go wrong with running a joint business, the agreement can prevent litigation that can otherwise cost you thousands of dollars.
If you don't determine the terms and conditions of your business with a partnership agreement, you'll be required to abide by California's Revised Uniform Partnership Act (RUPA). The RUPA states that each partner will:
Hold equal interest in the business

Have the same voting rights

Earn the same amount of profit from the revenue

Share liability with the other partner

Exercise equal influence in managing the company
By using a partnership agreement, you not only protect yourself from potential losses but also allow yourself and your partner more freedom to choose how you will manage your business.
The Key Sections in a California Partnership Agreement
If you have never seen a partnership agreement before, using a free printable partnership agreement to draw up the contract is one option you have. Bear in mind, though, that these templates can cost you more time than you have. They are usually outdated and full of errors, which you need to correct.
The other option is to hire a lawyer to draft the agreement for you, but since they are expensive, writing the contract on your own may be the optimal solution.
Here are the main sections that you need to include in your agreement:
Names of the parties

—full names of the partners starting a business, including their contact information

Partnership purpose and description

—the name of the business, names of its employees, what the company's operations are going to be, and the reason that it's formed

Managerial decisions

—whether every partner will have equal voting rights, what kinds of positions will the partners hold, and how much will every partner work toward running the business  

Capital contribution

—how much money will the partners put into launching the business and how much money they'll invest in future projects

Distribution of assets

—details about the allocation of profits 

Changes in membership

—whether new members can be added to the partnership and the conditions under which that will be possible

Bank accounts

—the name of the bank in which the business accounts will be opened and the partner that has the signature authority on the accounts

Conflict resolution

—predictions about issues and disputes and how they will be solved

Taxes

—which partner will be responsible for dealing with taxes and the IRS

Partnership dissolution

—details about deciding to dissolve the business and how the dissolution will be handled
Create a Legal Document With DoNotPay Effortlessly
With DoNotPay, you can generate numerous contracts and make them personalized in these three steps:
 

Tell us the name of the document you need

Give us the information you want to include in your document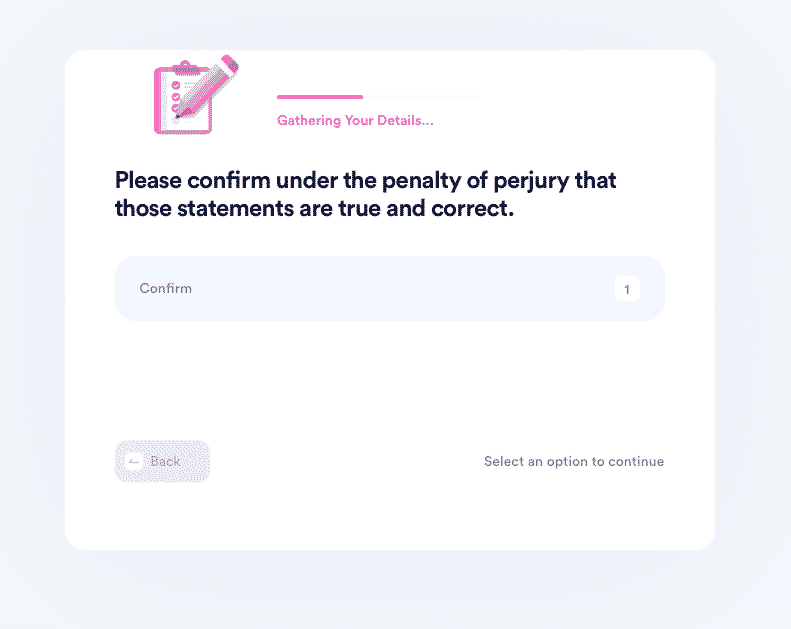 You Can Quit Using Generic Contract Templates!
As soon as you , you can say adieu to unreliable contract templates
Agreement Type

Agreement Name

Business

General business contract

Real estate

Quitclaim deed

Intent to purchase real estate

Estoppel certificate

Other

General affidavit

Promissory note

Child care authorization form
Use Our Extensive Knowledge Base To Learn About How Different Contracts Work in California
Since you need to deal with all kinds of legal documents in today's world, you should learn how the following agreements work in California:
Free Yourself From Boring Tasks With DoNotPay's Help
Our AI-driven app comes in handy for numerous bureaucratic or administrative chores that usually take up a lot of time. With DoNotPay's speedy service, even the most tiresome task will be complete in a flash!
You can forget all about waiting in line at the DMV and being on hold with customer service—we will get you to the finish line in a few clicks. Tired of the old snail mail? Use DoNotPay to mail letters fast. Better yet—fax your documents using our app. If your document requires a notary's signature, we can assist you in scheduling a virtual appointment.
No Lawyer—No Problem! Rely on the World's First Robot Lawyer
When you're in a bind but you can't afford a lawyer, there is still something you can do—sign up for DoNotPay and let our award-winning app give you a hand. With our expertise, the following tasks will be a piece of cake: