Understanding the Parting Wall Agreement
A party wall is a shared wall dividing two residential units. It can separate:
Apartments

Condominiums

Gardens

Terraced houses

Buildings or parts of a single building

Semi-detached houses

Land belonging to two different owners
Since these walls have two or more owners, all of them must agree upon any related modifications. If you want to perform any construction work on a shared wall, you must sign a party wall agreement with your neighbors.
Writing a contract is a simple task for a lawyer, but it may be quite demanding for people who aren't familiar with the law. We will explain the parting wall agreement inside out and show you how to compose any legal document with zero legal expertise!
Why Do People Sign Party Wall Agreements?
A party wall agreement is a contract between you and the other owner outlining the conditions of the planned wall alteration. Before starting the work, you should inform your neighbors about your plans. Once they give their consent, you can start to draft a contract outlining all the details.
There are no universal rules regarding party walls in the USA. The Supreme Court allows each state to come up with its specific regulations. This means you should check local legal requirements before you start considering a party wall alteration.
This contract can also establish general rights and regulations regarding the use of the shared wall, such as maintenance obligations.
When Do You Need a Party Wall Agreement?
Party wall works may involve various modifications, including:
Cutting of a shared wall

Alterations of the floors between flats

Excavation or underpinning works

Loft conversions

Changes in the thickness or height of the wall

Damp proof course insertion

Adding of a second-story extension

Removal of chimney breasts from the wall construction

Construction of a brand new wall instead of the existing one
What Should a Party Wall Agreement Include?
Bearing in mind that each state has specific party wall laws, the contract sections will mostly depend on the local legislation. Some details you will have to include regardless of the location are the:
Names and addresses of both signing parties

Detailed description of the expected works

Estimated duration of the works

Time limit for starting the works

Working hours

Surveyor's fee details

General condition of the affected properties

Optional photos of the wall before alterations

Drawings showing the specific details of the planned works

Public liability insurance details
How To Create a Party Wall Contract
Below is the table showing the ways to draft your party wall agreement:
Method
Benefits
Drawbacks

Legal assistance

It results in a valid and professional legal document

The services are too expensive

Online contract templates

They are accessible

Templates are usually free of charge

If they were posted a long time ago, they can be outdated

Their structure is too generic and can't apply to specific situations

Modifications are limited to blank spaces only

Writing a contract yourself

You can personalize the contents as much as you want

Lack of expertise can make your document invalid or inaccurate

You must be acquainted with state-specific laws
Our Virtual Lawyer Draws Up Contracts for You
Does drawing up a contract on your own sound terrifying? We hear you. Many people face difficulties while trying to draft legal documents. This is why we created DoNotPay—the world's first robot lawyer generating contracts in your stead!
If you choose one of our templates and provide us with a few basic details, we will create a customized document ready for signing. The perks don't stop here. You can use our Notarize Any Document feature to schedule a virtual appointment with a notary and validate your signature in a snap!
Our app allows you to make:
General Business Contracts

Intents To Purchase Real Estate

Quitclaim Deeds

Promissory Notes

Child Care Authorization Forms

General Affidavits
To get your contract in less than five minutes, follow these instructions:
in any preferred web browser

Find a suitable template by entering the keywords in the search field

Give us a few more details about the contents of your document

Download your contract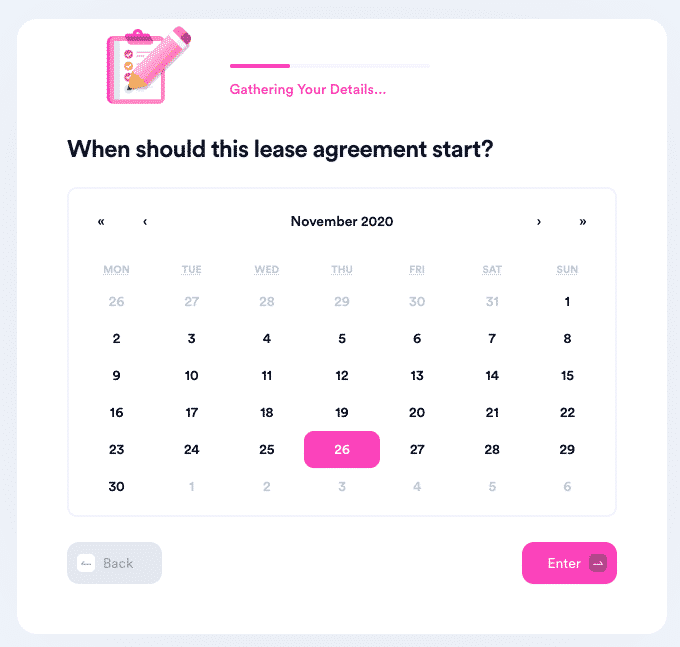 Read About Other Legal Documents In Our Knowledge Base
You can get informed about other commonly used contracts by reading our guides! and discover many useful articles about:
Need Help Fighting Bureaucracy? Use DoNotPay!
As the world's first robot lawyer, DoNotPay can help you resolve a plethora of tedious administrative issues. Our app will assist you in getting justice in small claims court, getting refunds from merchants, reporting annoying spam emails and text messages, reporting copyright infringement, bypassing phone number verification, and so much more!
You can also rely on DoNotPay's help when it comes to subscriptions. If you want to sign up for a free trial, cancel a service you no longer use, and skip the phone queue when doing so, our app will provide its assistance.
Our App Saves You Time and Money
Are you unable to pay your bills? Use the world's first robot lawyer app to cover them! Do you want to appeal your traffic or parking tickets? DoNotPay will help you appeal them in the blink of an eye.
Our app can do so much more than that, though—with DoNotPay by your side, you can sign up for clinical trials, ace government tests, claim any type of warranty, schedule an appointment with the DMV, and handle any other bureaucratic task.