Parking Lease Agreement
in a Nutshell
Finding a good parking spot near your workplace or other places you frequent is often demanding, especially if you live in a big city. 
Whether you own a parking lot you don't use or are in dire need of a parking space, a parking lease is the best solution. The less exciting news is that it usually requires a specific legal document you must sign with the other party.
If you aren't familiar with parking lease agreements, this article will solve all your dilemmas. We will share great advice on what parts every good parking lease agreement template should have and how to write your future contracts within minutes!
How Does a Parking Lease Agreement Work?
A parking lease contract is a written agreement that fortifies the verbal deal between the parking lot owner and the person who wants to rent the particular parking space. The signing parties can be individuals or companies, opting for one of the two available contract forms:
Fixed-term contract

—Signing entities determine the lease period in advance

Month-to-month lease contract

—The agreement lasts for 30 days and renews every month until the parties decide to terminate it
While both signing entities must agree upon the conditions stated in the contract, the lessor should determine the liability rules. To be legally binding, parking lease agreements must be signed by both parties. They usually don't need notarization, but if you want additional security, you can have your signatures validated by a notary at any time.
Can I Make a
Parking Space Rental Agreement
Myself?
Writing a parking space rental agreement requires specific terms and sections. Here's a table showing a suggested structure to use for your contract:
Sections

Details

Information about the signees and lease

Full names and signatures of the lessor and lessee

Physical addresses of the lessor and lessee

Optional contact details—phone numbers or email addresses

Lease duration—a start and end date of the lease

Lease term

Vehicle description—age, make, mileage, etc.

Parking space information

Location

Stall number

Specific period during which the parking spot is available (if applicable)

Payment

Rent amount

Rent payment method

Due date

Monthly installments option

Deposit information (if applicable)

Terms and conditions

Limitations

Liability details—use of space and damages

Service and maintenance requirements

Registration and insurance details

Governing laws

Termination policy
Each state has laws regulating mandatory lease-related terms and conditions. The best way to learn more about them is to revise the rules from the manuals of your local jurisdiction. 
What Are the Main Benefits of a Parking Lease Agreement?
Signing a parking agreement brings perks for both parties. It can help you:
Clarify the verbal agreement details

—Outlining your expectations in person is recommendable, but it isn't enough. Having all the conditions you agree upon in writing will allow you to remind yourself of your duties and check whether the other party complies with the rules

Reduce costs

—Leasing a parking spot and paying a monthly fee is more affordable than paying for public parking every day
Provide admissible evidence in court

—If something goes wrong and you end up in court, you can use the agreement to prove the rule violation
How Can DoNotPay Help Me Create Legal Documents?
Whether you need a parking lease agreement or any other legal document, creating contracts is a serious endeavor. If you don't know much about the law, there's a big chance your draft will turn into an invalid document.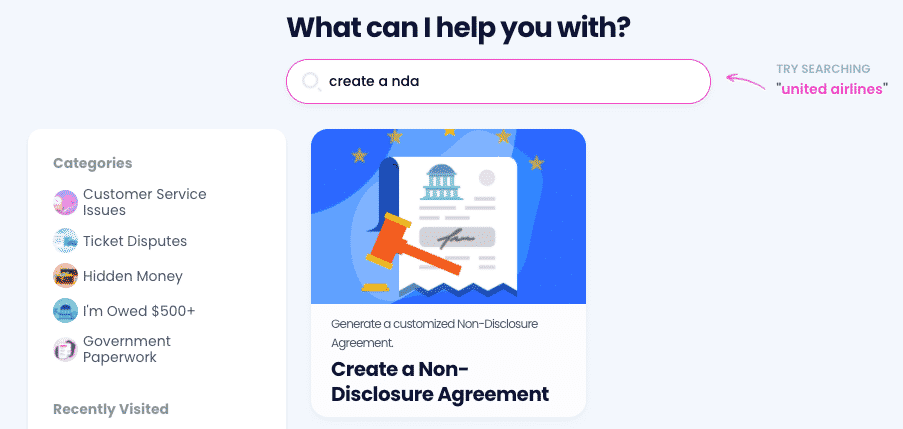 If you need assistance but don't want to spend loads of money on lawyers, DoNotPay has your back! Our award-winning app allows you to pick a legal document and customize it to get a fully personalized contract.
To use our help, proceed as follows:
Open DoNotPay

in any preferred web browser

Search for the document you need

Respond to several questions to help us create a perfect contract for you
As soon as you complete this short procedure, we will generate your agreement right away. Once you print it out, all you need to do to make it valid is sign it or get it notarized.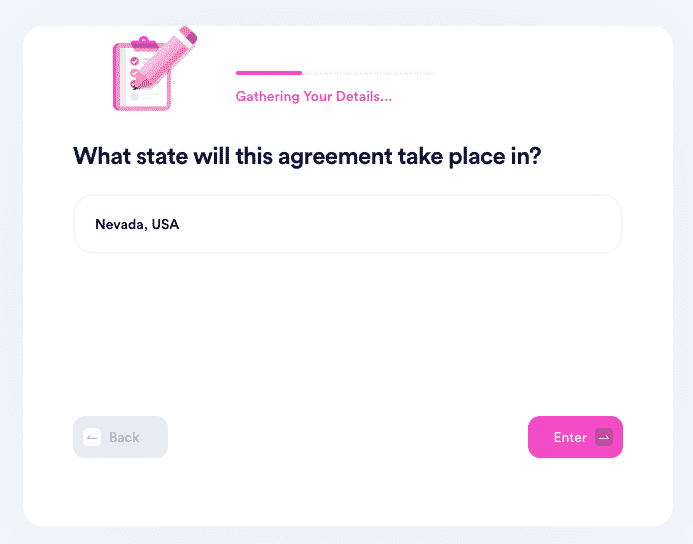 Our database offers the following adaptable legal documents:
General Business Contract

Intent To Purchase Real Estate

Estoppel Certificate

Quitclaim Deed

General Affidavit

Promissory Note

Child Care Authorization Form

Residential Lease Agreement
Can I Get Information About Other Contracts From DoNotPay?
You can visit our learning base from any web browser and study other types of agreements in our knowledge base. Below is the table with articles you may find useful:
| | |
| --- | --- |
| State-Specific Lease-Related Guides | Miscellaneous Contract-Related Guides |
| | |
DoNotPay Offers a Variety of Services
DoNotPay is the ultimate virtual assistant that takes over all those annoying tasks you don't want to deal with!
Need to schedule your DMV appointment? Want to get your college fees waived? Have to draft a legal doc quickly?
We can do all that and much more!
Our app waits on the phone line with customer service of any company for you, reports robocalls, and helps you file lawsuits in small claims court. 
We can also help you deal with your parking tickets, get rid of spam emails and texts, or find and sign up for reputable clinical trials!
Keep Your Money in Check With DoNotPay
How often do you sign up for a free trial and then forget to cancel it before it expires? Unexpected charges are the worst, but you can prevent them if you use our free trial card. DoNotPay's virtual credit card is not connected to your bank account, which means that no money can be taken from it. 
We can also help you get refunds for unsatisfactory purchases or compensation from airlines for delayed or canceled flights.
In case you are struggling with warranty claims, bill payments, insurance, or tax reduction, DoNotPay can solve these issues as well. 
Our app also has the largest database of unclaimed assets in the United States, so you can find and claim your lost funds quickly.