Get the Scoop on the
Paramount Property Tax Appeal
Company
Paying property taxes can be a major financial strain even in states with low property taxes. You can run into issues long before your tax bill arrives—right after your property assessment. If you believe your home's assessment was unfair or incorrect in any way, you can file an appeal. This is where property tax appeal services, such as Paramount Property Tax Appeal, come into play.
This article will show you how Paramount operates and what it can do for you. We'll also show you how to lodge an appeal and lower your taxes by yourself with DoNotPay's assistance.
The Issue With Property Taxes
An average American cashes out around $2,500 on property taxes a year. In California, where Paramount is based, the amount is not that high—0.76%—but it's definitely not as low as in Hawaii or Alabama.
Aside from the tax rate, the property assessment of your home is factored in to calculate your tax bill. If your home is overassessed, your bill will be considerably higher.
What Does Paramount Property Tax Appeal Offer?
Paramount Property Tax Appeal is a consulting company from San Diego, California. It offers property tax appeal services, as its name suggests. The scope of its services includes assistance with:
Real property

Business property

Legal changes and ownership

Business personal property tax compliance

Estate evaluation

New construction developers
Paramount's Service Regarding Real Property
Although headquartered in San Diego, Paramount can help clients with real property in California, Arizona, and Nevada. If you live in or own one of the following, Paramount can help you:
Hotels

Apartments

Offices

Golf courses

Industrials

Self-storage

Hospitals

Single-family residences

Gas stations

Retail shopping centers

Assisted living centers
How Can Paramount Help Me With an Assessment Appeal?
Paramount offers to:
Determine the correct value of your property

Represent you at Board of Equalization hearings

File your appeal
There are two types of appeals in California:
| | |
| --- | --- |
| Property Assessment Appeal Type | Brief Explanation |
| Decline-in-value appeal | The County Assessor's office should assign your home a Proposition 13 trending value or its current market value, whichever is lower. This means that your tax liability can keep rising even after you have won appeals for previous years  |
| Base-year appeal | If there's a change of ownership or new construction, you can file an appeal due to the newly assessed values |
Are Property Tax Appeal Services Reliable?
Even though Paramount and similar services claim a 90% success rate of their appeal service, they cannot guarantee you will get what you want or deserve—especially if you know that, with the right tools, you can handle the appeal on your own. With DoNotPay's Property Tax guide, you will not need to hire a firm! Besides the assessment appeal instructions, we make it a point to provide various money-saving tips and guidelines regarding your property tax.
Appeal Your Assessment and Apply for Property Tax Exemptions With DoNotPay
We have created a Property Tax feature that can generate a customized guide to help people manage their taxes. Using the personal info you provide, the guide will be specific to your case.
Here's what you can expect from it:
Property Assessment Appeals
Property Tax Exemptions

Ways of negotiating with the assessor

Guidelines for collecting evidence, forms, and other documents necessary for the appeal

Instructions for filling in and submitting the appeal form
After a few clicks, your guide will be ready for you. Here's what you need to do to get it:
Open DoNotPay

in any web browser

Navigate to the

Property Tax

feature

Provide the necessary info about yourself—your age, location, and income

Answer several questions about your property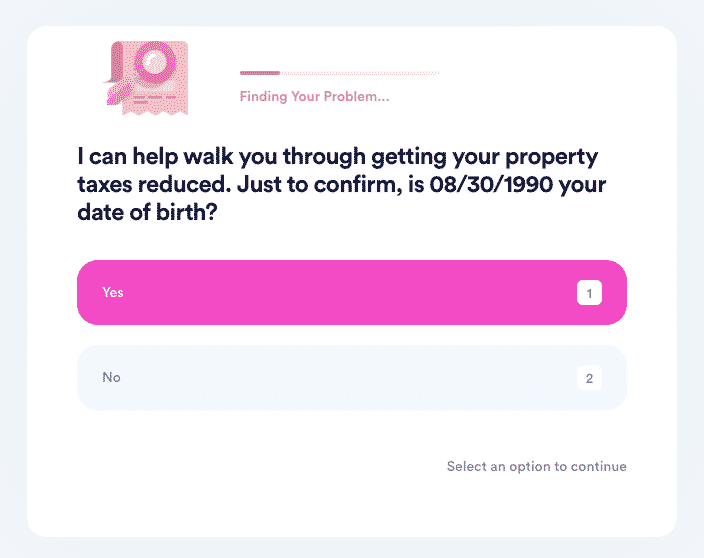 What Else Can I Do To Reduce My Property Taxes?
Even small steps and precautions can affect the numbers on your property tax bill and help you pay taxes. You can give the following strategies a go:
| | |
| --- | --- |
| Methods | Brief Explanation |
| Plan for home improvements carefully | Home renovations, especially major ones, can increase your home's market value. This means that your assessed value will be higher and with it your tax bill. The best thing to do is put off renovating until after the assessment |
| Be present during the in-person property assessment | If your assessment is in person, make sure to be there. This way, you can ask questions and explain anything the assessor is unsure about. You're more likely to get a fair assessment if you are present |
| Research the neighboring properties | You can check the neighbors' homes' values online before your assessment to see if there are any errors and signs of an unfair assessment once it's done |
| Keep up with the property tax exemptions you may qualify for | Property tax exemptions could fully or partially exempt you from paying taxes. Eligibility factors and exempt amounts change over time, so you should stay up to date to know when you can apply for them |
Admin Issues Giving You a Headache? Resolve Them With DoNotPay!
Scheduling a DMV appointment, applying for clinical trials, requesting refunds from companies, and getting in touch with your loved ones in prison are all difficult and time-consuming tasks. You have to take many steps before you can get any of these over with, and that's why our robot lawyer app is here to help.
No matter if you need assistance with appealing parking tickets, signing up for free trials, canceling various subscription services, or maybe preparing for government tests, DoNotPay will provide you with easy solutions.
Having Financial Struggles? Rely on the World's First Robot Lawyer
Many Americans struggle to make their ends meet at the end of each month. With that in mind, we've created plenty of features that will save you both time and money in the most efficient way. 
Using our AI-driven app, you can get help with bills, get refunds from airlines, find unclaimed money in any state, or earn off annoying robocalls or stalkers and harassers. If you want to fight for your right, DoNotPay will also assist you in suing any person or company in small claims court.
No matter the admin task at hand, our robot lawyer will provide swift and effective assistance.