Everything You Wanted To Know About Papua New Guinea Tourist Visa
You've heard so much about sandy beaches in Papua New Guinea, and you finally decided to see them yourself? To truly enjoy all that this inspiring island has to offer, you should prepare all the required paperwork for your trip.
As sorting out visa documentation can be a dull and arduous task, we created this practical guide to a Papua New Guinea tourist visa application.
Use DoNotPay to learn all about tourist visa requirements for this country in Oceania and get ready for a remarkable travel experience.
Do You Need a Visa To Visit Papua New Guinea as a U.S. Passport Holder?
Yes, you do. If you are traveling to Papua New Guinea as a U.S. citizen, you can apply for one of the following visas:
| Type of Visa | Validity Period | Extension Fee |
| --- | --- | --- |
| Multi-entry tourist visa | 12 months | 1,000 PGK ($285) |
| Single-entry tourist visa | 30 or 60 days | 500 PGK ($142) |
| Single-entry visa on arrival (VOA) | 30 days | Free of charge |
The Papua New Guinea Visa Requirements Explained
If you want to apply for a multi-entry or regular single-entry tourist visa for Papua New Guinea, you will have to prepare:
Passport
Photographs of yourself
Proof of travel arrangements
Passport
To enter Papua New Guinea, you need to have a passport that will:
Be valid for at least six months of your arrival to Papua New Guinea
Have one blank page for stamps
Photographs
Photographs you provide must:
Proof of Travel Arrangements
For your entry to Papua New Guinea, you will also need to submit proof of travel arrangements with:
A copy of the route of your trip or an e-ticket that shows it
Date of your departure
Your full name
Papua New Guinea Visa Application Process in a Nutshell
Once you prepare all the necessary documents, you can start the application process. You can do so online or at the Papua New Guinea Embassy.
If you choose to apply for your tourist visa online, you should complete the visa application form that includes:
Your full name
Your signature
Answers to all the questions regarding your trip
In case you'd like to handle the application in person, you should download the form from the Citizenship Authority of Papua New Guinea (ICA) website, fill it out, and bring it with you.
If you have any questions or dilemmas, you can contact the Papua New Guinea Embassy in the following ways:
Via email—visa@pngembassy.org
Via phone—202-745-3680
COVID-19 Restrictions in Papua New Guinea
Due to the COVID-19 pandemic, entry to Papua New Guinea is limited. To enter this country, you will need to either:
Have proof you were vaccinated with an FDA-authorized vaccine
Have a negative PCR test not older than three days
Complete an electronic health declaration form
When you arrive, you will have to be in a quarantine for seven days, practice social distancing, and wear a mask.
If you are vaccinated, you will not have to get tested before leaving the U.S., and you will not have to be in quarantine once you return from Papua New Guinea.
In case you recovered from the COVID-19 in the last three months, you should not get tested before the trip, but prepare a document stating that you have recovered.
Though Papua New Guinea allows entry to unvaccinated visitors, you will have to practice social distancing during your visit and self-quarantine for at least 14 days once you return to the U.S.
DoNotPay Helps You Acquire Your Tourist Visa Smoothly
To help you avoid all of the unnecessary hurdles during the visa application process, turn to DoNotPay. We created a Tourist Visa Guide feature to help you prepare everything you need to apply for your tourist visa successfully.
This feature will provide you with a list of requirements for your desired visa, as well as a direct link to the application form or a printable application form version.
We can also contact the embassy of the country in question and ask if there is a possibility of submitting application forms by email.
All you need to do is:
Locate the Tourist Visa Guide feature
Confirm that you own a U.S. passport or that you are a U.S. citizen
Input the name of the country you would like to travel to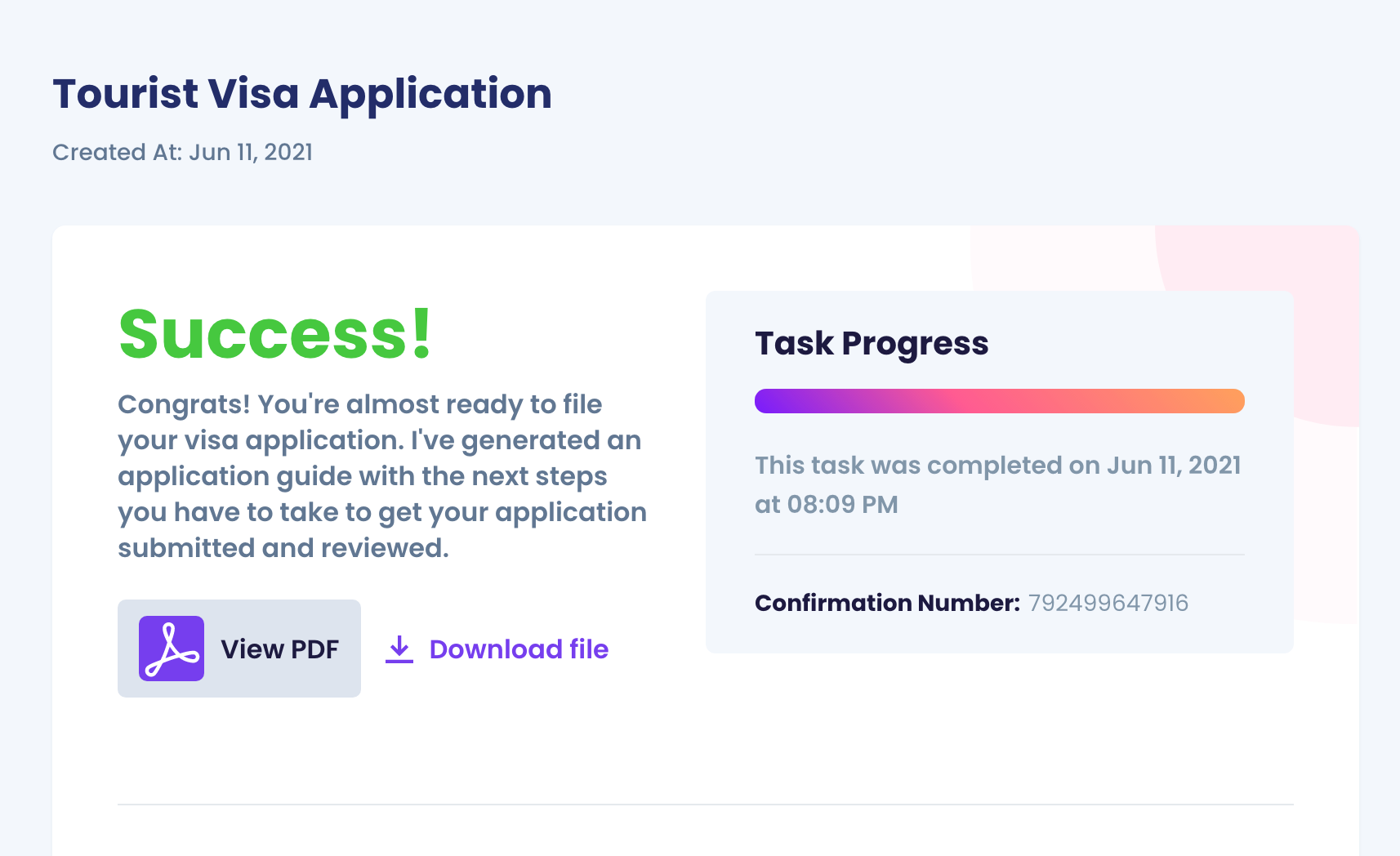 Discover the Hidden Gems of Oceania
Papua New Guinea is just a starting point of your Oceania travels? If that is the case, you will need to get acquainted with the requirements for other visas as well. Subscribe to DoNotPay and learn all about tourist visas for countries listed in the table below:
Have Your Documents Created and Notarized in Less Than Five Minutes!
Why spend hundreds or even thousands of dollars on lawyers when the ideal solution is only a few clicks away?
DoNotPay saves the day by enabling you to generate numerous legal documents. Creating proper child travel consent forms, divorce settlement agreements, and powers of attorney has never been easier!
Our perks don't stop here—you can also have your documents notarized electronically from any location. Once you obtain a notary stamp and signature, your paperwork can be faxed online without outdated machines.
Explore Everything DoNotPay Has To Offer
Day-to-day tasks you must deal with don't have to be a burden or rocket science. Signing up for DoNotPay is your ticket to performing them the easy way! We offer a wide selection of products that don't cost an arm and a leg but do excellent work when it comes to solving your administrative issues!
Our services will help you: