Panama Tourist Visa From A to Z
Are you planning a trip to Panama, but the thought of never-ending bureaucracy is sending shivers down your spine? After you discover that several different sources state different entrance requirements for Panama, you may feel the need to give up on your trip before you start packing.
Fortunately, you don't have to cancel your plans because DoNotPay explains:
Whether a Panama tourist visa is required to enter the country
What other documents might be necessary to cross the border
How to check whether any other country requires tourist visas from U.S. citizens
Do I Need a Tourist Visa for Panama?
No, U.S. residents do not need a tourist visa to enter Panama as long as they stay less than 180 days. If you need to stay longer than the allowed number of days, that rule does not apply to you, and you will need to contact the Offices of Immigration in Panama to apply for a visa.
Tourists with a criminal record should know that the Panamanian government can ban them from entering.
What Do U.S. Citizens Need To Enter Panama?
Despite not needing a visa, Panama still has requirements you need to fulfill before you're allowed entrance. Documents you must submit upon entrance include:
A passport valid for a minimum of three months after the date of entry and with one blank page to provide space for the visa stamp
A return ticket to your home country or a ticket for your next destination
Proof that you can afford your stay:

$500 in cash (or the equivalent in any other currency)
Credit cards
Bank statements
Traveler's checks
Letters of employment
You should also know the following before you enter Panama:
You cannot bring to or leave Panama with more than $10,000
You will be subject to a $110 fee if you're entering by sea and piloting your own boat. This fee enables you to stay in Panama for a maximum of three months. You can extend your stay for up to two years if you submit a request to the immigration service and get approval
Is Panama Enforcing Any COVID-19 Restrictions?
The pandemic hit Panama hard, and because of this:
The Department of State Travel official website does not advise traveling to Panama due to an increase in crime and the number of COVID-19 infected people
The Centers for Disease Control and Prevention (CDC) has issued a Level 4 Travel Health Notice
You need to provide a negative COVID-19 test taken 48 hours before departure (PCR or antigen), a vaccine card, or a digital certificate issued at least 14 days before arrival as proof that you received a WHO-approved vaccine
Regardless of the circumstances, U.S. citizens can still enter Panama, given they provide all necessary documents.
How To Contact the Panamanian Embassy
If you have any concerns or questions about entering Panama as a U.S. citizen, you can contact the Embassy of Panama. You can find the necessary information in the table below:
Contact Method
Details
Phone
202-483-1407
Email
info@embassyofpanama.org
Address
2862 McGill Terrace NW,

Washington, DC 20008

Fax
202-483-8413
Person to contact
Head of mission: Mr. Emanuel Gonzalez-Revilla, Ambassador
Finding Out Whether a Country Requires a Visa Has Never Been Easier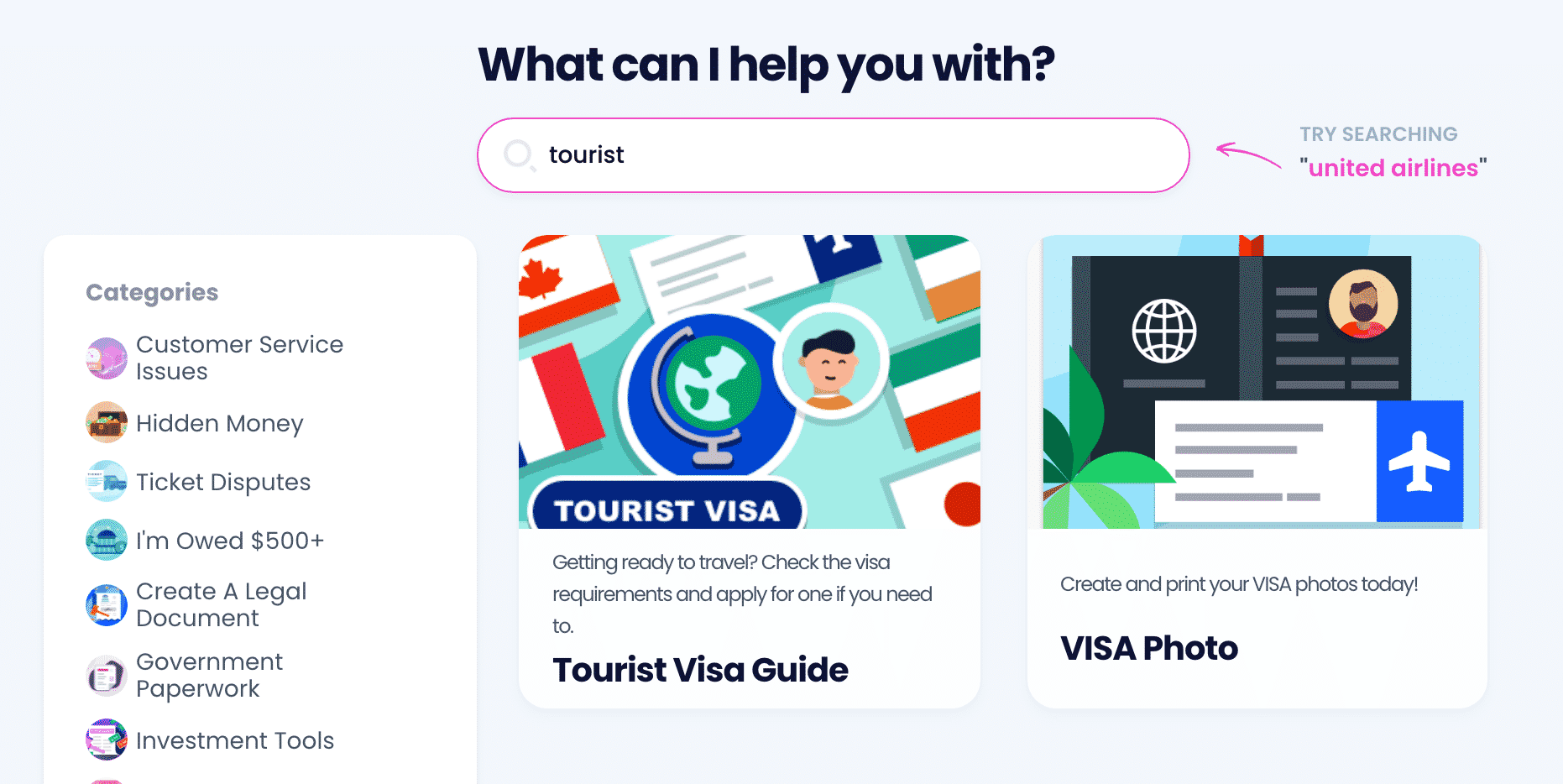 Even though Panama does not require a tourist visa for entry, you may find yourself planning a trip to a country that does. Unfortunately, getting correct information about tourist visa application requirements can seem impossible, especially with the flood of third-party services and ads in your way.
If you want to put a stop to bureaucratic nightmares, let DoNotPay inform you whether the country you plan on visiting requires a tourist visa. If it doesn't, we will notify you about the maximum number of days you can stay. If your future destination does require a tourist visa, DoNotPay will:
Provide you with a direct link to the online application if applicable, and if not, you will receive a PDF guide with step-by-step application instructions
Check whether you have all the required paperwork to submit your application
To get started:
Search for Tourist Visa Guide
Provide answers to our chatbot's questions, such as whether you are a U.S. passport holder and what your next destination is

Does Your Next Trip Lead to Central America Again? Check Whether You Need a Tourist Visa With DoNotPay!
Panama isn't the only country we provide information on. If you can't get enough of palm trees and beautiful beaches, use our app to get ready for your next destination in Central America or the Caribbean! Learn more about tourist visa application requirements for:
DoNotPay Goes the Extra Mile for You
We are dedicated to providing solutions to difficult and time-consuming tasks you may have on your to-do list. If you are struggling to reduce your monthly bills, contest parking tickets, or set DMV appointments, DoNotPay will help you do it in no time!
We have also created numerous easy-to-use features that can make the following procedures run smoothly:
Get Justice From Companies That Wronged You
Do you feel like you have been played by a company? Instead of wasting your time writing requests, demand a chargeback or refund or claim a warranty via DoNotPay! If the company doesn't seem too cooperative and keeps refusing to return your money, our app can assist you in suing it in small claims court.
To help you save some coins or regain what's yours, DoNotPay will also help you locate unclaimed funds, submit insurance claims, lower your property taxes, and cash out gift cards.