Palm Beach County Divorce—Explained by DoNotPay
Divorces can be long and costly, especially if they involve lawyers and courts. Your divorce doesn't have to drag on for months or even years if you do the whole process correctly. Familiarizing yourself with the rules and regulations will enable you to make an informed choice.
We will provide all information about Palm Beach County divorces and help you get a low-cost, uncontested divorce in Florida without engaging lawyers and attending tiring court hearings.
If you subscribe to DoNotPay, we'll also help you create a divorce settlement agreement, which is one of the crucial uncontested divorce documents.
All You Need To Know About Palm Beach County Divorces
If you and your spouse are thinking about filing for divorce in Palm Beach County, you'll need to know all the key aspects of the process. Consult the table below for the most important details:
Main Aspects of the Palm Beach County Divorce
Description
Residency requirements
One of the spouses needs to have lived in Florida for at least six months before they file for divorce
Grounds for divorce
Florida is a pure no-fault state, which means that the court doesn't care whether one of the spouses did something that led to the breakdown of marriage.

The only two grounds that the court does recognize are:

Irretrievable breakdown of marriage
Mental incapacity that lasted for at least three years before filing

Prices
The cost of divorce in Florida will depend on many factors, especially the type of divorce:
Duration
Florida has a mandatory waiting period that lasts 20 days, which means that you can't get divorced before that time is up. The rest of the process will depend on various factors, like:

Type of divorce
Complexity of your case

Uncontested divorces can be finalized in about five weeks
How Can You Qualify for an Uncontested Divorce in Palm Beach County?
You and your spouse can opt for a simplified dissolution of marriage as long as it's an uncontested divorce. It is a quick and easy way to get a divorce in Palm Beach County. To get a simplified and uncontested dissolution of marriage, you'll need to meet the following requirements:
You and your spouse agree that the marriage can't be saved
You have no underage or dependent children, and you're not expecting a child
Neither of you is seeking alimony
You both agree on a written marital settlement agreement that should divide assets and debts
You and your spouse agree to a simplified dissolution and give up the right to a trial and appeal
To get an uncontested divorce, you and your spouse need to file all the necessary divorce papers, and you have to appear in court together so that a judge may grant your divorce.
Which Palm Beach County Divorce Forms Do You Need?
The forms you'll need to file for an uncontested divorce in Palm Beach County are as follows:
Petition for Dissolution of Marriage

Petition for Dissolution of Marriage With Dependent or Underage Children
Petition for Dissolution Marriage With Property but No Dependent or Underage Children

Family Law Financial Affidavit
Notice of Current Address
Notice of Social Security Number
Marital Settlement Agreement
For a simplified dissolution of marriage, you'll also need these forms:
Petition for Simplified Dissolution of Marriage
Civil Cover Sheet
Family Law Financial Affidavit
How To File for an Uncontested Divorce in Palm Beach County
You can follow these steps to file for an uncontested divorce in Palm Beach County:
Hire a mediator (optional)—If you and your spouse can't agree on all terms of your divorce, you might want to consider mediation. It is a process that can help you reach a compromise. A mediator will facilitate communication between you and your spouse hence helping you reach a mutually acceptable agreement
Collect and fill out all the necessary divorce forms—You can find some of these forms online on the Florida Courts website, or you can visit your county clerk's office to obtain the forms
File the divorce papers and pay the incurring fees—You should file your papers with your local county clerk's office or online via the Florida e-filing portal. The average filing fee in Florida is $400, but you can request a fee waiver. If your fee waiver is approved, you'll only need to pay $25
Serve the divorce papers—You can have a sheriff or a constable deliver your papers to your spouse if you aren't filing for divorce together
Create a divorce settlement agreement—Drafting a marital settlement agreement is an important step in your divorce. It is a vital document that must spell out all the terms of your divorce, such as:

Division of assets and debts

Appear before a judge—Once your waiting period ends, you'll have to go before a judge to hear their final decision regarding your marriage dissolution. If they approve it, they will issue a divorce decree
The Best Way To Obtain a Marital Settlement Agreement Is via DoNotPay
You can hire a lawyer to draw up your divorce settlement agreement, but keep in mind that it will cost you an arm and a leg. If you and your spouse can agree on all aspects of your divorce, you won't need a lawyer—you'll only have to finalize your agreement.
DoNotPay is the app for you—we'll create your divorce settlement agreement in a few minutes. The best part about DoNotPay is that we can create a professional and fully personalized document that will conform to your state's rules and regulations.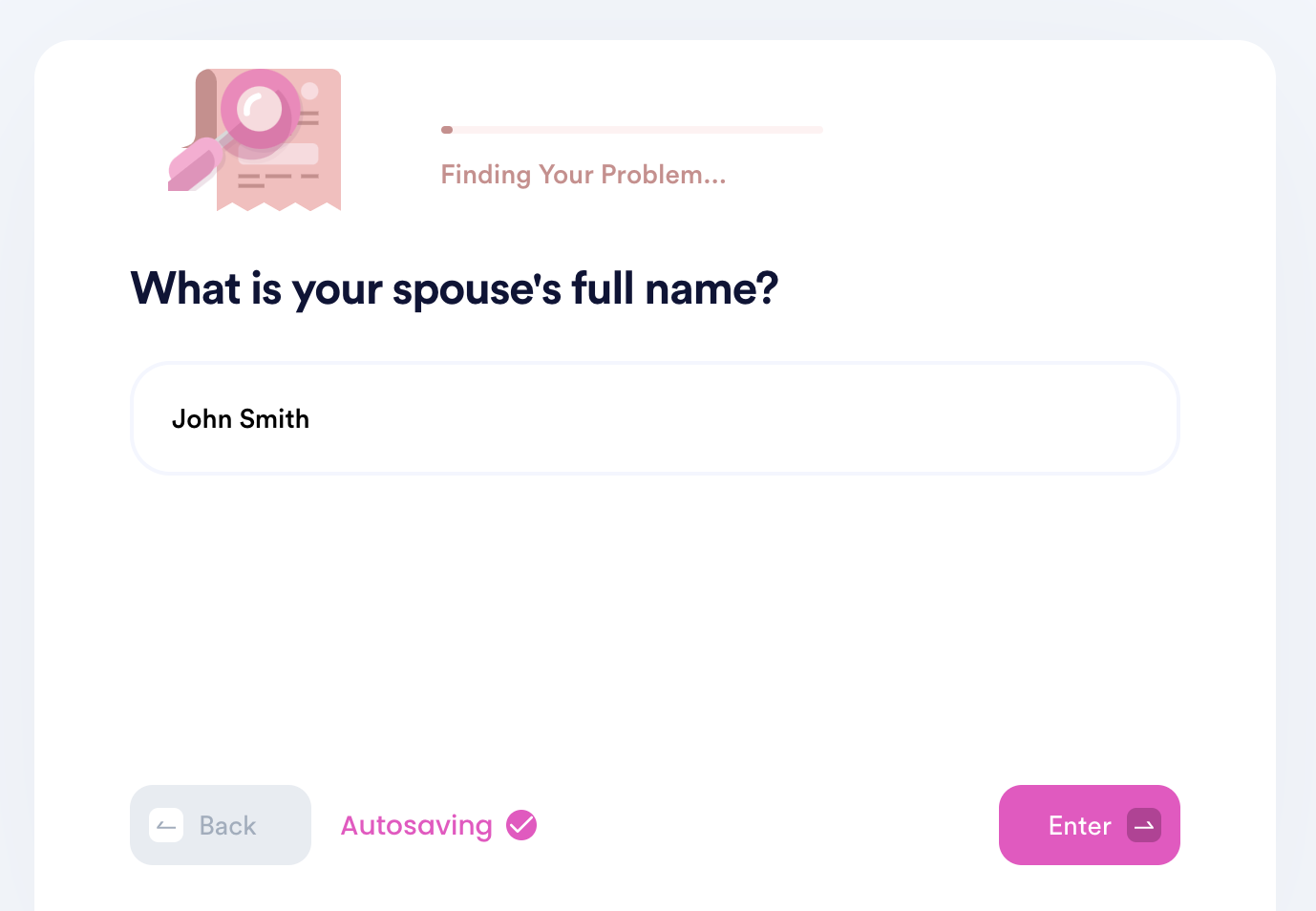 All you need to do is sign up for our app and follow the instructions below:
Open the Divorce Settlement Agreement tool
Add all the required information
Tell us how you want to divide your assets
After you complete the steps, we'll send you your document immediately. All you need to do is sign it with your partner and get it notarized. DoNotPay can also help with notarization by connecting you with an online notary in Florida who will witness your signing over a live video call.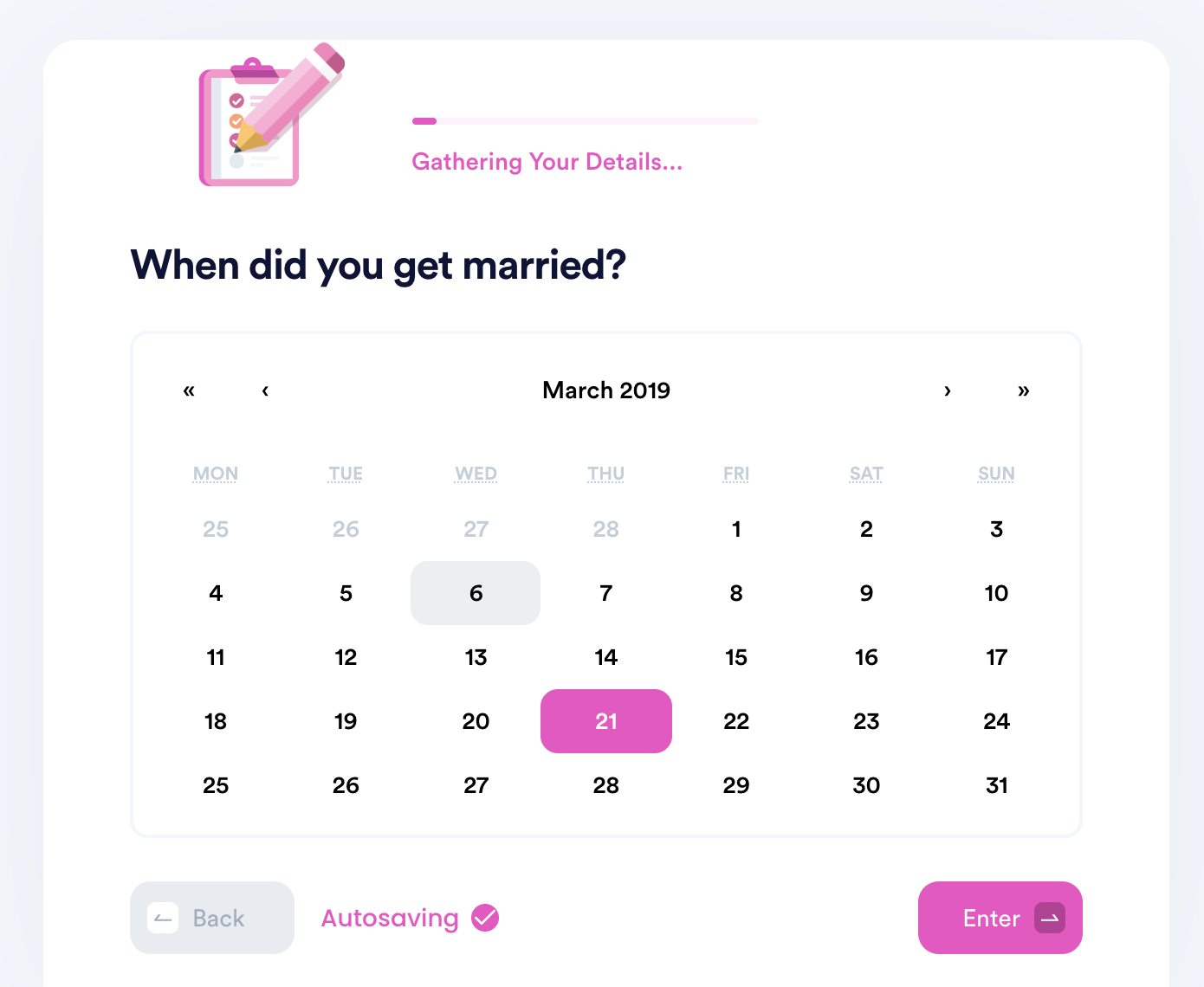 DoNotPay has a useful knowledge base that has answers to all your divorce-related questions, such as:
Save Time With DoNotPay
DoNotPay is not done helping you! We offer you assistance in completing a variety of tasks quickly and efficiently, such as:
Canceling Subscriptions Has Never Been Easier!
If you keep getting charged a monthly subscription fee even though you no longer want to use a certain service, don't let your money go to waste! Some companies tend to renew your subscription automatically, but that doesn't mean you have to put up with it—use our app to terminate your membership or subscription in a few clicks!
Do you want to sign up for free trials and create a virtual credit card or a burner phone number to protect your sensitive info? Once you subscribe to DoNotPay, we will walk you through the process of doing all of the above in no time!
You can also count on our assistance if you need to get rid of spam or robocalls.