Is a Palau Tourist Visa Necessary for U.S. Citizens?
Are you excited to explore the magical islands of Palau, visit the mysterious rock islands, or experience water sports to the fullest? If that is the case, check whether you need a tourist visa to enter the country.
DoNotPay gets into the details of the Palau tourist visa so you can travel worry-free!
Do You Need a Tourist Visa for Palau?
No. U.S. citizens can stay without a tourist visa in Palau for up to a year, but their passport must be valid for at least six months after the entry date. The Republic of Palau also demands that airlines charge a $100 Palau Pristine Paradise Environmental Fee (PPEF) with every:
One way ticket to Palau
Round-trip ticket
Does Palau Impose Any COVID-19 Restrictions?
Check the table below to find out more about COVID-19 restrictions in Palau at the time of writing this article:
Traveler Category
Requirements
All incoming travelers

Must provide:

Proof of vaccination with the last dose being administered at least 14 days before arrival
Their address and contact information during their stay in Palau

Have to wear a mask and quarantine in a certified establishment the first five days after arrival
Should test negative for COVID-19 or submit proof of recovery
Must undergo testing on the fifth day after their arrival

Unvaccinated children under the age of 12
Undergo the same procedure as vaccinated travelers upon entry
Children under the age of three
Are exempt from all requirements
You can face the following penalties if you disobey the Palauan entry requirements:
A fine of $500
One year in prison
If your child is between the age of 12 and 17 and has underlying conditions that the vaccine might worsen, you can request an exemption from the COVID-19 entry requirements by sending an email to shunrang.chin@palauhealth.org no later than five days before your arrival. Requests are processed case by case, and exemption is not guaranteed.
How To Reach the Embassy of the Republic of Palau
If you have any concerns regarding entry requirements, you can contact the Embassy of the Republic of Palau or any of the consulates using the information from the following table:
Diplomatic Mission
Phone Number
Email
Address
Embassy of the Republic of Palau in Washington DC
202-349-8598
info@palauembassy.org
1701 Pennsylvania Avenue NW Suite 200

Washington, D.C. 20006

Consulate of Palau in Los Angeles
213-482-2779
aleeka@goodsam.org
1225, Wilshire Boulevard

Los Angeles, CA 90017

Consulate of Palau in Phoenix
202-742-2899
info@palauembassy.org
7521 N Tatum Boulevard

Paradise Valley, AZ 85253-3377

Consulate of Palau in San Diego
786-863-4118
julianpadilla@palauconsulsandiego.com
2327, Kyanite Place

Carlsbad, CA 92009
DoNotPay Assists You With Any Tourist Visa Application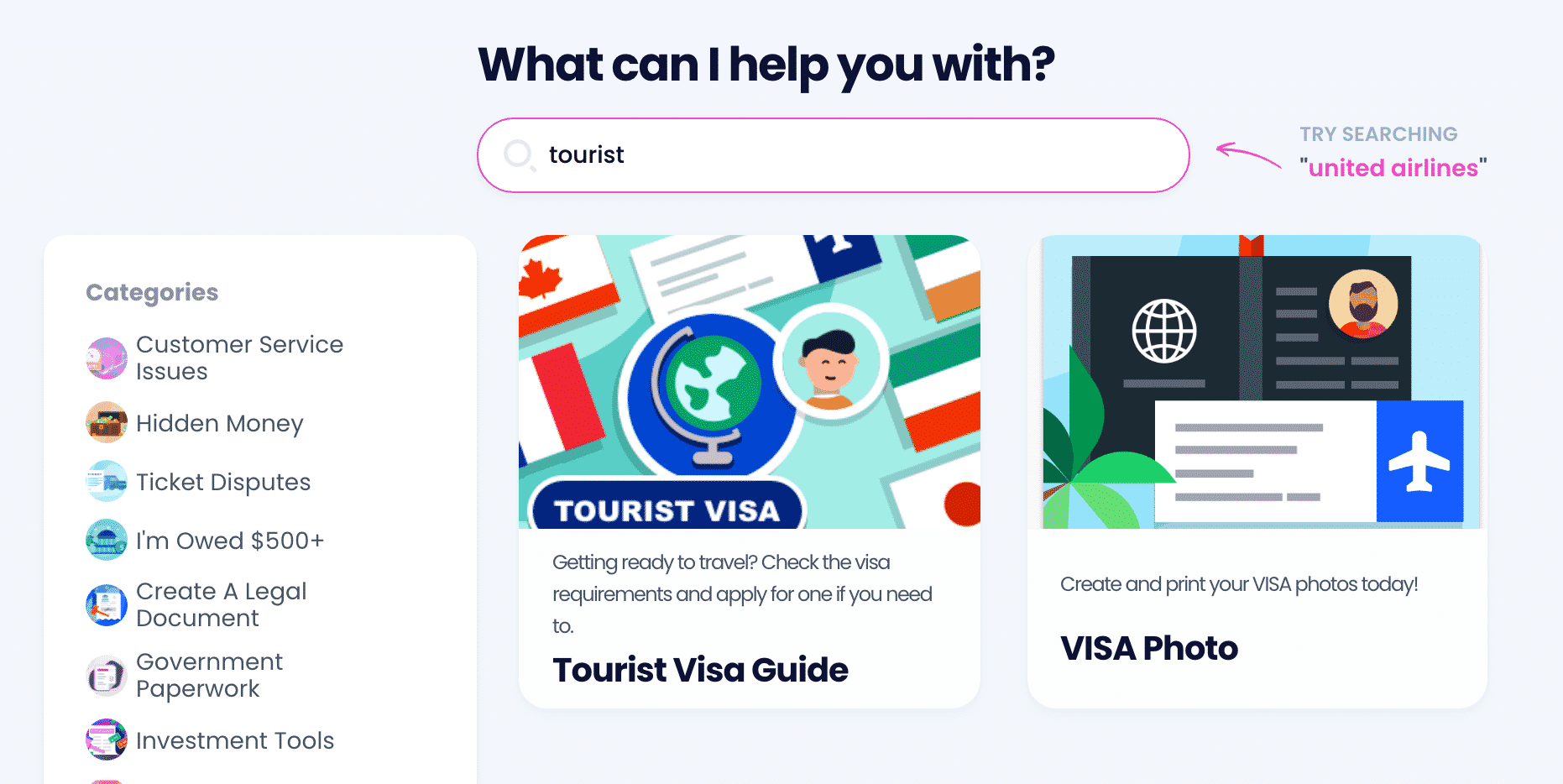 Even though the Republic of Palau does not require U.S. citizens to have a tourist visa, you may find yourself booking a trip to a country that might.
DoNotPay can help you prepare for your vacation and avoid bureaucratic hurdles by:
Checking whether you need a tourist visa for your destination
Providing you with a link to the online application form or creating a detailed PDF guide for the traditional application process
Informing you about your allowed stay if the country does not require you to apply for a tourist visa
With DoNotPay, getting information about tourist visas for any country in the world is a three-step process:
Search for Tourist Visa Guide
Answer a few short questions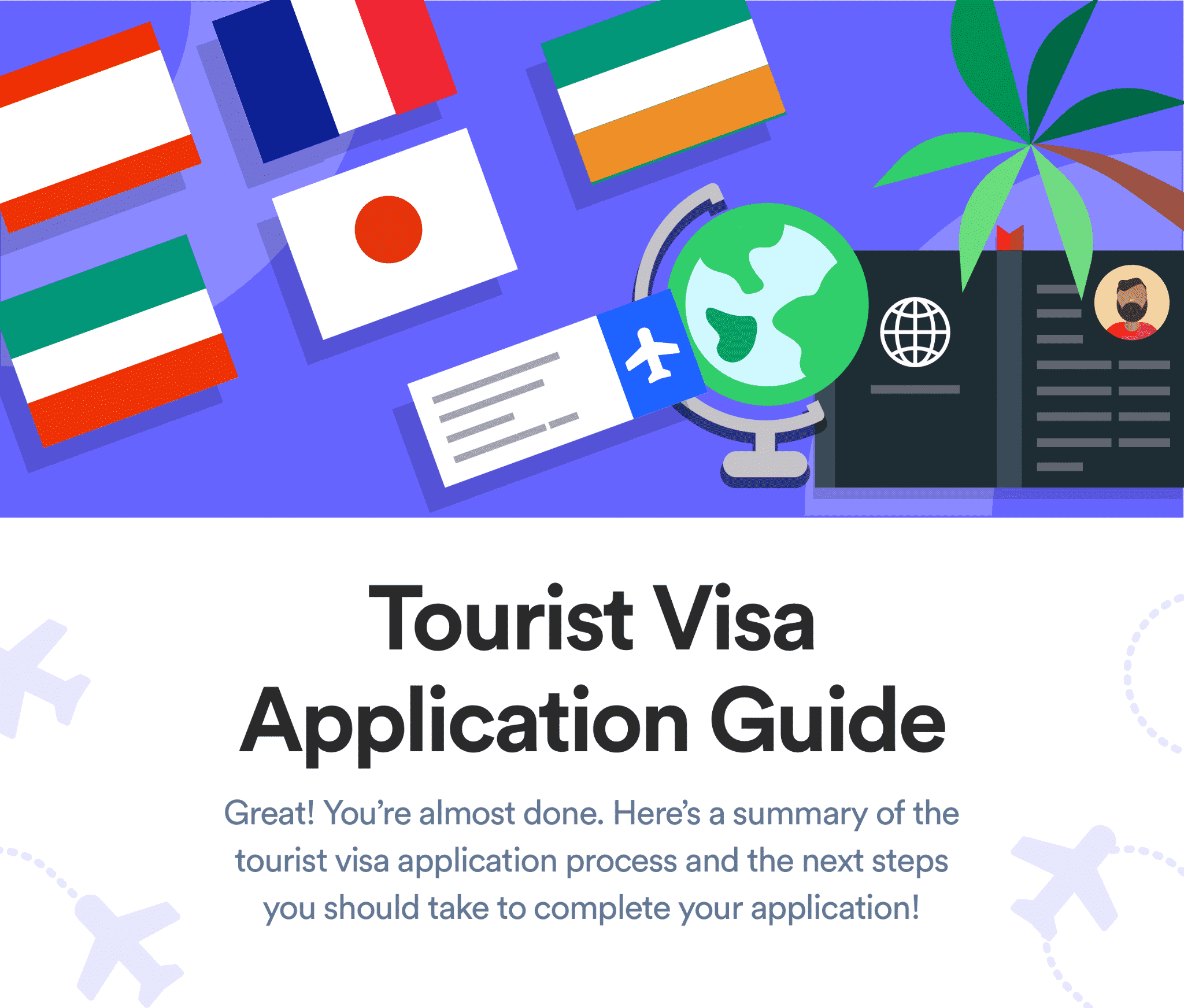 The Republic of Palau—Travel Recommendations
Check out the do's, don'ts, and recommended activities you should keep in mind for your upcoming trip to Palau:
Do's
Don'ts
Recommended Activities

Be on the lookout for crocodiles and sharks if you go diving
Bring 20% DEET bug spray and wear clothes that cover most of your body when exploring island forests to ward off ticks and other pesky insects
Wear protective clothing while diving to avoid sunburn and polluting the water with sunscreen
Pay attention to weather forecasts as Palau often experiences hurricanes, cyclones, and floods
Take note that homosexuality is illegal in the country, and you should use discretion

Eat:

Street food
Food that stayed at room temperature for too long
Undercooked food

Wear too revealing clothes when exploring Palauan cities and villages
Drink if you're not older than 21

Dolphin experiences
Sea kayaking
Diving
Snorkeling
Sports fishing
Visiting

The Milky Way
The Jellyfish Lake
The Rock Islands
Ngardmau Falls
Keep in mind that Koror State imposes a curfew between:
2:30 a.m. and 5:00 a.m., Monday through Thursday
4:00 a.m. and 6:00 a.m. Friday to Sunday and on national holidays
If you disobey the curfew, you may face penalties from the Palauan government.
Treat Yourself to a True Tropical Experience in Oceania With DoNotPay
Whether you want to continue your tour through Oceania or book a future vacation, access DoNotPay to receive up-to-date information about the entry requirements for the following countries:

DoNotPay Goes the Extra Mile for You
We are dedicated to providing solutions to difficult and time-consuming tasks you may have on your to-do list. If you are struggling to reduce your monthly bills, contest parking tickets, or set DMV appointments, DoNotPay will help you do it in no time!
We have also created numerous easy-to-use features that can make the following procedures run smoothly:
Get Justice From Companies That Wronged You
Do you feel like you have been played by a company? Instead of wasting your time writing requests, demand a chargeback or refund or claim a warranty via DoNotPay! If the company doesn't seem too cooperative and keeps refusing to return your money, our app can assist you in suing it in small claims court.
To help you save some coins or regain what's yours, DoNotPay will also help you locate unclaimed funds, submit insurance claims, lower your property taxes, and cash out gift cards.