How to Reach the Pakistani Consulate in Chicago
The Pakistani Consulate in Chicago serves the largest jurisdiction, with over 12 states within its legal realm. These states include:
Illinois
Minnesota
Iowa
Missouri
Wisconsin
Indiana
Nebraska
Kansas
North Dakota
South Dakota
Michigan
Ohio
If you are not a resident of these states, Pakistan's three other consulates and embassies might serve you better. Refer to this consular jurisdiction list for more information.
What Can the Consulate of Pakistan Do For You?
Chicago's Pakistani Consulate offers a wide array of services, including:
Authorizing Visas
Authorizing Passports
Giving Pakistani Identity Cards
Attesting Documents or Issuing Powers of Attorney
Registering Births
Shipping Dead Bodies
Issuing Police Clearance
Giving Pensions/Life Certificates
Renouncing Pakistani Citizenship
Verifying Bank Account Information for Overseas Pakistanis
How to Get a Pakistani Visa?
There are four main types of visas, including:
Visitor Visas
To obtain a visitor visa, you will need:
An invitation letter from a host/sponsor in Pakistan with a photocopy of their Pakistani ID, address, and telephone
Employment verification
A letter of introduction from an employer or educational institution
A letter from a tour operator in Pakistan
Your last 3 months' bank statements
Verification of residence consisting of State ID, drivers licenses, or utility bills
If a child is under 16, to obtain this, you will need a notarized parents' consent form with the child's ID and birth certificate
Business Visas
To obtain a business visa, you'll need:
A signed letter of invitation from your host company along with proof of registration with the Chamber of Commerce and Industry in Pakistan
A signed letter from your employer in the US as well as intended business purposes with reasoning
The last 3 months' bank statements in your account
A state ID, drivers license, or utility bill
Family Visit Visas
To obtain a family visit visa, you'll need:
A copy of your Pakistani NICOP
A photocopy of a birth certificate if you do not have a Pakistani ID
A marriage certificate or copy of your spouse's Pakistani ID, if you are married
Birth certificate to a parent's Pakistani ID, if the applicant is a minor
Proof of residence like a State ID, drivers license, utility bills
A notarized consent form if the child is under 16
Pilgrimage Tourism
To obtain this, you will need an invitation from the pilgrimage group you are going to be joining, as well as:
A confirmed hotel or residence in Pakistan
An employment verification if applicable
Proof of residence like a State ID, drivers license, or utility bill
Proof of valid immigration status in the United States
How to Obtain a Pakistani Passport?
The Pakistani Consulate has three types of passport services:
Issuing Renewal/New/Modification
Replacing Lost Passports
Obtaining a Passport as a Dual National
Renewal, New, or Modification
To get a new, renew, or modify a passport, you will need the following:
Apply in-person
A Pakistani NADRA ID with a photocopy of the front and back that is valid and current
A Pakistani National Identity Card or a Child Registration Card with court-mandated custodial papers if parents are separated and one parent has custody
An original passport with a photocopy of its biopages (two pages in total)
Verified American proof of residence within the consulate's jurisdiction (state driver's license, utility bills)
In addition, a self-addressed, prepaid envelope if you want your passport to be mailed
If You Lose Your Passport
If you are applying for a new passport because you have lost your previous one, you will also need to provide the following documents in addition to those outlined above:
Provide a copy of the information page of your lost passport
Provide a copy of the police report stating the passport number of your lost passport
If this is the third time you've lost a passport, you must contact the Directorate General of Immigration and Passports for internal government approval to get a new one
Applying for a Passport as a Dual National
If you hold dual nationality, you must also provide proof of the following:
Proof of Pakistani Nationality
Your foreign passport and a copy of its information page (your non-Pakistani nationality)
If you are between the ages of 18 and 59 and have never had a Pakistani passport, you must provide proof of Pakistani security clearance
How to Contact the Pakistani Consulate, Chicago?
Address
333 Michigan Ave King

Chicago, IL 

60601

Fax
312-781-1839
Phone Number
For General Inquiries:

312-781-1831

For Emergencies Only:

847-986-8779

Email
For General Inquiries:

For Consular Services:

Office Hours

Monday through Friday:

Document Submission: 9:30 a.m – 12:30 p.m

Documents pickup: 3:00 p.m. – 4:00 p.m

Last Saturday of Every Month:

Document Submission: 9:30 a.m – 11:30 a.m

Documents pickup: 12:30 p.m. – 1:00 p.m
How to Get to the Pakistani Consulate in Chicago?
Follow these directions starting at Harold Washington Library-State/Van Buren Station:
Get on the metro and ride the brown line to State/Lake Station
Get off the metro and walk East for two blocks to Michigan Ave
Walk north for one and a half blocks and you will see the consulate on your right
Contact the Pakistani Consulate, Chicago with DoNotPay Now!
DoNotPay, the AI-powered robot lawyer can do all of this on your behalf in minutes! To use DoNotPay to contact any Consulate or Embassy, follow the steps outlined below:
1. Select the "Contact Embassy" product on DoNotPay.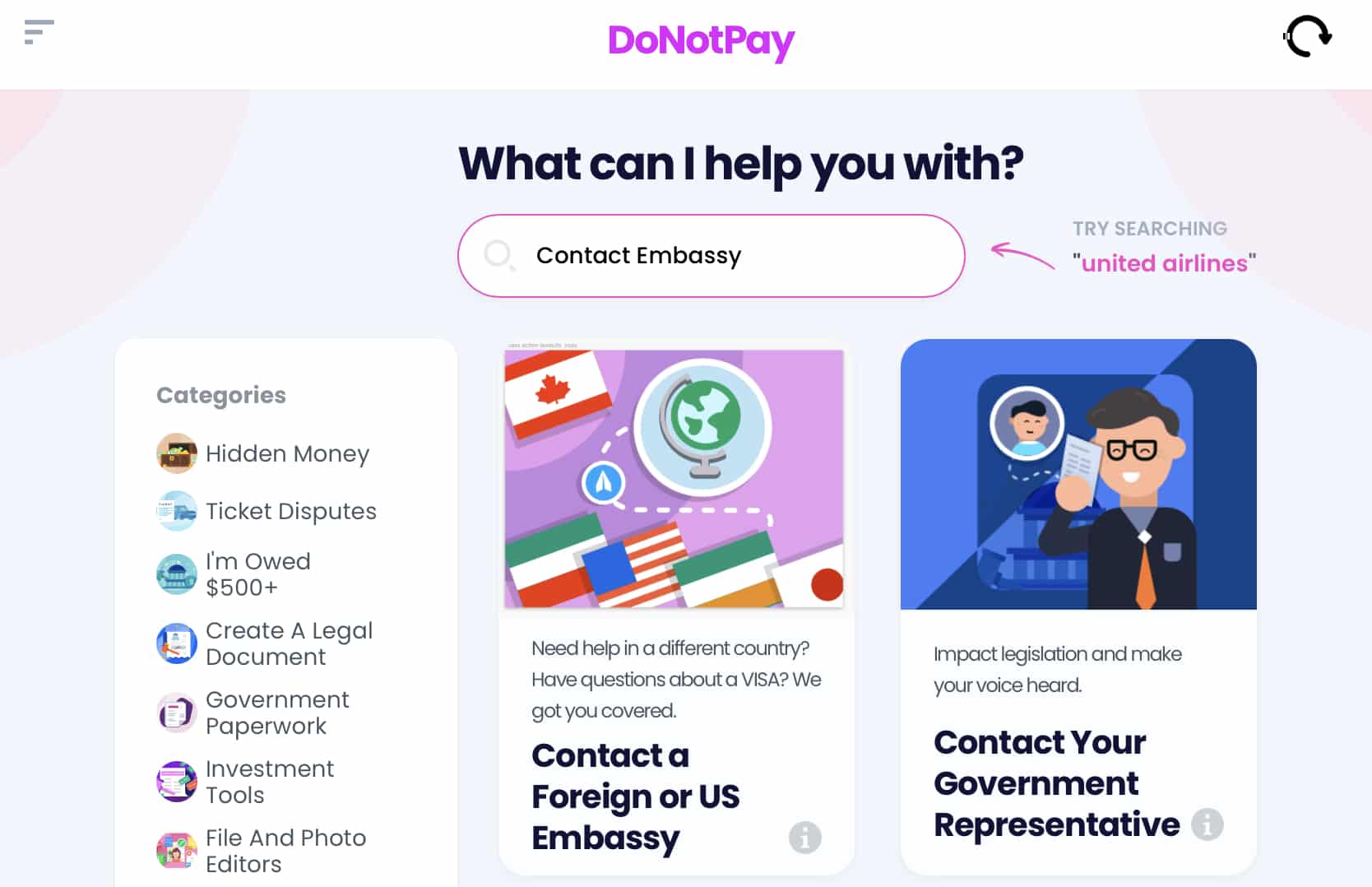 2. Select "Foreign Embassy in the US".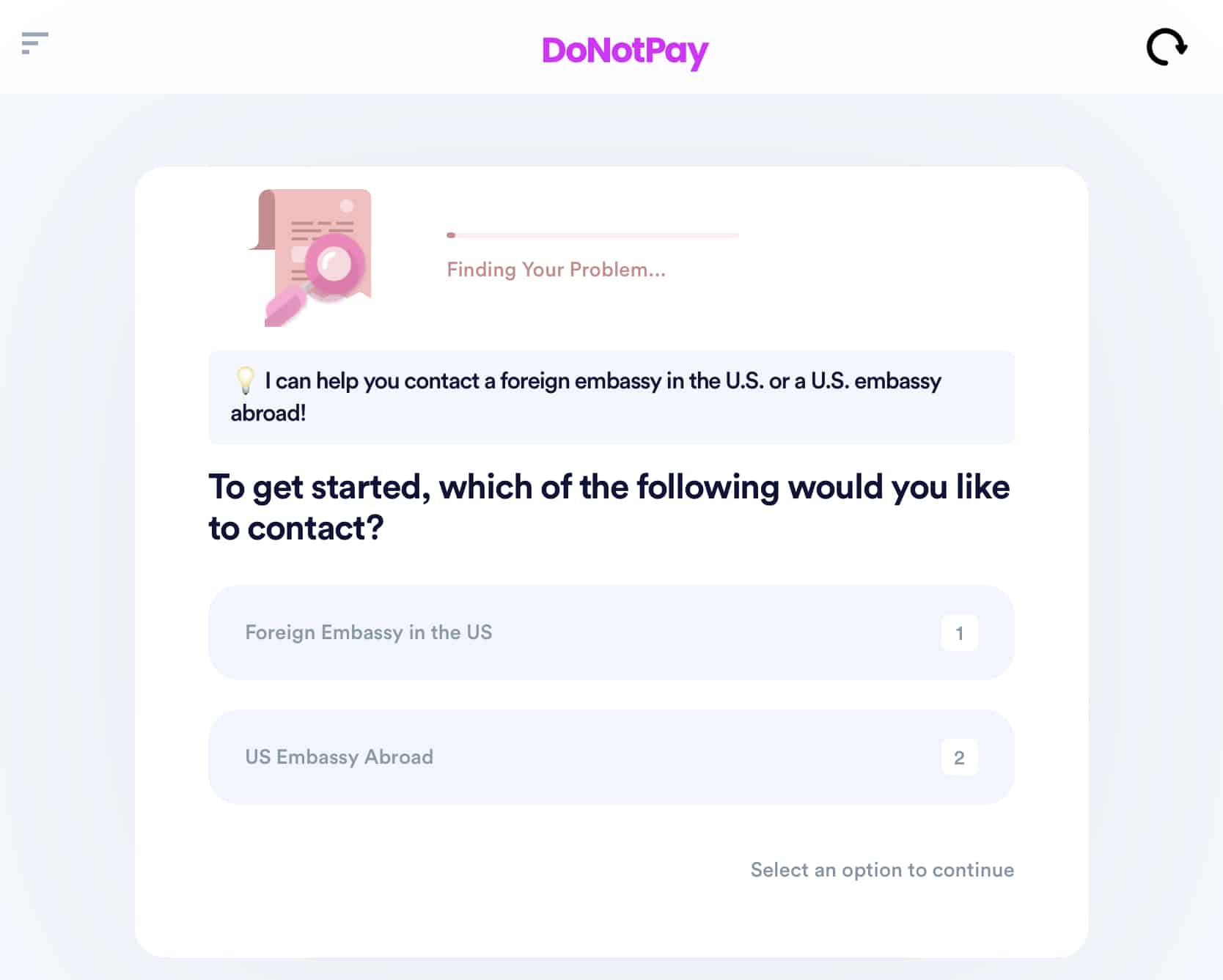 3. Explain your concerns, questions, or anything else you may need assistance with.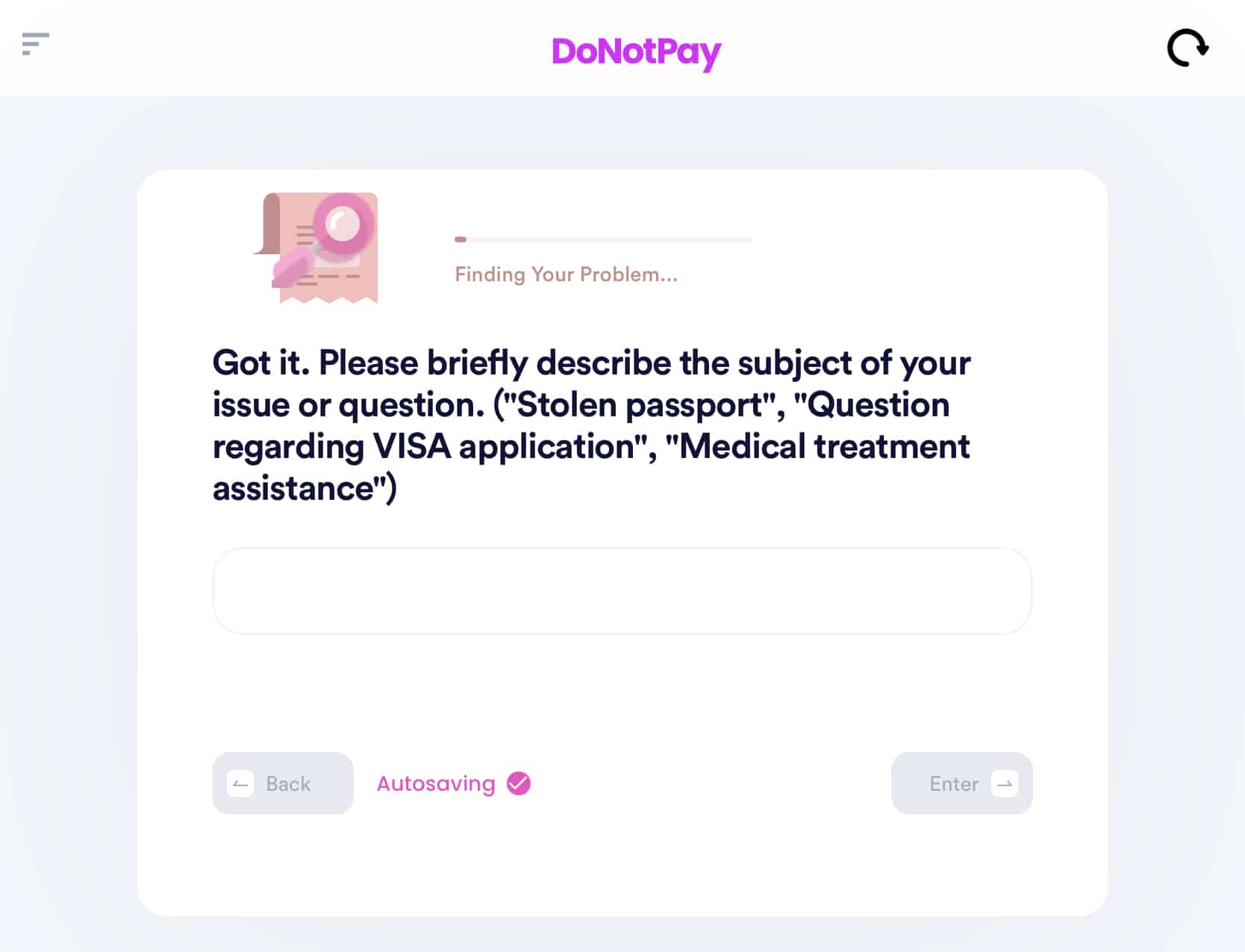 4. Select the country in which you would like to find an embassy.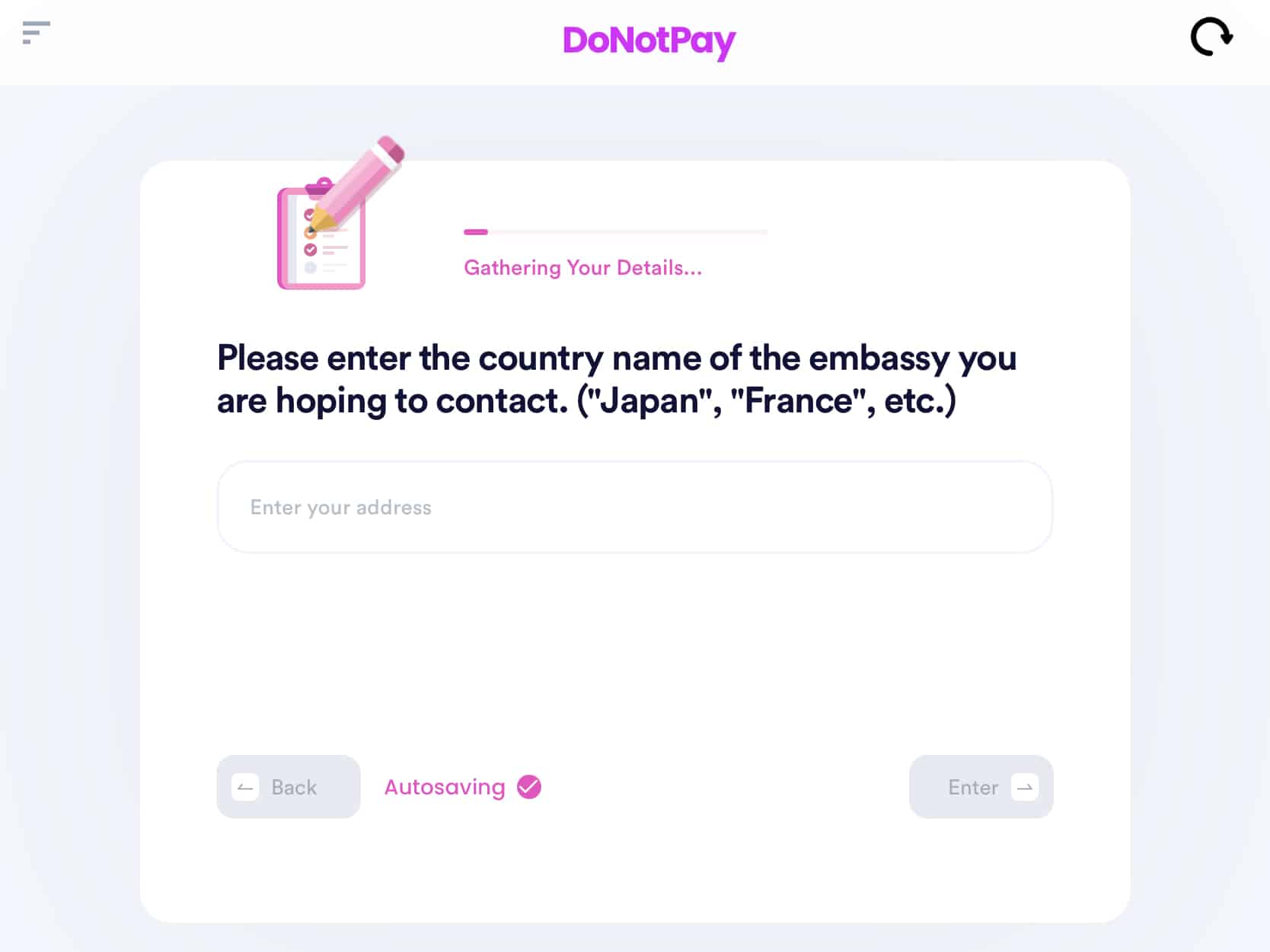 By completing these four simple steps, DoNotPay will automatically contact the consulate or embassy, and you can expect a rapid response!
Who Else Can DoNotPay Help You Contact?