PA Property Tax Relief for Seniors in Simple Terms
If you are a senior citizen living and owning a home in Pennsylvania, you should get familiar with available PA property tax relief for seniors. 
It is not easy to keep track of all changes in laws and regulations within your state and county. DoNotPay is here to assist you. We gather information on senior citizen property tax exemptions to help you pay and lower your property taxes quickly. 
Property Taxes in Pennsylvania
The State of Pennsylvania has a high average effective property tax rate of 1.50%. This places it among the top fifteen U.S. states. The tax rate in the Pittsburgh area and Allegheny County is 2.01%—almost twice the national average.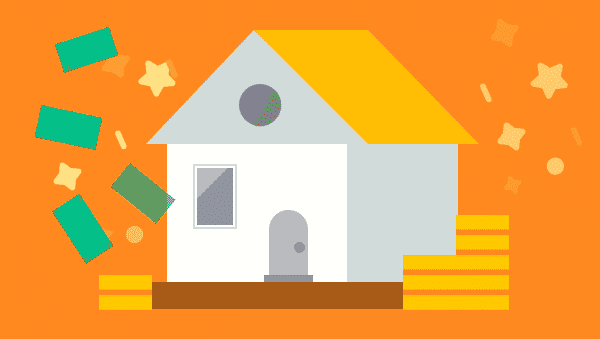 Senior citizens should not get discouraged by high property tax rates since they can count on PA property tax relief. 
If you are interested in comparing property taxes in other states, check out DoNotPay's list of states with low property taxes. 
PA Property Tax Relief for Seniors—Property Tax/Rent Rebate Program
In case you are a senior citizen living in Pennsylvania, you should know that you may be eligible for a rebate on your property taxes or rent.
To qualify for this program, you need to fulfill some requirements:
Age Requirements
Income Requirements

Senior citizens who are at least 65 years old

A widow or widower who is 50 or older

People with disabilities who are at least 18 years of age 

If you own your home, your annual income cannot be more than $35,000

If you rent a property, your annual income cannot be more than $15,000
The income presented in the right column does not include 50% of Social Security. 
If you meet the above-listed criteria, you will get a $250–$650 rebate. The amount that you will receive depends on your annual income:
| | |
| --- | --- |
| Rebate Amount | Annual Income |
| $250 | $18,001–$35,000 |
| $300 | $15,001–$18,000 |
| $500 | $8,001–$15,000 |
| $650 | Up to $8,000 |
Qualifying homeowners can increase their rebates up to $975 with supplemental rebates. 
Additional PA Property Tax Relief Options for Senior Citizens 
Senior citizens living in Pennsylvania should know that they might qualify for the following additional relief options:
Philadelphia, Scranton, or Pittsburgh senior households with incomes of less than $30,000 can get an increase in their property tax rebate by 50%

Senior households from other parts of Pennsylvania can get an increase in their property tax rebate by 50% if:

Their incomes are under $30,000

They pay more than 15% of income in property taxes
PA Property Tax Relief for All Homeowners
Being a homeowner in Pennsylvania can qualify you for another property tax relief program—the state property tax reduction allocation. 
It is a PA-funded homestead exclusion that lowers taxable values across the state, but the exact amounts are set by counties. 
DoNotPay offers information on additional PA property tax exemptions available across this state. 
Pennsylvania Senior Citizen Property Tax Discount—Allegheny County
Property tax discount programs vary from county to county. The Treasurer's Office of Allegheny County administrates Senior Citizen Tax Relief. 
As a senior citizen who owns a home in this county, you can qualify for a flat 30% discount on your property taxes if the property is your primary residence.
To qualify, you need to meet the following requirements:
Property Ownership
Age
Income

You have owned and occupied the property as the primary residence for the past ten years 

You moved to Allegheny County within the past ten years and own the property that is your primary residence

You have to be:

At least 60 years old (if you are married, either spouse needs to be 60)

A widow or widower 50–60 years of age

Permanently disabled and 18–60 years old 

Your gross household income must not be higher than $30,000.

To calculate your income, use 50% of your:

Social Security Benefit

Supplemental Security Income

Railroad Retirement Tier 1 Benefits 
Applicants need to meet the required age criteria by the end of the year to qualify for tax relief in that year.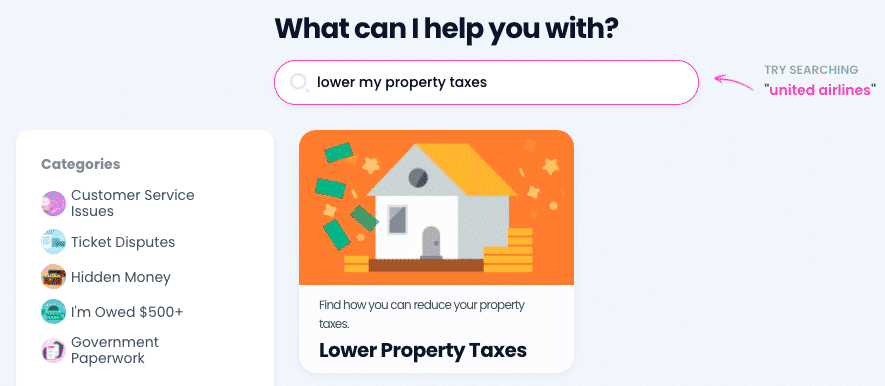 If you meet the above-listed requirements, you will:
Receive a flat 30% property tax discount on your primary residence for each year you are eligible

Get an additional 2% discount if you pay your county taxes in full until March 31
As long as you meet the eligibility criteria, you do not have to reapply for this discount.
If you need more information on how the property assessment in Allegheny County works, check out our straightforward guide. 
DoNotPay Is Your Property Tax Exemption Guide
If you find property tax exemption and assessment processes confusing, DoNotPay can assist you. We can clarify the procedures and list all the steps you need to take to apply for the exemptions you qualify for. 
Why would you miss out on a chance to lower your property taxes if you can? You should provide some basic info about you and your property, and our app will generate your manual in no time.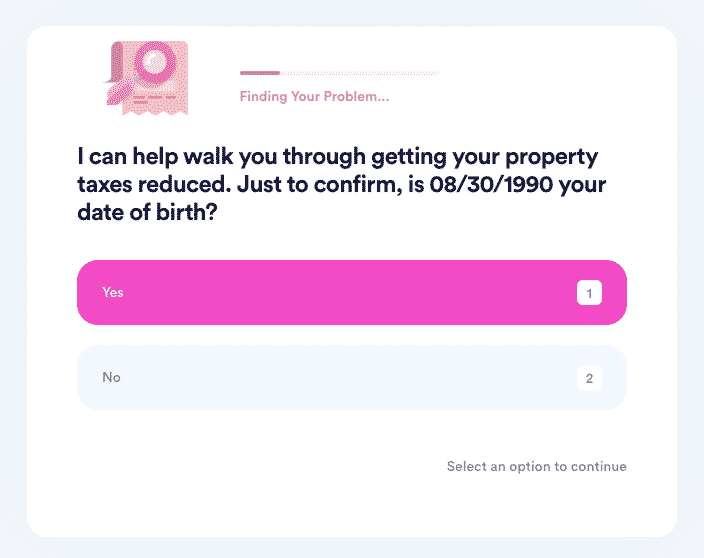 Here is how:
Sign up for DoNotPay

in any web browser

Locate the

Property Tax

feature

Answer a few questions about you and your property
Upon completing these brief steps, you will receive a guide with all relevant information regarding tax exemptions and appeals. 
DoNotPay can help the citizens of Pennsylvania with other tasks, such as filing a FOIA request easily, paying electric bills with no problem, putting a stop to harassment, claiming lost money, and many more.
DoNotPay Is Your Shortcut Through Bureaucracy
With our app, you don't have to spend hours figuring out how to request a refund, cancel a service, or book a DMV appointment. 
We take over all the hard work! Forget about waiting in a phone queue for hours in hopes of reaching a customer service rep. Our AI-powered app will call any company for you and ping you when a human appears on the other end of the line. 
DoNotPay also speeds up the process of filing insurance claims, claiming warranties, reducing property tax, and drafting various legal docs. 
Keep the Communication Lines Clear With DoNotPay
Do you know how powerful DoNotPay's virtual credit card is?
This super-smart feature can not only sign you up for no-risk free trials but can provide you with an alternative email address. You can test any service without giving out your real email, which will keep your inbox clean from spam!
If you have family or friends within the U.S. prison system, our app helps you get in touch with them quickly. 
We can also make sure you don't become a target of text and robocall scammers! Keep your phone number private and avoid this type of harassment by using our Burner Phone feature!
In case you need to fax a document, there is no need to search for the instruction manual on how to operate a fax machine. DoNotPay makes it simple to send online faxes anywhere!