A Guide to Getting a PA Property Tax Rebate for Seniors
Whoever owns a home in the U.S. needs to pay annual property taxes. Local governments invest the tax money in beneficial services such as healthcare, fire department, and law enforcement.
The average property tax rate in the U.S. is 1.07%. Pennsylvania has one of the highest rates in America (1.50%), and people with low incomes struggle to pay their annual property tax bill. That's why Pennsylvania decided to use the casino gambling revenue and create the Property Tax/Rent Rebate program for senior and disabled citizens.  
If you're looking for a way to enroll in the program or lower your property taxes in some other way, you're in the right place. 
Who Qualifies for
Pennsylvania Property Tax Rebate for Seniors
?
If you live in Pennsylvania and your property tax is too high, you should check if you're eligible to enroll in the Property Tax/Rent Rebate program. The program is designed to help eligible senior and disabled citizens pay their property taxes by granting partial refunds every year. 
To qualify for the rebate program, you need to be a Pennsylvania resident who fulfills one of the following age and income requirements:
Age Requirements

65 or older

Widow or widower (50 or older)

Individual with disabilities (18 and older)

Homeowners Income Requirements ($35,000 limit)

Income
Maximum Rebate

$0 to $8,000

$650

$8,001 to $15,000

$500

$15,001 to $18,000

$300

$18,001 to $35,000

$250

Renters Income Requirements ($15,000 limit)

Income
Maximum Rebate

$0 to $8,000

$650

$8,001 to $15,000

$500
When calculating your yearly income, you should exclude:
Half of your Social Security income 

50% of your average annual Social Security benefit amount if you're a federal Civil Service Retirement System benefit recipient

100% of your state veterans' payments or federal veterans' disability payments
How To Get
Property Tax Rebate for Seniors in PA
To apply for the PA property tax rebate for senior citizens for the first time, you should visit revenue.pa.gov or call 1-888-222-9190. If you enroll in the program, you'll receive an application via mail every year for your future applications. 
Ways To Lower Your Property Tax Bill
Every state has different property tax rates. Most people take property taxes into consideration when deciding where to purchase their home. The table below shows ten states with the lowest rates:
The local assessors' job is to perform property tax assessments. They do it by evaluating the market value of the property in question and multiplying it with the property tax rate. Your property's value depends on multiple elements, including:
Curb appeal and interior aesthetic

Number and size of bedrooms

Properties in the neighborhood

Location and vicinity to important facilities such as schools, hospitals, and similar
Even if you don't qualify for PA senior citizen property tax rebate, you might be eligible to reduce your property tax bill in some other way. You can try out some of the following strategies:
Postpone home improvements until after the assessment 

Check if your tax bill has inaccuracies and request reassessment if necessary

Find out more about

Pennsylvania property tax exemptions

. Some of the

exemptions

available in most American states apply to:

Agricultural property owners

 
How To Reduce Your PA Property Tax Bill in a Jiffy—With DoNotPay
DoNotPay can help you find out if you qualify for a property tax exemption in Pennsylvania, Wisconsin, Indiana, or any other U.S. state. Once you answer a few short questions, we will generate a personalized guide to help you lower the property tax bill. To take advantage of our practical service, follow these steps:
Log in to your

DoNotPay

account 

Choose the

Property Tax

feature

Answer the necessary questions 

Follow the directions from your personalized guide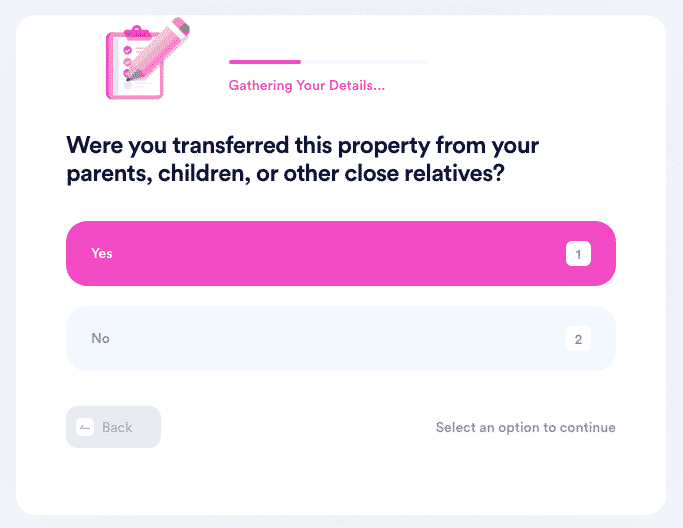 Check out some of the states and counties we can help you lower your property tax bill in:
File a Property Tax Appeal Stress-Free
Helping you determine if you qualify for a property tax exemption isn't the only problem we can solve. Besides offering a detailed guide on lowering your property tax bill, DoNotPay can also help you file a property tax appeal in under five minutes. 
If your municipality rejects your justified exemption request, you should log in to DoNotPay and rely on our help. We will provide a guide with instructions on gathering necessary evidence and negotiating with the assessor. 
More of What We Can Do for You 
Our multifaceted app can call and record the conversation with the customer service of the company that just won't let you go! If you are having trouble canceling an unwanted service via the traditional channels, use DoNotPay to get it over and done with!
We can help you stop the persistent robocalls and robo texts from the nagging company and request a refund for unused services in a matter of minutes.
We'll also lend a helping hand in stopping spam mail—whether it's electronic or paper. Our Spam Collector product unsubscribes you from unwanted emails and cleans up your physical mailbox too!
DoNotPay Can Do Your Paperwork for You! 
Feeling like you're in bureaucratic hell? Our app will draft the paperwork you need and get you out of any hurdle before you know it! 
We can compose most of the documents that you require for any administrative purpose in your jurisdiction, most notably: