Can You File PA Divorce Forms Alone?
Going through a divorce can be frustrating, no matter how friendly the separation is. You should get familiar with your state law, collect lots of mandatory papers, and figure out if you can handle the whole process alone or hire a lawyer.
If you'd like to reduce the cost of your divorce in Pennsylvania, there are free PA divorce forms you can complete and file yourself. DoNotPay also offers assistance with a practical tool that helps you draft your divorce settlement agreement easily.
Get the Right Divorce Papers in PA
Although the Coal State simplified the marriage termination process with the free mandatory forms, you must meet specific criteria to use them.
The documents work in case your spouse has:
Depending on your specific situation, you'll need to follow different steps to file for divorce properly because not all forms are suitable for all cases.
Pennsylvania Divorce Papers Depend on a Specific Case
Here's a breakdown of forms you'll need to use during your divorce:
All Divorce Cases
With Consent
Without Consent

Self-Represented Party Entry of Appearance
Notice to Defend and Divorce Complaint
Petition to Proceed In Forma Pauperis
Acceptance of Service
Affidavit of Service of Original Process by Mail
Affidavit of Personal Service
Certificate of Service of Legal Papers Other than Original Process
Waiver of Notice for Plaintiff
Certificate of Service
Praecipe to Transmit Record
Divorce Decree
Notice of Intention to Resume Prior Surname
Counseling Notice
Marital Settlement Agreement
Qualified Domestic Relations Order

Affidavit of Consent of Plaintiff
Affidavit of Consent of Defendant
Waiver of Notice for Defendant
Notice of Intention to Request Entry of Section 3301(c) Divorce Decree and Counter-Affidavit under 3301(c)

Affidavit under Section 3301(d) of the Divorce Code
Notice of Intention to Request Entry of Section 3301(d) Divorce Decree and Counter-Affidavit
Affidavit of Non-Military Service
Besides the above-listed forms, many counties impose specific divorce requirements and related papers.
Pennsylvania Divorce Forms in Different Counties
To learn about correct procedures in Allegheny, Bucks, Lehigh, Cameron, Montgomery, or any other PA county, you should contact your local county court administration.
Here's how:
Open the Individual County Courts page
Select your county court in the drop-down menu
Click on View Details in the map below
Follow the provided County Court Website link to get more information
Divorce Forms in PA—Problematic Divorce Issues
You cannot use the forms available on the Pennsylvania Courts website if there are complex issues you and your spouse cannot resolve alone.
If you disagree on the division of property, alimony, or if your spouse is in the military, you should consider taking the following steps:
Steps To Take
Extra Information
Choose mediation
While you'll need to pay extra for this professional service, it's less expensive than hiring a lawyer
Consult a lawyer
If you'd like to lower the divorce expenses, you could talk to a lawyer only about the divorce issues you:

Don't understand
Cannot resolve alone
Requirements for a Mutual Consent Divorce in PA
To file for mutual consent divorce, you'll need to meet the following PA requirements:
Both you and your spouse:

Agree to the divorce
Have resolved all financial issues
Want to sign an Affidavit of Consent

At least one of you has been a PA resident for at least six months before the filing
Both sides must file an Affidavit of Consent 90 days after filing the divorce papers. Once the court reviews all the documents, it may grant a divorce without a formal hearing.
Although you cannot make any financial claims—e.g., spousal support or property division—after the divorce, you can resolve child support and custody matters at a later time.
How Long Does a Mutual Consent Divorce Take?
How long a divorce takes in Pennsylvania depends on the decree type. While a standard divorce can take two or more years to be finalized, an uncontested—also called a no-fault and mutual consent—divorce takes less time.
If you and your spouse agree on all matters, you can get divorced in 90 days after you've filed for divorce. Sign up for DoNotPay to get a rock-solid divorce settlement agreement and finalize your divorce smoothly.
DoNotPay Is Your Reliable Divorce Settlement Agreement Creator
Once you and your spouse agree to an uncontested divorce, the situation becomes more manageable. DoNotPay can help further by creating a divorce settlement agreement in your stead.
We know your state law, and we'll take into account your specific situation and wishes to help you create an enforceable legal document in no time.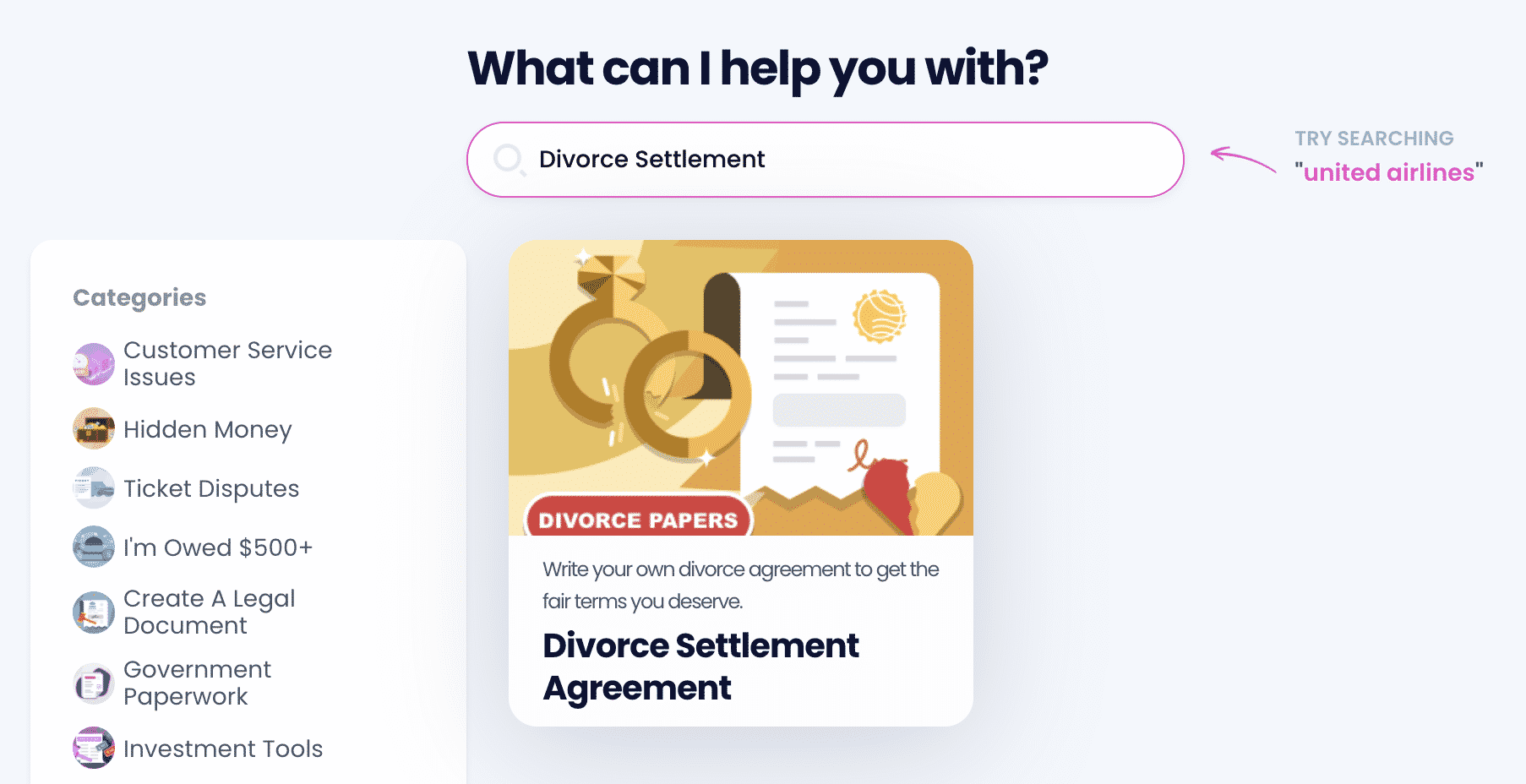 Subscribe to DoNotPay and take these steps:
Enter the Divorce Settlement Agreement in the search box
Answer our chatbot's questions to help us evaluate your situation
Provide information on your property and income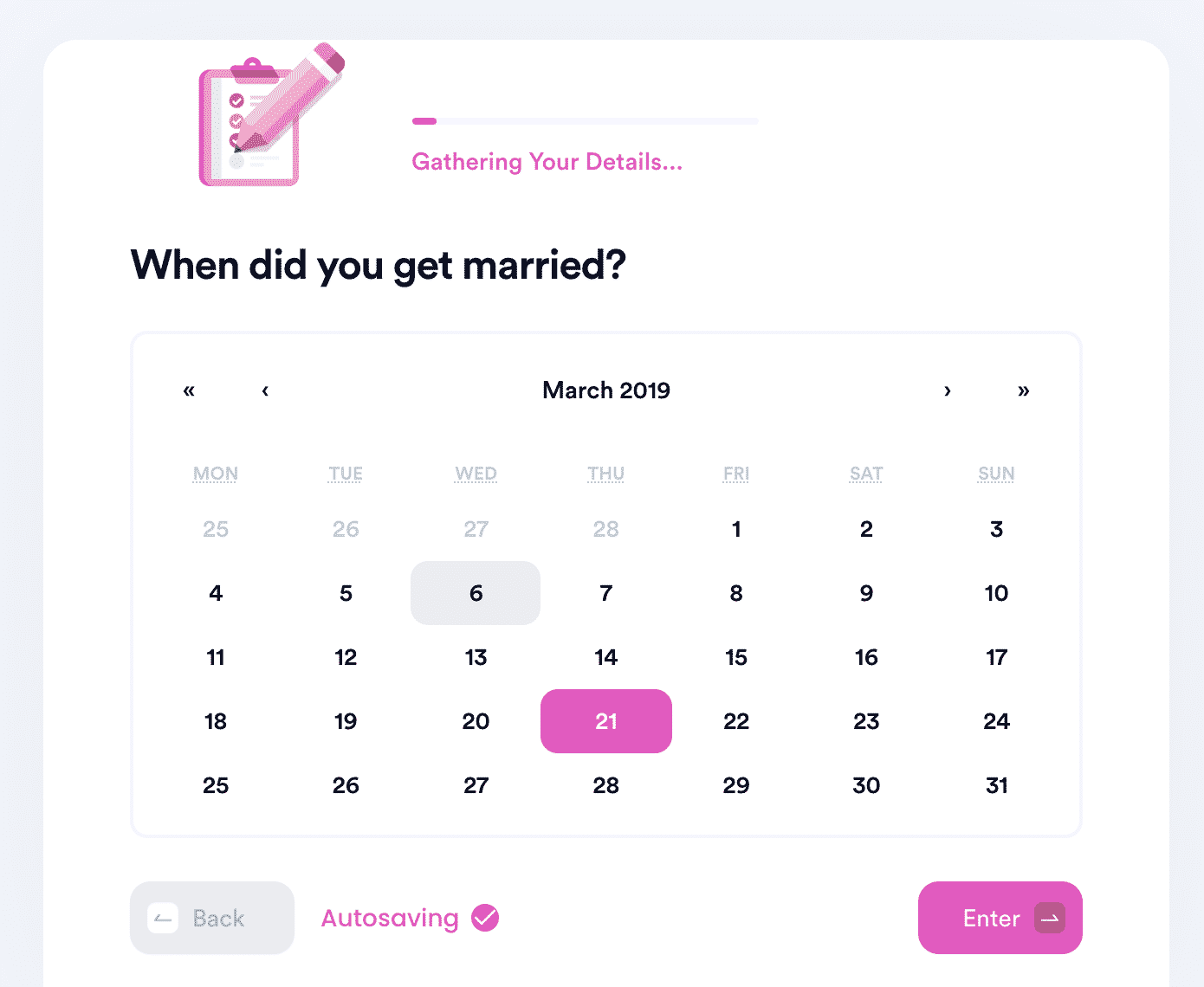 Your answers are the basis for the document you and your soon-to-be ex-spouse should sign. We can also provide a notarization service for this or any other agreement.
If you'd like to find more information about divorce-related topics, check out the following articles:
Paying for Lawyers? We Don't Think So!
For an average Joe, any mention of legal terminology and complicated administrative processes is likely to cause a headache, and understandably so! Still, you don't have to jump the gun and hire expensive lawyers for the smallest matters.
It's the 21st century, and everything is automated. Why would it be different with bureaucracy? DoNotPay can help you draft efficient neighbor complaint letters, prepare you for a small claims court appearance, or create standardized legal documents and have them notarized online.
Our app is a great resource for fighting workplace discrimination, stopping stalking and harassment, protecting copyrights, securing compensation for victims of crime, and even reducing property taxes—all at a fraction of the price of traditional legal help.
Need To Do Some Penny-Pinching?
Whether you're saving for rainy days or a new gadget, DoNotPay can provide numerous options to save and earn more cash.
Do you need help with utility bills? Are you wondering how to get those few dollars left on your gift cards? Are you unsure about how to find your unclaimed money? If the answer is yes, our app can help.
With our assistance, you'll be able to enter raffles, start free trials with no risks, participate in lucrative clinical trials, or claim refunds for late deliveries!