DoNotPay Breaks Down the Best Owner-Operator Startup Loans
Starting an owner-operator trucking company requires a substantial upfront investment—from registration fees to purchasing equipment. If you lack the resources for your launch, you can seek financial help from various lenders.
Small business loans are the driving force behind many successful ventures, and yours will be no different! In this article, we discuss what the best owner-operator startup loans are and answer the following questions:
What types of loans are best for trucking companies?
How can you find the best lender and apply for a loan?
What Are the Startup Costs for an Owner-Operator Trucking Company?
At the start of every business venture, there is a wide range of one-off and recurring expenses that require a substantial initial budget. If you are opening an owner-operator trucking company, you need to factor in the following launching costs:
Business registration—Registering fees amount to approximately $500 (depending on your state of residence)
Unified Carrier Registration (UCR)—The average fee for registering one vehicle is $69, while the UCR for five vehicles costs $206
Equipment—Truck prices range from $15,000 to $175,000, depending on whether you are purchasing new or used vehicles. You can also expect a down payment of between $1,000-$10,000
Insurance—Insurance coverage is an annual expense that depends on the condition, model, and age of your vehicle. It can go up to $10,000
Commercial Driver License (CDL) endorsements—If you plan on transporting hazardous materials, such as gas, combustibles, explosives, and other dangerous substances, you need to apply for a corresponding CDL endorsement. The so-called Hazmat endorsement costs around $100, plus $87 for security screening
Website—You will need a functioning website for your trucking business. The costs for website creation and upkeep can range from $50 to $500 per month
Marketing—Relying on word-of-mouth alone is not a viable business strategy, so you should set out at least 3%–10% of your budget for a marketing campaign
In case you don't have the funds to cover all the startup costs, there are a number of small business loans for trucking companies you can consider.
Small Business Loans for Trucking Companies
Small business loans can cover an array of business expenditures, including startup costs. The best options for small tracking companies include:
Merchant cash advances
Small Business Administration (SBA) Loans
The Small Business Administration (SBA) federal agency is a procurer of loans for small to medium-size businesses. All loans are issued by the partnering banks and non-profit organizations, with a guarantee from the government.
When it comes to startup business loans for trucking, there are several prospect loan programs:
| SBA Loan | Maximum Amount | Interest Rate | Loan Term |
| --- | --- | --- | --- |
| SBA 7(a) loan | $5,000,000 | Base rate + spread (2.25%–4.25%) | Up to 25 years |
| SBA microloans | $50,000 | Negotiable, but typically between 8%–13% | Up to 6 years |
| SBA Community Advantage loans | $250,000 | Base rate + 6% spread | 7–10 years |
| SBA 504 loans | $5,000,000 | Fixed-rate (2.81%–4%) | 10–25 years |
Business Lines of Credit
If you don't know the full size of your operations (e.g., the number of trucks you are going to purchase), a line of credit loan is a perfect choice. Instead of receiving a lump sum, you make separate draws using a business credit card until you reach the credit limit.
The interest rates are only applied to the amount of used capital, and available sums can range from $10,000 to $100,000.
Equipment Financing
These types of owner-operator startup loans finance the purchase of new or used vehicles and other assets that are vital for your business (e.g., CB radio equipment). The loan amount is decided based on the equipment, i.e., the number, condition, and model of the vehicles.
You can apply for two forms of equipment financing:
Equipment loans—Scheduled payments for vehicle purchase
Equipment leases—Monthly payments for vehicle rental
Note that the lender may require you to pay a down payment in the amount of 10%–25% from the total sum.
Merchant Cash Advances
As far as startup trucking business loans go, merchant cash advances come with many perks. Instead of repaying the loan with fixed payments, the lender will take a certain percentage from your future earnings until they are compensated for the borrowed sum.
The loan terms are negotiable, and the standard factor rates vary from 1.1 to 1.5.
Merchant cash advance loans are typically available within 24h, making them one of the quickest small business loans for trucking companies.
How To Qualify for Owner-Operator Startup Loans
Once you settle on the startup loan program that is best suited for your needs, you should start preparing your application. Borrowers need to comply with certain qualifications to receive the necessary funding.
To acquire startup trucking business loans, you must:
Familiarize yourself with the specific requirements of your chosen lender
Have good or excellent business credit
Gather the necessary legal documentation
Compose the mandatory financial statements (cash flow, profit & loss, and balance statements)
Provide collateral (except for unsecured loans)
Rely on DoNotPay To Help You Land a Small Business Loan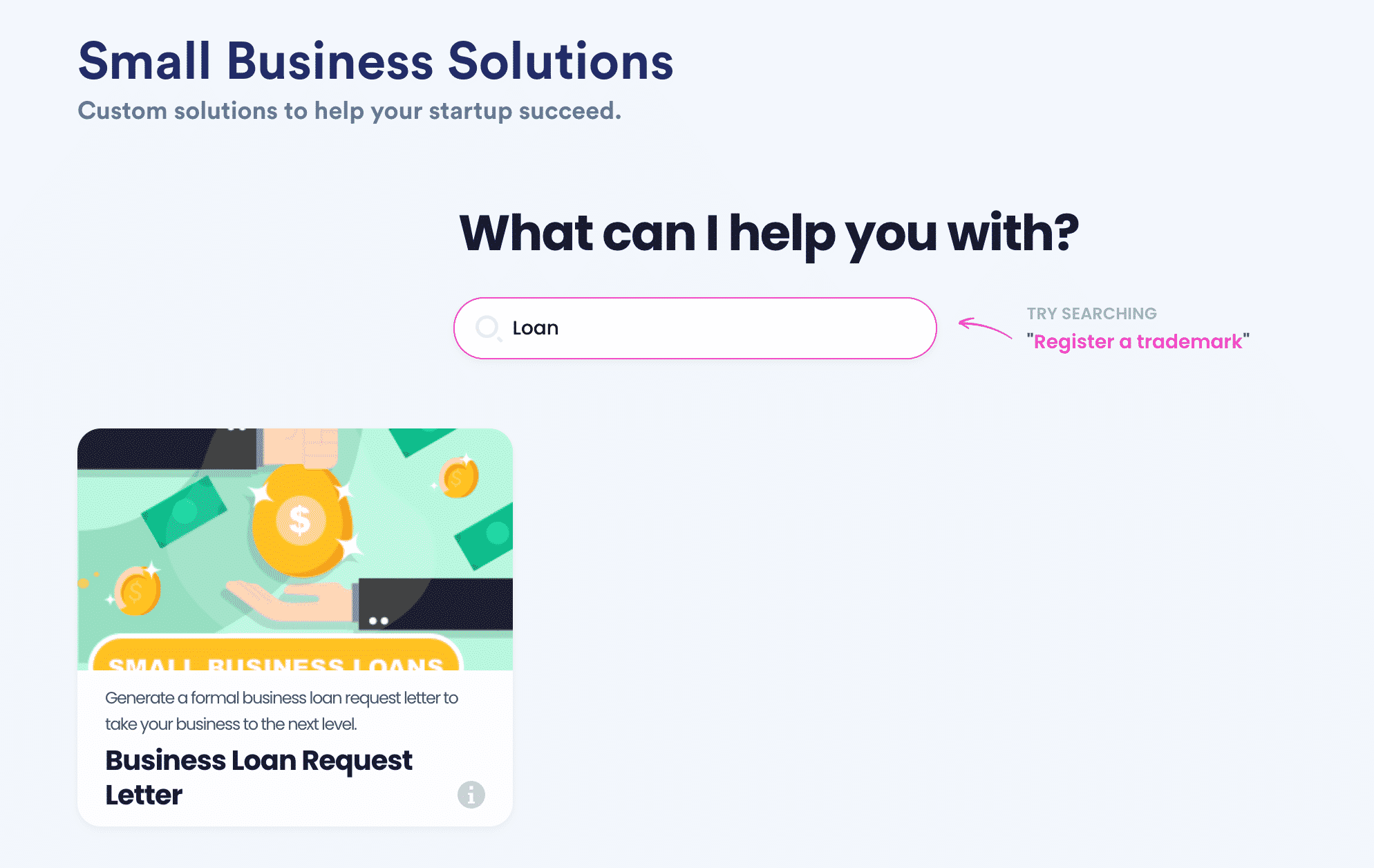 If you want to increase the likelihood of landing the desired funds for your startup, subscribe to DoNotPay! Our Business Loan Request Letter product can process all your important documents and generate the perfect application form.
All you have to do is:
Access the Business Loan Request Letter feature
Tell us about your owner-operator trucking company and provide details about the loan
Upload all the paperwork
Your loan request letter will contain all relevant information drafted from your answers. DoNotPay will forward your application to your chosen letter.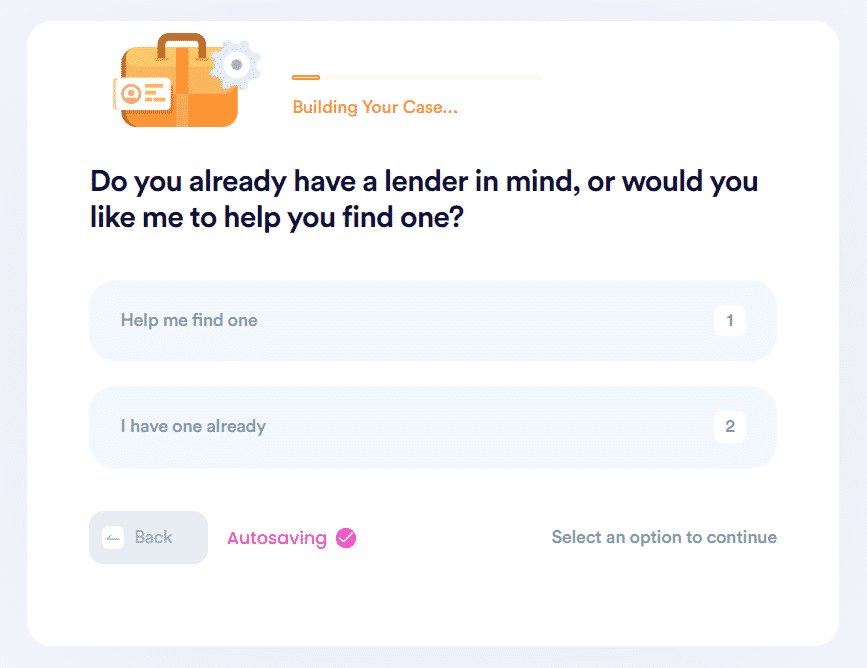 If you're unsure who the best provider of owner-operator startup loans is, we can help you with your search! Our Find Online Business Loan Lender tool is already integrated with the Business Loan Request Letter product, enabling you to complete the entire application process with ease.
Resolve Various Business Problems With the Help of DoNotPay
Handling annoying administrative issues is the last thing you want to worry about while trying to build a business empire. The good news is that you do not have to! DoNotPay has developed many nifty products that make various pesky tasks easy to complete.
Some of the small-business-related matters we can help you with are:
Taking out business loans
Obtaining an Employer Identification Number (EIN)
Automating the filing of 83(b) election forms
Requesting your money from customers who won't pay
Registering a DMCA agent
DoNotPay can also make communication with your clients or business partners easier as we enable you to fax and mail your letters, forms, and other important documents without leaving your office.
Maintain a Good Business Reputation
It is no secret that building a trusting relationship with clients takes time and effort, so why have all that hard work ruined by negative online reviews that are fake? DoNotPay is here to help you remove illegitimate, fake reviews in a matter of clicks!
Want to dispute unfair chargeback requests but are not sure how to go about it? By using our Fight Chargebacks feature, you can have DoNotPay create a customized chargeback rebuttal document in a few minutes.
With our app, you can also protect your trademark from people trying to use it, file the self-certification request with the Privacy Shield program, and handle many other aspects of your business hassle-free!