An
Owner-Operator Lease Agreement
Explained
Many truck drivers have their own freight transport business and work as owner operators. Companies and individuals who want to rent their services must be willing to sign an owner-operator lease agreement.
Understanding an owner-operator lease agreement can be tricky. If you want to know the essentials of this legal document, you are in the right place! DoNotPay will explain the basics and teach you how to create many other legal documents!
What Is an Owner-Operator Lease Agreement?
An owner-operator lease agreement is a contract that outlines the terms for leasing an owner-operator's driving services. An owner-operator represents an independent freight transport driver who leases hauling services to other companies. Owner-operators are typically in charge of:
Loading and unloading their vehicles

Scheduling pickups

Identifying routes

Transporting goods according to the contract terms

Handling vehicle maintenance and repairs

Securing licenses and insurances

Keeping tax records
Having an owner-operator lease agreement helps avoid any misunderstanding regarding the use and maintenance of the vehicle. By signing it, both the lesser and the lessee agree to follow the terms and conditions of the contract.
What To Watch Out for When Entering an Owner-Operator Lease Agreement?
One of the quickest ways for a company to increase its fleet capacity is to hire owner-operators. While often practical, entering an owner-operator lease agreement can be disadvantageous for both the owner-operator and the carrier. To ensure satisfaction on both sides, the involved parties must be aware of what the lease agreement entails. 
Take a look at what both parties need to pay attention to when entering an owner-operator lease agreement:
| | |
| --- | --- |
| The Party Involved in the Owner Operator Lease Agreement | What They Should Know |
| The carrier | The carrier needs to be careful not to treat a leased owner-operator the same as they would an employee. That's why, in most cases, the carrier won't require the owner-operator to do something beyond what is established by the lease agreement  |
| The owner-operator | The owner-operator company needs to take care of maintaining certain standards. If an owner-operator under a lease forgets to complete the logbook or makes a traffic violation, it reflects the carrier's safety data. For that reason, most companies that hire owner-operators expect them to meet specific standards |
How To Write an Owner Operator Lease Agreement
Every owner-operator lease agreement has to follow a specific structure. Companies entering an owner-operator lease agreement should specify the following:
Parties involved in the agreement

Duration of the lease

Equipment involved

Exclusive possession and control by the carrier during the term of the lease

Lease termination procedures, including the immediate removal of the carrier's name when the lease ends

Compensation method and pay rate of the owner-operator. The rules for payment are:

The payment method must be clearly stated in the lease (according to tons, trips, mileage, or percentage of revenue)

The payment period longer than 15 days from submitting proof of delivery is not allowed

The lease agreement must include the "right to inspect" carrier billing if the payment is based on the revenue percentage

Chargebacks the carrier will initially pay and then charge against the owner-operator

That purchasing service or equipment from the carrier is not a condition for the lease agreement

Carrier's legal obligation to have and maintain public liability and cargo insurance

The party that holds responsibility for other types of insurance, such as bobtail coverage

Deductions that will be made to the owner operator's settlement in case of property damage

Terms of using escrow funds
Create Other Contracts and Agreements With DoNotPay
Drafting contracts has never been easier! Thanks to the Standardized Legal Documents feature, DoNotPay can help you create numerous business, real estate, and other agreements in the blink of an eye.
You can forget about overpriced lawyers and unreliable contract templates. Subscribe to our app and get a tailor-made contract that meets all personal and state-specific legal requirements.
The steps for creating a contract with DoNotPay are straightforward:
in a web browser

Enter

the name of the agreement you wish to create

Answer our questions to help us customize the agreement according to your needs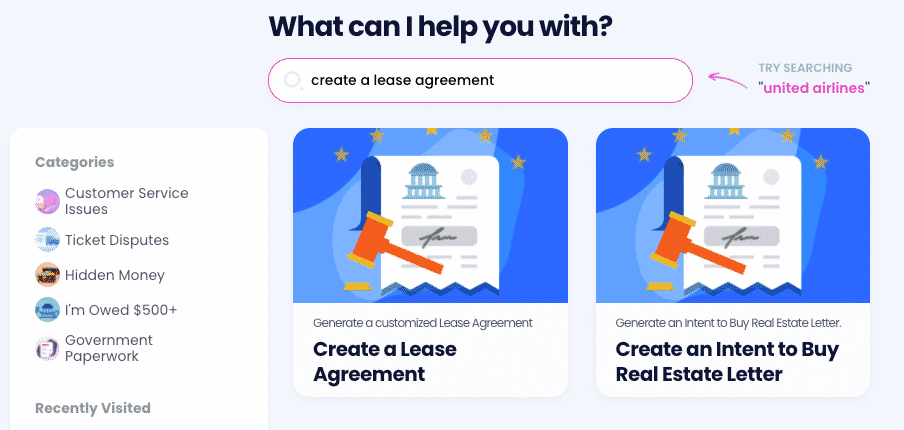 DoNotPay will create an agreement for you in a matter of minutes. We can also help you get the document notarized and fax it if necessary!
What Documents Can DoNotPay Generate?
The list of contracts and agreements we can create is impressive and keeps on growing! and pick any of the documents from the table below:
Type of Documents

Description

Real estate

Intent To Purchase Real Estate

Residential

Lease Agreement

Estoppel Certificate

Quitclaim Deed

Business

Other

General Affidavit

Promissory Note
Other Lease Agreements and Documents You May Need
Lease agreements can be complicated. Whether you want to rent a vehicle, condo, or farm land, you should know what you are getting yourself into. and check out our comprehensive articles regarding: 
DoNotPay Leads the Way Against Spammers
Browsing the internet has never been more popular than today, but you must not forget to keep your private and financial information safe. You know you can cancel any streaming service or magazine subscription easily, but that won't stop them from using your personal details for marketing purposes.
DoNotPay has a solution for that! 
Is a company pestering you with incessant robocalls, spam emails and text messages? Use our Virtual Credit Card to catch them in the act and claim compensation for your troubles. 
To prevent that from happening ever again, use our card to sign up for free trials—not only will you not pay a dime for the service, but you will be automatically unsubscribed as soon as the trials are up! 
If you want to avoid revealing your personal phone number, we'll generate a temporary burner phone for you so the company won't have any way to reach you.
Already Been Scammed? DoNotPay Knows the Way!
If you've already made the mistake and divulged your personal info to the wrong party or experienced any other kind of crime or injustice, you don't have to sit tight and suffer the consequences. DoNotPay can assist you in taking anyone to small claims court!
We'll help you gather evidence—correspondence proving stalking or harassment took place, customer service call recordings, denied chargeback and refund claims, online fax transcripts, or proof of copyright violation. Then, we'll fill out the relevant legal documents for you and draft a court script that you can use in your hearing.