Owner Finance Contract for Deed From A to Z
Before making a legal document, it is of paramount importance to get familiar with its details. DoNotPay is an excellent source of information for learning more about the owner finance contract for deed. Our app can also help you create other agreements in a flash!
What Types of Owner Financing Structures Exist?
You can choose between three types of owner financing options in real estate and select the one that suits your needs the most. The choices include:
Note and mortgage
Lease agreement—a rent-to-own or a lease purchase agreement
Contract for deed, also known as a land contract
What You Should Know About Note and Mortgage
A note and mortgage is a structure banks use when lending property, and it is a buyer-favorable method. In this case, the seller makes a note with the borrowed amount and repayment terms. The mortgage ensures the seller with the property if the buyer fails to repay a loan.
This mortgage is usually recorded in public records, and the buyer is put on the title with a deed.
What You Should Know About Leases
Leases are more owner-favorable choices of the financing structures. The process begins with the buyer leasing a home for some time while having the option to buy. The potential buyer and the seller agree on the purchase price before the lease starts. In case the buyer ends up purchasing the home after the agreement expires, payments made during the lease period may be used for the purchase of the property.
What You Should Know About the Contract for Deed
Contract for deed owner financing is the middle ground that comes with protections for both the buyer and the owner. The main difference between a mortgage and a contract for deed is that the seller remains on the title until the buyer repays the entire debt. The last amount you need to pay is usually a balloon payment.
Some sellers like the contract for deed structure because it is easier to regain the title in case of default. In numerous states, eviction or forfeiture is permitted, which is less expensive than a full foreclosure.
Contract for Deed Pros and Cons for Buyers and Sellers
Contract for deed affects both the buyer and the seller. It comes with some advantages and disadvantages for both parties you can check out in the table below:
The Buyer
The Seller
Advantages:

Providing an option for people who cannot qualify for a traditional mortgage (e.g., due to negative credit history, a required down payment, etc.)
Offering a less complicated option compared to obtaining a traditional mortgage
Not needing a third-party lender, which allows for a faster closing and lower costs

Disadvantages:

Not having access to a standard foreclosure proceeding to protect them if unable to pay
Needing to get permanent financing, which is problematic if they haven't repaired their credit
Losing all payments previously made (equity) and all rights to the property in case they breach the contract

Advantages:

Having the option to choose between more potential buyers
Keeping the title to the property during the contract period, which provides security
Keeping all the payments the buyer has made

Disadvantages:

Requiring to take legal action in court to obtain the legal title of the property (more expensive and longer process than the foreclosure procedure used for a traditional mortgage)
Including low down payments
What Information Should a Contract for Deed Include?
To make a solid contract for deed, you need to know what information to include in the document. Here is all the info this contract needs to have:
Buyer and seller contact information
Down payment
Purchase price
Interest rate
Number of monthly installments
Duration of the agreement
Obligations of the buyer and seller
Consequences for missed payments
Signatures of both parties
Use DoNotPay To Create a Legal Document in a Matter of Minutes
If you need to create a legal document fast and without stress, DoNotPay is your solution. You only need to complete a few simple steps:
Sign up for DoNotPay in a web browser you prefer
Type in the name of the document you want to create in the search field
Provide us with the details specific to your case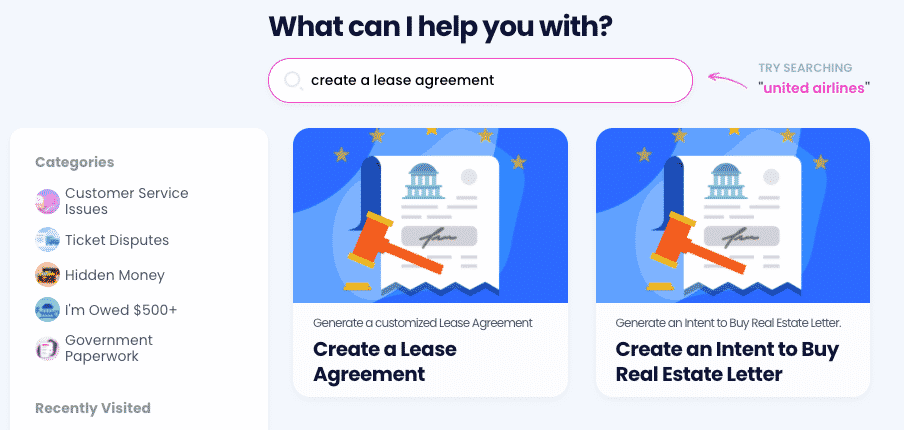 What Documents Can You Make With DoNotPay's Help?
You can use DoNotPay to draw up a variety of legal documents. Our database keeps on growing, and new agreements and contracts are added constantly, including:
General Business Contract
Quitclaim Deed
Intent To Purchase Real Estate
General Affidavit
Promissory Note
If you visit our learning center, you can learn more about numerous other legal documents, such as:
Explore DoNotPay's Products and Save Both Time and Money
Are you sick and tired of spending ages on the phone with customer support trying to get more info about how to return a faulty product and get a refund? Maybe you'd like to cancel memberships you don't use but can't find that unsubscribe button anywhere? DoNotPay can help you sort out all of these issues in a jiffy!
Contest parking tickets, claim your car warranty and insurance, schedule a meeting with the DMV, and handle your other problems through the same app on your tablet or smartphone.
Getting access to public records or drawing up various legal documents with DoNotPay is child's play.
That's Not All!
The first thing you'll notice when you open DoNotPay is that you can use our app for almost anything.
Do you wish to enter raffles or sweepstakes? Are you interested in applying for paid clinical trials and earning some cash? Would you like to send mail without going to the post office? You're in the right place!
We will help you feel safe while browsing the Internet by assisting you in blocking and reporting spam emails, suspicious text messages, and pesky robocalls.