No More Kissimmee? Your Guide to the Osceola County Divorce Process
Divorce in Florida does not need to be difficult or painful, but there are ways to ensure that getting your divorce decree is fast, cheap, and free from hassle.
Osceola County follows Florida guidelines on every aspect of filing for divorce, and you must follow the process exactly to ensure your divorce hits no speed bumps.
DoNotPay has all the info you need to keep your Osceola County divorce on the right track from start to finish.
Florida Divorce Laws in Brief
The most important consideration when you file for divorce is your eligibility—get this wrong, and your case will be thrown out of court.
To be allowed to file for divorce in any county in Florida, you must have lived in the state for the last six months. You should file in the county where either you or your spouse lives.
As a no-fault state, Florida doesn't require you to prove your spouse has done anything wrong—it's enough to claim that your marriage has broken down irretrievably.
The types of divorce available to you in Osceola County are:
Simplified dissolution of marriage
Regular dissolution
Simplified Dissolution of Marriage
Under certain circumstances, you can file for a fast-track, simplified divorce in Osceola County. The criteria you must fulfill are:
You have no minor children, and neither spouse is pregnant
Alimony is not being requested by either spouse
A settlement agreement is in place dividing all the joint assets and liabilities
You and your spouse agree to waive your right to trial and appeal
If you fall within the stipulations, you can get a simplified divorce without court appearances and without needing legal representation—a single hearing before a judge is enough.
Regular Dissolution
If you don't fulfill the requirements for a simplified process—if you have kids, as an example—you need to file for a regular dissolution.
Regular divorce proceedings can still be relatively easy if you and your spouse can agree on a friendly divorce and work towards an out-of-court settlement. In such cases, the judge will review your paperwork at an initial hearing and grant your uncontested divorce without further ado.
If you can't reach an agreement before your first hearing, your case will go to trial.
The Osceola County Divorce Process
The steps to getting your divorce in Osceola County are as follows:
Divorce Process Steps
Explanation
Filing divorce papers
Your first step is to file the correct divorce papers with the county court. Your papers will include a:

Petition for dissolution of marriage
Financial affidavit
Summons

Your initial filing asks the court to dissolve your marriage, lists your joint assets, debts, real estate, and children, and sets out your expectations for a settlement. You don't need your spouse to file with you—it is sufficient for you to file on your own and have the papers served.

You will have to pay the Florida filing fee of around $400

Serving the papers
You have to make sure your spouse has a copy of your filing by having the papers officially served through a deputy sheriff or private process server
Reaching a settlement agreement
Your spouse has 20 days to respond to your divorce filing after service—this is the perfect time to negotiate and finalize a settlement agreement
If your paperwork is in order and your spouse responds within the correct timeframe, your divorce could be finalized in around five weeks.
Your Osceola County Settlement Agreement
The make-or-break document in securing an uncontested divorce in Osceola County is your settlement agreement.
A settlement agreement is a legal document that sets out how every aspect of your married life should be split between you and your spouse after your divorce, including:
Negotiating your settlement agreement depends on how much you and your spouse are willing to cooperate. In many cases, divorcing couples can agree on a settlement without any outside help, but if you need support, the resources available are:
Lawyers
Mediation
Lawyers
The traditional route is for both spouses to hire attorneys to negotiate on their behalf. This is also the most expensive option—Florida attorneys charge anything between $175 and $500 per hour and usually require a substantial upfront retainer. Your total bill could easily exceed $5,000 per spouse, and you should ask yourself whether the costs are necessary.
Mediation
A lower-cost option is to use a mediation service to resolve outstanding issues. Trained mediators can help you work towards a negotiated settlement at a fraction of the cost of attorneys.
Once you have agreed on the terms of your settlement, you need to have your agreement drawn up.
You can use lawyers to do this, but you should be prepared for hefty fees. An alternative is to download a template from an online divorce service and fill it out yourself—the risk, though, is that your document won't cover your specific needs and may be rejected as inadequate by the judge.
This is where DoNotPay can come to the rescue—we can create a bespoke settlement agreement for you that ticks all the boxes and doesn't cost a cent in lawyers' fees!
DoNotPay to the Rescue in Osceola County!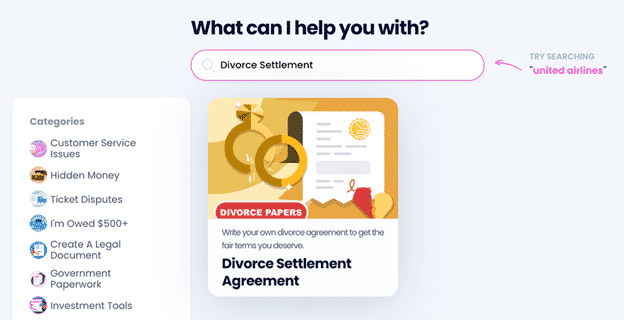 DoNotPay wants your Osceola County divorce to be as painless and cost-effective as possible!
Our Divorce Settlement Agreement feature is designed to give you a watertight and comprehensive document without you having to spend money on attorneys. We can take the terms you and your spouse have agreed on and generate a tailor-made, ready-to-sign contract in a few clicks!
Here's how to set your agreement up:
Subscribe to DoNotPay in your web browser
Search for our Divorce Settlement Agreement product
Work through our quick questionnaire to capture the terms you have agreed on
That's all we need—your custom agreement will be ready in a flash, and you and your spouse can sign it and have it notarized.
DoNotPay even has that covered! No need for you to hunt for a Florida notary—we can get you sorted with our online notarization service!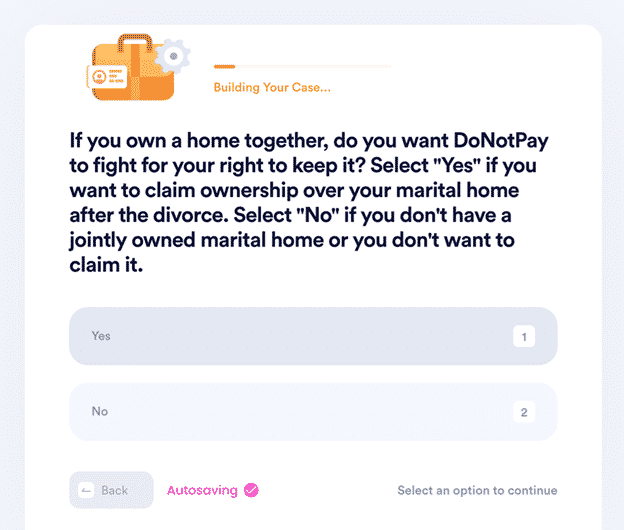 Info on Other Florida Counties From DoNotPay
Filing for divorce in another Florida county?
Here are some examples of other areas in FL we can help you with:
Stationed in Florida as a member of the military? No problem—check out our info on military divorce in Florida!
Don't Let Admin or Legal Issues Wear You Down—Hand Them Over to DoNotPay
Do you believe you may have some missing assets? Use DoNotPay's nifty product before the government claims them! Have you ever wanted to enter sweepstakes without purchasing anything? Our app will sign you up for them instantly! Trying to figure out how to reduce your property taxes or utility bills? DoNotPay can show you the way. Want to avoid getting charged for free trials that never fail to auto-renew into paid subscriptions? We'll help you cancel them before they expire.
Anything else you may need? Check out how our app can:
Check Out Our Other Robust Products
It doesn't stop there—DoNotPay can help you send a defamation demand letter, create passport photos, get gift card cash back, get any document notarized, request access to public records, claim insurance and warranty, request a college application fee waiver, appeal parking tickets, and much more.
Sign up now to get access to any of our products for one low monthly fee!