Oregon Property Tax Exemption Program and Other Tricks To Lower Your Taxes 
Paying property taxes is a drag, especially if you live in Oregon. Property tax rates in Oregon are close to 1%, which is the national average. 
You cannot avoid paying taxes since collecting property tax money is one of the main sources of revenue for Oregon districts. The only course of action left is to find ways to lower them.
If you want to know what constitutes Oregon property tax exemptions, you are in the right place. DoNotPay will explain the fastest and easiest way of lowering your property taxes!
What Are the Oregon Property Tax Regulations?
The Oregon Department of Revenue has the job of overseeing the tax assessment process across the state. Taxation officers are in charge of private property tax assessment, and your taxes are calculated according to your property's market value and Oregon's current tax rate. 
The good news is that the property's maximum assessed value can't increase by more than 3% annually. This rule changes if you add adjustments to the structure or perform a subdivision of your property.
If you are still struggling with Oregon tax rates, there are certain tips and tricks to help you reduce your property taxes.
How To Lower Your Property Taxes on Your Own
To lower your property tax, you must put in a little effort, but it can be well worth the trouble. Take a look at the table below for some useful tricks:
| | |
| --- | --- |
| Method of Lowering Your Property Tax  | Details |
| Ask for your property tax card | Check for possible errors so you can ask for a property revaluation |
| Check your property tax bills  | Compare tax bills to some similar-sized homes' bills and determine if you are being overcharged |
| Organize a home appraisal | Reduce your property tax bills in the long run with an accurate home appraisal |
| File for a property tax exemption | Check if you qualify for a reduced property tax program in Oregon via the Oregon Department of Revenue website or by using DoNotPay |
Who Falls Under Oregon Property Tax Exemptions?
Individuals and organizations with limited income can be exempt from paying whole or a part of their property income. Oregon currently has around 100 exemption programs that enable full or partial property tax releases. The most common exemptions apply to:
Charitable organizations

Religious institutions

Senior

or disabled Oregon citizens

Disabled veterans or their surviving spouses
What Does Property Tax Release for Seniors in Oregon Require?
If you are a senior citizen living in Oregon, property tax relief is a necessity. Luckily, the state of Oregon allows citizens older than 62 to delay paying their property taxes. 
To qualify, you need to:
Be 62 or older

Present a deed to the property that you reside in 

Prove that you have both owned and lived on the property for more than five years

Own a homeowner's insurance

Have a household income that doesn't exceed the current year's limit 

Not have a reverse mortgage

Possess homeowner's insurance that covers fire and other accidents

Have a net worth less than $500,000
Those who haven't lived on the property for the required five year period can still qualify for the exemption program if they downsize. They need to meet the following criteria:
The new home needs to have a lower real market value

They must satisfy the referral lien on their previous homestead

Their previous property was in a Property Tax Referral Program

They must sell the old and buy the new home within a year

They're not financing more than 80% of their new home price 
If you want to apply, you must visit your county's assessor's office between January 1 and April 15 of the current year. 
If the Oregon Department of Revenue grants your request, the state will pay your property taxes for the following year.
Property Tax Breaks for Seniors in Oregon  Are Possible With DoNotPay
There are states with low property taxes, but Oregon isn't one of them. If you are a senior citizen residing in Oregon, the last thing you want to do is deal with lowering taxes on your own. It is a complicated process that requires a lot of research. Luckily, you can do it with a little guidance from DoNotPay!
We created a practical Reduce Property Tax feature for anyone who needs help with paying property taxes. Our app uses the information you provide to establish the exemption category you fit in. The next step is creating a personalized guide to reducing your property taxes. Our guide will present:
Forms you need to complete

Documents that are relevant to your case

Course of the application process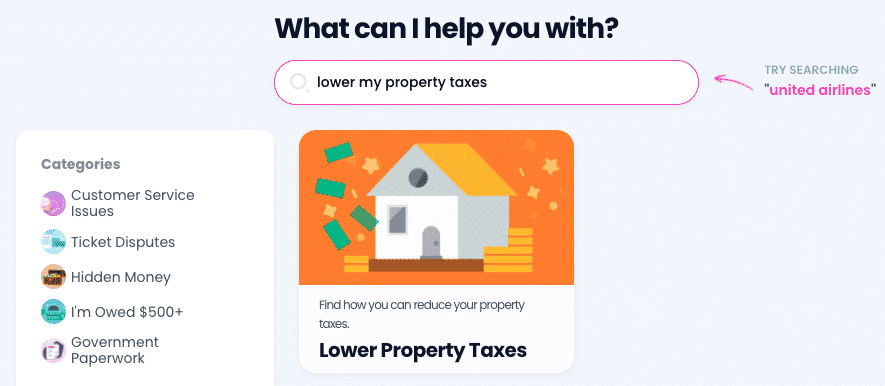 The procedure is simple:
Access DoNotPay from your

web browser

Navigate to the

Reduce Property Tax

feature

Enter necessary information about you and your property
DoNotPay will automatically generate your personalized reduce-property-tax guide.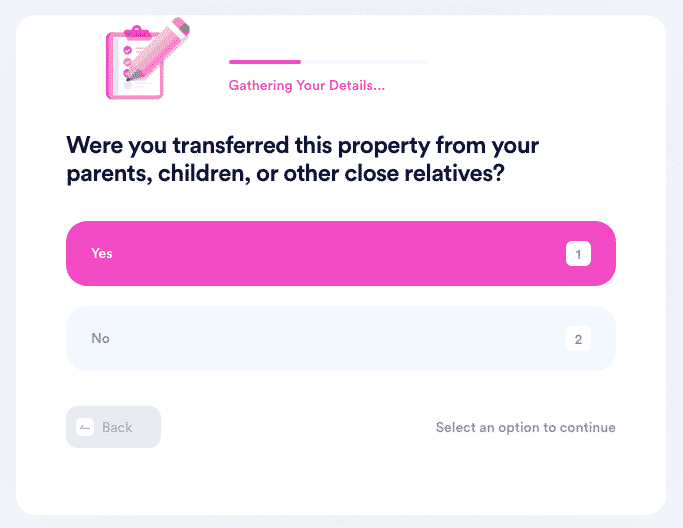 You can use our app to file a property tax appeal for previous property assessments. 
The process is similar to the previous one:
Open DoNotPay in your

web browser

Follow the instructions for getting a personalized guide

Consult the guide to find out how to negotiate with your local assessor and appeal past assessments
DoNotPay Leads the Way Against Spammers
Browsing the internet has never been more popular than today, but you must not forget to keep your private and financial information safe. You know you can cancel any streaming service or magazine subscription easily, but that won't stop them from using your personal details for marketing purposes.
DoNotPay has a solution for that! 
Is a company pestering you with incessant robocalls, spam emails and text messages? Use our Virtual Credit Card to catch them in the act and claim compensation for your troubles. 
To prevent that from happening ever again, use our card to sign up for free trials—not only will you not pay a dime for the service, but you will be automatically unsubscribed as soon as the trials are up! 
If you want to avoid revealing your personal phone number, we'll generate a temporary burner phone for you so the company won't have any way to reach you.
Already Been Scammed? DoNotPay Knows the Way!
If you've already made the mistake and divulged your personal info to the wrong party or experienced any other kind of crime or injustice, you don't have to sit tight and suffer the consequences. DoNotPay can assist you in taking anyone to small claims court!
We'll help you gather evidence—correspondence proving stalking or harassment took place, customer service call recordings, denied chargeback and refund claims, online fax transcripts, or proof of copyright violation. Then, we'll fill out the relevant legal documents for you and draft a court script that you can use in your hearing.