State Shows Gratitude Through the
Oregon Disabled Veteran Property Tax Exemption
You have served your country and paid a heavy price. Now you are living peacefully in Oregon in your own home. Despite your dedication to state and country, you are still hit with a hefty property tax bill every year.
All may not be lost, though. As a disabled veteran, you may be able to claim exemption from property tax. Here is what you need to know about Oregon disabled veteran property tax exemption.
What Is Property Tax?
Property tax is levied on the value of your property, and it generates money for local amenities like the police, the fire department, and municipal services. The tax is payable on the following properties:
Farms

Business premises

Residential homes

Non-removable building fixtures
In Oregon, your property tax is payable in two installments—on February 15 and November 15.
How Is Oregon Property Tax Calculated?
The Oregon Department of Revenue oversees the calculation and collection of property tax in Oregon, but the actual work is done at the county level. County assessors appraise all the properties in their county using the sales comparison approach. This means they monitor property sales in their county throughout the year and use the sale prices to assign values to similar properties.
The property tax assessment determines the value of each property in Oregon as of January 1 each year and forms the basis for the property tax calculation.
Your property tax bill is calculated by multiplying the assessed value of your property by the county's taxation rate, also known as the Mill Rate. Oregon's Mill Rate is 0.90%, which is considerably lower than the U.S. average of 1.07%, and it qualifies Oregon as one of the states with the lowest property tax in the nation.
How Can I Get the
Oregon Property Tax Exemption for Disabled Veterans
?
Oregon offers over 100 full or partial exemption programs, one of which is the disabled veteran property tax exemption.
Claiming for a property tax exemption as a disabled veteran should be a straightforward process, and DoNotPay can help you find out your eligibility.
To qualify for the disabled veteran property tax exemption in Oregon, you must be one of the following:
A certified veteran with at least 40% disability

The surviving spouse of a certified veteran who has not entered into a new partnership
In either case, you must be a homeowner living in the property as your primary residence.
Certain maximum income levels may apply, but if your claim is accepted, Oregon offers between $23,370 and $28,045 off the assessed value of your property.
The timelines for claiming for a property tax exemption as a disabled veteran are as follows:
| | |
| --- | --- |
| Date | Event |
| January 1 | Start of the annual assessment period |
| April 1 | Final date for applications for a disabled veteran property tax exemption |
| June 30 | Fiscal year-end |
| November 15 | Property tax first installment due |
| February 15 | Property tax second installment due |
DoNotPay Can Help You Get a Disabled Veteran Property Tax Exemption in Oregon
Property tax exemptions are complex and can be a scary proposition. DoNotPay can help you check your eligibility as a disabled veteran and understand how to apply.
Our app can check your location and give you customized advice on what exemptions are available in your area. The guide comes with two sections:
Property Tax Exemptions
Property Assessment Appeals

Information about the disabled veteran property tax exemptions available in your county in Oregon

A list of documents you must fill in and submit

Full instructions on how to submit your application

How to negotiate with a property assessor

How to appeal an assessment you think is wrong
How Do I Get DoNotPay's Property Tax Guide?
The process of getting our guide couldn't be easier. Here's what you have to do:
Go to DoNotPay in any

web browser

, sign up, and find the

Property Tax

feature

Answer the questions about yourself and your property

Wait for the app to give you a customized guide to property tax reductions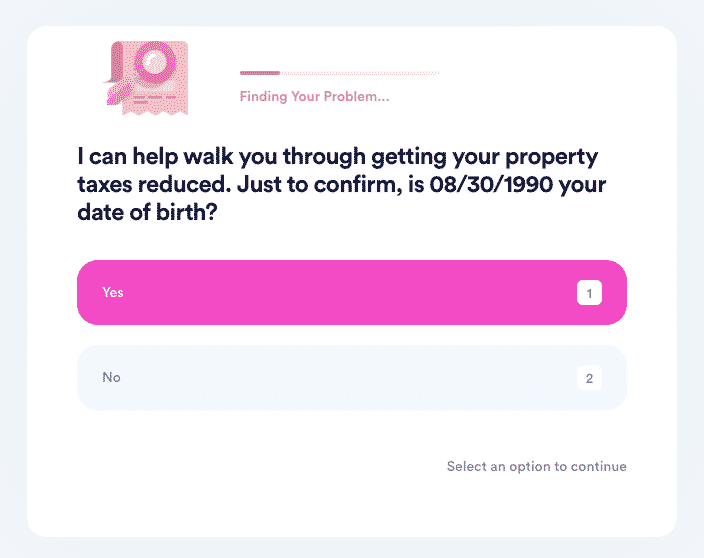 What Are Other Typical Property Tax Exemptions in Oregon?
If you are looking for other possible homeowner's tax exemptions in Oregon, here are some of the options you may be eligible for:
Senior tax credit

Income-based tax credit

Renters' tax credit
Senior Tax Credit
Homeowners over 65 who are using their property as their primary residence may be eligible for senior citizens' credit on their property tax.
Income-Based Tax Credit
If your income falls below a certain threshold, tax credits are available to ensure your tax bill doesn't exceed a certain percentage of your income.
Disability Tax Exemption
In Oregon, people with disabilities, such as blindness, may be eligible for a homeowners' tax exemption.
How Else Can I Save Money on My Property Tax Bill?
There are a few things you can do to lower your property tax bill. Here are our tips:
Avoid any renovation or improvement work to your property that could increase its value

Check that your property tax bill is accurate

Accompany the state assessor during the appraisal
The last resort is to appeal your property tax assessment, although you may be daunted by this procedure. DoNotPay can help you understand what the appeal procedure entails, what documents you need, and where to lodge your appeal.
Falling for Scams Is Less Likely With DoNotPay
Thanks to AI technology, DoNotPay is a great resource for protecting your privacy and finances from potential scammers. Our bots can help you report robocalls, keep your inbox clean from spam email and shady text messages, or even deal with stalking and harassment, if it comes to that. 
In case the issues escalate, skip the expensive lawyers and sue the offenders in small claims court with ease. 
Another great way to increase your online security is to use our virtual credit cards and sign up for any free trial without risking unwanted charges. You can even avoid sharing your contact info with our Burner Phone feature. 
The Solution To Your Driving Woes
DoNotPay provides invaluable help to future and current drivers. By helping you ace that driver's license test, scheduling a DMV appointment the easy way, or contesting parking tickets, our app saves you money and time. 
If you need to file a car warranty or an insurance claim, we will help you deal with the necessary paperwork within minutes. Trying to get out of a car wash membership? DoNotPay can cancel it in an instant. 
Our platform works above ground as well. You can use DoNotPay to secure refunds from airline companies or compensation for delayed and canceled flights.