Am I Eligible for an
Orange County Property Tax Exemption
?
Homeowners in Orange County pay some of the highest property taxes in California mainly because home values are high. Even if you don't require help paying property taxes, a property tax exemption can make a world of difference in your tax bill and save you a lot of money in the long run.
Property taxes can be a hassle to deal with on your own, so you can rely on DoNotPay to walk you through every Orange County property tax exemption and assist you in applying for them! If you want to get our tailor-made guide, sign up now!
Property Taxes in California and Orange County Explained
Property taxes in California are limited to 1% of a property's market value, and its annual increase is restricted to 2%. While California is not one of the states with the lowest property taxes, it's not far behind with an average of 0.73% and 0.69% in OC. To put this in perspective, California's tax rate is lower than the national average of 1.07%.
If you're an Orange County resident, the median annual property tax bill is $4,499, which is a hefty amount for most people.
The local authorities use property taxes to fund different public services, including:
Hospitals

Public schools

Fire departments

Police departments

Road maintenance services
The OC Property Tax Exemptions and Other Types of Tax Relief
In Orange County, you can lower your property taxes by applying for one of the following property tax relief programs:
Disabled veterans

Transfers between families

Savings for seniors on replacement homes

Severely and permanently

disabled homeowners

Property tax assistance for blind, disabled, or

senior citizens

Property damaged, destroyed, contaminated, or taken by government action
The homeowners' exemption refers to individuals who own and occupy a home as their primary residence. To qualify for this exemption, you also need to meet additional criteria, such as:
Not already using a homeowners' exemption

Submitting a completed application on time

Living in your owned primary residence officially on January 1 at 12:00 a.m.
If you are eligible for the homeowners' exemption, $7,000 of your property's value will be exempt from taxation. In case you don't apply for it by February 15 at 5:00 p.m., you may only qualify for 80% of the exemption amount.
Other OC Property Tax Relief Programs
If you don't qualify for the homeowners' exemption, you can check whether you're eligible for other programs:
Property Tax Relief Program
Key Details

Veterans

Eligible veterans receive an exemption of $4,000

The exemption can be applied to boats and planes, real estate, and property used in a business

Surviving spouses or parents can also apply

Disabled veterans

Veterans who were injured in military service can apply, as well as their spouses

Injuries that are accepted are:

Blindness

Total disability

Loss of two or more limbs

Transfers between families

A transferred home from parents to children or grandparents to grandchildren can be exempt from reassessment

The property has to be the primary residence of the (grand)parents and become the primary residence of the children

Savings for seniors on replacement homes

To transfer a home's taxable value to a replacement property anywhere in California, you must meet these requirements:

The transferred home is your primary residence

The replacement home has to become your primary residence within two years of the sale

Severely and permanently disabled homeowners

Severely and permanently disabled persons can qualify and transfer their home's value to a replacement home

Property tax assistance for blind, disabled, or senior citizens

California offers two property tax relief programs for low-income blind, disabled or senior citizens (at least 62 years of age):

Property tax postponement—put off the tax payments for your house, condominium, or a mobile home

Homeowner and renter assistance—get a reimbursement of a portion of the property tax payments

Property damaged, destroyed, contaminated, or taken by government action

You can transfer the base year value of your home to a replacement property if you own a:

Contaminated property (must be considered uninhabitable and environmentally hazardous)

Property substantially damaged by a disaster

Property taken by government action
Say Goodbye to High Property Taxes in OC With the Help of DoNotPay
Property taxes in the OC don't have to be messy like the teen drama with the same name. Knowing what exemptions you qualify for and how to apply for them is the key to paying less in property taxes. DoNotPay can help you in this regard by creating a personalized Property Tax guide that will be invaluable in your money-saving journey.
Getting this guide takes only a few clicks. All you need to do is sign up for DoNotPay and do the following:
Access our

Property Tax

feature

Provide the necessary info, such as your age and location

Answer a few questions regarding your property
Our guide consists of two parts:
Understanding and applying for property tax exemptions

Filing an appeal

if you don't agree with your

property assessment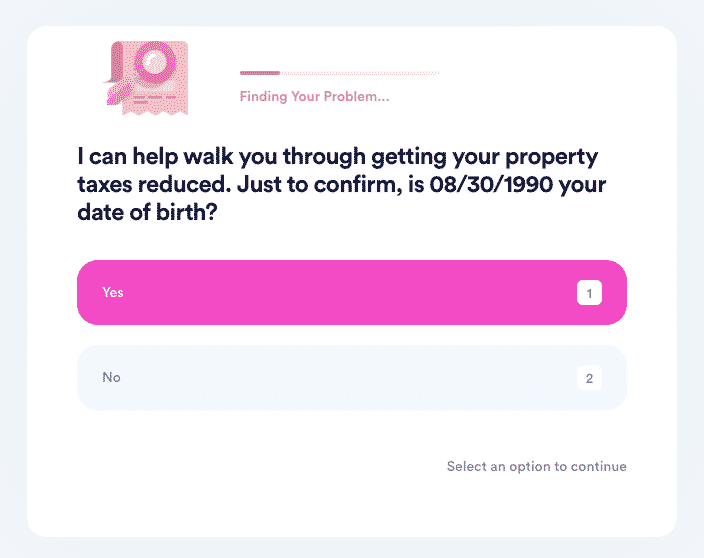 If you have any more property tax conundrums, we can help you out! Check out our articles covering California property taxes:
Fighting Administration Is Easier With DoNotPay 
Bureaucracy is a disease of the modern world, and we finally have a cure. Thanks to artificial intelligence, DoNotPay knows how to handle numerous rules and regulations and make your life so much easier. 
Our bots ask you a few questions, gather the necessary info, and off they go! Filing warranty and insurance claims, requesting property tax reductions, getting access to public records, or claiming unclaimed funds under your name—you can deal with these bothersome tasks from the comfort of your home and within minutes!
If you need to get in touch with customer service representatives to ask for refunds or contact airline companies regarding compensation, our platform will make the process painless and care-free.
Don't hesitate to put our app into service if you need to contest parking tickets or avoid long lines at your local DMV!
How Else Can We Help?
Not only does DoNotPay handle bureaucracy, but it also saves you money in the process. Whether you're looking for the best learning materials for government tests or planning to comb through and cancel streaming subscriptions you don't use, DoNotPay can give a helping hand.
Our platform grows every day and comes with user-friendly features that will help you manage unpaid bills, stop copyright violation, or solve problems with credit cards faster than ever!