Learn To Write an
Option To Purchase Agreement
Like a Pro
Interested in a property but not ready to commit? You don't have to make a decision yet! 
We will guide you through the process of drafting a valid option to purchase agreement, a legal document perfect for your situation. 
Is the
Option To Purchase Agreement
Right for You?
An option to purchase agreement is a legally binding contract between a buyer and a seller. The contract gives the buyer the option to purchase a property from the seller at an agreed-upon price but doesn't oblige him or her to do so. The agreement is mostly used for real estate but also stocks and foreign currency.
You can also use the option to purchase agreement as a tenant who's looking to buy a property in the future. You would have to enter both a standard lease agreement and an option to purchase agreement. A part of your monthly rent payments would be used as a deposit until you decide to buy the property. 
Writing an
Option To Purchase Agreement
in Five Steps
Include all the sections from the list provided below to draft your option to purchase agreement perfectly:
Buyer and seller details

Obligations

Property description

Option fee

Option period
Buyer and Seller Details
The first section has to include the details about both the buyer and the seller, such as:
Full names

Addresses

Contact numbers

IC (integrated circuit) numbers
If there are additional details that you think should be included, feel free to write them down. You can also add the effective date and the start and end date of the agreement.
Obligations
The duties and obligations of the buyer and seller need to be clearly spelled out to avoid any confusion in the future.
Keep in mind that omitting a certain rule or responsibility can result in misunderstandings later on, so it's important to think hard about what you want to mention.
Property Description
A clear description of the property should include details like:
Full address

The floor area where the property is located

The purchase price
You can also disclose other info, such as whether the property is furnished or not.
Option Fee
An important element of the option to purchase agreement is an option fee, which is the amount that the buyer pays to reserve the property. The sellers look at the fee as a deposit and refrain from searching for other buyers or selling the property to another party.
The option fee is standardly 1% of the purchase price, but you should discuss this with the other party.
Option Period
The option period normally lasts for two weeks, but that can be negotiated. Include the specifics about the option period that you discussed, such as the duration and what happens once the option period expires.
Use DoNotPay To Draft Contracts Effortlessly
If you want to avoid writing legal documents on your own or spending money on lawyers, DoNotPay is the way to go! We can generate a variety of agreements for you in only a few clicks! This is how:
Provide the

name of the agreement

you want

Supply additional info about you and the agreement
We will draft your document instantly! All that's left is for you and the other party is to sign it, and you're good to go!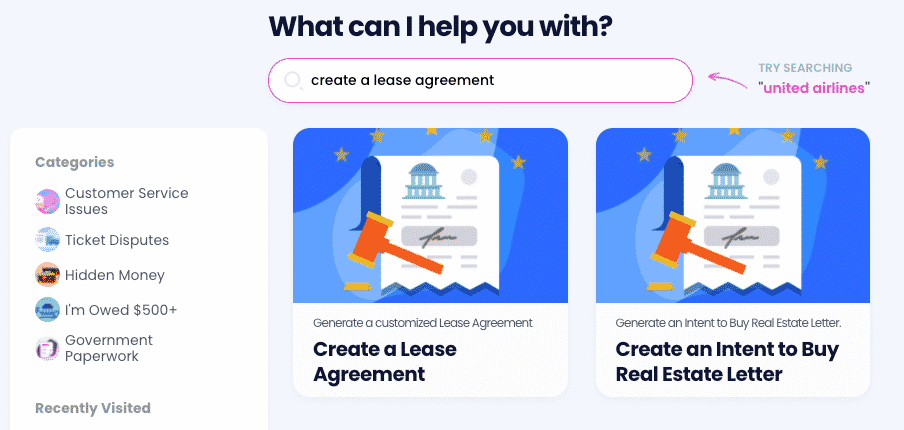 Certain legal documents must be notarized, such as wills and trusts. Contracts often don't require notarization, but having them notarized always helps.
Once you have a notary sign and stamp your document, it becomes easier to offer it as proof in court and resolve certain legal issues with it. DoNotPay can connect you with a remote notary and help you get your documents notarized online effortlessly!
Drawing Up Legal Docs Has Never Been Easier
DoNotPay can draft certain legal documents in your stead, but that is not all! If you need help with a contract that our app can't generate for you, we got you covered!
We offer you step-by-step guides on creating various other agreements as well. Check out some of the documents we can draft for you and others you can make by yourself with our simplified guides:
Contracts We Draft for You
Contracts We Offer Step-by-Step Guides For

Promissory Note

Estoppel Certificate

Quitclaim Deed

Intent To Purchase Real Estate

General Business Contract

General Affidavit
DoNotPay Helps You Claim Your Money
Our virtual assistant app makes sure you get back funds that are rightfully yours.
Whether you need to claim insurance, warranties, or your property held by the state, we will help you do it in minutes.
DoNotPay can also help you initiate a chargeback on any transaction you disagree with. We can help you secure compensation from airlines, robocall and text scammers, or in case you've been a victim of a crime.
In case you are dealing with an unfair company regarding your subscription cancellation or any other matter, we can help you get your money back by suing them in small claims court.
Bypass the Administration With DoNotPay
There's no more need for extensive research, abundant paperwork, or endless phone calls with customer service reps.
DoNotPay brings the administrative nonsense to a minimum.
Book DMV appointments fast and easy, appeal your parking citations, sign up for free trials without disclosing your credit card info or phone number, or reach your loved ones in jail—all in less than five minutes.
We also generate any legal document, provide full access to public records, offer DMCA protection, and reduce your property taxes with a few clicks.