Getting the Scoop on the Option Agreement
The popularity of option agreements has grown since the number of landowners marketing their property for development increased. Having a legal document to support the collaboration between the owners and potential developers is of utmost importance for overall security. You should learn how to write a valid contract and protect your rights efficiently. 
Our guide explains the purpose of option agreements and teaches you to draft this contract hassle-free. Check it out and learn how to write killer contracts without costly lawyers or inaccurate online forms!
What Are Option Agreements?
Option agreements are contracts signed by a landowner and a potential buyer who wants to develop the property for commercial use. The buyer pays the fee to ensure they can purchase the land once they have all the permits and the project is in the final phase. The involved parties can be individuals, companies, or other legal entities.  
How Can You Benefit From Option Agreements?
Here are some key benefits of signing an option agreement:
The contract brings financial benefits to the landowner since they can require a specific amount, premium, or option fee from the developer in exchange for certain rights

Landowners can avoid long and burdensome planning permission procedures and save some money because developers finance it at their own risk

In the development phase, landowners can benefit from the experience of the developer they collaborate with. They can use the available skills and assets of the other party in their favor

The agreement serves as evidence to developers if they face problems while requesting planning permission

If the project doesn't end in the landowner's favor, i.e., the sale doesn't happen, the agreement allows them to access a non-refundable deposit
What Should You Consider Before Signing an Option Agreement?
If a developer offers you an option agreement, you shouldn't accept it until you check a few details. The table below lists several points you must consider before deciding to participate in such a deal:
| | |
| --- | --- |
| Criteria | Details |
| Contract duration | Ensure the defined agreement duration doesn't affect your other plans since these contracts may last for years. Find out whether you will be entitled to extra payment if the planning process takes too long |
| Purchase price details | Check how the purchase price was calculated and whether deductions apply to the parts of the land that can't be used |
| Taxes | Ensure there are no overseen charges or taxation changes and penalties. If any unforeseen or adverse change arises, you should have the right to cancel or postpone the process |
| Potential future value increase | The agreement should include a specific disclosure stating that you must get your share of any future property value increase |
Rock Your Legal Documents With DoNotPay
Your contract must meet some general requirements, such as clarity, completeness, and compliance with governing laws. It's hard to achieve all this without having sufficient legal expertise or professional assistance. Online templates may seem like a quick and easy solution but are often too generic to define specific terms and conditions. 
Luckily, DoNotPay has an easy solution! You don't need to pay enormous amounts of money for professional drafts or wonder if a sample covers all the necessary sections. Sign up for our service and get a perfectly-drafted, fully personalized contract in a heartbeat!
Here's how to do it:
Log in to DoNotPay

from any preferred web browser

Locate the desired template using the keywords (NDA, affidavit, etc.)

Provide more information to customize your document

Download the ready-made contract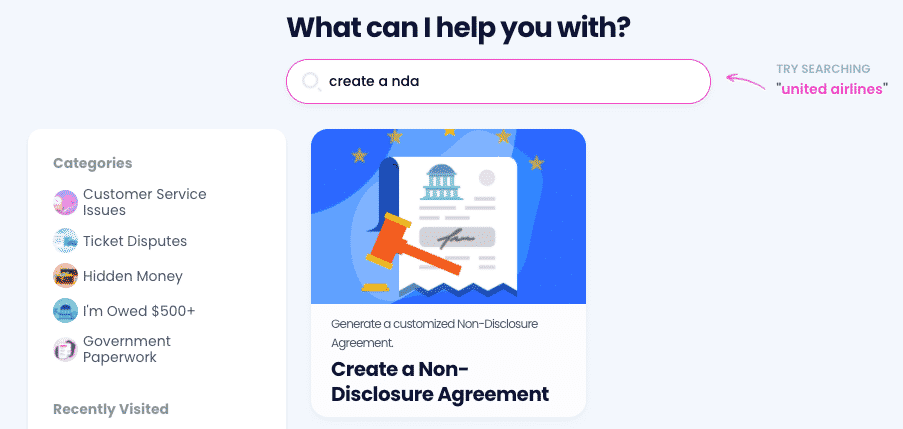 That's not all! We help you speed up the regular notarization procedure and get a notary's signature digitally! DoNotPay books a virtual appointment with a notary, and you can get everything done quickly and efficiently. Once you have a notarized contract, use our app to fax it fuss-free from your smartphone, tablet, or laptop!
Get access to 15 practical document templates and generate a(n):
Promissory Note

General Affidavit

Estoppel Certificate

General Business Contract

Intent To Purchase Real Estate

Child Care Authorization Form

Quitclaim Deed
Use Our Robot Lawyer To Learn About Legal Documents
Laws and contracts can be complicated and difficult to understand. The good news is—we have simplified them for you! Visit our learning center and access practical guides to various popular contracts, including:
We will also teach you how to:
Our Robot Lawyer Gets Rid of All Admin Tasks
What makes DoNotPay so unique is that it helps you get back what is rightfully yours in many different ways. You can appeal parking tickets, find unclaimed money, demand a refund for canceled or delayed flights, get help with bills you cannot pay, or get your college application fees waived with the help of our platform.
If you're sick and tired of annoying robocalls, spam emails, copyright violations, text message spam, or stalkers and harassers, DoNotPay can assist you in getting rid of them once and for all.
DoNotPay Can Help You Save Money
Have you ever subscribed to a service's free trial you forgot about after a few days? Many Americans have, which is why DoNotPay has a free trial feature that will help you avoid getting charged once the trial is over.
If you want us to scan all your active memberships and help you not pay for the ones you don't use, connect your email address or credit card to DoNotPay. Our cancel feature will ensure that you don't waste your money on subscriptions you don't even remember exist.
If a merchant charges you once the free trial is over, though, you can use our robot lawyer to request a refund and skip the phone queue when doing so.
In case a company refuses to grant you a refund, you can also use our app to sue them in small claims court.