Get Familiar With Opportunity Scholarship Programs
The rising costs of education may be worrying, but the good news is that you can get financial aid. Don't rush into student loans before you exhaust the scholarship and grants that you qualify for.
The challenge with searching for scholarships is the fact that they are scattered all over the place. It can take days to find those that suit you—but if you know where to look, then your problem is solved.
This guide will introduce you to some of the Opportunity scholarship programs you can apply for and show you the easiest path of finding them at your own pace.
What Are Opportunity Scholarships?
Opportunity scholarships are offered by individual institutions to benefit a certain group of students. Most Opportunity scholarships are both merit and need-based. They target students who are doing well academically but would otherwise struggle to afford higher education.
Most Opportunity scholarships are tailored for particular groups, such as:
Which Opportunity Scholarships Can You Apply For?
Here is a selection of some of the best Opportunity scholarships that you can take advantage of:
NC Opportunity Scholarship
Dream Opportunity Scholarship
College Board Opportunity Scholarships
National University Opportunity Scholarship
Aims Opportunity Scholarship
New Mexico
Learn the details about each program in the table below:
Opportunity Scholarship
Description
Eligibility Requirements
NC Opportunity Scholarship
The program pays tuition for students whose families earn an income that's below a certain amount and who attend private schools

Satisfy the income requirements
Be a resident of NC
Be in high school or yet to enroll in a post-high school institution at the time of application

Dream Opportunity Scholarship
This scholarship program is for students who reside in locked-out states and can't enroll in a college

Be from a locked-out state
Have never enrolled in any four-year institution

College Board Opportunity Scholarships
The program is available to any student, despite their financial background

Join and successfully complete all the required activities

National University Opportunity Scholarship
NU tailored the scholarship for students who have good academic records and demonstrate financial need

Be enrolled at NU
Pursue an undergraduate BA/BS program
Have stellar grades

Aims Opportunity Scholarship
The program is tailored for Aims Community College students who have a good academic standing

Apply during your first year
Have excellent grades

New Mexico Opportunity Scholarship
A program for New Mexico students who meet the specified academic qualifications

Have enrolled in a two-year program at a public college
Live in New Mexico
Have a minimum GPA of 2.5
Note that this list is not exhaustive—you can find more Opportunity scholarships elsewhere. For example, check out our guides to Opportunity scholarships in Idaho and Washington.
How To Find Opportunity Scholarships
When you are searching for an Opportunity scholarship program, especially online, be aware that some of them might be scams. You need to use reliable resources, such as:
Your school's financial aid office or the financial aid section of your university's website
The school's counselor
Federal agencies
State grant agencies
Organizations dedicated to specific communities (for example, religious or ethnic)
Verified scholarship portals
Past scholarship recipients
Your or your parent's employer
Want to find reliable scholarships in less than five minutes? Use DoNotPay to fast-track your scholarship search process.
We don't just offer a random list of scholarships! It's personalized based on your unique circumstances and educational interests. Sign up for DoNotPay, and get one step closer to your dream degree.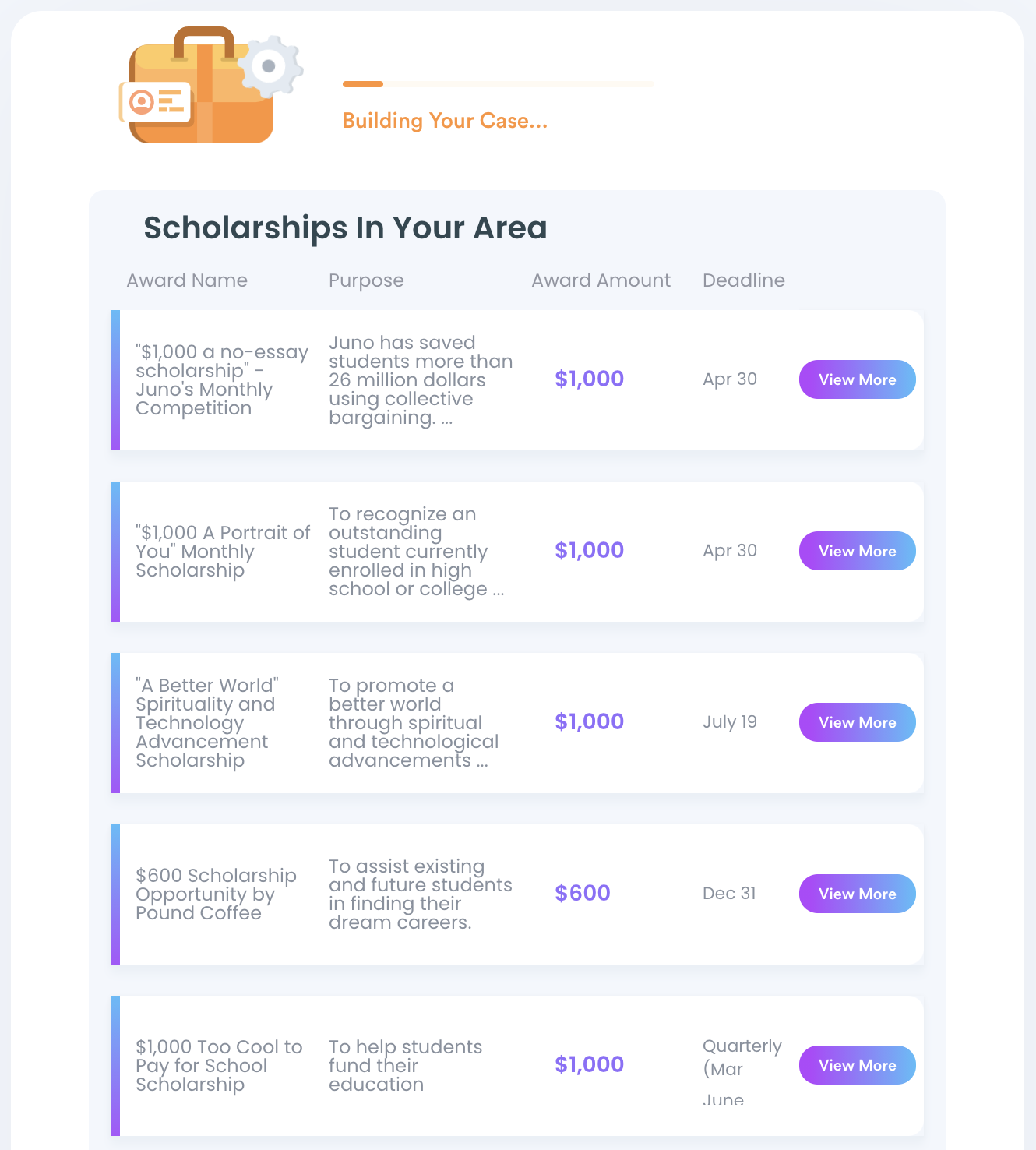 How To Apply for Any Opportunity Scholarship
Every Opportunity scholarship program has its own requirements and application procedures. You have to confirm the directions for applying and any other information about the program on the provider's website.
Scholarships are competitive, no doubt, but that doesn't mean that you can't win. There are ways that you can improve your odds of landing an Opportunity scholarship, such as:
Reading the eligibility and application requirements carefully
Applying for scholarships that you are qualified for—for instance, if you have excellent grades, target scholarships that are more merit-based
Including anything that can make you stand out
Learning to write better scholarship essays
Submitting the best recommendation letters
Preparing and organizing your application materials
Submitting your applications early
The Quickest and Easiest Way To Find Opportunity Scholarships
Many scholarships end up unclaimed. This is because most people don't know where to look. With DoNotPay, you have no excuses! Discover all the scholarships available to you and increase your chances of securing the perfect one.
Create your DoNotPay account and see the results for your field of study now. To get your list, follow these steps:
Log in to your DoNotPay account and search for the word Scholarships
Find the Apply for Scholarships feature
Provide answers to the chatbot's questions
We can also automatically apply for no-essay scholarships for you using the information you provide. Never miss out on any opportunity, thanks to DoNotPay.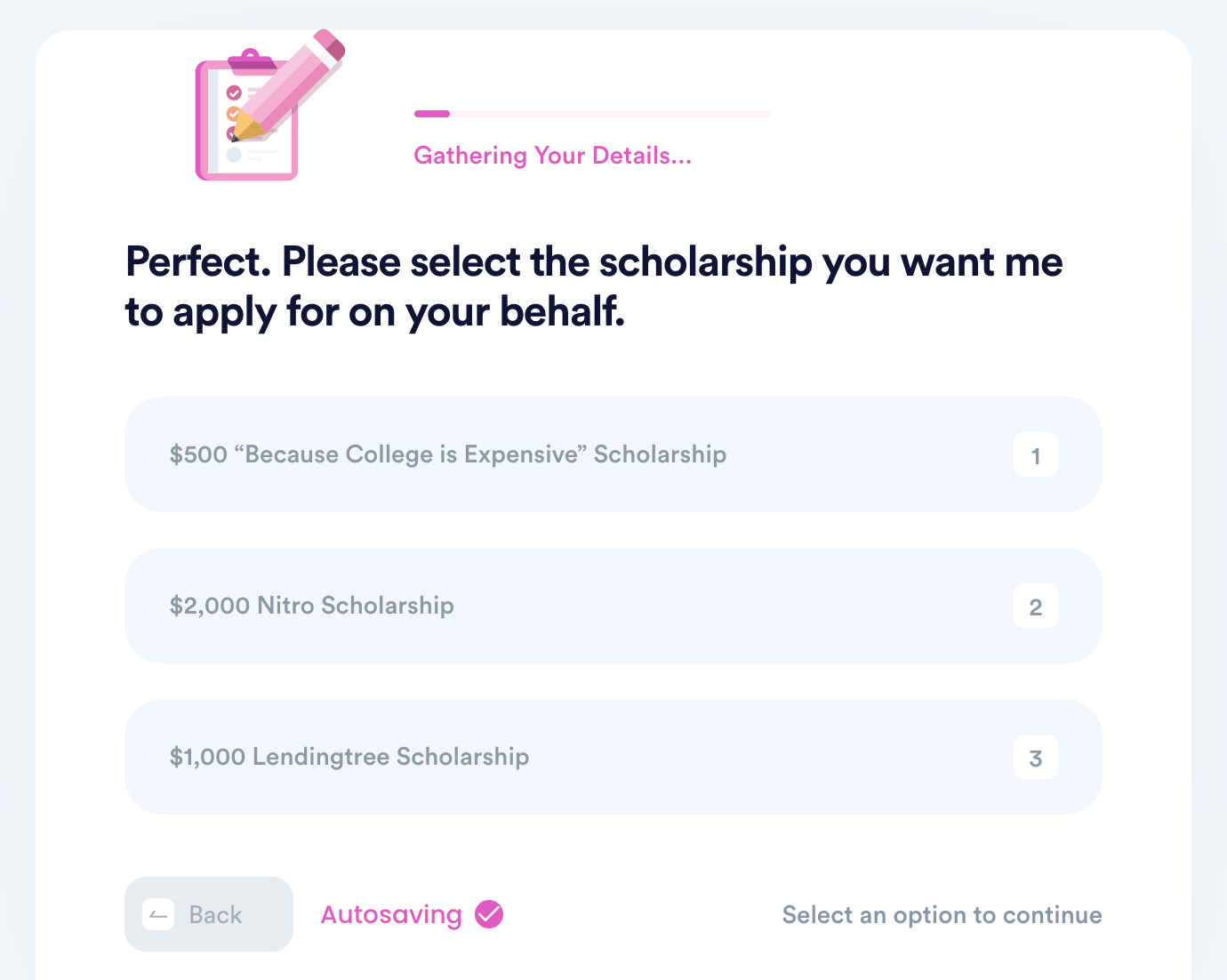 Is Bureaucracy Getting on Your Nerves? We Have a Solution!
We all know that dealing with bureaucracy isn't pleasant, and it often leads to overwhelming frustration. The good news is that DoNotPay has found a workaround! You can now do the following by using our app:
Let DoNotPay Make Your Legal Troubles Disappear!
Drafting contracts and other legal documents isn't a task you should handle on your own. Don't want to spend a fortune on lawyers? That is why DoNotPay—the world's first robot lawyer—is here to take the lead and help you out! Check out the list below to see some of the legal documents that our app can draft for you:
We don't stop there! Cut through the red tape and let DoNotPay assist you in taking anyone to small claims court, getting your documents notarized, submitting anonymous HR complaints, or requesting crime victims' compensation.