Everything You Want To Know About Operation Level Agreements in One Place
The majority of people find legal documents too complicated to write or review—and operation level agreements are no different.
While you may be struggling to understand how operational level agreements work now, you won't have any questions after reading this article.
You will learn:
What operational level agreements (OLAs) are

Why these agreements are important

How to write your operational level agreement without any help
What Are Operational Level Agreements?
Operational level agreements—or operating level agreements—are business contracts that service providers use when under an existing service level agreement (SLA). The purpose of an OLA is to make sure the company's internal sectors are upholding the SLA terms and conditions.
A solid OLA is specific and includes detailed information about:
What each sector's job within the service provider company is

Who has the authority to sign the agreement

What services are being provided to a customer under the SLA

How errors will be fixed

What the methods of communication between team members are 
Operational level agreements—and service level agreements—are used primarily in IT and tech sectors, but any company that provides a service to a client also benefits from incorporating an OLA into its operations. 
An operational level agreement isn't necessary, but it's highly beneficial. It ensures that the terms and conditions of an SLA will be met by each internal group within an organization.
Differences Between a Service Level Agreement and Operational Level Agreement
Since operational level agreements are inherently related to service level agreements, you may be confusing the two and the purposes they serve.
If you want to create an OLA for your company, you have to know why the agreement isn't the same as an SLA. You should also understand how the OLA helps you honor the SLA you're using.
Check out the main differences between the two:
Service Level Agreement
Operational Level Agreement

Is between a service provider and a customer

Defines all the services the company provides the customer with

Identifies the penalties the service provider will suffer if it violates the agreement

Is made and used by internal groups within a service provider company

Specifies which internal sectors provide which type of service

Details the risk factors and risk management techniques 
How To Write an Operational Level Agreement
If you want to draw up an operational level agreement yourself, follow the instructions we give you.
Here are the sections you should include in your OLA:
Purpose of the agreement

—Write what the purpose of the OLA is in simple language. You should mention that the agreement exists to uphold a specific service level agreement

Objectives

—This section serves to include more detailed objectives you have. List your service targets and describe the services you're providing to a customer

Service operations

—Define what operations will be carried out to meet the objectives. State the days and hours during which the service will be available

Parties involved

—State what internal sectors are involved in the operations. You should assign specific job requirements for each sector and the team members within the sectors 

Communication methods

—Establish the communication tools the internal groups will use

Existing challenges and possible risks

—State the challenges your company is facing at the moment and provide solutions your sectors should start implementing when the agreement goes into effect. Include any issues that may arise in the future too and the type of issues that will require escalations

Service accounting

—Define who will be responsible for calculating the cost of the services provided and create the accounting schedule 

Duration of the agreement

—Write the agreement start and end date

Changes to the OLA

—In this section, you should write how the changes to the agreement will be proposed and then incorporated

Termination of the OLA

—You also want to write the rules for terminating the OLA

Signatures

—Besides leaving a space at the end of the agreement for signatures, you should also define the authority all the signatories have
How DoNotPay Helps You Write Stellar Documents Fast
Writing contracts without the help of a lawyer may have been impossible—until now!
DoNotPay has created a feature that allows you to generate your personalized contract in three short steps! Here's how the process works:
Type the name of the legal document you need

Answer a few questions about the document to have it customized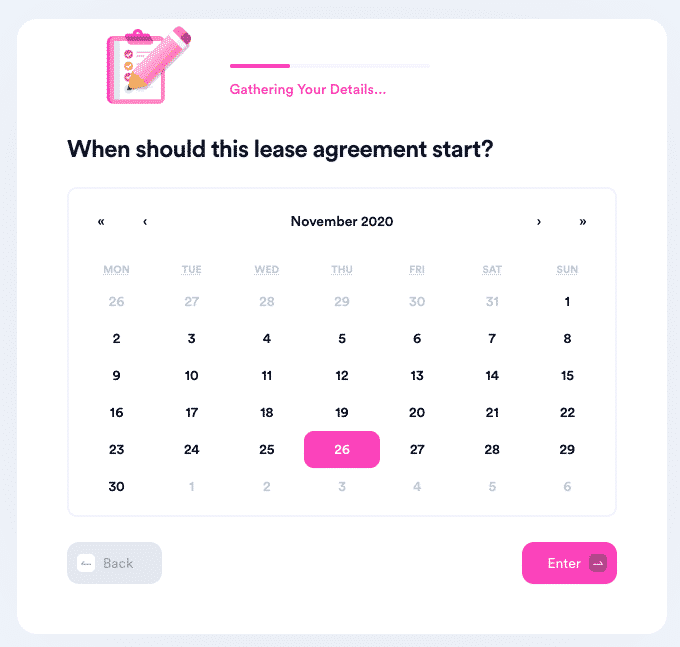 What Legal Documents Can You Create With DoNotPay?
You'll never again need to use generic and outdated contract templates if you !
Check out what some of the most popular agreements DoNotPay can generate are:
Quitclaim deed

Promissory note

General affidavit

Child care authorization form

Intent to purchase real estate

General business contract
Do Not Let Companies Burn Your Pocket—Fight Back With DoNotPay
In the golden age of consumerism, it's easy to fall for greedy corporations' tricks and waste your money, sometimes without even knowing it. We are here to nip the money-grabbing techniques in the bud!
With your DoNotPay account, you'll be able to sign up for free trials without worrying about losing money once the trial expires. Are you also concerned about your privacy since most free trials require credit card info? With DoNotPay's virtual credit card, your privacy will remain intact.
Say goodbye to drawn-out refund and cancellation processes with the virtual assistant extraordinaire by your side.
If you need help returning an item or claiming its insurance or warranty, we'll help you throughout the entire procedure.
Need Some Extra Money? Find Unclaimed Funds or Get Compensations
Whether you need help with bills, you're strapped for cash, or you just want to get your money back but you can't bear dealing with customer service, we know what to do!
DoNotPay can help you overturn your parking tickets, apply for a college fee waiver, lower your property taxes, and get free raffle tickets. We can also show you the best way to discover your unclaimed money and obtain different types of refunds and compensation involving airlines, gift cards, and late deliveries.